German Shepherd Dog > how is your german shepherd when people go near when they are in a crate? (13 replies)
how is your german shepherd when people go near when they are in a crate?
by
destiny4u
on 27 December 2011 - 23:10
just curious how does your gsd react to people strangesrs when they are in a crate?


My dog does not seem to like strangers going near her when she is in a crate when i took her to my parents xmas party some people just wanted to see her

I put her in a crate shes never been in before i didnt let anyone touch her or anything my cousin just wanted her to sniff them through the crate i said ok she sniffed this person and after sniffing them she started firing (barking) at the person

Usually my dog is a calm good dog in social settings i mean shes aloof shes no golden or lab but she will sniff people and let them give her a pat on the head on her terms shes great in crowds around bikers joggers if rpeople respect she always respects everyone etc..



She use to be pretty good about strangers passing while she was in crate when she was a year or so and up but now shes getting closer to 2 does it usually change as they grow into to their adult mentality? This crate wasnt hers though and the house she was in wasnt hers either.


by
VitoManiac
on 27 December 2011 - 23:16
You put her in strange surroundings and are then surprised she reacts differently to normal? I'd say it was a totally understandable reaction to be honest.
by
yellowrose of Texas
on 27 December 2011 - 23:25
SHE DID WHAT SHE SHOULD HAVE DONE

PEOPLE steal dogs out of crates....not one of mine..

Unless I give them a command,,,they act just like yours did......suppose to.

YR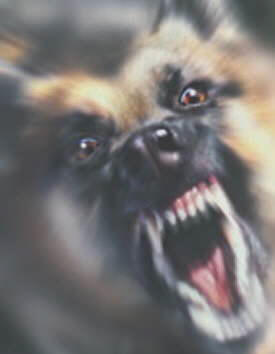 by
destiny4u
on 27 December 2011 - 23:29
no i am not mad at her lol its ok that she did it i was just wondering a bit chill out shes my first well bred working dog ok? i am use to shepherds that act like labs that are prey monsters american bred so still learning a lot.I made them leave right after. she was in her own room during the party that no one had access to just my cousin wanted to see her when she saw my cousin she was quiet she sniffed looked up and fired away.


I am thinking it was a wrong way to introduce also i should have done it outdoors on leash while we were walking or something not in a new crate new house where she felt cornered or suspecious or something.
by
Q Man
on 28 December 2011 - 00:19
A lot of the times...a dog becomes much more protective when they're in a closed in area...The only way to know how your dog acts or reacts in different situations is to put them in different situations...then you can be sure...
I would never let anyone put their hands up to a crate with my dogs in...They becomes very protective of their space...and Yes...they should be...

by
matthews3662
on 28 December 2011 - 00:28
sometimes my dogs are quiet but if some stranger sticks their nose in their business and stares them down they go off.
my grandkids can stick their fingers through the doors and no one makes a peep.
I think your dog was trying to say hey buzz off I am trying to relax here ppl. Our shelter dog she acts like a total psycho if she's locked up barking at the other dogs.
But once out she is totally normal. she loves her cage and she doesn't like nosey butts :) I get upset at her though, like if I put a nice clean blanket in the other crates she goes in there and curls up. I make her come out bc she always gives the other dogs so much feedback if they come near her cage. LOL.

by
Mindhunt
on 28 December 2011 - 00:48
All my dogs' crates where their dens. No one was allowed to bother them in any way, shape, or form when they were in their crates. We always left the doors open and taught the kids that the dogs needed a time out when they went into their crates and to leave them the heck alone. When the dog comes out on its own, then you can play. Also each dog had its own crate, no dog was allowed in another's crate. One of them is a bit protective in the house so she is introduced in the yard but once she meets the person in the yard, there is no problem in the house, the rest are fine in the house. If they are in the crate and the door is shut, they will go ballistic if any one other than family comes near. If the door is open, they will either come out or not depending on how they feel (which usually means they come out and are excited about people giving them lovies). Sounds to me like your dog was in a strange crate with strange smells in a new environment during a chaotic time. No wonder she reacted the way she did, not surprised one bit. Guess you're going to be making a BIG note to self to never do that again lol.
by
destiny4u
on 28 December 2011 - 00:55
when my dog was younger around year old it was okay but at my house i do not let anyone near my dog in her own personal crate when she is at her own house (her house) for some reason i thought if she is not at her house or in her crate she would not care. I would never never let a aperson near her in her crate as an adult when shes in her own bedroom sleeping or something she would not like that at all plus i dont shut her crate anymore.


by
JWS
on 28 December 2011 - 00:56
My female does the same thing and I don't make a fuss about it because she barks at the people who I also don't like :D
by
JWS
on 28 December 2011 - 00:56
My female does the same thing and I don't make a fuss about it because she barks at the people who I also don't like :D
by
melba
on 28 December 2011 - 01:14
My boy Nero is very crate/fence aggressive toward both man and beast. I really prefer it this way, just in case some idiot gets the bright idea that they want to steal a dog, it won't be him. Deuce is a big baby, literally and thumps around in there but nothing more.... yet. Melissa
by
trixx
on 28 December 2011 - 01:40
she definitely is being protective of her space, nothing wrong with that, i train my dogs to like there crates and anyone that may come there way, even when open/close, so i have never had any protective problems. i do heavily socialize my dogs in many places. when they come close to 2- 3 years they do turn more adult and there temp can change.
by
kaoboy
on 28 December 2011 - 03:28
kinda funny how this topic came up.
my gsd comes to work with me everyday. he sleeps in his crate in the back of my truck.
whenever anyone comes close to my truck he barks to let them know. i dont mind it. i work construction and have had tools stolen from the back of my truck before.
when i tell him to quiet or enough. then he stops.

but i think all gsd should do that especially when it comes to protecting something that makes alot towards my life style.. at home he's fine in his crate...


by
windwalker18
on 28 December 2011 - 19:41
If I am there he's quite chilled out. Just watches the person, glancing @ me to see if there's reason to be concerned. He will sniff if a hand is proffered, but doesn't make overt attempts to be buddies. Out of a crate he's social, politely friendly to anyone especially if they've a ball, but in general isn't a fawningly friendly wiggly pup to anyone he doesn't know well. If someone comes to the door during the day, he goes to the gate and woofs, but in the night time he fires full on. Same with unexplained noises outside of the house.... and don't let me even get started on his reaction the first time I turned on a blender!! He was sure it was going to eat me alive... LOL
You must be logged in to reply to posts