German Shepherd Dog > The Complete German Shepherd (40 replies)
The Complete German Shepherd
by
Sheesh
on 22 December 2011 - 01:27
Recently I have seen several posts mentioning Showlines and working abilty, or lack thereof. I have decided to introduce a particular Working Line dog into my breeding. I "hope" to keep at least one female back for myself to train title and breed etc. I believe and hope that this will help me to improve the drives, working abilty, and all around character of my own lines. I am very very excited about the possibilities! I want to attain the ONE total GSD of yore. :-) not exreme in conformation or drive, but BALANCED and solid. I would love to hear others' thoughts on this subject. I know some people have done this already and would love for this trend to grow and continue. I believe this could be the road to the previous "type" that so many of us want. Please share you thoughts, positive and negative, and experiences if you have any. Theresa
by
jdiaz1791
on 22 December 2011 - 01:46
Please, don't listen to the ignorant people that say that,probably is because they only buy from the wrong breeders and cheap dogs. Time and again,I had my showlines do better that working lines. Having said that,your vision is good,hope it works, but again,you will have people critize what you are trying to achieve, so be strong. I am taking my new stud, Jano Von Groß-Zunder Sch3,kkl1 to the USA Sieger show,looking forward to compete against those bad conformation, kkl2 , hyper ,aggressive , ugly colors, oversize working lines ( sorry, tired of the continuous trash some people talk unfairly, about showlines ). Good luck
by
Emoore
on 22 December 2011 - 01:54
"to the USA Sieger show,looking forward to compete against those bad conformation, kkl2 , hyper ,aggressive , ugly colors, oversize working lines"

--- call me crazy but I attended the USA Sieger last year as a spectator and saw maybe one or two working lines?


To the OP: I'm really excited about your vision. It seems like more and more people are trying to get away from the extremes at both ends and get back to a more balanced, stable, middle of the road total GSD. Keep us posted.
by
Konotashi
on 22 December 2011 - 02:03
I'm with Emoore.

I love the look of the showlines, but from what I've seen (granted, in videos), I wouldn't want to own one. A lot of them seem like drive-less nerve bags.

I also like the look of working lines (prefer show lines, though), and absolutely love what I have seen from them.

I hate that I'm basically stuck between choosing one or the other because they're on opposite sides of their own spectrums. *Sigh* Either get a pretty dog, or get a dog with work ethic.
It'd be nice to be able to find a dog from either line that I like everything out of. Looks, working ability, temperament, nerve....
by
Sheesh
on 22 December 2011 - 02:08
Thank you both. I am very excited about this. :-) JDiaz, I am not a believer that SLs are all crap at all. I have only ever had SLs, and I believe that I have a very balanced SL male right now. My hope is to improve the type I have. Theresa
by
GSD2727
on 22 December 2011 - 04:06
Sheesh, so do you have German show lines now? and will be breeding to a working line dog? Want to share the pedigrees?

Good luck!
Valerie
by
KellyJ
on 22 December 2011 - 04:35

'ugly colors'....seriously....

What real working dog person cares about colors? (unless it is some type of dilution, harmful to genetics)

Too many people worried about looks, looks, looks....

I see the perfect dog as a great working dog. Who cares what it looks like, as long as the dog is healthy and can hold up physically?
by
Dawulf
on 22 December 2011 - 06:55
I agree with Kelly... personally I think the working lines are much prettier than the showlines, both color and (in a lot of cases) conformation.



Good luck!! Hope you keep us updated on how things turn out (and post plenty of puppy pictures!!)!
by
grunwaldhaus
on 22 December 2011 - 13:35
"No good dog is a bad color" - Max von Stephanitz



"Nobility has nothing to do with mere external beauty. Real beauty consists in the perfect utility of its body. Nobility of build...guarantees the highest efficiency with the lowest consumption of energy." — Max von Stephanitz


Merry Christmas, Happy Holidays and Healthy New Year to you all.

by
Gustav
on 22 December 2011 - 14:17
@jdiaz1971....take your dog to a regional or National Sch trial and outperform the working dogs and you will really make your point. The Seiger show is not a good venue (as I have been told on this forum many times) to assess and compare working qualities. The bar is too low for passing.( Not bashing individual dogs, I just want your dog to get his due, so he has to do it in the right place).
@Sheesh....if you have a nice female and plan to breed her ...then find the right dog that strengthens her weaknesses and maintains her strengths...REGARDLESS OF LINES. Lines should have nothing to do with it.....you want good sound dogs with good structure and good temperament, and gentic diversity that allows the resulting pups to have balance for future use in working and breeding.
by
NigerDeltaMann
on 22 December 2011 - 14:29
Good omen there from Sheesh. . . I've always wanted a "fusion" of both show & workinglines, to simply erase "the-one-dog, two-variant syndrom" as we now have. But the problem's that we have "great pretenders" here in this forum, who pretend they don't even have a toilet in their homes, let alone make a dime out of this beautiful breed. Check-out movement in some show dogs, absolutely weak. Why don't we simply get a "balanced gsd" that'll appeal n appease both extreme. I'd always love the "showdog" compared to the "workingline" that i know's much stronger. Afterall, how many of us live in an open grassland. The both strains should be "MERGED" period.
by
Fenrir
on 22 December 2011 - 15:46
Umm, my dog comes from a kkl1 father and a kkl1 grandfather both V rated and yes they are pure black and oh they beat many of those MUCH prettier show line dogs. Then they absolutely obliterated those pretty dogs in protection. It goes both ways and you can't cry about how workingline people bash on showline dogs ability to work and in the same breath bash on the workingline dogs looks. First and foremost Max von Stephanitz himself put the most value on the dogs ability to work everything else was secondary. He did care about the structure obviously however only in so much as it helped the dog be able to work, he also made it clear that dogs bred for looks were not being bred for the right reason. Don't have to like it but it is true, the color of the dog is a non issue, infact the white gene comes from Max Von Stephanitz OWN dog.

Secondly the working lines have been bred specifically for work with nothing but work and work temperament for years and years now, the show dogs have been bred for structure and looks first and working ability second this is also not really up for debate because it is true. That said the dogs ability to work is on a dog by dog basis, and I personally love a good dog regardless of line so long as it can work. However I cannot expect my working line bitch to gait as well as a AL or GSL line dog, that is not where her breeders focus. Just like you cannot expect the majority of show dogs to hold a candle to the majority of working dogs ability to work.

If you are breeding a dog that has great structure and focusing on your dogs ability to work then you are doing exactly what is expected of us as keepers of the breed to do. I KNOW your dogs are probably kickass protection dogs with a serious attitude and mind on their shoulders. However the majority of showlines will not excel as much as the majority of working lines in protection type events just like the majority of working lines will not excel at movement. Obviously there will always be exceptions, an to the OP point I hope you find the exact mix you are looking for and I think it is great you are being open minded enough to try and mix the lines to what you think will be best. Best of luck to all involved.


by
remione1
on 22 December 2011 - 16:23
I love the saddle back markings on a showline but the "heart" of a working dog. They have something special inside them. I think, IMO, the best dog I have ever seen is this one. She has the look I love & that something special inside. I hope the owner doesn't mind me posting her pic, if so I'll take it down. I believe that the showline & working line are 2 different dogs & should be treated so. Showline people that think they can compete at the top level with working lines (WUSV) are fooling themselves & working line people probably aren't going to take first at the big show. There are rare ocasions that a dog comes along & does GOOD in both but not excel in both. If you can succefully mix the 2 & get back to where it started than that would be awesome but to do that you have to change the minds of the breeders, judges, owners & whoever else & there opinions on what a GSD should be. Unfortunatly thats probably harder than creating the perfect GSD. Again just my opinion.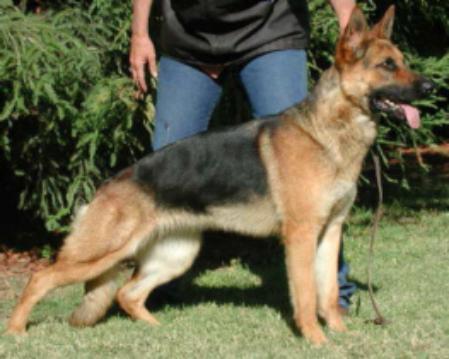 http://www.pedigreedatabase.com/german_shepherd_dog/dog.html?id=563607
by
Fenrir
on 22 December 2011 - 16:25
That is a nice looking dog :)
by
remione1
on 22 December 2011 - 16:34
I've loved this dog since I saw her picture & saw her in person. She has a stacked working pedigree, drive through the roof, solid nerves, & the looks that I absolutly love. I don't know how to judge a dog as far as looks go (show dogs) but I think she is gorgeous. One of my favorite by far.
by
Sheesh
on 22 December 2011 - 16:57
Very beautiful and solid bitch. I like her too. I know that there will ALWAYS be the division between SL and WL, there are purests on both sides, AND there is much more money to be made with the division for many breeders. IMHO, I am seeing so much dilution in drive and character of SL, (not ALL, but a growing number). I, for one, am getting tired of seeing the fluffy black and RED oooohhs and aaahs at the SS That cower and cringe at the gunfire, and clearly are hanging on barely by a tooth in the protection. It is not ALL of them, but an alarming number for sure. I think both sides, WL and SL can agree if they are honest, that both lines can bring something positive to the table. I want to try to achieve some consistency in producing the total GSD. And- someone e-mailed me saying "it's all in the lack of training done by SL owners." NO, that may be the case sometimes, but does not account for the "heart" that I am talking about. My bitch is "normal". She is nice to look at, she tracks like a CHAMP, OB is ok, protection drives are "ehh". Britta von der Koenig Haus. I love her to pieces, she is being trained and titled by ME. I know she has something to offer, but I KNOW I can improve. I am beig honest with myself. The male is Thor Eisen West. He has everything I love. Have worked him a bunch, he is as solid as they get. I love this dog too.
by
Fenrir
on 22 December 2011 - 17:38
I would agree about the work ethic comment, I know for a fact that the show people put their heart and soul into it, obviously not all of them but that goes without saying and for both sides working and show. I also would agree because I am a 100% true believer in the fact that though puppies and dogs are a crapshoot that DNA and pedigree are the most essential part of the beginnings of a good German Shepherd. I am all for nurture however nature is being ignored more and more often and in my honest opinion nature is most important of all. You can take a good dog and make it great however great dogs are born and excellence stems from them. The creator of the breed understood this better than anyone which is where the sport of Schutzhund was born, those with the strongest genes produce the strongest offspring, and though it is true a good dog or even a mediocre dog can produce excellent dogs the percentage is not in their favor. Whether it is working or show we should be obsessed with finding those great dogs and building off of them. It is why I wish you the most of luck in trying to develope the dogs you are looking to create.
by
Sheesh
on 22 December 2011 - 17:50
Thanks Fenrir. I think we are on the same page. :-)
by
frankm205
on 22 December 2011 - 22:20
Nice!
by
Red Sable
on 22 December 2011 - 22:23
.
You must be logged in to reply to posts