German Shepherd Dog > I need professional advice on German Shepherd Puppy Please! (19 replies)
I need professional advice on German Shepherd Puppy Please!
by
jcmann01
on 18 December 2011 - 01:57

I have two chocolate labs and have recently aquired this beautiful German Shepherd female from a client of mines in Oklahoma. I had the vet check her out the next week. Anyway, I have two concerns about her? The first is that she has a slight limp on the right side and occasionally falls down when she is running around. I told the vet about this when she was about 10 weeks old. He felt her hips and started pulling lightly on her legs to see how she would react. She got very uncomfortable with this. Then he told me she may have hip displaysia, but he could not be certain of this. I asked him about xrays and he said it was too soon to take an xray. That she should wait until she is two years old? I have had her almost 5 months now and her limp has improved a bit, but she still falls down on her right side occasionally. How common is hip displasia with GSDs? Should it be showing up this early?

The second issue I have is with her hyperactive behavior. She acts like she is on speed most of the time, pacing back and forth and acting really anxious, even at midnight. Sometimes I have to stick her in her kennel to get her to stay still.
At first, I thought it was because she changed homes and was nervous, but after 5 months, she has toned down a little, but she still needs to bring it down about 2-3 notches on the calmness scale (lol), like my chocolate labs.

Now, I do have 2 other dogs and I take them all out for walks two to three times a week and they have a big yard to play in, so I don't thing exercise it the heart of the issue here. This is the first GSD I have owned and I am trying to figure out if this anxious behavior is part of the breed or is it just my GSD?

I am not planning on breeding her as I am not a breeder, nor do I want to go there. I will probably have her spaded in a few months.
by
amysavesjacks
on 18 December 2011 - 02:15
I'm by no means a "professional"... but there is no reason the pup could not have xrays now if there is an issue with lameness. The "two year old" quote the doctor gave you was if you wanted to OFA the dog (i.e. send the radiographs in to the Orthopedic Foundation for Animals)... which I am assuming he told you because you said it was a possibility you wanted to breed her?

CERTAINLY displaysia could be a concern... do you know anything about the parents? Do you know if they have certified hips or if they have displaysia? At two years old is when displaysia can be CONFIRMED. But you can definately get an idea younger than that... .though that may not be the issue at all.

Does she seem painful in that leg or any other legs? Are you feeding her large breed puppy food and regulating her food or does she have free choice feedings? Panosteitis is another possibility for lameness/painfulness in joints with large breed dogs.

Re: Hyperactivity...

1) She isnt a Chocolate Lab...lol.. .and never will be, so don't expect her to act like that breed.
2) Again... do you know anything about her parents? Were they working dogs? What is their activity level?
3)Walks 2-3x per week probably isnt enough to keep her "mind" active. Playing with the other dogs can certainly wear her out physically... but GSD's need alot of mental stimulation too!!

I am actually "living" your situation right now... I have a 5 month old GSD pup and two adult GSDs. I take my pup out on his own 3-4x per DAY and play ball or make him heel, or teach him something... AND he gets to play with the other dogs. When I have a busy day and cant do the 3-4x/day and only get to do it 1-2x... I can see the difference.. a big difference (i.e. I am telling him "NO" more than I am telling him "Good Boy").

Good luck.. keep us posted!
by
Rass
on 18 December 2011 - 02:25
I do not know where you got this GSD (what breeding and so forth). Hip dysplasia can be a problem but it could be other issues unrelated to hips (neurological issues). Does the dog do any other things besides fall over? When he runs does he keep both hind feet together so that they hop like a rabbit? When extending and flexing a dog's hind limbs, some dogs become anxious and it just does not go well so it is difficult to tell if there is a hip issue.

German shepherd dogs need two things. One is a job and the other is exercise. Mental stimulation is extremely important to these dogs. Pacing is often a behavior the dog will have if he is not stimulated mentally AND physically. A large yard is insufficient exercise and 2-3 walks a week is insufficient socially and insufficient exercise.

These dogs need a JOB to do. They need to be thinking and working. Obedience, tracking, walks (with a dog back pack.. tho if your dog has a structural problem carrying a pack is probably not the best idea). I train both of my dogs at least every other day in obedience (usually daily). In good weather I track them. I go for hikes and walks. I take them with me to stores (where they are allowed). I train them to do all sorts of things. I train them in all different places.

Remember.. this is a breed of dog that started out herding sheep or cattle in a tending venue. In Germany the schaefermeister would gather large flocks of sheep and take them out to graze in places where there were no fences.. along roads and between fields and into fields. The German shepherd trotted a perimeter around the flock all day long.. keeping them inside a boundary. Doing that took a lot of drive and committment on the part of the dog.

Today most German Shepherds do not herd sheep, but that need to keep moving is still there.. that drive. It is our job to find another outlet for our dogs to replace the work they are no longer required for.

I suggest you start working your dog training him to do something. Obedience in different places and at home is a great place to start.




by
jcmann01
on 18 December 2011 - 02:39

The circumstances surrounding her adoption were less than desirable. I got her from a college student who did not really have time to properly care for her and she was being abused by his 7 month old Malamute. His story was that he got the dog from a lady who took in a pregnant GSD that was just wondering around. When I asked for the lady's phone number or address, he said he had lost this information. In short, I have no further information about her background, other than how big the mother was. I do know she is pure German Shepherd though as there are no other breed markings on her at all.

She doesn't yelp or show any physical signs of pain when she walks or runs, other than bunny hopping , a slight limp on her right side, and the occasional falling.

I am feeding her food that is 27% protein and adding meat to it. She gets about 4 cups a day and is growing very fast. Take a look at my gallery.

She is a very intelligent dog, learns quickly, but has a bit of an attitude with obedience issues. I had to start from scratch when I got her. She wasn't even house trained. Now she is house trained, knows how to sit, heel, come on command, handing me her paw, laydown, stay, and fetch. She doesn't forget either. Now I can see why it is said of GSDs that these magnificent dogs are highly intelligent and loyal. She does try to herd my two labs around, but that little hobby of hers is going south in a hurry with them.

As for possilbe breeding, like I said, breeding is NOT a possibility. 3 is enough!
by
Kevlar
on 18 December 2011 - 03:08
I am not a professional but I have a german shepherd who sounds similar to yours in the area of activity. I use to walk her 2 times day and play fetch and that wasn't enough so we started jogging 2 times a day and that wasn't enough so then I put her on a treadmill and jogged her and played fetch with her and that still wasn't enough. I am sure she is working lines so you really do need to stimulate her mentally. I started playing frisbee with her and for whatever reason that seemed to do the trick. I also taught her a bunch of silly tricks. I probably should have gotten her into agility. You need to find a "job" your dog will be good at. My kids would also play hide and seek with her and that seemed to help as well.

You just need to find something she can be good at. If she has a really good nose you can hide things like tea bags or coffee beans and have her find it. If it snows where you live maybe you can burry something in the snow and have her find it. If she seems be good at learning "tricks" teach her some useful ones. Maybe she can go get the paper in the morning. The morning routine for one of my GSDs was he would go get the paper, then he would uncover our bird, then he would go get his dog bowl so he could be fed. A working GSD is only going to be happy doing a job. If it doesn't have a job it will act anxious and neurotic. There could be something neurologically going on with her but I would try teaching her something before I medicate her. I would reach out to a really good GSD trainer to have her evaluated. They should be able to point you in the right direction.

Feed her a large breed puppy food and keep her very very lean to make sure that you don't put any added stress on her joints. I would want to see her ribs... that is how lean I keep my GSD puppies. Make sure you have her on a grain free limited ingredient diet. No soy or any other GMO crap like that.

I feel your pain... my dog was a enormous PITA until she turned about 2... not she is just a small PITA:)
by
jcmann01
on 18 December 2011 - 04:35
Really, I don't consider that she is a PITA, except her O dark hundred army wake up calls to let her out in 30 degree wx? I guess that is what working dogs instinctively do? My chocolate male lab is smart though and doesn't move. He likes the warm, comfy floor in the bedroom, atleast until its about 8am. She a digger too. I have some gigantic craters in the back yard. I have managed to keep her chewing habits under control with compressed rawhide bones though. Everytime she starts chewing on something, I quickly stick a bone in her mouth and praise her for chewing on it. Now those are the only things she chews on. Its all about positive reinforcement, folks!

I think you all are right about the working dog idea though. She is definately that! I take her out on the turpike trail and let her loose at night with one of my labs and she likes to circle around us like she is herding both of us along and trying to be protective. It's really is cute. I will have to find something she can do. I get the city paper, so I guess I can train her to fetch that, like one of my previous dogs. I need some other ideas too? The dog bowl idea is great, but I bring them their food outside.

Has anyone trained their GSDs to go fetch a beer from the frig?
by
Kevlar
on 18 December 2011 - 04:59
Maybe you should have meet my dog as a puppy... would probably make your pup look like an angel. We would get home from a 3-5 mile run... I would be tired. I would calmly bring her in the house on lead and the minute I took her off the lead she would tear through the house and underneath the dining room table where she would bark at us. If you went to get her she would just circle the table and bark. If you ignored her she would sit under the table and bark like she was a 2 year old child until you made her stop. She wanted us to chase her like it was a game and when we wouldn't she would bark at us. She would also stalk and herd the kids like a border collie. That part was kind of funny since she never harmed them in anyway. She had this cutting horse type way of herding them. She knocked down my screen door I don't know how many times. We took her to a professional trainer for a couple of days and at the end of that the trainer suggested we use a shock collar for her. She was food aggressive at 8 weeks old and chasing cars by 10 weeks old. She has no fear of anything. For someone who wanted a protection or agility dog she would probably be their dream come true.

Frisbee as silly as it sounds actually helped her a lot. At first it was like any other fetch game we would play. But after a few times playing you could tell she made it her mission in life for that frisbee not to touch the ground before she caught it. Another nice thing about her frisbee obsession is I can get her to do anything for a frisbee. I can take her anywhere off leash and she is 100% focused on the frisbee. I have even had dogs charge her barking and all she cares about is me throwing that frisbee. The barking charging dog doesn't even exist. Sometimes I wonder if it is a little OCD and unhealthy??

Now she is a super dog. All the neighborhood kids come and play with her and the neighborhood dogs even show up at our porch as if to say "can Lexi play"? Now that she is 2.5 years old no one believes me when I tell them how crazy she was. They all think she is the best dog they have ever met. Like raising children, persistence and patients is the key. You have to be willing to try anything and everything. I still think there is more work I need to do with her and would love to have her evaluated to see what other types of activities she would do great in.
by
jcmann01
on 18 December 2011 - 06:02

Kevlar: The frisbee story is great! Love it! OKay, I will definately pull out a frisbee and see what Mariah thinks of this? She is a fetcher. She likes me to throw things and she goes and gets them and brings them back to me like my male chocolate lab. A lot of times, she wants to play games and try to tease me with it by showing it to me and then running off with it in her mouth.

Here is a funny thing. If I am outside grilling some meat, Mariah will get her favorite toy or stick and come up to me and drop it on the ground at my feet as I am grilling and then sit there and stare at me until she gets my attention and pick up her toy and drop again and look at the grill. I think she is offering to trade me her toy for the steak? Ok? so I pick up her toy and throw it back in the yard and she will bring it back until I give her a tiny bit of steak.

Some people say dogs can't reason things out. Well, I have one that does!
by
hexe
on 18 December 2011 - 06:05
I think everyone's covered the issues of the drive differences between a GSD and a Lab, along with what's normal behavior for a GSD puppy (which is pretty much everything you've described her doing,<G>)...but the issue of the lameness ALONG with the 'falling over' part worries me, and when you add to this that the place she came from had an older Malamute who was being rough with her, I'd have to insist that my vet do some hip & spine x-rays--I can't help but be concerned that the Malamute could have caused a fracture of the pelvis or one of the vertebra, and that needs to be diagnosed sooner rather than later. It is also possible that she IS already showing signs of dysplasia, and again, the younger you get that diagnosis the better your options are as to how to deal with it.

It sounds like she's in an ideal home now, with someone who is willing to let her be a puppy and will put up with the normal immature behaviors, content to work with her until she finally fully matures mentally as well as physically. As a head's up, you need to remember that they ususally aren't 'fully baked' mentally until they're at LEAST 2 years of age, and some bloodlines can ever take up the 3 years old before they've finally matured in the mind. But it's well worth the wait. :)
by
jcmann01
on 18 December 2011 - 06:24


Thank you everyone! I love this forum! Everyone is SO knowledgeable, helpful, and quick to respond here.

All of your suggestions have been noted and please keep posting ideas. I love them all!

When I have the money, I will take young Mariah in for some XRays on her hips and spine. I was going to start jogging again, but will wait on taking her out until this is done. If she has a fracture, that coud make it worse?



10 Weeks Old. Right ear flopped down until last month. Someone advised me to massage her ears daily as this would strengthen cartledge in ears. I started gently massaging her ears once or twice a day and it worked!



6 months. Both ears stand up now!

by
Rass
on 18 December 2011 - 12:26
She is a pretty dog for sure. If she has lameness issues be careful with the frisbee (and with this breed it is wise to be careful anyway). You do not want the dog to jump up and catch the frisbee (all four feet off the ground and airborn.. straight up!). They are along bodied dog and realtively heavy so landing can do damage (and repeated landing can do a lot of damage). She is already lame and has an issue of unknown origin. A GREAT way to exercise a dog is swimming. It wears 'em to a frazzle and is no impact to the joints. She is, after all, very young yet. Bones and dog is still growing and too much pressure on those joints is not helpful. Last, if she is showing herding behavior, check and see if there is a Herding club near you (TENDING not Border collie herding). They are few and far between.. but if you find one, your dog might fit in and do very well. It is a committment in training but if you have a dog that does it, you will quickly know by correct grips on sheep and the tendency to circle the flock and hold the boundary. You can learn more about this by typing in "German Shepherd Herding" and it should take you to a site for a lady in Medusa, NY who has dedicated herself to telling others about tending sheep. My first German Shepherd, who looked a good deal like yours, herded cattle on my dairy farm. She was my right hand for several years. After I was no longer on the farm she instinctively went to work as my Dad's Hearing dog. This is an amazing breed of animal if you avail yourself of all their traits!
by
jcmann01
on 18 December 2011 - 22:24
Yes, they are amazing dogs. She will often sit there and watch me if I am in the kitchen cooking or where ever and actually have these inquisitive looks on her face as if she is trying to understand what I am doing. Now, my labs will just sit there with a glazed over look on their face until the food comes out of the bin.

I was reading about how GSDs were originally breeded from a mixture of German herding dogs and various wolf strains, which culminated into the 1st German Shepherd named BeoWolf. All GSDs are in one way or another decended from this dog.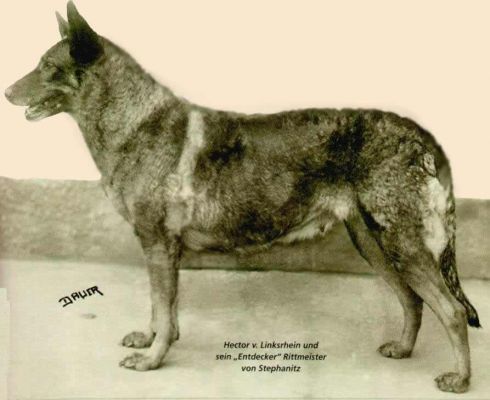 BeoWolf (Ref from WikiPedia)

Ok, so I decided to perform an experiment. I started playing recordings of wolf howls from real wolves in the wild, while she was in the livingroom along with my two labs. They just ignored the sounds, but she jumped up, came running into the office and sat in front of the computer and looked really baffled, but was trying to understand the sounds. Then she tried to bark at the speaker. It was amazing to watch this little creature relate to her long lost wolf side. What gets me is that if GSDs have wolf strains in them, why don't they howl like wolves outside?
by
Rass
on 18 December 2011 - 23:20
There is much controversy over whether ANY dogs descended from wolves. It has been widely accepted lately that wolves and dogs did not evolve or get bred one to the other.. but instead dogs and wolves evolved separately from a common ancestor.

Wolves have a different pack structure than dogs.. they have family groups and clear linear social structure of alopha, beta and so forth. Dogs do not have a strictly linear pack structure.. with the lead dog being the one that is most suitable for the job at hand. Take a look at this: http://www.nonlineardogs.com/

Each dog is differnt.. while a BREED may tend to have certain characteristics, the individual dog you happen to own may or may not have those characteristics. A wise trainer told me once "Train the DOG not the BREED."

That being said, herding dogs exhibit prey drive that is controlled.. almost stalking the flock for a kill.. watching it all the time.. but never peeling a single animal off and actually consummating the act of killing. This herding behavior, including proper grip of a sheep, is genetic. In German shepherds this genetic predisposition for a certain grip transfers to the sleeve of the helper.

A good herding German shepherd will make a deep, full grip in exactly the correct place on a sheep's neck to get a point across and make the sheep behave. The dog will NOT release that grip UNTIL the sheep stops struggling against the hold. This grip will NOT damage the sheep. It is this same exacting deep grip and hold that is expected on the sleeve in Schutzhund and the tendency to grip full in the center of the sleeve and nto let go until the helper stops moving and the handler says AUS! is genetically based. A dog that consistantly grips deep and full, but at the elbow is genetically per wired to do that. Can you train a mid sleeve grip? Maybe.. but under pressure the dog will return to the elbow oriented grip. The same is true of a dog that grips poorly or that lets go of the sleeve.. the dog does not have the correct wiring. Can the dog be trained? Again.. maybe.. but under pressure and stress the dog may not bite deep or grip and hold.

So.. the question with your dog is was she looking to communicate with the wolves or was she more concerned that they were a threat to her flock? I suspect the latter over the former..


by
Stumpywop
on 18 December 2011 - 23:50
FWIW, in my experience you can train a GSD to do almost anythin.

My oldest GSD, Zane, although not suitable for SchH (he wouldn't even do the obedience bit) is a qualified assistance dog (although he doesn't have the vest).

He turns on lights for me, he can open the washign machine, he fetches the phone when it rings, he can open and close doors etc. He has a job to do and is occupied not 24/7 as you may think but intermittently throughout the day. This mental stimulation combines with the daily exercise an dtraining he gets anyway means he is happy and doesn't display neurotic or skittish behaviour.

If yu concentrate on occupying your girl's mind as much if not moreso her body, I'm sure you'll find she'll drop into a completely different routine and will be happy.
by
Prager
on 19 December 2011 - 00:05
I am sorry but I did not read anything here except the first post so forgive me if i am repeating something.
1. Dog at this age of 10 weeks will never display symptoms of HD The limping caused bu HD is caused by secondary changes of arthritis
2. You can not see it on x rays either. The x ray will look horrible because the bones are not ossified and you can not see them on x ray in their entirety.
3.If the dog limps in this age it is probably a) injury like forn ligament, muscle or fracture
b)Pano (Panosteitis). or inflammation of a long bone or so called growing pain. Pano comes and goes and often involves different leg as time progresses ,...but not always.
If the pup is falling is it falling because it's leg or is it falling because it is just running as pup?
If the pup is falling because of the leg I would consider torn ligament of muscle. Fracture would be visible on the x ray.
Prager
Hans
by
jcmann01
on 19 December 2011 - 00:09
I agree with you about most dog breeds, but the GSDs are unique in that they were crossed with wolves purposely. I got this quote for Wikipedia's German Shepherd's Breeding history:

"In the original German Shepherd studbook, Zuchtbuch fur Deutsche Schaferhunde (SZ), within the 2 pages of entries from SZ #41 to SZ #76, there are 4 Wolf Crosses.

[

8

]

Beowulf's progeny also were inbred and it is from these pups that all German Shepherds draw a genetic link."

http://en.wikipedia.org/wiki/German_Shepherd_Dog

I also saw the Nova episode called, "Dogs Decoded." I don't know if you have ever seen this particular episode, but in it, they talk about the ancestry of dogs and the DNA as compared to Grey wolves. The debate was whether or not dogs originated from wolves or if they evolved separately, but in parallel to the wolf. Several different skulls were compared between various dogs and that of the Grey wolf. The skull of most dogs were much different from the wolf, but when they compared the Alsatian (GSD) to the Grey wolf, the skulls were almost identical. It was really an interesting episode. Yet, Von Stephanitz managed to successfully breed out all the wild traits of the wolf from the GSD and come up with a civilized breed, fit for serving humanity, while preserving their beauty and intelligence. The Chinese are coming out with new sucessful breeds of dog/wolf crosses too, ie the Kunming Wolfdog. This breed is very similar to GSD.
Before you know it, we will be getting dogs "Made in China" too, along with everything else in this country.

As for herding, she is quite the working dog, but I am a city boy living in a residential area of Tulsa, Ok. I don't have any livestock for her to herd around, accept my other two labs and they don't like the new kid on the block up in their face all the time. She already has been in a few brawls with them to determine who was going to be in charge. The undisputed title is still up for grabs, but now that she is getting bigger, my 100lb male chocolate has become more cautious around her. I am also trying to run my own business and don't have time to supervise them all during the day.

by
Rass
on 19 December 2011 - 15:04
You are in luck. There is a working dog club in Tulsa. Not herding but something you might want to take a look at if you are really interested! http://www.ok-wda.org/ Warning: this stuff can be hihgly addictive (as can the GSD breed).

I don't trust Wikipedia to have things correct (self editing is allowed). In the discussion it sounds as if the wolf was reintroduced which is intentional breeding by man.. not so much an evolutionary thing where there may be parallel lines dog/wolf from a common ancestor.

I am sorry I did not see the NOVA episode and that is an interesting discussion. I do not have Television or HS internet. That being said, just because the wolf and the dog are genetically close enough to interbreed and produce sexually viable offspring does not mean they should be for very many good reasons.

BTW I am not saying these things to argue (hard to show 'tone' on the internet). I am simply making for interesting discussion.

German Shepherds have a play style that is different than other breeds. They will get in each other's faces, grip neck skin and hang on and chase each other nose to flank. Other breeds are offended by this rough and ready and in your face play style
by
Sunsilver
on 19 December 2011 - 15:37
There is much controversy over whether ANY dogs descended from wolves. It has been widely accepted lately that wolves and dogs did not evolve or get bred one to the other.. but instead dogs and wolves evolved separately from a common ancestor.

Accepted by WHO? The last I heard, as a result of modern DNA testing, the dog and the wolf were now considered different varieties of the SAME SPECIES:
http://www.dogsled.net/wolfdog_comparison.htm



I do agree there are differences in behaviour and pack structure, though. However, I don't agree with those who say the dog's humans don't need to be the alpha. A dog like a GSD will walk all over you if you let that happen! SOMEONE has to be pack leader.


Accepte



I will wade through the scientific gobbledeygook of the paper Rass linked to later. I do have a Bachelor of Science degree, and am used to reading academic papers, but I find that one tough sledding. Even with a brief glance at it, the author's terminology (fitness landscape, fitness hills) has me grinding my teeth, and going WTF??? I studied animal behaviour fairly extensively in university, and those terms are ones I've never heard before. It could be something new, but I've also found scientists sometimes make up new terms, just to make their papers sound more erudite.

The REALLY good scientists don't need to complicate things unneccesarily by doing that sort of crap.

http://www.nonlineardogs.com/socialorganisation.html

I studie
by
Rass
on 19 December 2011 - 17:57
Dogs and wolves dividing but sharing a common ancestor would likely mean variations of the same species, but separate suspecies (because they can intermate and have sxually complete offspring). Of course to subscribe to this now would mess with the taxonomy... what do we call them? Canis lupis familiaris and canis lupis lupis? It will drive the taxonomists over the edge (fun times!).

Both horses and donkeys are Equus, but are different enough in species that their off springs (Mules or Hinnies) cannot typically mate and produce offspring. I believe this is due to mismatched numbers of choromsomes.

The issue with studying dog pack structure is the pure and simple LACK of studies. The Non Linear Dogs study is pretty much the best one out there.. and it may not be the best science.

I believe Patricia McConnell and/or Jean Donaldson both lament the lack of studies of dogs in packs and their interactions. We are talking real studies here, not anecdotal studies we all do every day with our own dogs and without controls.

Either way, I stand by what I said. IF (big if there) Wikipedia is correct, the introduction of wolf in the GSD breed in the 1880's and 1890's was man made mucking about.. not evolution happening on its own. It was man adding wolf genes to an existing dog genotype. The base dog genotype would have evolved much much earlier in the mammal record.

I also stand by thinking that the OP's dog reacting to the wolf in more of a protective manner (either itself or its flock or (more often) both as opposed to a communicative manner with its ancestral memory. The second thought is far more romantic that the first!

Lets face it, one reason I have German Shepherd dogs is their upright ears and somewhat wolfish look that is coupled with biddability and tendency to work as a partner in a team with me. I love their look and everything 'inside.' I really hope that this German Shepherd the OP has works out for them in every way a dog can!!
by
jcmann01
on 20 December 2011 - 02:46


"I don't trust Wikipedia to have things correct (self editing is allowed). In the discussion it sounds as if the wolf was reintroduced which is intentional breeding by man.. not so much an evolutionary thing where there may be parallel lines dog/wolf from a common ancestor."

My dear fellow:

Wikipedia is the second largest encyclopedia database on the internet, aside from Encyclopedia Britannica Online and almost as accurate. The articles are not just composed or edited by just anyone. You can submit an edit, but this submission is reviewed by the author of the article and other top researchers in the field and if found in error, the submission is dumped in file 13. You pretty much have to prove your point and have several reliable references to to show for it. With that said, it is no wonder why every article in the database comes with so many references in the end notes.

I am an educated man also and I can appreciate verification of facts as there is so much BS out there on the internet too and everyone claims to be a leading expert. However, I did verify these facts and that is why I mentioned them, but interestingly enough, this website (pedigreedatabase.com) actually has a detailed early breeding record of the German Shepherd, complete with pictures and charts:

http://www.pedigreedatabase.com/german_shepherd_dog/dog.html?id=1183&p=progeny

Aside from that point, you may find this article interesting too about the origin of dogs traced by scientists and published in Science journal:

http://news.bbc.co.uk/2/hi/science/nature/2498669.stm

In the article, it is said that scientists may have pinpointed the origins of the dog to 3 female wolves in asia over 15000 years ago.

Here is another interesting article, which pretty much sums up the latest findings about the origin of dogs:

http://www.nwcreation.net/dogsandwolves.html

Personally, I prefer to read articles that are in plain english and that have real substance, rather than reading a lot of technical mumbo jumbo cryptic that sounds impressive only because the author is hiding behind their big words and complicated phrases. Hence, they like to confuse the hell out of the reader because they really don't have much in the way of substance to share.

You must be logged in to reply to posts