German Shepherd Dog > BRAG! How BIG is your female? (49 replies)
by
vomeisenhaus
on 15 December 2011 - 16:30
I give them lots of credit. Their dogs do have that "WUNDER" what's for dinner look on their face....lmao. ill bet that 150lb czech/ddr dog doesn't come close to 150lbs. I seen a cple of 160lb presa canarios at a schutz club in florida and they were fricking "HUGE". I guarantee they were more than 10lbs heavier than that dog.
by
Blitzen
on 15 December 2011 - 16:33
No titles either?
by
Avery Hill Kennels
on 15 December 2011 - 16:43
My favorite female is 55 soaking wet she is agile as a cheetah and that's how I like them.
I really don't understand WHY people want these huge oversized GSD's ? If I wanted something big and fat to amble behind me I would have got Newfoundlands. I don't want a fat ass Moose strolling around ( far) behind me and think that it would be capable of being a working dog.
My BRAG is I can feed two of my standard size GSD's for what people have to feed one oversized,morbidly obese GSD's ! And less health care due to far less stress and damage to joints.
And in this economy that is GREAT

by
vomeisenhaus
on 15 December 2011 - 16:43
Hey blitzen... I'm southbound I-75 right now headed to florida. And those presa I seen come from over your way I believe. You know them? They were training with steve gregalunas.
by
GSD Admin
on 15 December 2011 - 16:44
wunder,

I see no attacks, maybe a few posts could have been worded a little different, but for the most part these folks have been gentle with you and are trying to help you see that your brag is not something you should be bragging about on a site who's members are about breeding animals to the standards. Sorry, you feel attacked but honestly I see way more truth and facts than attacks, but sometimes the truth hurts more than an attack.

Regards,
by
Siantha
on 15 December 2011 - 16:56
yea i was very happy with my male who was 80 lbs. i had a young puppy i got who was 75 lbs at 9 months and i was not happy with it he was at good weight you could see his ribs but even then from him growing soo fast and such he got a relly bad case of pano and he would hurt him self often jumping around so he was placed in a wonderful family home.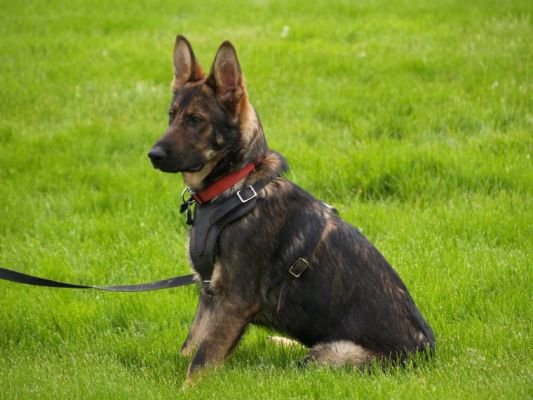 this is him at 6 months.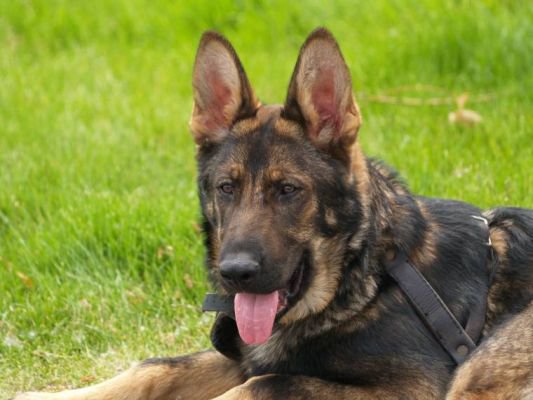 he was a nice dog but was not ment for a working home he will def be oversized and didnt have the correct drives. i still feel he is a nice looking dog but i have learned the standard is there for a reason this poor guy i felt relly bad when he got pano and it took a good month to go away its just not fair to the dogs to breed them oversized a 70 lb dog can go over a jump 100x more than a 120 lb dog before they start haveing issues. its safer for the helper and the dog.
by
bsceltic
on 15 December 2011 - 17:27
My 22" Showline female that I lost a year ago was at her ideal weight at 55lbs. When I spayed her, we had a heck of a time keeping her weight down.

My current 18 mo working line girl (23 1/2") is a lot heavier boned and definately NOT overweight but she is an extremely solid 74 lbs. I have to watch her weight closely to make sure she doesn't start climbing up there. My boy is a good inch and half taller and he's solid at 77lbs (just had him on a short diet since his weight had climbed up on me about 5 lbs).

It's important that I can lift and carry both of them since we do Search and Rescue (Had to carry him out a couple of nights ago due to an injury during a search).

It's really critical to me to have a dog at the proper weight AND in size.

I don't think I'd be bragging about a pup that much too heavy or out of standard.
by
gsdshow
on 15 December 2011 - 17:32
I just can't believe the "BRAG", my showline female is almost 3 and is a bit over standard in height but only weighs 68 lbs. I hate when people tell me they have a 120 lbs. GSD, makes me so mad!
by
Blitzen
on 15 December 2011 - 17:37
Wunder, there are plenty of people on this board who will be more than willing to mentor you. However, you have to understand that most here are not randomly breeding GSD's from untitled parents and grandparents. We feel as if there is no shortage of pets so there is no need to breed for more.

If you want to learn about breeding GSD's the right way, then you have come to the right board. If you are interested in doing it the fast and easy way, breeding from untitled, unproven dogs then you will probably get more support on one of the internet dog boards that are intend for pet buyers and breeders.

With one baby and another on the way - did I understand that right? - you may want to rethink taking on another major responsiblity at this time.

Good luck with whatever you decide to do.




by
Jenni78
on 15 December 2011 - 17:44
Amen, Blitzen. I have just one little boy, but I have taken a big step back. It's far too time-consuming and energy-draining to do it all PROPERLY. I can no longer drive across the country on a whim because I want to train with someone, nor can I devote every waking moment to the dogs, and with wl GSDs, you pretty much have to do that, or imo, you're not doing them justice. I would rather take an early retirement and get back into it someday when my son is older. It's not fair to either him or the dogs to try and do both half-assed. Either the dogs lose out on time and attention or I miss my son's early childhood.

I am down to 2 GSDs, which is the number I feel I can be fair to at this point. I have placed several dogs w/co-owners or placed w/breeding rights so the bloodlines are there if/when I want to start back up, but at least the dogs aren't sitting around waiting for that day. They're living full lives elsewhere with people who can exceed their needs.

Wunder, you would be wise to heed Blitzen's advice. Trust me...been there, done that. If you want to breed for pets, another type dog may be better suited. I think whatever you breed, you should breed the best of it. JMO.
by
macrowe1
on 15 December 2011 - 17:49
Jenni: fully agree, it can't be taken in a jokingly manner if you "brag" how large your female is and have previous posts on the extrememly oversized male you're studding out.

Great, your dog is big and you're proud of it. Don't get me wrong she's beautiful, but not at all in breed standard. And I believe, and I'm sure you don't agree with me, that you should not breed an animal if they don't contribute to the breed. You should breed dogs who are prime examples of the breed standard. I'd be worried about hip and joint problems with large GSDs. Don't get me wrong, I love big dogs, Great Danes are awesome. However, GSDs aren't meant to be extrememly large dogs. They're meant to be medium sized, compact working dogs.

But my bitch is in exact range with the breed standard, and I'm extremely proud of that. She's 13 months, 64 lbs, 22 & 1/2 tall.

As for "eating like a pig", as a vet tech I've seen the people who free feed their dogs, and their dogs tend to gain too much weight, which is hard on their joints and organs. I suggest you read the food amount suggestion on the bag of whatever you are feeding and stick to it to prevent your baby from having future issues.


by
macrowe1
on 15 December 2011 - 17:58
Absolutely love the Administer's post! No, we are not being abusive, but it shouldn't be something to brag about breeding untitled, non-standard GSDs and brag about how large they are.

Blitzen: Amen!!!! I hate those who just have dogs and breed them for the hell of it. There are so many dogs in shelters who need good homes, many of who came from breeders that were in it for the money, not the betterment of the breed. Breeding oversized GSDs puts so much more strain on their hips and joints, and I've seen so many who have had to be put down because of this poor breeding. I believe that you shouldn't breed dogs, especially untitled dogs that come from untitled stock, unless it is seriously to improve the breed (and definately within the breed standards)
by
GSD2727
on 15 December 2011 - 18:10
To the OP.... Ok so you meant it as a joke, but maybe you should read some of the comments? While you cannot change your dogs genetic size or what she will end up being when full grown... you can help control (at least somewhat) how fast she reaches that size... you can help her to grow slower and more evenly. I dont know what you feed her, but may want to research different diets to help with that?

Your girl is beautiful... and she does appear to have large bone/substance... but you can still control how much she eats, what she eats and keep her THIN. The thinner and healthier you keep her the less chance you will have of health issues and injury.

The GSD is supposed to be a medium size dog, who is able to run, turn on a dime, sprint, trot all day long, jump, climb, etc... An overly large dog will have a harder time doing all of those things properly. They will also often have a shorter working life.

I will brag about my 50-58lb girls :) Proud of them, their size and how they develop/grow slowly to reach their adult size. Also proud of how active, healthy, fit and able to do things they are.. including my old girl who passed at over 14 years old. She took a few bites on her last day, able to jump up to the sleeve.

Valerie
by
GSDloyalty
on 15 December 2011 - 18:46
My girl is 66lbs at almost 2 years. Not to bad for her, I can feel the ribs.
by
Fenrir
on 15 December 2011 - 19:34
My girl went to the vet yesterday and weighs in at 60 even at just one year, I expect her to be around 65-70 when all the way filled out and mature and I think that is perfect anything much more and we have a biggins on our hands :)
by
Elkoorr
on 15 December 2011 - 19:45
Well, here is my BIG puppy girl: Ava

I have posted pics of her here more recently. She is 1 week short of being 11 months old, last weigh in 6 weeks ago was 75lbs. She is approx 63 cm and long. Yet she is very agile, very fast, and can jump with ease! She will eat like a pig too...meaning the amount she gets will be gone in 30sec. She is lean, but has almost an adult looking body. For a female she is oversized. And for Jen ;)... she has nice feet that are bigger than daddys! go figure.... It will be interesting to see how she will look like as a 3 year old.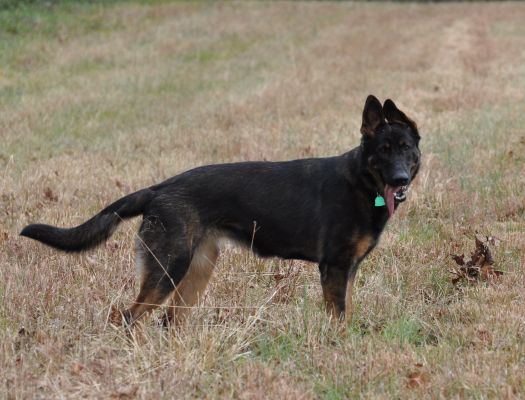 by
Vom Boyer Haus
on 15 December 2011 - 20:07
60 LB at 1 year old, my healthy girl will get maybe, possibly up to 70. Bragging about a size of a working GSD is dumb and reflects the owner poorly. No wonder the MAL's are being used more and more in protection and police work. Oversized and poorly bred Shepherds are hurting the breed. Thank God for Good Breeders that know how to breed within standard!
by
Jenni78
on 15 December 2011 - 20:21
Sina, she's a heavy boned girl (not to mention a beautiful one with lovely feet, LOL). Bone and density really count when it comes to weight and determining what is too big/heavy. Neither of her parents are way oversized; but both have substantial bone. Ava IS a big girl (may come from great grandpa Snoopy)- but you can see from her pic that she is very lean and in no way have you tried to make her heavy so she weighs more. I know from her sister Anya that those pups have BONE.

A coyote build is always going to weigh less than a solid, thicker boned build. I care way more about agility and how the body holds up over time than what the numbers say if the dog is within the standard or reasonably close. This is why Caleb's size doesn't bother me. He is extremely agile and outperforms dogs MUCH smaller and lighter than he is, and he has held up remarkably considering the abuse he has put his body through over the years. When I posted his hip xrays, people accused them of belonging to a mastiff. BONE weighs quite a lot.

Ava is a lovely girl. Hopefully, she's done growing!

by
GSDPACK
on 15 December 2011 - 21:24
HA and I constantly can get over the fact that my male is 84 pounds and too big when I work him and have to help him into a semi in bite work and others in the group grab their 55 pound bitches and 72 pound males and just throw them there!

I am about 130 pound, the dog is 84 and it sucks! I am concerned about getting them down in sice and some brag about their blobby huge gsd lookalikes darnet!
by
Sunsilver
on 15 December 2011 - 23:37
My two females are Star, GSD, 25" and 70 lean pounds; and Teena, Shiloh Shepherd, around 27-28" and 75 lbs. She is very narrow through the ribcage, which is why she weighs so little for her size. Most Shiloh females are 80 to 100 lbs, and even the males, who are quite a bit taller, only weigh around 120-140. Anything heavier is overweight, and with an extra large breed dog, that's something you DON'T want, unless you don't mind them developing arthritis and other joint ailments!

To put it in perspective: if you had a 10 year old child that weighed almost as much as a mature man (say 130 lbs.) would you brag about it?

NO! You'd put him on a diet!
You must be logged in to reply to posts