German Shepherd Dog > BRAG! How BIG is your female? (49 replies)
BRAG! How BIG is your female?
by
wundergsd
on 15 December 2011 - 04:24
This is a BRAG!

Just weighed my girl Tessa tonight and she's 63lbs at just 23wks old. She eats like a PIG. Love her large stocky build. People mistake her for a male until they hear her name and realize she's a female. LOL! How BIG is your female? BRAG here! I want to see pics!!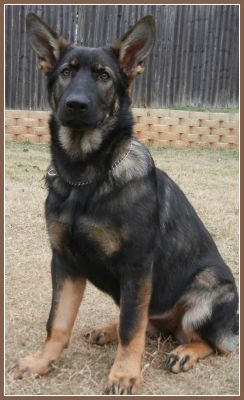 by
Chaz Reinhold
on 15 December 2011 - 04:32
My male is just over that at a year and a half. Congrats. You must be very proud of her.
by
gsdlvr4life
on 15 December 2011 - 04:43
That "eating" like a pig is gonna lead to some sad dysplasia:(


by
hexe
on 15 December 2011 - 05:49
Um...no. While I'm in no way throwing shade at you for being pleased with how quickly your girl is maturing, I'm on the other end of the spectrum--I'm quite pleased with how compact my 32 month old bitch is at a svelte 65#. Granted, she was carrying about 68# before Max the Moose moved in, and while he's run 3# off of her, she's run 13 off of him...but he needed to lose it, while she didn't.

See, I prefer a dog that's easy for me to lift by myself; anything over 75# becomes a chore to lift regularly, and anything over 80# falls into the 'only in an emergency' category as far as lifting the dog is concerned. And while it's easy enough to figure that the dog can darn well jump up in or on to whereever I want it to be, that doesn't pan out too well when the dog is woozy after surgery, or is hurt and shouldn't try to walk let alone jump, or is old and simply *can't* jump anymore. SAR dogs, narcotics dogs, cadaver dogs--they're all better suited to the work if they're compact enough for one person to hoist them up and over or into areas that need to be searched...doesn't do much good to have a terrific search dog that can't fit it's 100#+ carcass into a snug spot to locate something, y'know?

But--you might want to take a second look at how quickly your Tessa is gaining; fast growing dogs do tend to have a higher incidence of panosteitis, and excess weight does unnecessarily add strain to the hips, elbows and spine, so you may need to slow the growth rate down a mite for her own good. She doesn't look overtly chubby in the photo, but you want to be sure that you can *easily* feel her ribcage under your fingertips with almost no pressure on them; if you have to press your fingers down into the ribs, she's carrying too much weight. Fat puppies do not = healthy, sound puppies. She does seem to have pretty substantial bone, and I can't tell how tall she is from the picture 'cause there's really no frame of reference, though. Pretty face, too--clearly feminine to my eye. :)
by
Slamdunc
on 15 December 2011 - 11:50
A German Shepherd is medium sized dog, my female weighs approximately 68 lbs. She is a German, Mother bred in Germany, working line dog. Female GSD's should be between 65 and 70 lbs. American lines do get bigger, but have more health issues. Please watch your dogs weight and when it comes to GSD's bigger is definitely not always better. Some people seem to stroke their ego by their dogs size, I prefer to brag about my dogs working accomplishments and athletic abitlity. My 5 1/2 year old male weighs between 80 and 85 lbs, hard to say because I don't weigh him very often. I looked at his muscle tone and you have to be able to feel the dogs ribs when you run your fingers down it's side. I like to see my dogs ribs when he is working. How many fat marathon runners or Olympic athletes do you see. Your dog should have a waist line when viewed from above, you need to check on this. When people start bragging about their 120 # GSD I normally hear blah blah blah.

If a 6 year old child weighed 180 lbs, I would probably put her / him on a diet and not let them eat like a pig.

Your dog is very cute and possibly is just a big dog. Please be careful and monitor her weight and feeding. Don't go by the scale but her appearance and energy level. Remember to check for a waist line and feel her ribs.

Jim







by
GSDguy08
on 15 December 2011 - 12:05
I wouldn't be bragging about a 23 week old female weighing that much. That's not a good thing.
by
Konotashi
on 15 December 2011 - 12:31
Better get those hips checked when you can. Lots of swimming and other exercises that are easy on the joints....

Is she free fed? If she is, I'd get her on a feeding schedule. Free fed dogs get fat, fat GSD = joint issues.

Why do people think bigger is better when it comes to, what should be, a medium sized dog?
by
vonissk
on 15 December 2011 - 12:38
Love my 2.5 yr old 60# girl....................
by
Rass
on 15 December 2011 - 13:31
My 18 month old female is 59-60 pounds... and that is plenty.

Bigger is not better in this breed. Standard is best.
by
BoCRon
on 15 December 2011 - 13:44
My girl turned 1 this week and weighs 59lbs! I'm going to brag about that since the breeder met the goal of producing a workably sized female! (I'm not the breeder so I get no credit for her DNA combination :)). She is a great size to work, easy for me to handle and extremely athletic. The fact that she's a crack up is a personal bonus.


by
Brandi
on 15 December 2011 - 13:52
If you go to their profile and look at their previous adds AND go to their website, it explains it all.

by
Kevlar
on 15 December 2011 - 14:32
Why are people "bragging" about not being in breed standard? Why don't you just say "Hey, look at my fat, nonconforming, going to die at a young age, waiting for joint problems, female". My female is 2.5 years old and 85 lbs and she is very lean. I am in no way proud of her being so large and I do everything I can to keep her very lean so she doesn't have health problems in the future. It is sad to see people do this to the breed.
by
Guppyfry
on 15 December 2011 - 14:32
That's not something I would brag about . . .


by
VKGSDs
on 15 December 2011 - 14:44
My female is 8 years, 52lbs but no one messes with her!


by
Blitzen
on 15 December 2011 - 14:44
What's next? Giant GSD's? This is obviously an uneducated BYB breeder bragging about what uneducated BYB's traditionally brag about - breeding over-sized dogs.



by
Jenni78
on 15 December 2011 - 15:46
LOL. Every time someone asks me how big one of mine is (Caleb) I *sheepishly* tell them he's a hair under 100lbs

- and then I scramble to explain that he is extremely lean, a hair over height standard (1/2- 1inch) but very very heavy-boned and that I am in no way thrilled at his size, though I wouldn't trade him for a million dollars and a genie in a bottle. I love him despite his size, not because of it.

On the flipside, I used to get FURIOUS at people for putting Qira down, who is a perfectly middle-sized gorgeous girl at right around 6-65lbs (she looks much lighter than she is, again, due to bone).

People are idiots. I use those kind of questions as part of my screening process. I have had people call, all enthused about a pup from Capri (who everyone thinks is a male) and then when they ask me how much she weighs and I answer 72lbs, they get disappointed and say she's "tiny." I politely (or not, depending on my mood that day) tell them that the German judge who did her koer must not know what he's talking about, since the first three words on her Koerschien are "large, powerful, and substantial."



I feel so sorry for the dogs I see on the street who are so fat, just so their pathetic owners can say theirs (dog) is bigger than yours.
by
wundergsd
on 15 December 2011 - 16:00
Wow! People are ridiculous to take something that was meant in a midly joking manner out of context. Instead you had to turn into an attack. Won't be posting here again. How sad.
by
gsdlvr4life
on 15 December 2011 - 16:09
But it didnt come out as a "mildly" joking manner. And when there are ads trying to stud out your EXTREMLY oversized male that kinda says you want everyone to know that you have oversized Shepherds and are proud of it.

I am honestly sick and tired of people posting stuff and "bragging" about this oversized dog or that oversized dog and then getting PISSED off when you dont get the answer that you want.You are on a board of people who love there dogs and are trying to maintain the "breed" standard to which obviously you dont give two shits about.
by
Jenni78
on 15 December 2011 - 16:14
Sorry we offended you, but honestly, YOUR post is offensive to those of us who struggle to raise and breed PROPER German Shepherds. And asking how big and asking for pictures does not strike me as "mildly joking." Sorry if we misunderstood. Enlighten us with your standard-meeting GSDs and stick around.
You must be logged in to reply to posts