German Shepherd Dog > Which WL Studs are impressive looking AND beautiful movers? (25 replies)
Which WL Studs are impressive looking AND beautiful movers?
by
Smiley
on 12 December 2011 - 02:14
I am curious as to which WL studs move extremely well! I read the thread about what dogs are impressive and I found the ones I loved were pure working line! But, I am curious...do any of these great working dogs move exceptional (in terms of gaiting on loose lead)?

I know that my own experience with a WL dog has produced a pup with great athleticism and correct conformation but movement isn't her strength! Is this common? If so, which studs break the mold?

I ask as I wonder if these exceptional looking working dogs "could" (not necessarily have) compete in the conformation ring based on their conformation and movement (if it weren't for color or politics)......

Sara
by
Smiley
on 12 December 2011 - 03:11
Nobody? Come on...there must be some awesome WL studs that are the total package!!!


by
Behaviorist
on 12 December 2011 - 03:57
Any WL male that is V in conformation should be a great mover if judged correctly. That would be reach & drive, that should also athletic if form follows function. I know of two black males & a sable with great scores too.
by
weberhaus
on 12 December 2011 - 03:57
All 3 of my males are V rated in confirmation and were given top remarks on there movement being correct and powerful. My new boy got his SG but did not have his sch1 at the time so that was the best he could get but now has his IPO2 and will get his kkl next spring. The judge said he deserves a V after his title. He truly moves like a dream.
by
weberhaus
on 12 December 2011 - 04:01
V1 miky z tresnaku zvv3 V1 Cedar z jirkova Dvořá sch3 V Asko von Der sperberquelle sch3 SG Grim z Jeniku IPO2 Here are there names if you want to look
by
eichenluft
on 12 December 2011 - 04:15
V-Bandit vom Wolfsheim Schh3,FH,KKl-1,a-normal.

He is TRUE V in structure, and movement. Also the total package in temperament, drive, absolute solid nerve, structure, bone, pigment, bloodline, and he produces extremely consistant puppies as well seemingly no matter the female.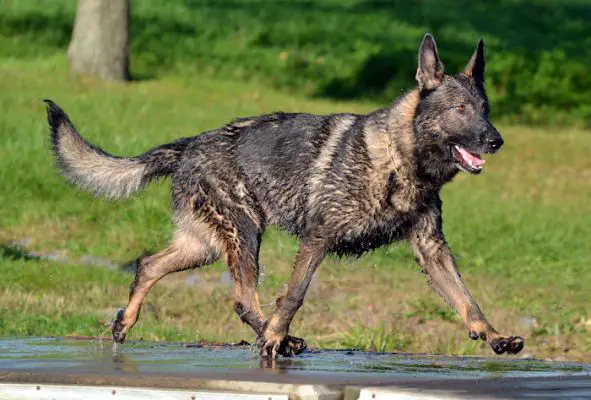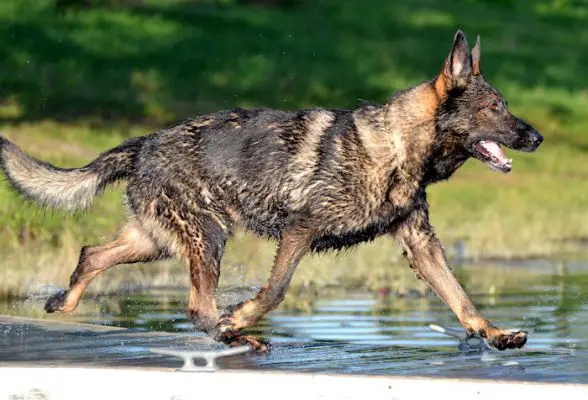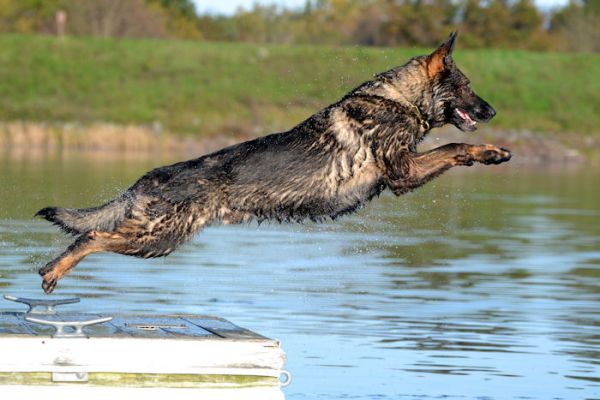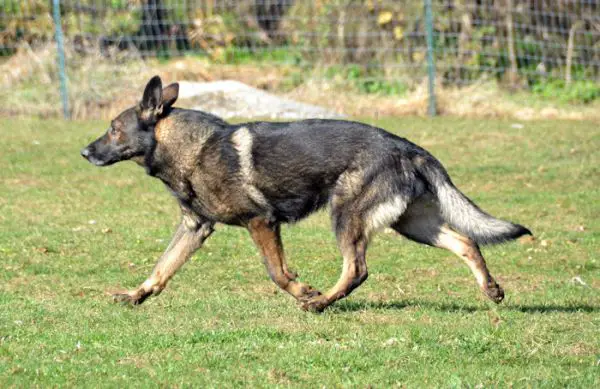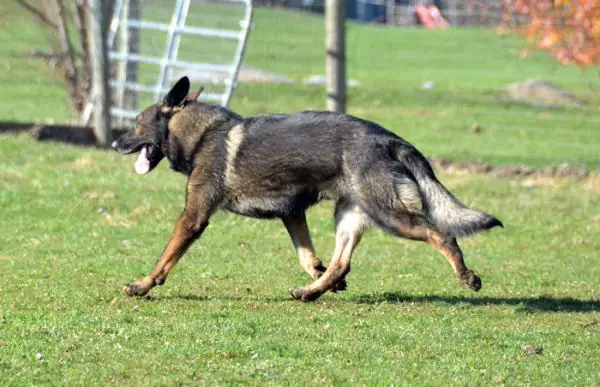 by
Smiley
on 12 December 2011 - 04:30
Behaviorist- Good point but what does "if judged correctly" mean (like without politics)?

Thanks Web and Eich!!


by
vonissk
on 12 December 2011 - 05:34
Molly he moves beautifully and I bet those pics don't even do him justice.
by
eichenluft
on 12 December 2011 - 10:52
vonissk you are right I can't seem to get any pictures of him that do him justice, standing or moving or even head shots. People who meet him in person say the same thing "wow, his pictures don't even come close to the real dog". I'll keep trying LOL
by
pod
on 12 December 2011 - 11:20
Absolutely beautiful dog Molly! Such a refreshing change to be reminded that there are stll GSDs that can move with efficiency and balance, without exaggeration.

Sara, I think the show world has conditioned us to look for the "exceptional" ie a dog that stands out from the crowd. This is what has led us down the path of exaggeration.... always looking for a dog with a little bit more, but efficient movement actually relies on conformity to normal canine construction, which should not be exceptional.
by
Smiley
on 12 December 2011 - 12:52
Pod, I agree!! I just wanted to emphasize that I was looking for dogs with that efficient, ground covering stride who also look beautiful/impressive AND can work!!!

It's good to see that WL dogs are actually capable of having the total package!!

Anyone who knows me knows that I always emphasize the balanced dog......



Sara
by
VKGSDs
on 12 December 2011 - 13:19
Boy von Zorra. V-rated more than once (including a Sieger Show), KKL1, has beaten a now VA dog in conformation in the working class.

Sara many working dogs are capable of the total package. We can give you some of our favorites but really you do not have to look hard to find V-rated Koerklass'd working line dogs. In fact these days I'm having an easier time finding WL dogs I like (I show my dogs in UKC and SV) than show lines. I have two working lines and a show line and both my working lines are more balanced in movement and thus move better than my show line.
by
Smiley
on 12 December 2011 - 15:01
VKG.....that is exactly what I was thinking of doing with my WL pup!! I finished her UKC CH and am going for Grand but I want to try the SV style of conformation showing to get her a rating.

Of course, I am thinking if she turns out to be breedworthy than I would breed her to a WL male that had great conformation, working ability, balanced disposition, and good movement. The movement with the WL dogs has been the big question mark for me. I have seen a lot of working line dogs but they kind of move like my bitch ...well,... um...workmanlike!! hehehe

I would love to discuss making the transition to SV style showing from UKC if you ever have time.....

I didn't see to many WL type dogs in the NASS results. So, I was confused as to whether the WL dogs can compete on the ScH field AND in the breed ring.

Thank you,

Sara
by
eichenluft
on 12 December 2011 - 15:58
I had two Paska daughters, from different dams - both titled, excellent temperaments, drives, medium nerves - definately NOT "V" in structure, both "G KKl-2" - but of course that's only two, and maybe Paska produced better sons than daughters? anyway of course there is no such thing as 100% in any producing stud dog.


by
Fenrir
on 12 December 2011 - 16:16
Paska had many G rated dogs out of him and lots of SG as well. However for a working dog he produced more V rated working line dogs than most. He produced many V rated females and males. I know that that his Bora litter was pretty much 100% V rated male or female and the times he was bred to a V rated female almost always produced V rated pups. My dog is a grandaughter through Nino who is V rated as well.
by
VKGSDs
on 12 December 2011 - 21:04
We have an all black Paska daughter in our club and while she is very nice looking, I wouldn't consider her one of the best looking or better moving WL dogs I've seen. I believe she is SG KKL2 (though I don't know at what age the show rating was earned, and a V-rated dog doesn't have to be KKL1). I've only seen Paska in photos, nice looking, not really my type actually.
by
Rik
on 13 December 2011 - 00:18
As far as w/l, like Molly's dog a lot. You get the same genes as the more famous brother without the photoshop.

Haven't seen this dog in the flesh, but he is sure photogenic. http://www.pedigreedatabase.com/german_shepherd_dog/dog.html?id=508262

There was a Chech dog at the Costal Carolina Regional last weekend that went V. I think the only w/l to V. He was very impressive. Don't know his name, but Fred Lanting handled him and I will ask.

Rik

p.s. there was a Paska son in the club I trained at. Don't know if he ever got a rating, but as handsome a GSD as I have ever seen.
by
barkroz
on 13 December 2011 - 02:32
I have a Paska granddaughter (maternal) with phenomenal structure for a WL female, would have gone V if I would have ring trained a little (my bad) but should have that corrected by next spring. Her sire is also very nice in the structure, however, all litters produced by her mother (Paska daughter, Onnyah vd Altmurg, seem to produce very nice, balanced structure. The little female is a blast to work, slew of titles at 2years old and just a vibrant happy dog. Her structure at 8 weeks stayed very consistant to her structure now, very impressive trotter when I do our biking exercise. I "really" like seeing working lines with V type structure, personally I think this is essential for the betterment of the breed-why "not" get consistant correct structure in the dogs that are show us the proper drives. My particular slant...This is the link to the female, doesn't fit the stud question I guess but speaks a bit to what Paska produced down the line, though some very nice dogs on the top side... http://www.pedigreedatabase.com/german_shepherd_dog/dog.html?id=607956
You must be logged in to reply to posts