German Shepherd Dog > 10 year old GSD ...Drooling?... (17 replies)
10 year old GSD ...Drooling?...
by
LadyFrost
on 08 December 2011 - 17:38
...okay..search engine did not come up with much of help....

Yesterday all dogs were fed at 6pm, stayed outside till 7:30pm. post feeding.
Misty my 10 year old came in with my youngest female and both laid down...Bailey the youngest was out like a light...
Misty seemed uncomfortable so I brought in old wool blanked that was stored in a garage and she laid down, i noticed that she kept licking her chops, and her tongue was going in/out like she had a mouth full of peanut butter...she did it enough times that I was starting to question her "activity"...she finally laid her head down and seemed to be relaxed...a cat walked by across the room which caused her to lift her head and you can see a line of drool running out of her mouth...she licked her lips again and again, laid down...lifted her head and there was drool...not foamy, not water works but enough to get me to do a search online and post here..... This is a dog who licks her paws when they are wet, she is a very clean dog, she never drooled even with bacon laying in front of her...just not that type of a dog...this morning she seemed fine, no lip licking, did not have time to inspect her area, since she did ask to go outside and remained there for the night.

Any ideas on sudden drooling? I know she is not a spring chicken but she is in great shape...
Her food is the same, no changes, she had Kirkland Lamb/Rice...with chicken broth...all 3 dogs had the same food so I do not think food is the cause...I did not see anything in her mouth....I considered a tooth ache her teeth are filed down quiet a bit, but if she was in pain she would not be laying down comfortably with her head down and snoozing...

any suggestions on basic "in house" checks that I can do?..

bloat did enter my mind, but that was obviously not the case...
by
hunger4justice
on 08 December 2011 - 17:52
Is the drool like string? Are you sure she isn't in intusseption? That has taken as many as 40 + days in the study before diagnosis. Have you tried to palpate the abdominal area to see if you feel anything like a hard mass, or if it elicits a pain response? I have had dogs with bone cancer that showed no sign of pain until the end, so can't always tell if they are in pain. Is the stool normal? Is the dog playing?
by
LadyFrost
on 08 December 2011 - 18:08
Hmm....it was like string....morning are crazy in my house, so aside from visual assessment, i did not physically checked her.
She was barking her head off at 12:50am at something on the other side of the fence...this morning she was stretching when I let the youngest one outside, so she did seem to be okay...I will check her for hard mass when I get home...

I usually do not even see their stool...they go as far as they can into acre of a back yard and usually somewhere behind bushes or greenery...so..no...

I will post update tomorrow, and try to get off work earlier to spend extra time observing her...

thanks for good points.

by
gsdshow
on 08 December 2011 - 18:09
My Male GSD 2 year old was doing this one day, I have a friend that works at a vet clinic so I called her, I took him into the vet, and they could find nothing wrong, they told me that drooling can be caused from an upset stomach. Maybe she just had a tummy ache? I hope all is well with her today :)
by
LadyFrost
on 08 December 2011 - 18:22
:)

gsdshow...thank you...
by
JodyP
on 08 December 2011 - 18:32
also.. sometimes if they have something stuck in thier teeth they will lick and drool.
by
eichenluft
on 08 December 2011 - 18:32
something in the gut - also a sign of bloat or impending bloat - keep a close eye on her.

by
VKGSDs
on 08 December 2011 - 19:49
At Schutzhund one time I noticed my young dog (13 months at the time) drooling terribly, like large strings of clear mucus running out and his chin and chest were soaked. He was otherwise acting fine, ready to do obedience, not shaking or lethargic, even ate and drank what I offered. He drooled like that for about 4 hours. The best guess anyone had was that he got some wild mushroom in his mouth while tracking. I saw a few small ones on my track but thought I was careful to make sure not to put bait near them. However, when I got home I found a sock in his kennel where he sleeps. He must have chewed the sock while I was getting ready for training and then barfed it out and because he barfed and heaved so hard he drooled for a long time. Gross! But, glad it wasn't mushroom poisoning!
by
Blitzen
on 08 December 2011 - 22:57
A bad tooth?
by
Sunsilver
on 08 December 2011 - 23:11
Could be any number of reasons: impending bloat, a bone or stick or other sharp object stuck in the teeth or back of throat, rabies [shudder!] upset stomach, even certain poisons, especially insecticides.

I would check her teeth, mouth and back of throat with a flashlight. If there's nothing there, just keep a close eye on her. Rush her to the vet if things get worse.
by
jdiaz1791
on 09 December 2011 - 00:18
You heard several possibilities; maybe she swallowed something,if she throws up when she eats,this might be the case. Also, just drooling is because can not close the mouth fully,because there is something lodge in the teeth ( piece of plastic, bone,etc ) Check all her teeth before you take her to vet. Good luck.
by
3Shep2
on 09 December 2011 - 01:05
I've experienced drooling in a couple of individuals-both times my red sable had foreign object obstructions (surgery) plus when she seemingly got hold of Roach bait. My coated sable poisoned herself on the hulls of Hickory Nuts-she drooled buckets and leaked from the rear-very lucky to still have her. My old dog does a lot of mouthing/licking every day and I have yet to figure out the cause but figure it's related to the Proin or pain killers he's on.
by
macrowe1
on 09 December 2011 - 01:50
Have you checked her teeth? Make sure to check the back teeth, could have an abcess, causes them to drool, be uncomfortable, lick lips. Could have also licked a frog. Weird, but true.
by
LadyFrost
on 09 December 2011 - 15:59
Good Morning and THANK YOU everyone for ideas and possibilities....so...here is the update....

As of this morning she is fine, I got home early yesterday afternoon and watched her from the house (if i would go out in a back yard she would be under my butt and there is no observing her). here are some photos of her running after Bailey and tennis ball.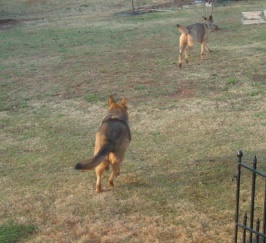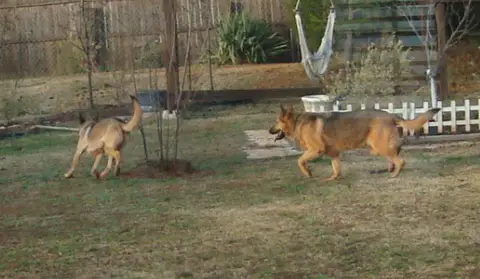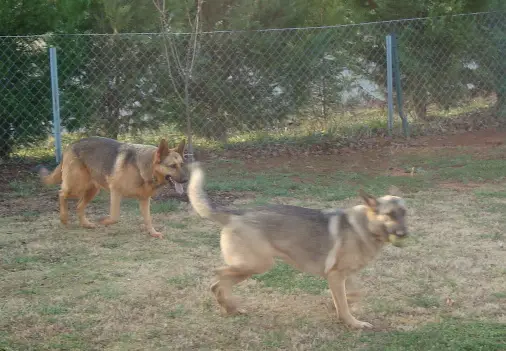 She played, ran, chased other dogs...I fed them, she seemed just time, she ate all of her food, i did not see any drooling post feeding...

I did check her stomach prior to feeding her, it was soft, sides easily were pushed in, no hard masses found...

While I was watching her from the window I did notice something new, she is eating walnuts from out walnut tree...I kept seeing shells here and there and never thought much about it, so now i am wondering if she had a shell stuck in her mouth, but I was unable to see anything unusual in her mouth (she is not very cooperative either) and it is not easy to pry open a mouth of a dog who been flexing her jaws on tennis balls most of her life...

I will continue to keep an eye on her and my weekend project will be to get as many walnuts off the floor as possible...
if anything changes I will post it here...i am still not 100% easy regarding her behavior but i also don't want to over react and have her go through a bunch of test...so we will see....

by
muttlover25
on 09 December 2011 - 16:31
Glad to hear she's doing better, keep a close eye on her! I would really recommend allowing her to eat then putting her outside for a hour/half if she's running around playing that can certainly cause bloat. We never allow our dogs to eat and then exercise right away.
Amy
by
Blitzen
on 09 December 2011 - 17:50
I would not allow a dog to eat fallen walnuts in the shell. I have copied this from the net for you to read:

By themselves, walnuts are not toxic. But their shells can cause an irritated stomach (gastritis) or even an intestinal blockage. Besides all that, they're high in oil, making them a fattening problem for dogs that are already overweight.
But your neighbor's warning is about a different problem with walnuts. There's a black mold that can form on their husk or shell, and this mold can be deadly poisonous. It usually only appears after rain or moisture from fog gets on the nuts on the ground. But I've seen at least two dogs that were seriously ill after eating nuts that had just fallen off the tree.
The symptoms are dramatic. Heavy drooling, nausea, vomit and tremors are the most common signs. The tremors are the real danger to this toxin. Without treatment, they rapidly turn into whole-body convulsions. These patients develop hyperthermia and can quickly die without treatment. The symptoms look very similar to those of a dog with snailbait toxicity.
by
LadyFrost
on 09 December 2011 - 18:30
muttlover.. Thank you for advice....in case i was unclear she was running prior to feeding, i took pictures when i came home and watched her and her interaction for a few hours.. I do not restrict their activity after eating because there is almost no need, they usually lay on their beds or chew on raw bones.

Blitzen...Thank you...I didn't think dogs would be interested in walnuts but obviously thats not the case....it's a huge tree with enough nuts to fill like 3 bath tubs....LOL
by
TingiesandTails
on 10 December 2011 - 04:48
A torsion or infection of Saliva Glands can cause stringy drooling. Usually you have a swelling between throat and chin with it or a swelling at a side of the head though. Less swelling with mild infection. I would want to get that checked by a vet.
You must be logged in to reply to posts