German Shepherd Dog > I like American show bloodlines. Crosses anyone? (181 replies)
by
Rik
on 13 December 2011 - 01:30
Chaz, it's on. You Don impersonator.

Sorry, but you always make me LMAO.

Rik
by
Slamdunc
on 13 December 2011 - 01:37
Rik,
The GSDC of VA show Blitzen was referring too.
by
MVF
on 13 December 2011 - 06:41
I once owned a dog who was the product of a Grand Victor dau x DDR sieger. What a dog! Brilliant - sired many guide dogs for the blind, easily earned a UD, very impressive. Loads of "hybrid vigor."


by
Blitzen
on 13 December 2011 - 13:02
Post deleted, see Dog1's message.
by
Dog1
on 13 December 2011 - 13:03
Show was great! We had 5 entries and 2 new families participating. Our entries placed first or second in all the classes both days. The German dogs did well in the open class winning both days. It was a 4 point major for Waiko and many people congratulated us for what may have been a bit of a surprise. The door was opened for us to probe into the AKC side of the breed. Do the German dogs have a place there? Will they be accepted? To what degree would they be accepted? How would they be accepted? If they were entered and did well would the breeders follow the trend out of necessity? Would the judges that put the dogs up ever be invited back? Would the judges that put them up be in demand or create a new interest in an otherwise somewhat closed group? All very interesting questions. How important is a dog that is V or VA rated, an AKC Champion, SchH3, KKl1, passed all the health concerns of both types and a good producer?

The AKC world is very new to me. I had difficulty navigating the entry process and the club jumped in and made it easy. It's way less complicated than the German System but it has a few quirks that you need to know to enter.

There was a seminar after the show to discuss the two types of German Shepherds. The judges were well versed and qualified to discuss both types in depth. They pointed out the differences in how the standard was interpreted. The floor was opened to other judges in attendance for their input and some of the professional handlers were asked for their input about the breed. Some of the differences in how the health concerns are addressed between both types were discussed. All in all very enlightening insight to the world of the German Shepherd from two perspectives. The club hosted a pot luck dinner where members brought home made dishes for the seminar after the show on Saturday. No one left hungry.

In the ring the dogs were judged AKC style with some German features. Dogs were called out by number after the stand, written critiques were made and copies were provided to the owners. It must have been a very difficult job to blend the two types of dogs, place them in order considering what each had to offer. I think they did an excellent job of blending the two in what must have been a very difficult situation to judge.
by
Blitzen
on 13 December 2011 - 13:14
Helen will be judging bitches at the GSDCA National Specialty in the Denver area this fall.

WD under Goldfarb was the V20 dog at NASS, Armani v Finkenweg owned by Dan and Marilyn Smith.


by
Sunsilver
on 13 December 2011 - 13:41
Gosh, I would have LOVED to have been at that seminar! I assume Fred Lanting was there with Mort Goldfarb? What a treat that would have been to have them both in the same room!

Which dog did Fred handle? Someone posted that info last night, but Blitzen, it must have been you, because I can't seem to find it! :P

Oh gee, surprise, surprise! Dan Smith has another dog from Fiemereck lines!




Too bad there's not a bigger picture of it on the pedigree! (Goes off to check it on his website...)
Ahhh, that's one nice looking dog! http://www.darby-dan.com/boys.h4.jpg



Dog1, can you give more details about the seminar, please?

And I'd also like to take a peek at your dog, if you wouldn't mind posting a link.
by
Blitzen
on 13 December 2011 - 13:48
Not me, Sunsilver. I don't know if Fred was there or not.
by
Sunsilver
on 13 December 2011 - 14:02
My bad... it was Rik, and he was posting about a different show, the Costal Carolina Regional. It was a Czech dog Fred was handling, and it went V.

But that was another thread....


Anyway, sorry for getting carried away there. It was late at night when I was reading those threads!




Dog1, huge CONGRATULATIONS on your dog's successs! That's wonderful news!

by
Smiley
on 13 December 2011 - 14:16
CONGRATS Dog1!!!!!! Good for you!! That is just AWESOME!!!!!



Sara
by
Slamdunc
on 14 December 2011 - 01:11
Sounds like the seminar was interesting. If I had known I would have stayed around for it. I would have enjoyed hearing the different perspectives and view points.

Jim


by
Blitzen
on 14 December 2011 - 02:12
I hope that Waiko's owner is encouraged to show him more and to finish his AKC championship. I understand that he's a very nice dog. More AKC GSD people need to see good German dogs in their ring. Sables are not discriminated against in AKC shows.

Jim, you mentioned the entry being less than you expected at the specialty shows. I think there were almost twice as many entered there this year than last. Entries are down in all AKC shows. AKC has approved too many shows, almost 3 times as many as when I started to show in the 70's, and the economy is not helping either. The number of dogs needed for a major has dropped dramatically in all breeds.



by
Slamdunc
on 14 December 2011 - 02:33
I suppose I am used to SV style shows where the entries are usually higher. You may be correct that the volume of shows has diluted them. I am always skeptical when American SL folks switch to German dogs. I remember a long time American SL breeder dumping his kennel name, getting into German dogs and getting a new kennel name. He became an AKC judge and started showing and selling German SL dogs and puppies. I guess becoming a judge makes all of those dysplastic AM SL dogs ok.
by
Blitzen
on 14 December 2011 - 03:25
I think I know who you're you're talking about.










by
Slamdunc
on 14 December 2011 - 03:33
You probably do, the guy is either famous or infamous depending whom you talk to.
by
Blitzen
on 14 December 2011 - 03:45
And if you talk to him he's a legend? Same guy? East coast?
by
vonissk
on 14 December 2011 - 04:00
Dog1 that is just awesome and a big congrats.......I am so glad to hear that because I am optimistic about things...................Thanks for sharing and I too wish I could have attended the seminar................
by
Dog1
on 14 December 2011 - 16:05
The seminar started out with some comments about the standard. First let's put things in perspective a little. We all know there are at least three types of German Shepherds. We all know Max invented the breed as a working dog. We all know the SV is in charge of the breed. I asked a German Judge last year about the different types of German Shepherds and he had some comments about each. His closing comment was; "...The German Shepherd Dog is a dog for all peoples." The working lines are for the working people, the show dogs are for the show people, the agility dog is for the agility people, the sheep dog is for the hearding people." This is where the breed is today. It's part of what makes the German Shepherd dog so unique.

At a time where the breed as a group is facing serious problems across the board, membership in the National Organizations is down, participation is down, etc. Maybe it's time to pull together as a group to support the breed. That's somewhat of the atmosphere I sensed at this show.

Back to the seminar, Here's my interpretation of some of the points brought out in the seminar. I'm not a reporter and I wasn't taking notes. I'll go with my best recollection if that's OK.

The breed standard is basically the same between the FCI and the AKC. Many have spent hours debating the minute differences in the written difference, there's really no difference. No need to waste any more brain cells on the argument. There's really no difference in the written standard. The difference is in the interpretation. The AKC has no across the board interpretation. Each judge is given the latitude of interpretation. In the SV the interpretation is dictated. Each year there is a meeting in December to discuss the current shortcomings of the breed. The areas are identified and the judges go forward as a group to implement the direction. I found this to be quite interesting and think there could be a whole separate discussion about both concepts.

The anatomy of the dog was discussed next. There were visual aids to help illustrate the areas of anatomy. The proportions of the dogs were discussed in detail. The ratios of height to length, width to length, length of the different components of the top line, length of the neck and shoulder to the rest of the body were discussed. The physical features, how they blended together to form the dog was also discussed. The way these were assembled to critique and assess the dog was discussed. At the end of this discussion we all had a good understanding of how a dog was judged and how this judge judged a dog overall. What they looked at, how they looked at it and what they were looking for.

The seminar continued with some examples of what the the anatomy should be. Some of the physical traits the breed possessed and some areas of improvement. There were multiple AKC judges in attendance and quite a few professional handlers. The floor was opened up for both judges and handlers to comment on what they saw in the breed and where some improvements could be made. No lines are perfect. There are goals to improve each. Some of the shortcomings were discussed by both judges and handlers alike.

The political aspect of showing was touched upon. The roles of the handler, dependence upon handlers, preference for judges. This discussion was a little over my head so I really can't comment other than it was discussed openly at the seminar.

Participation and future growth was a topic. There were no youngsters at the show. There are events in Germany that bring children and youngsters into the sport. Events are created for them and there's an place where the young can compete and work their way up. There doesn't appear to be quite the same opportunity in the AKC.

Since the show we have talked about the possibility to finish our male in the AKC. We feel like the door was opened and we were given an excellent start and an opportunity to continue with him. He received a major and 4 points. It would be a waste of opportunity if we did not continue. We're making plans to continue campagining him.

Here are a couple pictures of the type of male that won.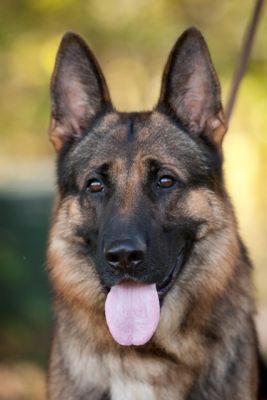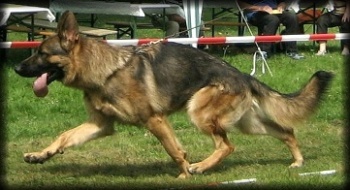 by
Sunsilver
on 14 December 2011 - 16:35
Here's what the GSD people need to do to get the kids involved:

http://www.shilohshepherdsinfo.com/macEventTheKids.htm

http://www.shilohshepherdsinfo.com/2009Homecoming/2009HCtheKids.htm



http://www.shilohshepherdsinfo.com/2008Homecoming/2008hcKids.htm



(And yes, that IS Fred Lanting judging in the third set of photos!)




It's such a blast to see the wee ones handling these HUGE dogs!

Of course, the Shiloh generally has a milder temperament than the GSD, but I'm sure there are lots of GSDs out there that could be handled by kids.

I think decreasing the dependence on pro handlers would help a lot, too. Having to hire a pro puts showing out of the reach of a lot of people.

BTw, the reason Fred is cracking up in the one photo is when he asked the boy to show him the dog's teeth, the boy bared his own teeth in a toothy grin (just as he's doing in the photo where he's holding his tropy!)
by
Blitzen
on 14 December 2011 - 16:37
I'm very happy that there will be an effort to attain Waiko's AKC championship.

AKC does have a program for junior handlers. I think the upper age limit is 18, but I'm not positive. The classes are divided by age and are open to all breeds at all breed shows, limited at specialty shows. The dog must be owned or co-owned by the parent or guardian. Many of today's AKC handlers got their start as a Junior Handler. I think Moses was one of them. At Westminster, the competition is by invitation only to the top juniors in the country. I believe their expenses to this show are paid for by AKC.

Its' not unusual to see GSD's being handled by juniors. My current dog, an AKC CH, was handled to many of her points by a young female junior handler who was quite a bit smaller than my dog.

You must be logged in to reply to posts