German Shepherd Dog > Pedigree opinions on new pup!!! (20 replies)
by
Slamdunc
on 29 November 2011 - 03:07
Awesome pedigrees! Good luck with the dogs, you are very fortunate.

Jim


by
judron55
on 29 November 2011 - 11:52
excellent pedigree...good luck...
by
alkster2002
on 29 November 2011 - 13:14
For the working line people, who know good lines and ethic ..... is a great pedigree ....... SUPER ! Greg
by
cphudson
on 29 November 2011 - 13:33
Super working line pedigrees. Do you have any pictures?

by
remione1
on 29 November 2011 - 14:13
I have 2 half sisters to your pup, Tommy x Gitta & Tommy x Cayanne, both great dogs. Every Tommy offspring I've seen so far is awesome
by
vom ost see
on 29 November 2011 - 14:24
i had the opportunity to see "HUDSON" right after he was imported to the states......."no nonsense dog"i really liked him,breeding to an "ELLUTE" daughter puts a nice measure of "sport" back into the pedigree.i like it...good luck with your pups.
by
ramgsd
on 29 November 2011 - 15:05
ost see, ELLUTE doesn't generally put more "sport" into his offspring. Most of his offspring, and I've seen a few, come out with a more serious attitude. Both peds look very nice should be very nice dogs if they live up to their breeding.

Rick
by
hunger4justice
on 29 November 2011 - 17:47
C'mon, how can you go wrong with an Ellute daughter and this pedigree? I would think anyone who gets a puppy from these lines will get a wonderful, couragrous working dog that they can take as far as their skills allow. Great lines!!! I'd be proud to have one of these pups.
by
vom ost see
on 29 November 2011 - 19:11
excellent observation ramgsd...i'm sure you're relating to dogs you've seen,but i can only speak of dogs i.ve seen also...in general,i think the "belgium bred/raised/imprinted/trained/trialed dog" is a bit different than what available as working prospects from the traditional "west german type"(gildo,greif,bungalow,busecker schloss,drigon,korbelbach,ect....)not to say that the belgium dog is any less than the west german dog....just different,i love the bloodlines of "ELLUTE",as a matter of fact,i had RUTH LEEFDALHOF trying to make her way onto my lap,it was hard for me to believe that she was TOM'S mother...she was a real sweetheart,excellent temprement...it's my opinion that the belgium dogs give a much more "sporty demeanor"as oppossed to the typical west german dog,both capable in every way...just different...and look at the foundation for some of the belgium dogs(lord,robby,antverpa) as opposed to the foundation of the dogs of the west...two different roads to get to the same destination.
by
MargaretBradley
on 29 November 2011 - 19:21
Would love to hear from you in a few years on how the litter turns out. Good Luck!
Margaret
by
czechdog9480
on 29 November 2011 - 19:51
Nice pedigrees. Nice pics of Alline, any vids? I have a Perry daughter and she's excellent.
Ang
by
EisenFaust
on 29 November 2011 - 22:09
Their is still one female and one super male left from the Hudson x Alline litter, Both very drivey nice pups. The male is actually the pick puppy. it was either keep a female or a male so I picked the female. the female (Nola) is super very nice drive for the rag and she carries it with a full gripp. She is also very confident and carries herself very proudly.
I am looking forward to raising these two puppies and cant wait to see how they turn out.
by
EisenFaust
on 29 November 2011 - 22:13
Alline is a super high drive high hunt female, she flies through the air in her bitework. You would be hard pressed to see another female that flies like her, here are some videos.


http://www.zholykova.cz/

obrazky/video/Alline01.mpg




by
EisenFaust
on 29 November 2011 - 22:16
Another photo of Alline Globule SVV1, in training for her SDA titles.





by
vom ost see
on 29 November 2011 - 22:59
eisenfaust...chek your "pm"
by
TDC
on 30 November 2011 - 00:33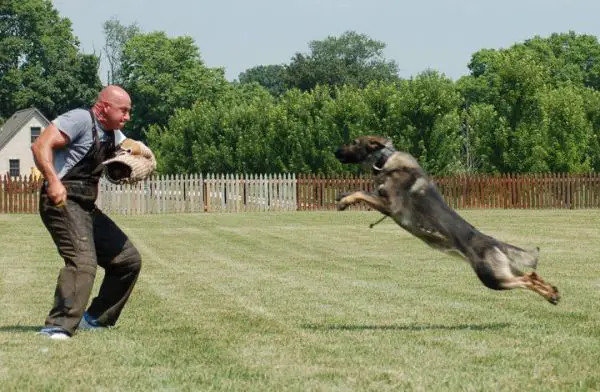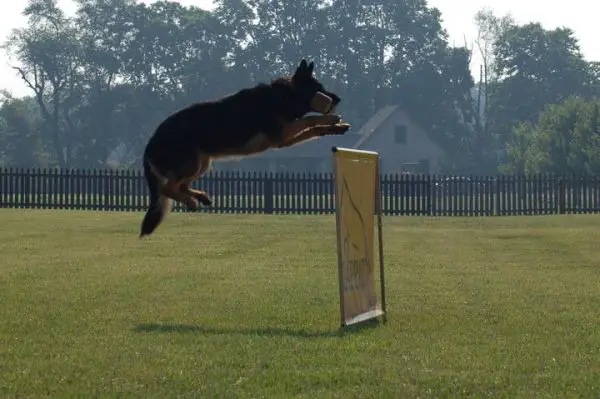 Here are a couple of pictures of Alline and Hudson. I too believe the puppies from this breeding will prove to be real nice as I have one also and she is showing a lot of promise.


by
ramgsd
on 30 November 2011 - 18:04
OST SEE, I understand what you are saying about the Belgian dogs. Although you weren't generalizing about "Belgian dogs" you were speaking of a particular Belgian dog, Ellute. While many Belgian dogs are considered more sporty, Ellute is not one of them. As many of Tom's progeny are not. Ellute, just as Enno vom Fuchsstein another Tom son, is known for passing on a more serious attitude in their offspring. More so than his brother. Having owned Leefdaalhof dogs I can attest to the less than sporty demeanor that comes trough Tom.

Rick
You must be logged in to reply to posts