German Shepherd Dog > Picking a GSD pup from a litter - (Question about Pigmentation) (24 replies)
Picking a GSD pup from a litter - (Question about Pigmentation)
by
GsdOwner1980
on 16 November 2011 - 10:31
Greetings!

I'm a first time poster here from Australia, I have always found this website informative and helpful, so I thought that I should ask my questions regarding pigment in a German Shepherd puppy here.

My last German Shepherd male, Maverick died in 2005 at 13 years of age. He was a dark pigmented boy, with a dark mask and had the most wonderful temperament. I have been researching for over a year to find the best kennel, and have finally found one here in Australia. I have had positive recommendations from friends who have purchased puppies from this breeder. The breeder only uses hip and elbow certified dogs and has the kennel has been assessed and surveyed through the German Shepherd Dog Council of Australia, so I am very pleased about that. I have to pick a puppy out of the three males available who are now 4 weeks old.

I will go and visit the puppies in two weeks time when they are 6 weeks old, and then finally take one home another two weeks later when they are 8 weeks old. My question is, if I like the look of a dark pigmented dog, how would I look for these traits in a young puppy? My last dog was a rescue dog, however he turned out to be a very dark dog, so really I got lucky. I have heard to check for dark pigment on the toes, nose, lips, eyes and tounge as indicators of the strength of future pigment. I have had a chance to meet both the father and the mother before the puppies were born and they were very well tempered dogs with the father being an import son of Yerom Vom Haus Salihin, who has been extensively used here in the last 12 months and is a very dark boy himself. The progeny of this dog are very young, so I can't make a full assessment yet.

Regardless of what the puppy turns out to be like, I will love him as long as he is healthy and happy, so please don't misinterpret what I am saying. I am happy with all the procedures the kennel is taking in terms of elbow and hip testing, and just wanted the opinion of breeders and experienced posters as to what to look for in terms of pigmentation. Obviously it will come down to the dogs in the bloodline, but from what I have researched both parents have very good dogs in their lineage. I look forward to hearing your responses and learning more about this wonderful breed.
Regards;
Thomas :)
by
NigerDeltaMann
on 16 November 2011 - 10:57
Gsdowner1980, dealing with gsds pigmemtation is sometimes confusing. However, i guess, your best bet is to seek advice from the breeder, who can help you, based on his judgement from previous litter(s). Again, you can still simply pick the darkest(that looks almost entirely black) pup. But i strongly suggest you seek advice from the breeder who may want to protect their name. Cheers.
by
dogshome9
on 16 November 2011 - 11:15
Hi,
I guess that you are having lots of second thoughts about this puppy as you are posting on muliple forums. If you were buying from me I would be telling you to buy from someone else as you will be far too demanding.



by
4 mals2sheps
on 16 November 2011 - 11:58
Hi,
GSDowner1980 Wow you can't even ask a simple question without being told by someone they wont sell to you what an additude on here.I would and have picked the darker faced one just go with your breeders recomendation and the one you are drawn to.Have a GREAT DAY!!!!!!!
by
VitoManiac
on 16 November 2011 - 17:09
If a breeder had a problem with me asking questions I'd be only too willing to go to someone else. What a poor intolerant attitude. dogshome9. I sincerely hope you'd have more tolerance with your animals than you show to someone with a genuine wish to gain knowledge.
by
trixx
on 16 November 2011 - 18:05
as other have said you would go with the one that has a very dark face, the lighter face ones will get more color as they get older. but looking at a puppy is really a crap shot as they change so much in the first year, go with your gut and the darkest one- thats the best i can tell you.
Good Day !! ( i use to live in austraila )
by
GSDPACK
on 16 November 2011 - 19:05

These have different markings but both have good pigment. One of them will be lighter sable due to the redish undercoat and the other one will end up darker, (black sable) However both have good dark pigment, just different colors
Also when you look at the picture in my avitar, the dog has red undercoat but dark pigment, the puppy on the left, will most likely resemble those markings.
Hope this helps! good luck with your puppy picking!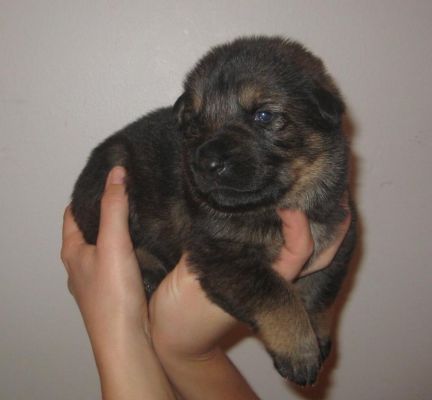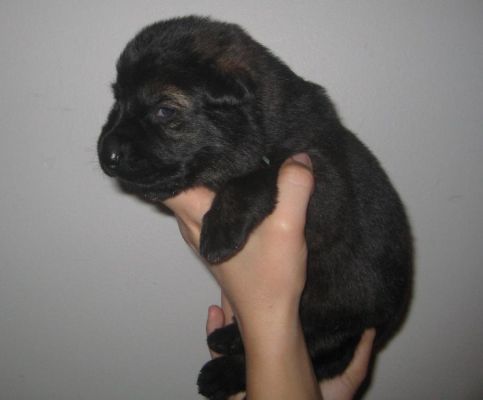 by
TingiesandTails
on 16 November 2011 - 19:46
I agree, if you talk to the breeder and look at the pedigree of the dog you will get the best information. I wouldn't buy a dog from a breeder that doesn't tolerate my questions or refuses to get into every detail concerning the litter.
by
Red Sable
on 16 November 2011 - 20:08
"I wouldn't buy a dog from a breeder that doesn't tolerate my questions or refuses to get into every detail concerning the litter."

Me either!!



All the best in choosing your pup GSDowner :)
by
GsdOwner1980
on 17 November 2011 - 07:51
Dogshome9, I don't see what the problem is if I post on two forums. I posted this question on the dogzonline Australian forum, and just wanted to get more opinions on the issue from people who have experience, and I know some of the posters here have a lot of knowledge, since I have been on these forums for a while. I also don't see what's so bad about me being demanding, doesn't that show that I care about the puppy I am going to purchase? When I was checking if the breeder was up to date with elbow and hip testing, I was also very demanding, and maybe if other dog owners were like this, we wouldn't have as much problems with the breed, if you don't have anything positive to contribute, don't bother posting.
by
GsdOwner1980
on 17 November 2011 - 07:55
By the way guys, thanks a lot for your responses. I've recently purchased a new home and feel it is a good time to get a pup while I will have some time off from work, just so I can settle the pup in. From what I have learned, it is best to look at the nails and feet of the dog as well as looking for dark pigment around the nose, tounge, lips and eyes. I will also keep in mind the dark face hint, and I have been communicating with my breeder about all of these issues, and he has been very, very helpful and informative regarding all of my questions. Once again, thanks for your input!
Thomas!
by
djc
on 17 November 2011 - 14:14
gosh the attitudes of some on this forum is disgusting! I encourage questions!! In fact I respect a person who asks tons of questions more than anything else!!
Pigmentation on a black/tan or black/red traditional saddle/blanket etc is hard to tell as 90% of these pups will lighten quite considerably in a year's time. How I tell when they are young, is to brush the fur backward with my hand and look underneath. If it's black all the way down then that area will most likely stay black. If not then it will forsure lighten up with age. since a dark face is a particular wish of yours, use the same method and it should help. A pup that will have a very dark face when mature will have very little color, if any on it's face. It is also, as some have mentioned, very important to look at the heritage of the pup to see how much dark faces/pigment are in it. Good luck, and most of all have fun choosing your pup!
Sables of course darken with age, so the darker the pup is when it is young, will be even darker when mature.
Debby
by
Q Man
on 17 November 2011 - 15:19
I feel that as breeders we're not only responsible for breeding properly but that we're also people that have put ourselves in a position to be Teachers...to Inform the Un-Informed publinc of what the German Shepherd is and what the differences are in the bloodlines...
Most people don't even understand that there are two different lines within the breed...
I don't feel that we should just be Sellers of puppies/dogs...but we should be a source of information....that we should perpetuate the breed and add to the Gene Pool and to Better the Breed to the best of our ability...

Now...to the question: To find the Darkest Pigmented Puppy...?...

I'd like to ask a question...What's more important...Color/Pigment of puppy or the personality/temperament of the puppy? I think you should maybe find a bloodline or litter that suits you and then when their ready...go and sit down and spend some time with them and see if this is the litter for you...
I think choosing a puppy (which will last 10 to 13 years)...is a lifelong decision...so I think color/pigment of puppy should be maybe secondary at the very best...Now if there's a litter that you like and all the puppies seem to be what you want then I understand that you boils it down to what you like...
I just think...the way the question was stated that you're going into the choosing phase...by using Color as your deciding factor...

~Bob~
by
YogieBear
on 17 November 2011 - 16:43
GSDOwner1980 -

I personally think that if you are not planning on showing this dog - then you should pick the puppy on temperment - not color........ I understand you like what you like - but the personality of the dog to me is more important than the color........... You can pick the prettiest pup - but doesn't mean he will be what you want.....

I am partial to the black and tan saddle backs myself - Workinglines......... when I picked my last boy - I picked on temperment alone - based on the fact I would be doing schutzhund - He was mostly black - just a little tan on him - I figured he would be mostly black - (didnt matter to me) I never dreamed he would turn out to be all I wanted -I was just looking at his drives,temperment-etc - and guess what - he is a black and tan saddle back..............Total package - and I didnt pick him for his color.....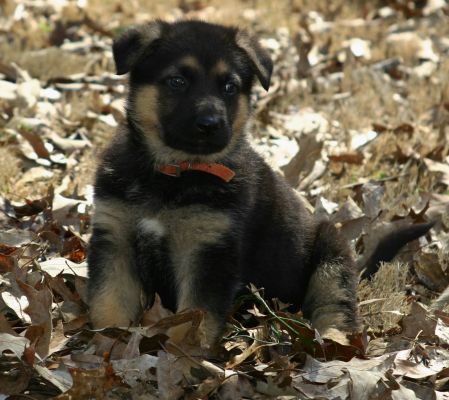 at 6 weeks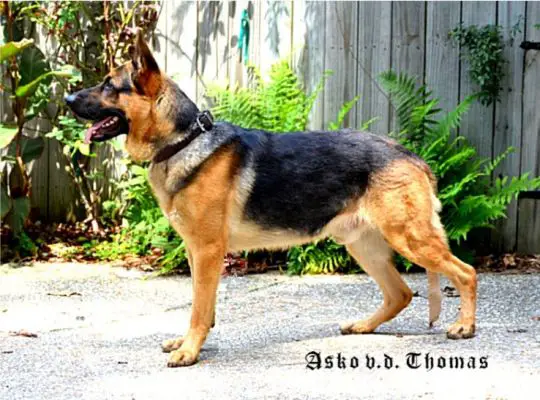 at 2 yrs

Just my thoughts
YogieBear


by
djc
on 17 November 2011 - 17:59
AMEN Qman!
I don't get the impression that GSDOwner1980 is making pigment his ONLY quest. I believe he says clearly that dark pigment is his preference and he IS taking all including temperament into account. Let's give him a break and answer his question and give him the benefit of the doubt. After all he IS going to see the pups to look at all aspects hands on.
Debby
by
Red Sable
on 17 November 2011 - 18:49
Totally agree Debby. :)
by
texaspeg49
on 17 November 2011 - 19:22
That's my question.... if you can't help by answering a post, then why do it?? I've been on the other end when I asked help too, some here have terrible attitudes. I think anyone has the right to his or her preferences in colors and marks in anything, even dogs. I, too, love the darker colors but I really like the black and red as well.
I think the ones on here that have the negative remarks must be very unhappy people. Hope they aren't the same way with their animals.
by
Psycht
on 17 November 2011 - 19:55
Another thing maybe to ask is to see puppy pictures of the sire and dam. If they are well pigmented as adults you could compare the coloration of their pups to their coloration at a similar young age. I think the OP is looking at more than just color based on his/her description of the parents testing and temperament.

With that said, I recommend that the OP evaluate the puppies based on temperament and exclude any puppies that do not suit him based on that issue and then consider coloration. If the best pup in the litter for you is not the right color you just have to make a choice of whether you wish to wait for another litter or forego the deep coloration that your other dog had. Good luck and if you get a chance take pics of the pups at 6 weeks and post them here so we can see them :-)
by
YogieBear
on 17 November 2011 - 20:27
Temperament is everything - no negativity by this poster intended........ I picked my last spouse on looks alone - sad to say now - He was the prettiest thing I had ever seen!!!! I was for sure he was the one for me.............I picked him for his blue eyes - his handsome features - his strong build - very nice bone structure too...............Problem was his temperament !

All joking aside - pick your puppy like you would your mate - gotta like the way they look, but pretty is " as pretty does", my momma always said....................If you like the temperament the looks really won't matter in the end.....

YogieBear
by
GsdOwner1980
on 18 November 2011 - 11:19
I hope people don't misinterpret my query. I would definitely agree that a healthy and happy pup is much more important than colour. I have done my research on the kennel, and I am very happy with the protocols the breeder takes, such as testing for hip and elbow dysplasia, breed surveying both the sire and the dam, and also being registered breeders adhering to the protocols of the German Shepherd Council of Australia, I just think that if I'm getting a puppy that is healthy and happy with a solid temperament, why not look for a trait that I find desirable and impressive.
You must be logged in to reply to posts