by
duke1965
on 16 November 2011 - 20:44
I think plenty is an overstatement , also they must be healthy and preferably not in china

I know few , but it is getting lesser and lesser , as , indeed , many czech breeders go for the famous names
by
Prager
on 16 November 2011 - 22:28
Rogerpodger I have imported first "z Pohranicni straze" ( Czech border patrol) dogs into USA and many other countries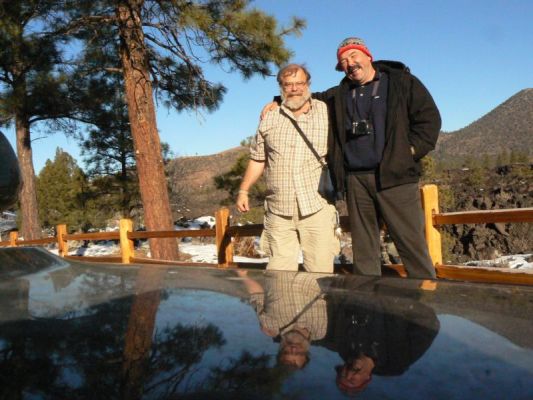 about 30 years ago,. As a matter of fact we got first dogs from Czech by smuggling them in the trunk of the car into Germany. I was instrumental to get them registrable with AKC and also was instrumental to the start of JINOPO. Jiri Novotny is my friend and we closely cooperate to preserve these type of dogs. We conduct seminars once a year in USA and in Puerto Rico on history and current way of breeding and training of these dogs. Next seminar will be in February 2012. If you have any questions about Czech dogs I would be happy to answer them. There are many copycats and many misinformation. I am including picture of me with Jiri during one of his visits into USA.
Prager Hans
by
elisabeth00117
on 16 November 2011 - 23:40
Well, obviously with my little one - I don't know FOR CERTAIN which trait is linked to which line because she is a mix of lines (as already stated in my post above) BUT I have been around Czech dogs, whom are considered more "real" than "sport" and have liked the challenge these dogs present, as well as the temperament and obviously the nerve strength that most these dogs present. I like a dog who is full of himself, cocky even. I like the fight drive, I enjoy being around and watching these dogs, even though at this time I have not handled a dog like that, even though my female is proving to be a strong minded dog. From my experience with these dogs, however limited you want to consider it, I like what I see and know - thus far.

I will continue learning about these lines and seeking them out so that I can continue to learn about them and decide if they are the right type of dog for me. Thus far, like I said, I like them!

My little one is only 1/2 Czech lines but she is a great "introduction" to the lines. I went from a show/working cross to this spunky little thing and I couldn't be happier.
by
Chaz Reinhold
on 16 November 2011 - 23:51
That's good. I guess I have been lucky, but I know which dogs stack the deck if I want a serious dog out of W lines. Some of my most serious dogs were west lines. And I've had dogs out of PS parents. I wasn't saying you are wrong or anything.
by
LSU mom
on 17 November 2011 - 00:01
I bought a personal protection dog from a training facility and they picked Argo as the best fit for my needs. The first time I saw his pink papers or even know his name was after we were introduced and working together. This is why I am so uneducated about bloodlines but naturally want to know more about him now that he is apart of the family.
by
Ace952
on 17 November 2011 - 00:16
Yeah depends on knowing the lines to get the type of dog that you want and as Chad said, stacking the deck in your favor. BUt also becareful cause you might get exactly what you want and could be too much to handle. I feel it is too hard to tell from what dog you get certain characteristics. Ask one expert they will say one dog and another will say another dog. If your lucky you can old videos of different dogs in your dogs PED to help.

Here is my boy.
Tank z Jirkova Dvora
http://www.pedigreedatabase.com/german_shepherd_dog/dog.html?id=685895
by
Prager
on 17 November 2011 - 03:03
Ace this is one of the best pedigrees I have seen. It is all 3rd line and your dog is typical representative of it. Your dog has that old old style endurance built which will enable him to jump any wall. There is some serious old style stuff in the pedigree too. Your dog took lookwise most after Illo v d Abfuhr one of my favorite dogs and then Jago Jipo Me WUSV Czech repersentative for 2011!!! That dog is awesome too. And then there is my favorite bithch Darka. She ais as old style Czech as they come! Every time I look at the pedigree I am saying this is how it should be done.
Prager Hans
by
LSU mom
on 17 November 2011 - 04:05
How can you tell what a good line is?
by
Ace952
on 17 November 2011 - 04:41
easy...lol..all the lines are good.
by
LSU mom
on 17 November 2011 - 05:08
Good info, wow
by
MyCheckShepherd
on 18 November 2011 - 17:58
My dog Ella of Milipoli has border patrol in her pedigree she's a dream to work!
by
Prager
on 22 December 2011 - 00:08
LSU mom
Grey hair ( on my head).
(=experience.)
Prager Hans


by
aaykay
on 22 December 2011 - 00:36
Mine is an all-czech girl too. She is now 6-months old and her intelligence, athletic ability and endurance is just amazing. I can fool my 5-month old field Labrador puppy easily, but trying to slip one by this Czech girl is just not going to happen !
by
mewoodjr
on 22 December 2011 - 02:28
Edited due to damn duplicate post.





by
Ace952
on 23 December 2011 - 06:00
Itsgsd - nice looking dog. I like the pedigree. strong dogs in the 1st three generations for sure.
by
Jyl
on 23 December 2011 - 07:20
I have to agree... itsgsd that is a very nice dog... line bred on Cordon.. LOVE IT..

Two Czech males I like are Zoran Ben Ju (although he is only half Czech). Zoran goes back to both Cordon and Norbo, which I really like.
I also like Hill ze Slovanskeho Domu. He goes back to Cordon An Sat and Titus.. the part I really like is there in NO Grim or Klara in Hills pedigree. Which is hard to find nowa days.
I wouldnt mind a pup sired by either one of these males..
by
Juno11
on 23 December 2011 - 15:04
Hi, my last dog had border patrol dogs in his lines. he was the best GSD I ever had, perfect in every way....very stable temperment, willingness to work, high prey drive. I had him as a pup and socialized him alot and did lots of training. iMy new older pup who I just posted about has border patrol in her lines. I think she will be a great tracking dog down the road. She wasn't socialized when she was young so I have some work ahead of me.
Juno11
by
aaykay
on 23 December 2011 - 16:37
I have some work to do with my 6-month old too, since when I got her when she was 5-months old, I realized that some extensive socialization was needed....something I have been working on since then. She has had a radical transformation (for the better), during the time I had her.

She has some of the greats like Norbo Ben Ju, Pluto z PS, Balli Panta Rei and Dargo Ha Ja Da within 3 generations, and she is proving to be a worthy distillation of all of that greatness. Every day I am discovering some as-yet-undiscovered ability in her, and she continuously amazes me. Of course her lack of early socialization also comes up at times, giving me pointers as to what I need to work on.

Of course like in all these cases, if one goes a few generations back, one would find German dogs in the pedigree, and in her case, there is Uran Vom Wildsteiger land in the 6th generation of her "all Czech" pedigree.....and to be quite honest, I have no complaints about that.

I am a firm believer in refreshing blood periodically, than simply operating in one's own tiny little pond. So I would probably do an "out-cross" into WG lines (where all other structural and temperamental factors are a match), if/when needed, and then cross back into familar lines for the subsequent generation.


You must be logged in to reply to posts