German Shepherd Dog > WG SL males at stud that do not carry the LSC gene? (21 replies)
WG SL males at stud that do not carry the LSC gene?
by
Rass
on 06 November 2011 - 00:19
Just wondering if there are any titled males standing in the US (especially the eastern US) that are West German Showlines that do NOT carry the long stock coat gene?
by
EuroShepherd
on 06 November 2011 - 00:36
and what excellent studs do carry long stock coats? Personally I'd prefer to have a few long stock coat pups in a litter versus none.
by
VKGSDs
on 06 November 2011 - 01:44
Not sure what happened to him or if he's still alive but Jimmy Arminius (V SCHH3 FH1 IPO3 RH1 Kkl 1) does not carry the long coat gene. I just spend 5 hours today training (Schutzhund) with a Jimmy son, most powerful dog in bitework in our club including all the WL dogs. Jimmy used to be owned by Jeff Lund but I believe he was sold.
by
Nans gsd
on 06 November 2011 - 01:47
Zamp von der Urbecke; Barbara DiBarnado; or West Coast GSD, So. Cal. Also has a beautiful sable boy available on her web, not sure about him.
by
gimme10mins
on 06 November 2011 - 02:18
Euro,
Why would you prefer to have a few long coats in a litter?

by
k9neiko
on 06 November 2011 - 02:23
Matscho van Noort sch 3 V rated has been tested and does not carry the lsc gene--he is also DM free
by
Heidi Theis
on 06 November 2011 - 04:57
Ax Redox is normal/normal for coat and also normal/normal for DM. You can view all of his information at: http://www.theishof.com/Ax.html
by
leoetta
on 06 November 2011 - 06:17
My dog Zamp von der Urbecke actually does carry the LSC gene, I have three females that don't though, I actually have yet to get my own LSC from Zamp but others have :)
by
Rass
on 06 November 2011 - 17:47
I sure do like that Jimmy dog.. but I wonder where he is and if he is still even standing.

It also seems the other dogs mentioned her are located in the western US. Wonder if any stand in the east and what their protection work is like?

Of course it seems less important now that the SV is allowing LSC classes... but if you prefer a SC it is good to know what titled studs out there do not carry the LSC gene.




by
EuroShepherd
on 06 November 2011 - 17:47
Gimme,
A few years ago I wasn't interested in longcoats at all, especially since they weren't accepted in the standard. But then someone gave me a gorgeous rich black & red long stock coat.
Since I've had my own long hair, I've fallen in love with them. I find the plush long hair to be more visually impressive than most normal coats.
Since Germany accepts longhairs again I have no problem with breeding longhairs (even though I haven't yet).
If they were still unaccepted I would respect that and not consider breeding longhairs. But I'm glad they do have a stud book now, I think they are very beautiful.
Plus, I find that when I take my dogs out for walks, it's usually my longhair that gets the most attention, more people tell me they want one that looks like her more than any of my other dogs.
by
Dog1
on 06 November 2011 - 19:47
I've got one on the East Coast thsat has yet to produce a coat and he's not at risk for DM.
by
danbee
on 07 November 2011 - 04:57
I've always been told that having the recessive LSC gene is necessary to produce the desired plush/show coats. Without it you tend to have shorter, tighter coats, more along the lines of what many of the working lines have. I have to believe this is true or it would have been very easy to breed the trait out in just a few generations. When a recessive gene remains so abundant it there's usually a reason. (Example: sickle cell gene in humans is debilitating when two are present, but only one results in protection from malaria, hence it's continued existence). Personally, I don't breed or show the LSC but I don't mind having them in my litters, I always have buyers waiting for them.
by
leoetta
on 07 November 2011 - 08:39
Danbee,

I can tell you that my three females that have DNA tested clear for the LSC gene do all have shorter tighter coats, I had them tested the same time I did their DM tests, and my other female that wasn't tested for the coat gene hasn't produced one in 14 puppies also has a shorter tighter coat. There may be some truth in what you posted above, although we can't base it on my dogs alone LOL. More people would of course have to test for it or post the results of their litters from tight coated females to see if they've had any long coats. It is definitely interesting though to think about and watch for.

Barbie
by
Blitzen
on 07 November 2011 - 12:56
It is true in at least one other breed I am familiar with that losing the LC gene will cause the loss of the fuller coats with the substantial undercoats (ie the plushes and "show" coats). It's good to know which dogs carry the LC gene recessively but if I were to breed a litter of GSD's it wouldn't be high on my lists of things to avoid. I'd be a lot more concerned about not doubling up on the gene for DM for example and selecting for a family history of producing good working dogs. We expect so much from this breed that coat length seems almost immaterial and, for me, ranks right up there with selecting for/against specific colors (other than white).


by
Blitzen
on 07 November 2011 - 13:35
Danbee, IMO the gene remains in the gene pool because carriers are being bred. As we all know, every dog that has produced a genetic LC must carry the gene. If every GSD breeder would specifically select against longcoats based on DNA, then there will be no more long coats or plushes. Breeding to and from plushes will keep it going too since as far as I know they will test as carriers of the LC gene or as LC's. The gene is so deeply ingrained in the breed because plush/show coats are desired in the show ring. Shorter, tighter coats are probably more utilitarian and serve tending dogs better than a longer, softer coat (assuming those dogs also have good undercoats). Also, texture is almost as important as length.
by
danbee
on 08 November 2011 - 03:26
Blitzen, That's exactly what I meant. If there wasn't a reason to keep it, it would have been easy to breed out generations ago & likely would have happened because (especially prior to the SV rule change) most breeders would prefer to have all normal coats.
by
Blitzen
on 08 November 2011 - 12:54
I misunderstood part of your post, Danbee. Sorry.
by
Nans gsd
on 08 November 2011 - 18:04
Can someone post a link to a picture of a true long coat and a true plush coat. Thx Nan

PS: Sorry Barbie I thought Zamp did NOT carry the LC gene. My mistake. Got confused.Nan
by
Dog1
on 08 November 2011 - 19:19
Not sure I agree that dogs that do not carry the LC gene cannot produce a plush coat.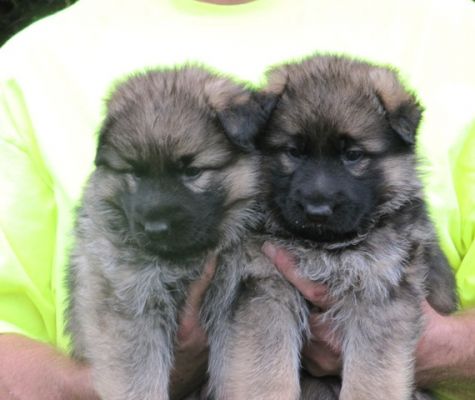 by
Blitzen
on 08 November 2011 - 20:32
Youre saying these puppies are plushes from parents that don't carry the LC gene? Can you tell for sure in puppies this age or do you need to see what their adult coats look like?
You must be logged in to reply to posts