2 Males in same house
by
RobertPA
on 03 November 2011 - 13:57
Hello. This was probally discussed numerous times on here but I was hopeing to get thoughts on 2 males in same house. I currently have a 5 yr old male nuetered GSD and have been looking for a female to add to the family and do S&R with. I have not been able to find that right female yet. I have come across many males that are suitable but I havent proceeded with them because I fear what would happen with 2 males.
Friends have told me that I would need to seperate the 2 males and I wouldnt want to live like that. Any suggestions would be appreciated.
Thanks
by
SitasMom
on 03 November 2011 - 14:16
I've had 4 males in my home without any real troubles - and with females in heat, new females coming for breeding and even with a bitch and her puppies......

Hero, Quandro - intact 3 year olds
Ruff - intact 2 year old
Bravo - intact 6 month old.

You must have obedience trained dogs and you must be alpha.....

Always feed in crates, do not have toys inside the home for them to compete over. ALWAYS supervise and NEVER let them escalate into a fight. When we're away from the house or too busy to supervise, they go in crates.

Our favorite time is when the pack goes out back to play fetch, its a beautiful sight to see 5 or 7 adults running after the ball..... trick is that every dog has a ball and only one dog is actually chasing... With their mouths full, they are happy to run and play without incidence.

I'm not saying this can work for everyone, but it does for us....

Right now we're down to just one male and our home is much less dramatic. If you are looking to live an easy and quiet life with your pet shepherds, I don't suggest adults of the same sex..
by
RobertPA
on 03 November 2011 - 14:27
Thanks SitasMom.

Yeah I dont want to do that seperate crate thing. My male has free run of the home and I was hopeing the new addition would have the same. So I guess I will keep searching for the right female.
by
Rogerpodger
on 03 November 2011 - 14:28
You need to be the boss with both dogs. If trouble starts show your displeasure and nip it in the bud. They need to know that fighting is not acceptable. However, the best made plans etc get a young dog less than a year old and allow the older fella to lead him. Make sure your old fella feels secure in his position but dont let him overly disciplne the youngster. I have two dogs and three bitches and yes of course there are some disagreements but there are no blood fights because there is only one boss in the house and its not them.

I would avoid getting an older dog though as there will be dominance issues which can be stressfull and expensive. My Dutch dog is two and my old fella a Greyhound Staffy mix is 12. There were fights at first but with patience and leadership they are now resolved. Even so they are not the best of friends unlike the bitches who are all around the same age and were introduced together as pups

Good luck
by
Nans gsd
on 03 November 2011 - 14:29
I have had lots of males thru the years (37 years of showing dogs) and have been able to run maybe 4 males together; have always had to separate them; was fortunate to have yards that were split up separately so everyone could have a good sized yard to run in maybe with a female or two, but never with another male once they hit about 6-8 months old males always had to be separated. I currently have a father and son that run and live together; that is 2 of the 4 listed above. Really I do not recommend this at all unless you constantly want to be breaking up fights and have to stand on top of those boys all the time. It is not fun. My current boys are great but I did have to spay my young female, otherwise they had to be separated before, during, and after her seasons. My older female (almost 13 years old) could care less but is the alpha in the household of dogs. So NO, I would not do it. Nan
by
mirasmom
on 03 November 2011 - 14:43
I actually have 4 males in the same house,3 intact and one is neutered, (I just placed an ad on here for him today.) He's a good boy but walked all over his previous owner.
First you need to decide.... are YOU the alpha dog in the house? If so, you should be able to control all your dogs male or female, but if you are not the alpha dog then just stay with the one dog, cause whether it be two males or two females, or one of each, they probably will walk over you.

Left to right in first picture is Oeht 1 yr., Rollie 2 yrs. and Theo 6 years, next picture is Rollie 2yrs. and his first cousin Luke 3 years!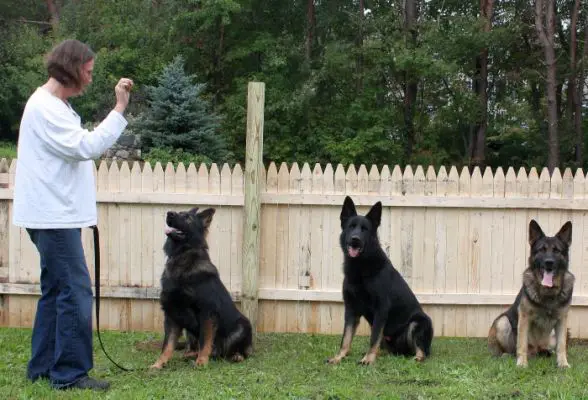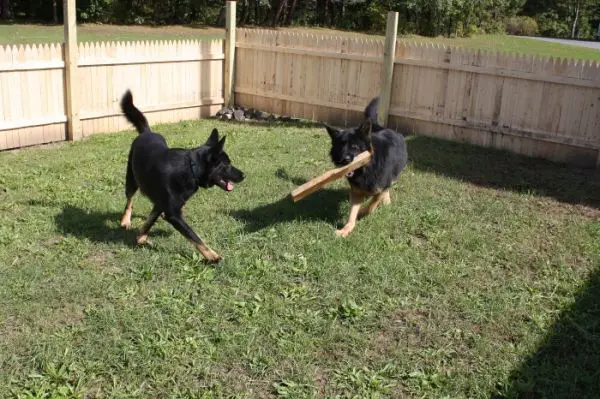 by
GSDNewbie
on 03 November 2011 - 16:03
I have three german shepherds, 2 male 1 female. We have no issues with fighting and they are all loose all the time. You have to know your dogs. You have to be the authority to them. If I added a female I know my current female would have an issue if second one challanged her. However, she would respect me enough not to start anything. I still do not trust any dogs no matter what sex or what they are to be loose alone together. They are separated for caution when the few times I have to leave the home with no one here to keep them in line.

A dog only behaves how they are allowed to behave.
by
Rass
on 03 November 2011 - 16:09
Interesting read.. but one thing stands out. The OP is unwilling to "do the crate thing" after it was suggested to feed the dogs in their crates.

You don't need to feed the dogs in their crates but you DO need to feed the dogs in separate places (like separate rooms). I don't care if it is two males, two females or one of each or several dogs. It is just plain sense to NOT feed the dogs next to each other in the open. Doing so begs trouble. I know lots of people do this and have no trouble for years.. but it only takes ONE TIME. Why risk it?

In my house one dog does eat in her crate and the other in the open in a separate room. One dog inhales her food and the other eats slowly. The slow eater is crated to keep the fast eater from stealing her food AND to keep the cats from stealing her food (we have no resource guarders in this house!).

I have one cat who will take the food right out of her mouth and she lets him (they are buddies). He will also take the food out of the fast eater's mouth but she eats so fast he gets little time (and he is usually eating at the same time she is so they both finish about the same time).

I don't even feed the five cats next to each other (all separated by space and walls).

BTW the dogs never steal the cats food if they are not all fed at the same time. Both dogs sit and watch the cats eat and do not bother them or offer to clean up their bowls after (not that the cats leave anything to clean up).

I have two unrelated female GSD's (one 5 years old and t'other 17 months old) and 5 cats and a peaceful house. I expect it is because we all obey the cats.....

I also want to add that I never allow dogs and cats loose in the house together unsupervised and I do not allow the dogs loose together unsupervised even in the fenced yard. Why set up a circumstance for Murphy and his law?
by
VKGSDs
on 03 November 2011 - 16:21
I have three males. Two intact male GSDs (14 months and 3 years) and one neutered mutt (5 years). I've never had a dog fight. There are occasional snarks but my dogs are together a lot so they communicate well and can tell each other to buzz off without it escalating into a fight. I do a lot of training, socialization, and work with the dogs at home from the moment they arrive so they know their place and do not challenge me. I am not a tyrant but I set expectations and rules from day one. The dogs quickly learn what is expected of them which makes them very easy to manage and co-habitate. They know that I control all the resources so there's no point squabbling with each other.

When I am not at home I separate them. Young male has a large crate, 3yo male gets the basement and kitchen areas, 5 yo male gets the rest of the house.
by
GSDNewbie
on 03 November 2011 - 16:45
I agree I also feed separate with all four of my dogs. Multiple dogs require dedication, training, ability to know and properly lead them, precautions, and diligence. I suggest if you are unwilling to do a simple thing like feed separate it may not be for you.
by
Two Moons
on 03 November 2011 - 16:56
Robert,
Two males will get along better than two females.
There may be some pecking to establish each ones place but that happens with all animals.

This is not predictable, so much depends on each individual dogs temperament.
You will need to be in charge and try to be fair.


Neutered or not males can become competitive around females in season.
Good luck.



Moons.




by
OK GSD LOVER
on 03 November 2011 - 17:04
I have had more than one male at a time and more than one female at a time and you have to be diligent. They are not left together alone. I have found that two males will get along, but two females will kill each other if you are not the absolute leader. JMHO.
by
GSDguy08
on 03 November 2011 - 17:42
Some of you say that you have to feed separate? For someone with little experience I agree, but if you're an experienced dog owner I think everyone should be able to feed dogs in the same room. This is how my guys eat......

This is an old picture, the dog in the picture is not "Little Dude" it's a female I kept back from a litter until I could find a good home for her, and the Pit Bull puppy belongs to someone else. The other three are all adults. I still feed like this. I can also do this inside the home so no one make a comment about....oh they're outside and not in an enclosed room...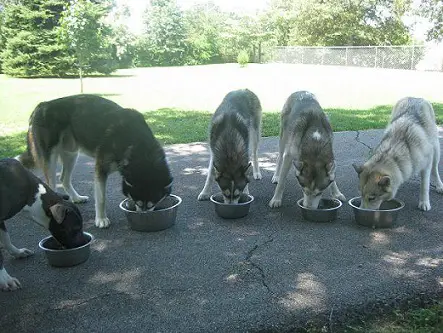 Aside from that with mine when I am not home I do not separate them. I trust them, home or not home. I have three males, one female, and soon to be a female puppy.
by
VKGSDs
on 03 November 2011 - 17:57
Cool pic! I don't feed mine separate, they look like your pack. They know whose bowl is whose and if someone tries to steal the other dog growls but there's never a real fight because they all know better than to actually stick their face in. Sometimes I even feed them by tossing kibble in the yard (where they don't pee/poop) and letting them "graze". As long as there's enough and it's fairly spread out there's never been an issue. When I give raw bones they each get one and will often rotate who is chewing on what every little while, again never anything more than a short growl at a dog that is being rude. I won't say they aren't "food aggressive" because none of my dogs will let another dog come over and take over their bowl, but as long as they each have their own, they don't see any reason to try to steal. As much as I am involved in various venues of training and sport, I also believe dogs need to be dogs and need to learn how to communicate boundaries to each other without escalating into fights or having to allow another dog to get away with something he shouldn't.

As for me, I can reach in and add, subtract, or take any bowl or food item from any dog at any time.

I do separate when not at home but that is more because mine will get mischeivious and do naughty things like pull books off the bookshelf when together but don't try that stuff if they are alone.
by
mirasmom
on 03 November 2011 - 20:05
I either feed them in their crates, or side by side in bowls and say their name before I set the bowl down, and just like being called to come indoors, I don't call your name you ain't coming in!

Although that did backfire the other night, it was dark and Sam was at the door waiting to come in, and I was calling her Tessie, Bonnie, Mira, I couldn't tell who the heck it was, then I finally said, you just get in here!

The thing was that there is usually more than one dog waiting to come it, Sam was just being really well behaved, she was the only dog outside, such a good girl.
by
Felloffher
on 03 November 2011 - 20:36
I have 3 males at the moment, a 5 year old and two litter mates that are 14 months. The litter mates hate each other and can't be together off leash or a fight will break out. My older male is fine with the younger males as long as they don't challange his authority, which hasn't happened yet. As soon as I see any signs of the younger dogs challanging him it will be the end of them being free together.

I really agree with Nans on this, if you have strong dogs that are territorial it really doesn't matter if you are "alpha" (really hate the term). You can quash the behavior as much as you want, but it seems with my dogs anyway the hostility builds and eventually they end up in a fight. There's no cut and dry answer it really depends on the dogs.
by
GSDguy08
on 03 November 2011 - 21:29
Felloffher, I'm curious, do you and do any of the others on here actually walk all of your dogs together though? Not trying to go "Cesar Milan" here, but walking all of the dogs together as a pack on long structured walks helps tremendously in how much control you have over each dog and how they are towards each other as well.
by
Vixen
on 03 November 2011 - 21:47
Whether the term 'Alpha' is liked or not - call it whatever, but the meaning should be that the human Owner takes appropriate charge - just like a reliable and good parent. I have always had a mixed group of dogs male and female, but setting and maintaining a standard required, results in dogs that are comfortable and confident, relaxed, secure and respectful.

My dogs all eat in the same room. Naturally a puppy or a new dog when they first join the family Pack, may well think he/she can leave the bowl to investigate the bowl of another - it is me who will object and prevent - I would not leave that responsibility to one of the dogs - otherwise what exactly is my position within their Pack world - a wet lettuce to mess with? Neither is it ever necessary personally to crate or separate.

However, this is not a survey of whose dogs eat together or are expected to relax together. Robert, because you actually asked the question, it would give the impression that you may not be comfortable 'parenting' an additional dog. Equally, you may be very good in having a second dog, but purely apprehensive if you have always been a single dog Owner. However, I would not like to give further advice via an Internet, without knowing the Owner and their dog. Respect you for thinking sensibly about this aspect, rather than just blundering in un-prepared.


With Kind Regards,
Vixen
by
Felloffher
on 03 November 2011 - 23:09
Vixen,

Just a guess, but we probably don't own the same type of dogs.
by
Felloffher
on 03 November 2011 - 23:26
GSDguy,

I do occasionally walk all my dogs together, but for the most part I excersice and train them individually. The two siblings won't be here much longer and having a big happy pack isn't high on my priority list. I won't tolerate fighting, so if two dogs can't get along they aren't going to spend any time together, it's as simple as that.
You must be logged in to reply to posts