German Shepherd Dog > I was told she was a purebred GSD..... (39 replies)
by
watsongsd
on 04 November 2011 - 18:26
cool puppy! there were brindles in the beginnings of the breed, but I'm not sure I believe in "pure bred" brindle shepherds these days. I think you'll have a little fun watching her grow tho ;) good luck with your puppy. Maybe she's a throw back, or maybe she ends up being the perfect "german shepherd"
by
FallonGSD
on 20 November 2011 - 18:08
It's been 2 months since I got Fallon, and she has grown so much! She is 5x the size when I first got her. She is really the sweetest pup, so affectionate & always right there with me! I can't believe how shiny her coat has got... U could reflect light off of her, lol. Here are a couple pics from the past week. Oh... Her ears, standing beautifully! (Just my opinion) > Fallon on the way to the park... :) Such a good girl!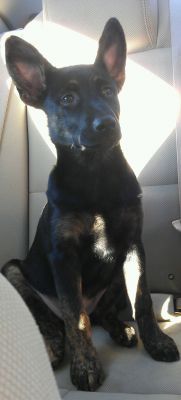 > Yes Mom?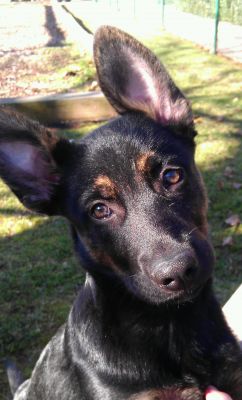 by
yellowrose of Texas
on 21 November 2011 - 00:17
Fallon:

She is a very nice blk/red gsd...she is not BI color at all

She has colors in places you cannot have and be called bi

Bi cannot have color on chest , leg tops or on neck or face except eye brows dot or line and one dot on face..just a dot...


She has red and a white patch..nothing bad just no bi

SHE is very nice and I would bet my lunch she is pure gsd.

Too bad you cannot go back and get some papers on her..have you tried

Ask nicely as you are very much interested in her background for you are pleased with her and see if they can even give you some names of the parents and akc and trace them


YR
by
hunger4justice
on 22 November 2011 - 15:04
I guess you don't know who the parents are? Hard to tell from the pictures, but her face and head she looks like a GSD. My bicolors have different leg markings and one has sort of a sablish look on part of the back legs and the black penciling on the feet. All my dogs are from excellent bloodlines and yet I have heard, "They must be lab mixes!" and "Is he part Hyena, (Akita, etc etc)" about my sable. Don't listen to what they say. Also, if you don't know the parents and don't have papers, then it must not have been that important, so enjoy your pup and what difference does it make?

I thought the "white patch" was just the sun reflecting. Anyway, she is yours and you love her, so that is what matters.
by
FallonGSD
on 19 December 2011 - 23:48
Here is an updated pic of my girl, her ears are doing so great now! P.S. the white patch in the above posts is a reflection of sunlight. :)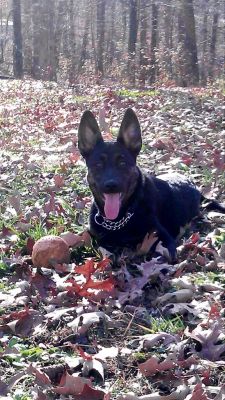 by
Von Ward Kennels
on 20 December 2011 - 03:19
I think she has something else in her breeding. It does not matter though. She is gorgeous and you love her. What else is there? It's not like you're breeding her.
by
aaykay
on 21 December 2011 - 03:22
She looks fabulous....especially in that last picture !
by
geordiegaviino
on 21 December 2011 - 20:47
she is stunning
by
FallonGSD
on 21 December 2011 - 22:04
by
Konotashi
on 22 December 2011 - 01:48
She's beautiful. From the updated pic, and seeing the brindling, my guess would be maybe GSD/Dutch shepherd?
by
BritneyP
on 22 December 2011 - 17:39
She is a very pretty girl! :)

Based on the more recent pictures that show her markings and structure, I would have to say she is more than likely a GSD/DS mix..
by
LadyFrost
on 22 December 2011 - 17:42
GSD/Cattle dog? that smile.....
regardless she is gorgeous!
by
FallonGSD
on 22 December 2011 - 21:31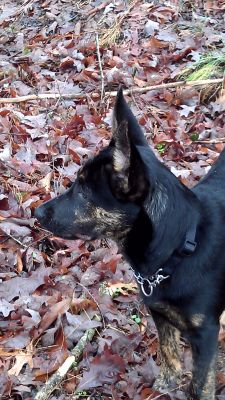 by
EuroShepherd
on 23 December 2011 - 20:58
That's definitely brindle in her tan markings. I'm certain she is a German Shepherd X Dutch Shepherd cross. That pic of her laying down in the leave shows a more dutchy-type head.
by
GSDSRULE
on 24 December 2011 - 04:45
She is beautiful. Lots of intelligence shining from her eyes. I see you have a Pom too.
We have 3.

by
FallonGSD
on 31 January 2012 - 22:37
Fallon at 6 months, she is getting so big! This was when we were going for a run yesterday.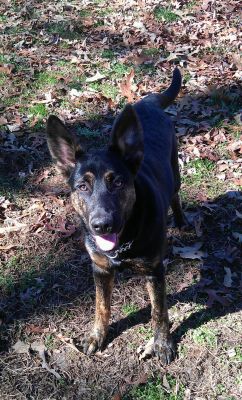 by
FallonGSD
on 31 January 2012 - 22:57
Waiting patiently for me to give her the command to eat her treat :)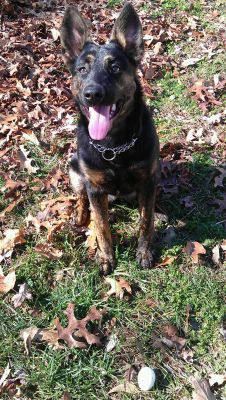 by
charlie319
on 03 February 2012 - 21:47
At this stage of the game, I don't think it matters that much to you. Seems like you two have bonded. Looks like a GSD to me.
by
Jenni78
on 03 February 2012 - 21:51
I see cattle dog in the last pic; that smile is cattle dog.
by
Escobar
on 03 February 2012 - 23:20
I agree Jenni78.

What a cute dog, best of luck with her :)
You must be logged in to reply to posts