German Shepherd Dog > Short or Long Coat Puppy? (30 replies)
by
paco 86
on 11 November 2011 - 18:41
I agreed with sitas.
by
Weezy
on 11 November 2011 - 18:58
Beautiful Puppy! I'd say Plush coat as well. It is difficult sometimes at this young age telling between long and plush coats, but I think he is a plush coat.
by
yellowrose of Texas
on 12 November 2011 - 03:26
I'd Say Plush coat not LC

I have had 4 pups look just like yours and they are normal plush coats and actually Rito and his brother are normal coat.

This is a long coat pup out of a Uran v Wildsteigerland grand son and my Pepsii
He is 10 weeks here..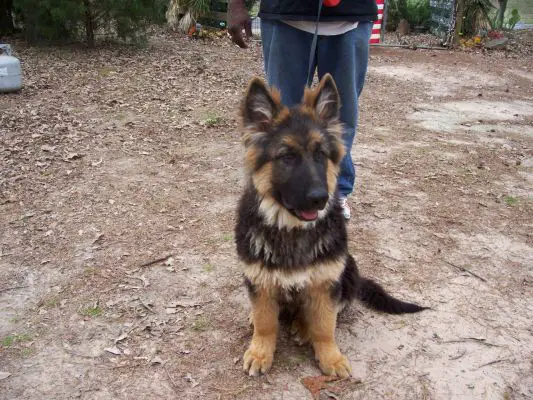 Van Damme is long coat and is still a LC>

Rito at 6 weeks: Just normal coat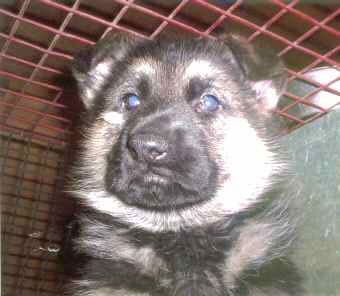 Rito at 5 yrs old normal coat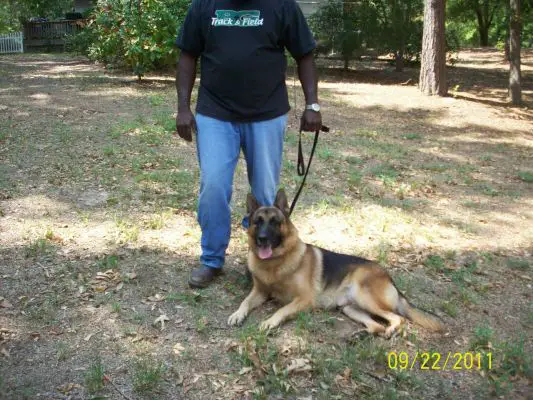 YR
by
cookiedam
on 13 November 2011 - 22:34
short coat just fluffy....the tail and paws should tell
by
markk
on 17 November 2011 - 16:10
I think is a short coat puppy.
by
VonIsengard
on 17 November 2011 - 20:31
There is NO SUCH THING as a plush coat. This is a made up term and not an official coat type. There is a stock coat and long stock coat. Period. All that word does is confuse and mislead people as to what type of coat their dog has.

Often LSCs will not have terribly long topcoats or dense undercoats and will strongly resemble a stock coat except for feathering around the ears, feather plume tail and very slightly longer top coats. Just like some stock coats show a longer, "showy" top coat but some have a very short top coat with a sparse or no undercoat (mole coat). Basically, in both coat types, there is variation of top coat length and undercoat density.


Here is a LSC male from my current litter at 6 weeks of age: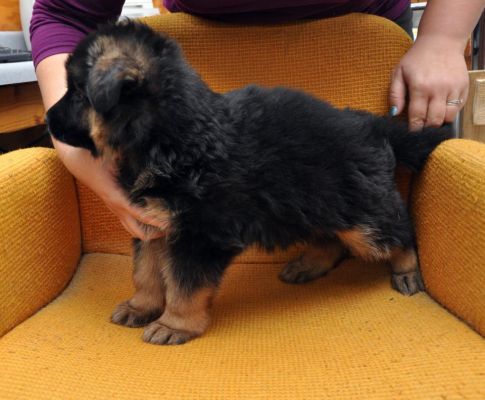 Here is his stock coated sister: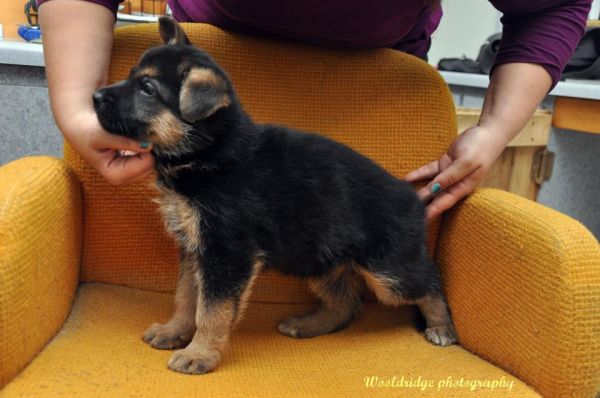 The most notable difference when you put your hands on the pups is the coat texture. A LSC feels much softer and finer than a SC, and even on the puppy coat in a SC you can feel the slight wiry texture- in a LSC this does not exist. Also, at very young ages a LSC will have a sort of schnauzer-y look to their face, this is the way the hair is growing. I find at birth, when the pups are wet, LSC are extremely wavy. I have made guesses at birth last two litters and been right for four puppies.
by
harley
on 20 November 2011 - 06:19
i'm going with LC (I had 4)

still hve an 11 yr old left yasko v farbenspiel son, that i had neutered just 6 mths ago, he is still in perfect conditinon,a bit of arthritis, but his back legs are FINE!!

hips were rated GOOD ,they finally pass the law that we have been waiting for for a GOOD 5 yrs
,,,
and then my female comes into heat and my other dog got her!!!!!!!!!!!!!!!!!!!!!!!!!!!!!!!!
TOTALLY NOT PLANNED--or i would have breed her to yasko JR who is a coat, and a nice coat. nothing around his ears gorgeous STRAIGHT long hair, and YES a DOUBLE COAT, that i am brushing out daily!!!
(venting) :))

anyway only had 3 pups all are doing spectacular!!!!, 2 are on the field, already doing tracks that 8/9mth old pups would be doing, and the bone!!!they are gorgeous!!!!
in a club out east on long island. name slips my mind.
by
bazza
on 20 November 2011 - 09:39
WTF!!! A simple long or short would have done, lol.
by
harley
on 20 November 2011 - 17:09
if you read it BAZZA , it was about breeding her to a coat. which couldn't be done .
now to have a COAT in a litter is great. they can be shown!!!
i prefer them, some of them over a standard.

sorry if others feels the same. i can ramble :)))
Removed TOS violation.
by
bazza
on 20 November 2011 - 18:03
RAMBLE? That's one word for it, lol
FRIGGIN STALKER? Hardly it would take a long while to stalk you and your alter egos, Annamay, claire etc.etc. lol.
Last I noticed replying to a thread was called commenting so please don't dramatize with the stalker nonsense, who in their right mind would want to stalk you, you're just not interesting enough, lol.
Thank you for your latest tasteless, vile, disgusting PM, very lady like I'm sure. Mouth like a sewer......stalker ? In your dreams my dear, lol.
Still offering a reward for my identity? If I tell you my name is bazza can I claim the reward? LMFAO......PRICELESS!!!!!!
by
starrchar
on 20 November 2011 - 19:55
Vonziu, I'm not a breeder or an expert, but I'm a big fan of the long stock coats and based on the hair on the ears, I'm gonna say LSC. Adorable pup no matter what. PLease let us know how this pup's coat turns out. I'm just curious.
Char
You must be logged in to reply to posts