by
DenWolf
on 26 October 2011 - 00:45
UGH

That is SO revolting!

I have emailed the decent neighbor that rounded up all the pups..
I hope to get a response..

I have a great puppy formula recipe, and lots of tips for them..

What the heck would cause someone to do something THAT disgusting???

I am sure they will get tons of responses from Dallas area... (hopefully)


That really takes the cake! I can't stand that the word "breeder" is used to describe such people....
by
hunger4justice
on 26 October 2011 - 00:49
HELP!!!!! SOMEONE CAll them and help them please>>

Help needed!! German Shepherd Puppies
---
Date: 2011-10-24, 2:19PM CDT
Reply to: comm-tpdgn-2666582397@craigslist.org [Errors when replying to ads?]
---

My neighbor has been a long time breeder of German Shepherd. They got a call this morning from a sick relative, packed up, and left taking their 5 adult dogs with them.
They THREW AWAY a box of baby puppies, their eyes arent even open yet! and they LET GO young puppies as well.
I have rounded them all up and have the puppies in my fenced in yard, some inside, and the new born ones inside under a light.

I have never bottle fed puppies before and have no idea what to do for them. They havent stopped crying in a few hours.
I've called a vet and set up an appointment to bring the babies in this afternoon to figure out what can be done with them.

In the mean time i have given the other puppies chicken and rice to eat which i got out of my neighbors kennel as thats what they fed their dogs and i have a water bucket sitting out for them.
I have tried giving the babies water and milk but they just spit it out.

If anyone has any advise of what i can do in the mean time of going to the vet i would greatly appreciate it!! I dont want any of the puppies to die.


My neighbors usually take really good care of their dogs and any puppies they have. They even do sports with them. I think this was just a fluke mistake where bad decisions were made and i prey none of the puppies pay with their life for it.


it's NOT ok to contact this poster with services or other commercial interests
by
Uber Land
on 26 October 2011 - 01:28
I've offered to help, but so far no response. I would love to know the name of this long time breeder as well
by
Emoore
on 26 October 2011 - 03:09
I'm in the Dallas area. I emailed her yesterday recommending what I remembered from when I helped foster an orphan litter. Told her about Esbilac, making sure to stimulate them to potty and clean them up, keeping them warm. I also directed her to the breeding section on germanshepherds.com where she could get some more experienced advice. She e-mailed me back thanking me and said she'd check it out. Crossing my fingers.
by
hunger4justice
on 26 October 2011 - 04:03
They probably have their hands full and barely have time to eat or sleep so checking email probably not their priority right now. I also emailed them asking they join and post so we can help them and also help them place the pups, as well as several people in Dallas asking they offer to help if they can.

Thank you all and thank you Uber for posting this. Lets pray that all ends happily and I too would like to know more.
by
Keith Grossman
on 26 October 2011 - 12:26
Abandoning dogs is a crime in most places and the people responsible should be reported and charged.
by
hunger4justice
on 26 October 2011 - 20:15
Hoping for an update...hoping for something good
by
starrchar
on 26 October 2011 - 20:20
I wonder if there is some way we can help this good Samaritan monetarily at least.
by
hunger4justice
on 26 October 2011 - 20:41
I asked that they post here just for that reason, as I'd love to help. But I am guessing they are trying to keep all the newborn puppies alive and dealing with the others too. I hope we hear from them.
by
Fenrir
on 26 October 2011 - 21:03
So they just left 2 full litter of puppies to die?!? WTF?!? O.o god that is just sick, I hope that they can find who these people are and that they get charged with the most they can be charged with. Too bad there is no pedigree either no way to know if these pups have any genetic issues or whatever. I hope we can get more info on this.
by
Fernandez@FL
on 26 October 2011 - 21:03
Hi, I just posted it in Facebook. I hope someone will see it and contact the poster soon. Sounds as if he/she is not responding being that she could be bussy.
lets hope someone sees it. Anyone with a Face book account copy the link and paste, 'she will get more results than craiglist.

by
hunger4justice
on 27 October 2011 - 13:50
bump
by
sunshine
on 28 October 2011 - 00:57
The lady is ready to place the first 5 of the puppies. They have been spayed and neutered. If you have interest in adopting the first batch, please pm me and I will forward details. At the present, the rescuer is overwhelmed with the situation. The FWGSDC and the North Texas German Shepherd Rescue have offered their help.

The pups are from German Working lines and parents competed in Schutzhund.

Here is to finding the best homes for them.
by
hunger4justice
on 28 October 2011 - 17:14
BUMP AND THANK YOU ANGELS....Praying for great homes for all
by
DebiSue
on 28 October 2011 - 17:35
I hope we find out who pulled a stunt like this! This is disgusting. Bravo for those who stepped in to help!
Deb

by
sunshine
on 28 October 2011 - 18:32
I would like to just say, that it is times like these that just take your breath away. The rescuer is an incredible person. And she is not judging, just saving. So, without full knowledge of all the facts, please put your energy into positive thoughts rather than the negative. The puppies are well and are going to be placed into safe and loving homes.
by
sunshine
on 29 October 2011 - 13:45


So, please be cautious. If I learn of anything that changes the current suspicions, you will hear back from me.
by
Red Sable
on 29 October 2011 - 17:28
I missed something between the rescuer being an angel, and than being 'deaf' on your other thread Sunshine. What suspicions?
by
HighlanderShepherds
on 30 October 2011 - 00:43
I cannot believe how sick people can be or how anyone can harm an animal!



I was completely shocked when I was made aware of this situation and that the

people behind the scam used a photo of our dog Tisha that they stole from

either our web site or PDB.


Tisha is right here laying next to me in NY!


Please.... be advised that Tisha (Leticia) is NOT the mother of the puppies that

are on Craigslist in Texas and we have absolutely no idea who the people are!!!

Below is a photo of her and DJ playing in the crazy snow we had today in

New York... obviously notTexas weather.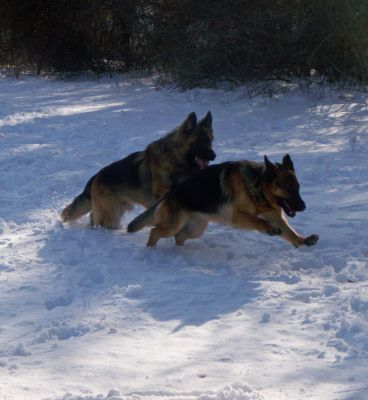 Thanks again Sunshine for contacting me and making me aware of the scam.

I pray that those dogs/puppies are safe, not suffering, and the people behind

the scam get the help they need as they are obviously sick.

Alisia



You must be logged in to reply to posts