German Shepherd Dog > 8 month old GSD puppy PTS after only owning for 19 days !!! (105 replies)
by
Brandi
on 01 February 2012 - 20:11
OR maybe the buyer was in on it. Hmmm, makes one wonder...
by
dogshome9
on 07 February 2012 - 04:57

Hello everyone,

I was about to come back to this thread today as yesterday 6th Feb. was our day at the small claims court.

I was so prepared for the fight that was to erupt and I was correct, the moderator was excellent and from his calm demeanor and body language he tried to keep control of the whole situation, he tried to keep her interruptions to the minimal but it was not easy. She complained about the puppies weight at 29 kgs (actually a little over weight), claimed that she limped from the day she took her home yet in an email sent 1 week after taking her home there was no mention of her , said that she was in a fight with her 8 month old female Rotti puppy requiring stitches to her face (incredible that I had never seen her aggressive with another dog) probably had something to do with them being able to run together unsupervised.

Though this person claimed that Ricci had hip dysplasia her vets comment was " apparently the dog limps at home"

Regarding the photo of the xray that I sent to the radiologist that proved that Ricci did not have HD but in fact had an excellent score of 2:4 >> she claimed that I should have asked her permission before sending it for evaluation (I did ask for her permission 5 times and she refused, I have the records to prove it), at least the moderator asked how I managed to have the photo and when she said that she sent it to me his replay was that if she sent it then it belonged to me to do as I wished.

I found the whole situation far too stressful and emotional, I am not the best fighter and my anger only made me forget the things that I really wanted to say along with her interruptions of EXCUSE ME every time I touched a nerve after an hour and a half of getting no where the moderator suggested a possible settlement of half the amount being asked for, I gave in ( all I wanted was to escape for that room and the husband and wife facing me.

Here is the offending xray that had her PTS --- not the best xray but good enough to be scored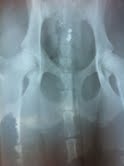 by
Maxleia
on 07 February 2012 - 10:17
What are their names?
by
allanf
on 07 February 2012 - 13:28
dogshome9

From the evidence, it sounds like justice was not served. Ring the court and ask if there is a cooling-off period or some way to retract your agreement.

The moderator's primary role is not to see that justice is done, but to prevent matters from proceeding further. Your acceptance of his suggestion for a fifty-fifty settlement is his best outcome because there was no need for him or anyone else to make a determination.

It's not easy when you are in the unfamiliar surroundings of a courtroom and face-to-face with the other party who you had trusted to do the right thing by your puppy. The monetary loss from a quick settlement may have seemed like a low price to pay when compared with the emotional trauma of dealing with courtroom-hearings, paperwork, regulations and the always-present prospect of loosing a battle against someone you may have come to despise.

My take on the matter is that, for whatever reason, the other party was simply not happy with the puppy. These things happen, but in this case you were denied your rights by the killing of the puppy just 19 days after it had left your care. I think that the vet has some more questions to answer.

by
djc
on 07 February 2012 - 16:57
I want the names of these people so that I never sell them a puppy!!!
It was probably Pano that made her limp or something that happened in the dog fight. People are just so un-feeling and cruel!
Makes me want to vomit! Poor baby!!


Debby
by
DebiSue
on 07 February 2012 - 18:37
Absolutely heart breaking. So sorry you didn't have it in you to stand your ground. I wish I could have been there with you. You should post their names so that others do not sell to them. They commited a crime and you ended up paying. So sad. RIP little pup.
by
djc
on 07 February 2012 - 18:55
Me too Debisue! Not only would I have not given them anything but I would have asked for compensation... at least for mental/emotional duress from the murder of a healthy puppy, court costs, etc! May not have gotten it but I sure as hell would not have given them anything.
SOB's!
Debby
by
Bob McKown
on 07 February 2012 - 19:10

Just a thought. I read this tragedy and what occurred to me was many people who have posted here in dismay are also people that throw a fit when they see people selling puppies with limited regs or with contracts or co ownership agreements... food for thought.
by
dogshome9
on 07 February 2012 - 22:43

I live in Australia so posting their names here would do no good. Saying that I have told as many people as possible about them and said for them not to sell these people another puppy.

During mediation they told me that they had seen a thread that I posted on an Aussie forum and they felt that as I had named the dog Cossavane Smartie Pants "Ricci" that they were open to criticism (though I did not expose them by name) and I should NOT have taken my problem to a forum (a public forum) as now they will never be able to purchase another GSD because of my thread. My take on that was >> she was still under my prefix which I owned so I can broadcast any where I wish and as they refused to share with me veterinary records I had no option and had to share my thoughts.

They said that they had been in contact with our Breed Club and the Canine Council and wanted me banned as they felt that I had breached their code of ethics, (neither of these associations of course would take any action of course as I had not broken any of their regulations)

They also threatened to take the Specialist Radiologist on for reading an actual photograph and not the xray and that I should not have sent him the photo without their consent ( yea I asked for that 5 timed and they refused.)

Bob I have always sold my puppies on the main register (though I will now review this) and I have never felt the need for contracts and many threads I have read say that contracts have no bearing in the legal system but after this I have finally drawn up a contract that would have covered me to some extent (possibly) with this awful episode of my life.








by
Bhaugh
on 08 February 2012 - 01:32
I would do as someone else suggested, contact the court and advise them you were distraught and are retracting your offer of 50% and want re mediation. Im sure there is something in your laws that allows a person to change their mind and "go to trial" so to speak. Ive had to represent myself before against attornies none the less so Ive always written down every thing I wanted to address because I would get so nervous, I just plain forgot what i wanted to say.

The fact that he found in your favor tells the court you INDEED HAVE A CASE. Go after them for everything!
by
dogshome9
on 08 February 2012 - 01:56

Really, I went into the whole thing fully prepared with 2 full sheets of itemised comments that were purely facts , no BS and I didn't even get to take it out of the document pouch.

I wished that I had taken my son who is a police officer with me for support instead of my husband. My son told me to just stick with facts and look them in the eye, do not raise my voice and be confident and calm but for all of my resolve it fell apart.

I felt very overwhelmed and bombarded by her accusations, couldn't believe how it happened, I was in a state of shock I think because it should have been me that had her on the back foot not the other way around.



by
dogshome9
on 08 February 2012 - 02:02

OH and by the way Ricci is the dog in my avitar 4 weeks before going to her new (forever home).

She does not look like a dog "that apparently limped all of the time in her new home"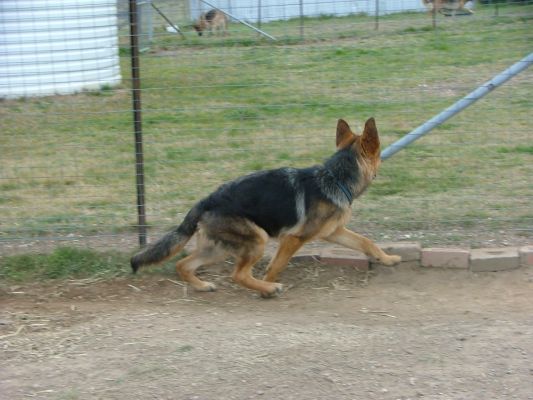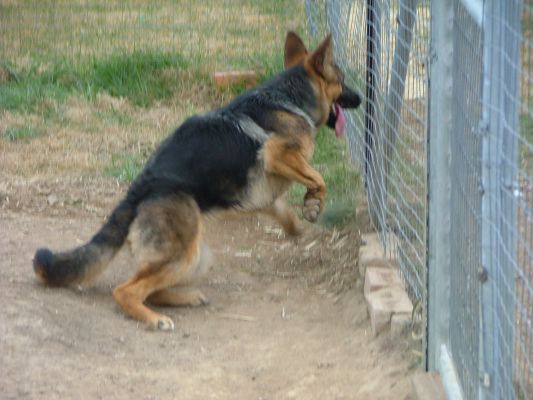 by
EchoEcho
on 08 February 2012 - 04:28
How much did you sell this puppy for? Was it way below what the puppy was worth? Was she spayed? Could the "average" person tell that she had soft ears? In court did you get records stating that she has actually been PTS? I have seen a lot of shady things happen to dogs and this seems like one of them. This is so fishy I can smell it here from the US. Either she and the Rottie got in a fight that was so bad she had to be PTS or the resold her. Either way this is awful!! Just some food for thought... I know the GSD rescue here locally will not place two female dogs in the same home. Only male/female pairing.

I am so sorry this happened and glad you are changing your contract. I know my breeders contract states that no refund/exchange will be given without x-rays taken and examined by a vet of his choice. I am sure this is very haunting for you and I can't imagine what you must be going though.
by
dogshome9
on 08 February 2012 - 05:23

She was sold for half my normal puppy price on account that they have her speyed and yes it was very obvious that her ears were soft, in those photos she had inserts in place.

On Monday they did tell me that she had a fight with their Rottie with the Rottie requiring a couple of stitches to her face, though here at home and also when out walking she had never shown any aggression.
Yes the vet records stated that she was euthanaised and charged just under $200.00 for the proceedure

Records also states

Dog has a funny gait (she did often pace ) vet has not probably seen a GSD that paces?
Hip rad taken. Hips not great but not that terrible. All growth plates closed - this dog could be older than 9 months



Vet discussed a new surgery being done at another nearby clinic? What that was I don't know? This nearby clinic also does JPS surgery and I have had word with them before as they recommended the proceedure be done on another 4 month old puppy I sold to that area.
Also talked about Pectineal Myectomy,

Owner does not want to spend a lot of money on a young dog already lame if they can't guarantee that will fix dog


Dog significantly lame at home apparently

by this I believe that the vet had not seen the dog limp or she would NOT have said that.

From all of these statements WHY wouldn't any sane person contact the breeder rather than euthanaise the puppy??????????

(Some )Vets I HATE THEM

Atleast I have a great vet ... I was at work on the weekend and saw a lovely coated GSD puppy 12 weeks old and I heard my vet tell the owner that she was growing too fast and they needed to watch her diet :):):) I was very impressed.





by
ILGSDs
on 08 February 2012 - 07:36
this breaks my heart and Im terrified that they will probably be obtaining another dog. They need to be banned from owning another dog. I dont think I would have been able to hold it together if they had murdered one of my puppies for no good reason. Can you take any action against the vet for misdiagnosis and putting a healthy young dog to sleep?
by
joanro
on 08 February 2012 - 14:20
Did any one see the body? Was she tattooed are microchipped and was this positive ID recorded in the records stating euthinasia? Still doesn't add up.
by
dogshome9
on 08 February 2012 - 22:02

joanro, I had not thought about asking the veterinary clinic if they had checked her tattoo and microchip numbers for verification of her ID BUT I WILL.


by
joanro
on 09 February 2012 - 00:37
Good.
by
EchoEcho
on 09 February 2012 - 20:57
This story is still bothering me. It just doesn't make sense and I am sure whatever the truth is would make perfect sense. Did you ask the vet clinic if there were any other issues going on with the dog other than the HD that would have caused the dog to be PTS? I just don't understand who would do such a thing and then have the nerve to ask for their money back. It just doesn't add up!!
by
ILGSDs
on 09 February 2012 - 21:09
it dosnt add up to me either. Would any sane person be that rash to kill a young animal?
You must be logged in to reply to posts