by
Bob McKown
on 30 September 2011 - 11:36

I love the wall jump and the fire obstacles. That is how my wall is set up at home with the platform on the down side. Nice clip.
by
Abby Normal
on 30 September 2011 - 11:48
Love the clip, it's nice to see motion shots from dogs way back. Love to see the wall and how easily these dogs tackle all the obstacles, and the bitework looked pretty good too. I know I live in the past, but the 60's and 70's were the best! Thanks for that, really enjoyed it.
by
starrchar
on 30 September 2011 - 11:51
I enjoyed watching that footage. Thank you for sharing, Ronin.
by
Duderino
on 30 September 2011 - 12:45
That was unbelievable, the best training footage I've ever seen. Flawless performance, those dogs were amazing, the training the uniforms and the marching was especially titillating. I've never seen such training and the bite work,,,,oh my, just takes my breath away,,,especially the white dog.

Did they start their own breeding program? Those are the things that dreams are made of, they look like they know more about the Alsatian than anyone. Personally, I would have purchased whole litters from them, we could have started a Super Dog program years ago and not wasted all this time. Things that make you go hmmmm.
by
Blitzen
on 30 September 2011 - 12:47
Very interesting, thanks. I noticed that those dogs are pretty good size with big bone but still agile.
by
starrchar
on 30 September 2011 - 13:15
I also noticed a white one in there.
by
Bob McKown
on 30 September 2011 - 13:27

Careful Phil, New terms of service. Your being condescending to others which in turn may negatively effect ones self esteem causing them to leave the breed and commit suicide because of your cyber bullying. Try to remember Kinder and Gentler... Please.


I just like the wall (which is shunned today) it,s a neat old video for what it is worth. I don,t believe any here thinks it,s a blue print for dog training.

P.S.

Dear Phil:

I must apologize I used the word "your" when directing a comment to you. Please don,t be offended from the bottom of my heart...


Respectfully Yours

Robert C McKown


by
ronin
on 30 September 2011 - 15:46
Based on videos of Schutzhund, Ring and KNPV training I've seen from the same period I suspect the training is not too bad for the 1960's, it was certainly far less cruel than the sports.

And the RAF Dogs were treasured ; we brought them all back from their military tours, I understand the Bill wasn't signed by Bill Clinton until his last days of office for US Military Dogs in November 2000.

May be more of a blue print than you realise.

Ronin
by
Siantha
on 30 September 2011 - 16:03
Dont diss on whitys XD mine may not be all white but if the dog can work the dog can work plain and simple.
by
Abby Normal
on 30 September 2011 - 17:59
What's not to like......A functional dog that can do the job.

Ronin, good to know that they were all brought home too, it hasn't always been the case for military animals.
by
starrchar
on 30 September 2011 - 21:53
Siantha, I have no problem with white GSDs at all. Just an interesting observation :)
Char
by
Smiley
on 30 September 2011 - 21:58
Great clip!! OP, thanks for posting link to video!!

P.S.- I love the white GSD too!!

by
alboe2009
on 01 October 2011 - 02:02
That was pretty good. Another one, (can't remember if there is video, think so) is "Hahn AB, West Germany, Home of the 50th AP K-9 Section!" Time frame 1961; And then throughout that article you will have other topics.
by
KellyJ
on 01 October 2011 - 05:47
Cool video ronin! Thanks for posting!

But Bob you totally lost me...whos Phil?....LOL
by
BevWallace
on 02 November 2011 - 04:39
Duderino, most British service dogs were not actually bred for purpose. The British services relied on donated dogs, most of whom were 'unwanted' . Quite a few failed the training, only the ones that could do the work work survived. There are still a lot of dogs just like this in England, but you won't find them in the show world. There are quite a few of us breeding purely for agility, soundness and brains!
by
truckindog
on 02 November 2011 - 19:25
Well this takes me back. There used to be many clips of RAF Dogs at Royal Tournament E/boro Tatoo etc . The RAF police dog Demonstration Team Did events in the summer and displays at football matches in winter. Much loved by all the public.
In my time under the watchful eye of Charlie Fricker and Terry Mac. All dogs were donated by the public and most were from pet homes which says a great deal for the trainability and versadility of dogs at that time. My dog was twice in N.I did a tour on the demonstration team and finished his days on an active station in Germany. I will never forget him we were totally as one and I trusted him with my life. We owe so much to this breed and the noble dogs of this era.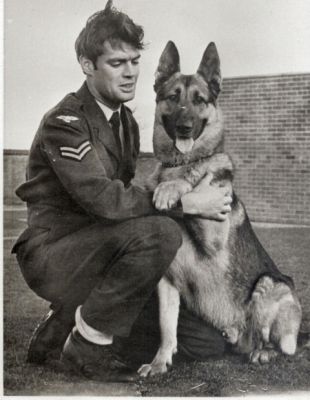 John Leadbeater Air Dog Rommel
by
Abby Normal
on 02 November 2011 - 20:24
What a superb photo, and what a handsome dog.
You must be logged in to reply to posts