German Shepherd Dog > Handers Available for NASS (33 replies)
Handers Available for NASS
by
Farvos Mom
on 18 September 2011 - 01:54
2 VERY experienced handlers available for NASS. (been showing for 7 years) Available currently in every class!! Reserve your dogs class today! Please contact Kathy Bendt at
rsablesrock@yahoo.com
or call anytime 1-765-427-1832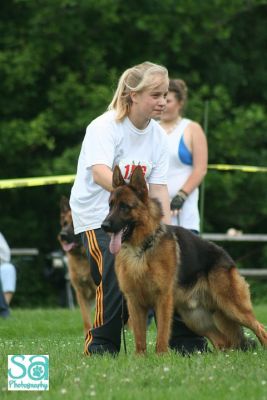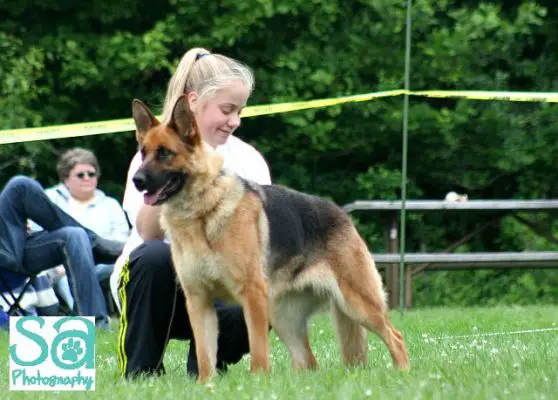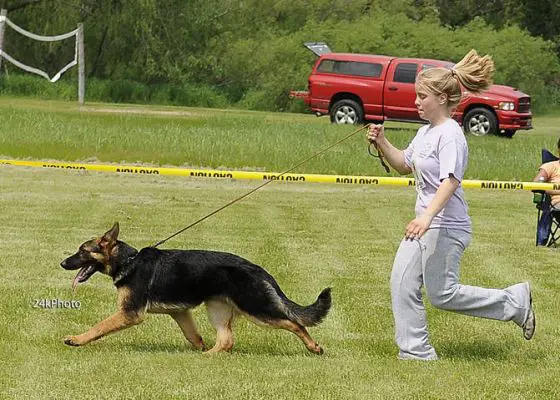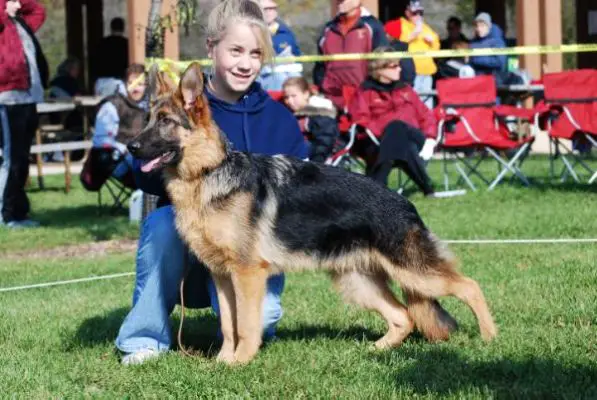 by
Paul15
on 19 September 2011 - 00:24
OK I will show my ignorance as far as conformation. Do you do SV conformation or know who does on the East coast? What do you charge? Any infor would help.
Thanks,
Paul Hoffman
by
Farvos Mom
on 19 September 2011 - 01:37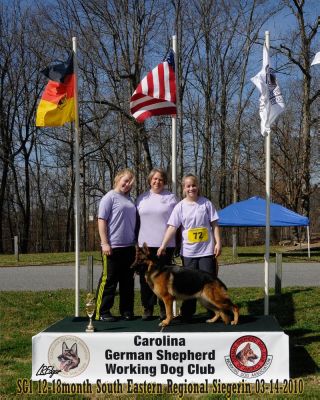 Here is one picture of us at the South Eastern Regional show last year in NC. 5xSG1 Castlebrooks Vogue, shown by Whitney all 5 times.
by
Ruger1
on 19 September 2011 - 04:13
Hi, not on topic, but I wanted to comment on your male Erri z Blatenskeho Zamku. He is a very nice looking male. He caught my eye in the ad section. I am definitely partial to SL and dark sable WL, but your male caught my eye. Also, your website was very unique...

Sorry, back to NASS handling...: )
by
djc
on 19 September 2011 - 04:47
These girls have been my handlers in SV shows for 4+ years now. Not only have they won for me, but they have come in ahead of well known handlers including some from Germany. They are very athletic and know how to give the judge the attention and smiles that sometimes count for so much. Virtually every SV judge has praised both girls in their handling skills and even Gail from the well known kennel Kirschenwald sought them out to help handle their dogs for last year's NASS, after seeing them expertly handle Vogue for her win in North Carolina. Unfortunately they were not able to attend last year. Other well know kennels have given them high praise, including Carlos and Robin Huerta and Julie from Mittelwest, amongst others. We traveled to the South East Regional in North Carolina in 2010 where the girls WON in a very strong class of 13 dogs with my very successful Castlebrooks Vogue vom Whirling Thunder. Not only has Whitney brought her to win 5 times but she has always finished in the top 3 under her talented hand every single show she was entered, since Vogue's very first show at 12 weeks old. Monica and Whitney are also undefeated in their local 4H in both obedience and showmanship and have won at State competitions for the same also.
Their fee is the standard handler fee of the price of entry + $10 and they are well worth it!
Debby

by
djc
on 19 September 2011 - 04:49
Ruger1, Erri is owned by Mike Diehl and they were priviledged enough to secure a breeding for their Czech bitch. The litter looks awesome by the way!!
Debby
by
Ruger1
on 19 September 2011 - 17:53
djc...Thanks for the information on Erri....: )

I have a small list going of dogs I like. When the time is right I will be ready to research each of them completely....: )
by
Farvos Mom
on 20 September 2011 - 14:39
by
Ramage
on 20 September 2011 - 19:08
Are you at th SE Regionals in NC every year? If so, I've got a few I'd like shown in 2012.
by
Farvos Mom
on 20 September 2011 - 20:47
We don't go every year but we will mostly likely be in 2012. Vogue will be in the working class, females but there are 2 of us so we will still be available for that class also. We live in Indiana.
by
Ramage
on 20 September 2011 - 23:57
I would have anywhere from 3-5 dogs. 2 would be male pups- but one is a LSC so they might not even have a class for him. Then, I'd have 3 bitches. One would be in the 12-24 month class. One bitch would be in the Open (untitled) class. The other bitch is also a LSC, so may or may not be shown.

All are WL but for the two LSC (both of which are SL).
by
Ramage
on 21 September 2011 - 00:36
I sent you an email.
by
VKGSDs
on 21 September 2011 - 01:05
Will the girls be at the Prairie State show next weekend? I need a handler for a 13 month old working line male. Very little ring experience but a very nice, outgoing/friendly dog, should not give any problems, not aggressive being examined or showing teeth.
by
Dog1
on 21 September 2011 - 01:25
Please PM me. I'm finishing up my entries and will need handlers for most of the puppy classes.
by
Farvos Mom
on 21 September 2011 - 03:07
VKGSDs, yes, we are going to Prairie State next weekend. Would love to handle your dog for you. :D We are available for that class. Look for us. :)
by
SitasMom
on 21 September 2011 - 04:00
will you be at the show for Atalnta SV club?
i need a handler there

by
Elkoorr
on 21 September 2011 - 04:42
Blows my mind how many peeps were at the NC Reginal show.... and we didnt say Hi to each other....LOL

by
Farvos Mom
on 21 September 2011 - 13:42
Dog1 I PM'd you. :)
by
Farvos Mom
on 23 September 2011 - 12:20
SitasMom: I really don't know if we will be able to go to that one. When is it? We may be able to go. We live here in Indiana
by
gucci
on 23 September 2011 - 14:03
These girls really are Good!!! Lida
You must be logged in to reply to posts