German Shepherd Dog > Started tracking with the "Brute"today, he loved it! (7 replies)
Started tracking with the "Brute"today, he loved it!
by
kitkat3478
on 15 September 2011 - 00:10
So me and "Brutus" headed out for some fun time today. This is the kind of weather that you can really enjoy training in.
Brutus is just about 15 weeks now. He has great drives and just loves having fun. He did real good with the on lead heel, even with the other dog distractions.
Any suggestions as to scent pad or straight track.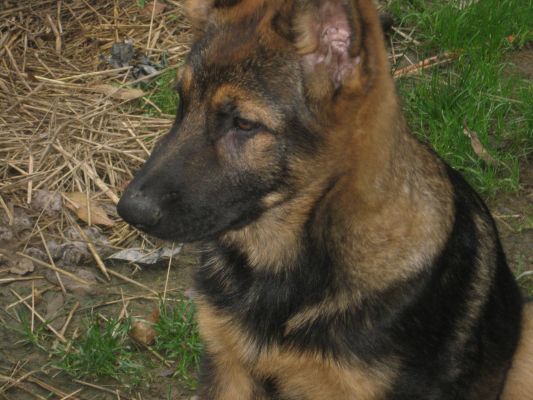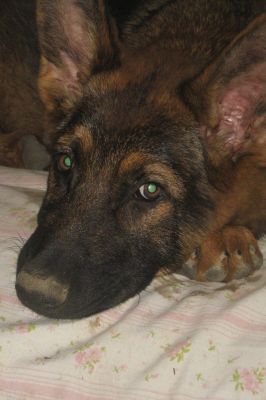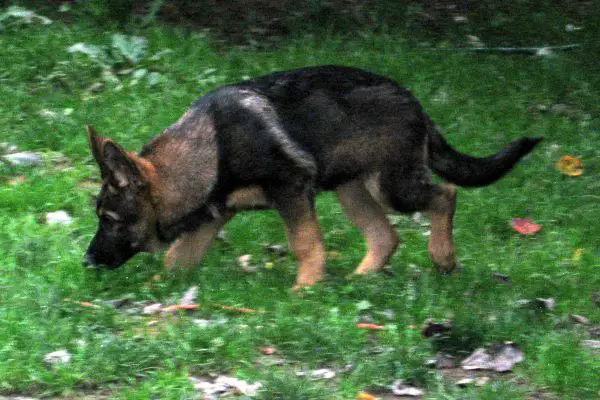 by
Preston
on 15 September 2011 - 01:01
I have no suggestions for tracking, but you've got one very nice looking young male.
He's got good conformation that's for sure. Overall a very, very nice dog. Congratulations.
by
kitkat3478
on 15 September 2011 - 12:34
Thank you Preston! When I seen you back posting last night, I honestly thought to myself, It sure would be nice if Preston or maybe Gustav would respond on my boy here.
There are a few people that I hold in very high regard as to their opinions on certain subjects.
You are certainly one of them.
Wouldn't mind a few tips from Bob McKown or Prager either!
by
Kalibeck
on 15 September 2011 - 12:44
Hey KitKat, That's a nice looking pup you've got there! Was he from your last litter? He's a looker! jackie harris
by
Ruger1
on 15 September 2011 - 15:53
I'm no Bob or Prager, lol,,,but I can see you have a handsome little pup there!!!

I love his coloring and from what I can see he has a very nice structure as well!!!

Enjoy him...: ) He looks like he has fat paws, I love fat paws lol,,,
by
kitkat3478
on 16 September 2011 - 13:13
Hey Jackie, yes, that's the boy I deceided to keep. I love him. He really is a fun little dog.
Thank you too Ruger1, he does have fat paws,and fat legs too. There are a few people here that have been here for along time, and some of their posts just have so much passion about the German Shepherd dog as a whole...
Just like Bob seems to really have a passion for his dogs and training. There are a lot of really knowledgeable people here. Used to be you could get some training advice. I guess a lot of that is not here any more.
So, I guess I'll do the best I can with my dog for the next few months and than get to a new club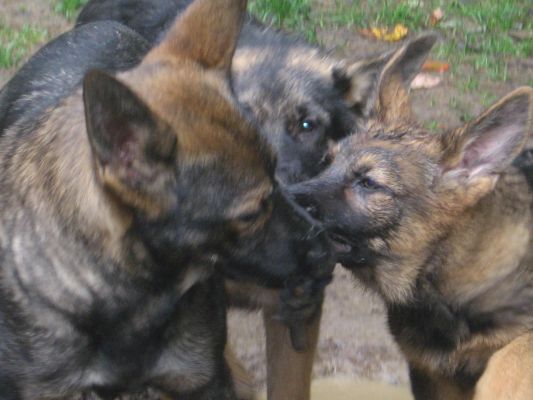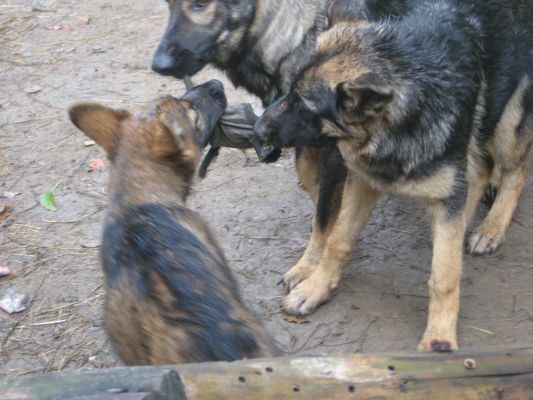 He's all about the tugging too. Kind of like that third leg, tripping you up.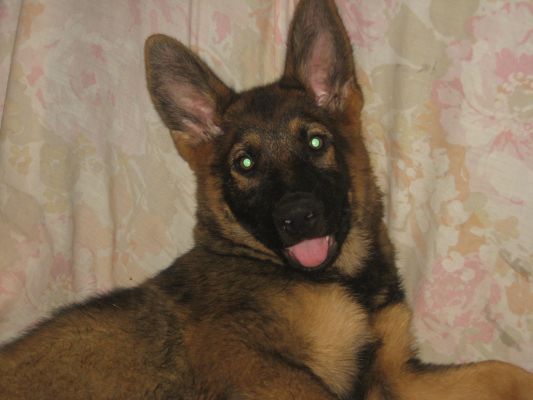 by
Chaz Reinhold
on 18 September 2011 - 02:26
Nm. I'm not bob or prager, either.
by
ShelleyR
on 18 September 2011 - 18:45
Nice looking boy you have there.
I don't start pups on straight tracks. I lay horseshoes and serpentines right off the bat, my intent being not to have the pup sure that the track goes in any particular direction for a long while, so he/she doesn't learn to rush in his/her overconfidence. I also lay a large scent pad, with lots of bait on it, and encourage the pup to stay on the scent pad as long as possible to find every bit. The "head of scent" the dog gets on the scent pad is what he/she will rely on for the duration of the traqck, fall back on when the going gets tough.

Good luck with you nice puppy-boy. I am rarely on this board anymore, no time these days for much of this sort of thing (or interest either, to be honest) but you know how to reach me if you need something. :-)

Shell
You must be logged in to reply to posts