Origin of Arched Back
by
Smiley
on 11 September 2011 - 10:59
With all this Sieger talk, I have been checking out the dogs mentioned in threads. Why do they have such arched backs?

Does the arched back serve a purpose? If so, what is that purpose?

Are they just being positioned that way by their handlers and they would not have that look if they were loose? Why would the handlers want to make them look like that?

I researched early German dogs that were imported and they do not have the arched back.

So, where did it come from and why is it so prevelant?

Again, I apologize for my ignorance. I am still learning.....
by
GSDguy08
on 11 September 2011 - 12:01
Honestly, I wander where it came from as well. Sometimes the dogs in pictures are poorly stacked.....many times, it's the structure of the dog. I will never understand why people say it's better for the dog, or helps movement/speed/etc. The dogs before that, going back to the first dogs you will see in any pedigree all had straight backs. To me a "arch" or roach back makes the dog look in pain. Maybe someone else though can come along and tell you how it all started though.
by
ronin
on 11 September 2011 - 13:08
I'm not so sure myself, I would also ask what is the origin of the straight back. Our spine's are "S" shaped, looking at the working collies on farms their backs are curved but not sloped, the same for wolves and coyotes. I don't think nature does straight lines, the curvature is for performance, just look at cats or cheetahs. I think this might more of a sloping down back issue, either way it can't be right.

Ronin
by
Ibrahim
on 11 September 2011 - 13:11
Roached and Arched backs

I think there is a difference between the two. Not all dogs who look roached are in fact roached, sometimes the way they are stacked causes this look. There are though real Roached back show GSDs and this is a fault, why? because a real roach causes low withers and in gaiting head and neck fall below the imaginary horizontal line passing through the highest point of the back which is in this case the peak of the roach. In such a case dog can not make a full front reach and if the roach is severe it may even stumble as front strides are shorter than should be and not in coordination with back reach and its generated force.
Arched back on the other hand is much stronger than a sagging one and tighter than a level/straight one. An arched back is actually longer than a level/straight back, just imagine an arched back straightened up then it will show a much longer back. An arched back, but not a very steep one, on a dog of minimum acceptable length ratio to height shows a remarkable rear momentum in fast gaiting and shows a beautiful smooth topline of less curvature/almost level back but maintaining the high withers when in movement plus even long reaching strides and the dog moves in ease and enjoys maximum endurance.
That said does not prove this is the correct thing for the breeders to do as per the standard but maybe it explains why many show breeders like arched backs, not only it being the nowadays fad and provides nicer look. As said many times by the experts breeding for extremes is wrong as it will bring problems un-accounted for or kick away other favourable traits and arched back is no exception.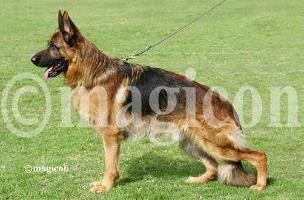 Above dog has a sloping open arch topline, in regards to movement, theoretically it should provide a smooth transfer of drive force through the spine even at full reach when the topline is fully stretched and tensioned to its extreme resulting into an almost level line at no chance of enduring excessive bending moment/ flexure on the spine as that which could be caused in a 100% level/straight back in standing then has no enough room in its spine to be stretched in fast trotting.

Ibrahim



by
Cassandra Marie
on 11 September 2011 - 13:11
I've often wondered the same. Does the arched back serve a utility purpose or did somewhere along the line some handler showed a dog like this, win with it and the trait was bred into certain lines? In the 1970's and early 80's, I bred show and coursing Afghan Hounds. Then and even to this day a level topline is preferred to accomodate the angulation of this breed. In the 1990"s I bred show and working Australian Shepherds and again a level topline is part of the breed. I mention this because both breeds are very athletic and need speed for either the hunt or herding purposes. However that being said, other speed dogs have arched backs, i.e. greyhound, Borzoi and Whippet. When one turns to nature and studies lions, tigers, wolves, coyotes, panthers, leopards, foxes, etc they all have level toplines. Then the truest speed animal of all - the horse, whether domestic bred or mustang have a level topline.

What I have noticed with the arched topline on Shepherds, is that their loin area appears to be shorter than average. Therefore, in my opinion that may be why when an arched Shepherd moves, their rear legs overstep the front legs. Is this to give the impression of power?

I will be interested in reading this thread and hear from breeders of this type of Shepherd, to really learn why they developed this trait into their bloodlines.

Cassandra
by
Cassandra Marie
on 11 September 2011 - 13:35
Hi Ronin:

I read your response to my husband and it gave us much to discuss over morning coffee. We are wondering when you look at the toplines of the animals you mentioned, are you evaluating them from the wither to the start of their tail? Because when we judge their toplines, we look from the withers to the hipbone and do not include the drop off of the croup.

In advance, thanks for your reply.
Cassandra
by
GSDguy08
on 11 September 2011 - 13:43
ronin, where did straight backs come from? These wolves backs look pretty straight. Wolves can travel over 40 miles a day, traveling, hunting, and bringing down prey. Straight backs don't hinder them at all. There are some that can run 35 to 45 mph in short bursts....obviously they don't do that long, and typical traveling or hunting isn't like that. When you say "S" shaped....how is that S shaped?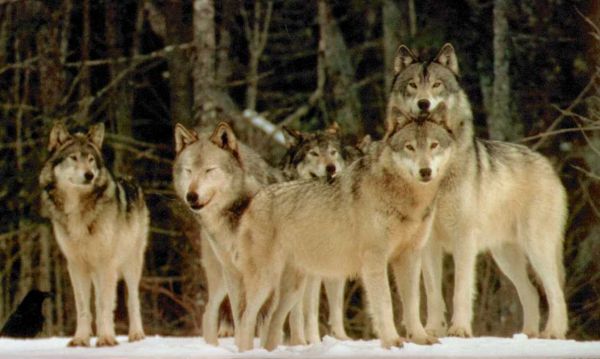 The Malinois today, the first Shepherds....their backs were straighter as well. When I talk about arched or roached, I guess I mean the extreme....obviously most dogs will have a slop or arch at the very back/tail going down. That, I don't mind at all.

In my breed an arched or roached back would be considered a fault. This picture doesn't show my dog "stacking" since Huskies stacking...don't have one leg pulled out farther than the other.....But here is one of my dogs.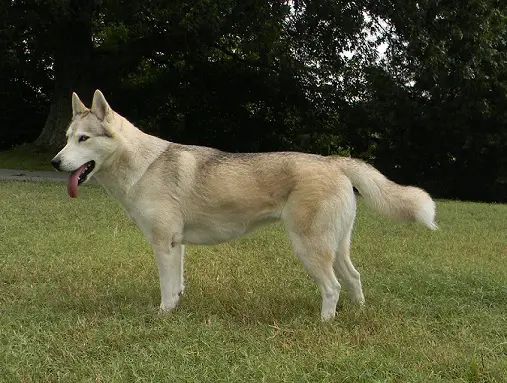 I just mean how we went from this.....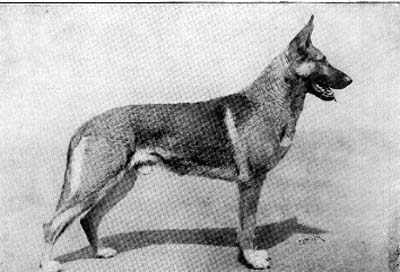 .....to what some of them look like today. Of course not all are bad, and there are many, many nice looking showline structured dogs. They aren't my cup of tea regardless, but I'm referring to the ones with extreme roaches. How do we go from the above picture to how many are today?











by
Mike D
on 11 September 2011 - 22:38
What I really want to know is, when looking at the wolf picture, specifically the wolf that is 2nd from the left.....who is he laughing at?


Mike
by
Abby Normal
on 11 September 2011 - 22:46
Positioning accounts for some of the arching, but not all. Some dogs have a more pronounced convex spine than others.

I have heard that it was considered that an arch was considered more stable than a level structure, such as a bridge. Of course the flawed logic in applying that to a living animal is not accounting for the necessary flexion to allow motion.

if the roach is severe it may even stumble as front strides are shorter than should be and not in coordination with back reach and its generated force.


A study undertaken has (surpisingly) shown that in fact momentum (or thrust) in the GSD is actually not generated from the rear, but from the front. I believe the study was done in Germany. Dingo vom haus Gero, the dog who illustrates a beautiful and correct topline in the gait did not have an arched spine, neither did he 'drop' his rear in movement as many dogs with arched backs are prone to do, which again is incorrect.

their rear legs overstep the front legs. Is this to give the impression of power?
My understanding has always been that this is incorrect, the rear legs should not overstep the front legs. The GSD is meant to single track.

Arched back on the other hand is much stronger than a sagging one and tighter than a level/straight one.
If anyone hasn't seen the video of the Malinois (under the bitework thread) then I would suggest that you have a look and then give an opinion as to whether that dog with a straight and level back is weaker than a GSD? You could almost say they have a 'dipped' back.

All herding breeds with the exception of the (show type) GSD, that actually DO work all day long have straight/level toplines. Dogs that work all day such as huskies, wild predators such as wolves - all have a straight back. The working GSD has an 'un-arched' back. I have yet to hear a valid reason for an arch, some myths but not a valid reason....yet. JMO.
by
Smiley
on 12 September 2011 - 10:30
Wow! I am really, really shocked that nobody knows when the arched back look started! I figured there are people on this forum that have been breeding a long time and, certainly, they must remember when it all began and why.

Maybe nobody wants to comment on it now because they now have dogs with the arched back and so they don't want to comment. Is this the look that a breeder MUST have to be competitive even if they do not like the look? I don't know.

But, the GSD didn't have an arched back before and now they do so is it simply......fad???

I know in showing horses- one period it was a movement fad; another a table top topline fad; another a long neck fad; then a pretty head fad.

Could the arched back simply be a fad that resulted when a top dog won with this fault? Or, is the arched back an improvement over function for some reason?

After reading the posts, I am really shocked that breeders are not commenting more. Why is it that nobody remembers when it started? It couldn't be that long ago or could it?

Also, why on earth would someone want to pose a dog like that on purpose? I am sorry but I don't understand. Can someone please explain it to me? If the arched back is stronger than why didn't the GSD have that back since the beginning. Why only recently? Why is it that other strains of german shepherd do not have the arched back? Why is it restricted to dogs that show in German style show?

Again, I apologize. Just trying to understand.....

by
Nellie
on 12 September 2011 - 11:53
After the Big 4, the breed in Germany realy took a turn about and it was then people started to breed for Angulation, so they could develope a breed that could cove ground with least resistance, this includes having the right angulations on both sholder placement as well as hind angultion, with this came the development of different spine structure, over the past 30yrs i have seen the GSD go from, level spine to roach which was a fault and frowned on to the backs we have to day. Today's show dog has been bred on angulation, which can cover ground and gait without fatigue while running around a ring at speed, if you look at the ring dogs of today you will see rich red and black dogs all of the same conformity, even the long coats are now being shown, the working coat has also left the breed for a more lush type that 30 yrs ago would of been classed as semi long in some cases, Who ever wins the seiger will be the dog that shapes the future of the breed (in the ring)
This is my view from over the yrs
by
GSDguy08
on 12 September 2011 - 12:31
Nellie, they're like that so they can not fatigue when going around the ring at speed? I can't fathom that, owning Huskies, a breed with straight backs.....bred by the Chukchi tribe to run/pull somewhat heavy sleds an incredible amount of miles each day at a reasonable speed in below zero temperatures. To me I can't fathom how roach backs can improve anything, I just......don't see it I guess.
by
Abby Normal
on 12 September 2011 - 13:34
IMO the convex back is not conducive to movement with the least fatigue at all. I think it is a shape which in fact requires a lot more effort to move the dog forward - and this is wasted energy. A working dog has no use for a gait which requires using uneccesary energy. But then again the flying trot is not a gait that serves any purpose for work, or would ever be naturally employed by the dog. There is much less extension in the rear legs when a convex shape is present.

If the form of the modern SL was particularly (or in any way) conducive to function surely the Working Lines would want it to perform better. Working line dogs can work in a way that few if any SL can come close to, so you have to ask which of the two forms best serves the function of a working dog. Also as GSDguy says, huskies have a straight back and can RUN for miles each day, as do most other herding breeds who really work, not just run round a ring, or do a short ScH routine. I still haven't heard a valid reason for the arch, just the myths that the breeder of the type convinced everybody of at the time.

Could the arched back simply be a fad that resulted when a top dog won with this fault? - Yes, that is exactly what happened.

The biggest problem is how to reverse the fad and the tendency towards overangulation. As all dogs that compete in Germany look the same, colour and structure, there is no opportunity to 'edit' the template!
by
Ibrahim
on 12 September 2011 - 14:14
As I said above I think Roached back and Arched back are two different things, Roached back is a term used by many to describe a topline where the "arch" of the back is higher than the wither.......just as the toplines of most cockroaches .....

Many people who use the term "roach-back" with relation the GSD use it to mean that anything with a curve is a Roached back and that I think is incorrect.
A GSD is said to have a "roach back" in the true sense only if the point of roach is higher than the withers which should be the highest point in the outline of a GSD. Any other bend in the back is not correct as per the standard but is not a Roach back and is not as faulty in my opinion as a true Roach. I also think watching a GSD gaiting can tell truely whether a GSD's structure is correct or not. Therefore if a GSD is Roached while in movement then that is a fault without any doubt. If a GSD while gaiting shows high withers and straight or very slight sloping then it is absolutely with correct structure or almost correct.
A straight back GSD while in movement having an arched under is best for sustaining fatique and less probability of injury.
in the GSD any movement that wastes energy is not correct and makes GSD movement inefficient. The "roach" or excessive arching lead to inefficiency.
Moreover jumping and galloping require a very firm musculature of the back, dipped back is no good. A sure way to realise this is by looking at how steady the back is when the dog is trotting . One more notice is that as the dog ages the curvature usually becomes less, also if a dip was there it gets bigger and back becomes more prone to injury (hurt of back). For bitches it is very important to have a straight or slightly curved back when young and more important is a slightly curved up under.
by
Ibrahim
on 12 September 2011 - 14:25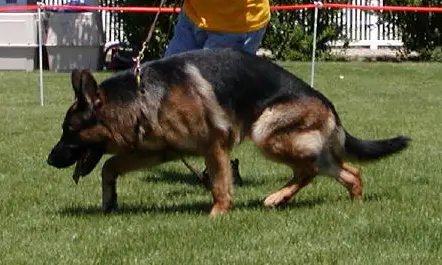 This is a true roached back, it is very evident while in movement, see where the highest point of the back is, it gives you a feeling that the dog might at a point when fatigue takes over it might fall on its head.


by
Nellie
on 12 September 2011 - 14:35
GSDguy08
I have workinglines lol, These are the reasons that have been explained to me every time that i have asked the same question by people in the show ring, My straight backed dogs have never had a problem with being functional, and for the life of me I never have been able to understand the reason for breeding dogs this way, Personaly show dogs have nothing to offer me as a person who is involved in working dogs, Some have realised the mistake Abby and are now trying crossing back to the working line but it is going to run in to a lot of resistance as the Martins brothers ways are still running the SV.
These show lines are a big comodity (sp) earning lots of money
by
Ibrahim
on 12 September 2011 - 14:39
This is a VA GSD, has an arched back in stack but see how correct is hid back in movement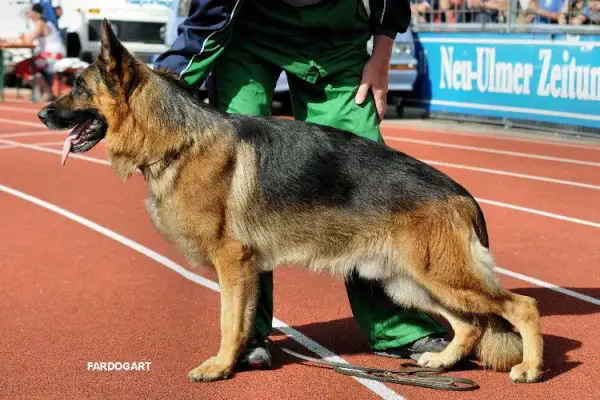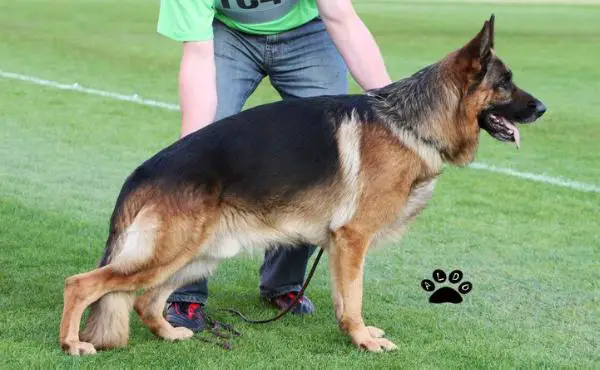 by
Ibrahim
on 12 September 2011 - 14:42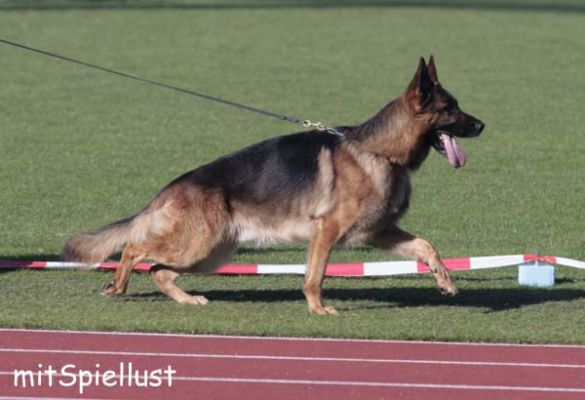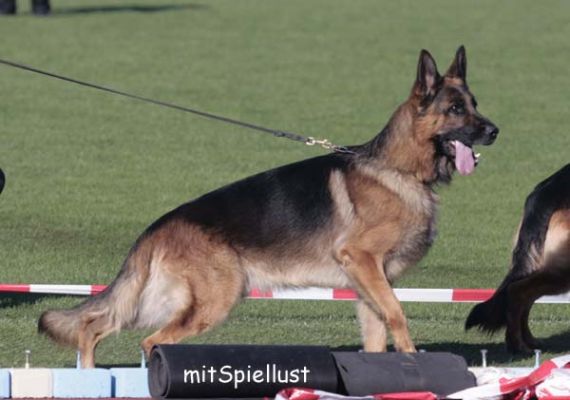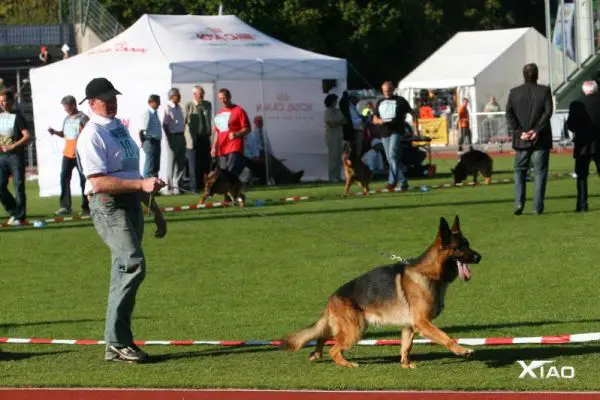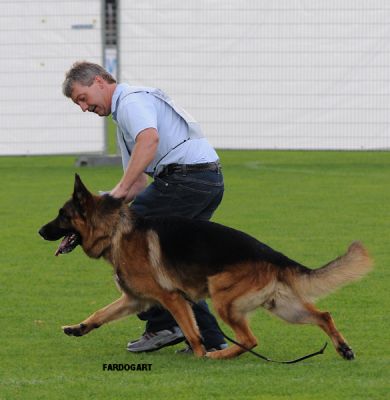 by
Ibrahim
on 12 September 2011 - 14:56
Dingo vom haus gero has an open arched back in stand and we know how efficient his gaiting was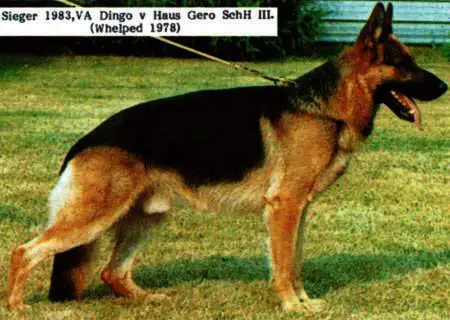 Just for comparison, the latter has longer better angulated croup, more rear angulation, better upper arm angle and a less open arch (more curvature in standing).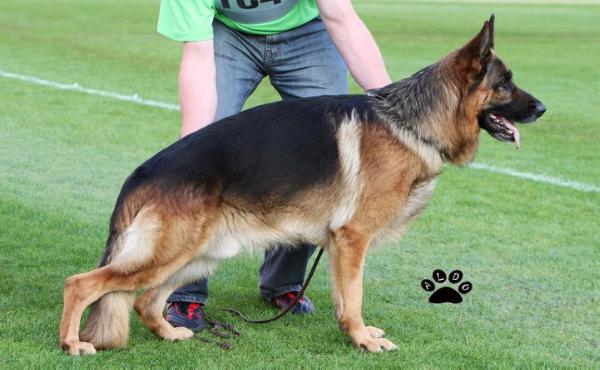 by
Sunsilver
on 12 September 2011 - 15:17
One of the more knowledgeable posters on this board had this to say about the roach:

The roach back (ie upward bowed arch back) is a separate and distinct problem from the faulty rear ends, which are commonly referred to as overangulated. Technically the problem is typically lower thigh bones that are too long (which creates "sickle hocks" which won't open-they look like a scyth sweeping from the side). Roach backs were selectively bred as an over compensation for the long and weak backs of Rolf Onsnabruckerland (Rolf had exceptional working temperament, but the long flexible, weak backs he produced seriously limited the working ability of a certain percentage of his progeny and was identified as a very serious fault). The GSD has always had a serious problem with either long excessively flexing backs or backs that are weak at a certain point such as right behind the withers. The roach back is a quick and faulty breeding solution for this and can actually add steepness to the croup, making the dog rollup of the rump, causing an imbalance between the front and rear, often resulting in a hitch in the rear that can look like HD.

It is very difficult to breed a GSD with a short, strong back that is relatively straight as specified in the standard. It is a major current flaw in a high percentage of SL and WL dogs, including the top competitors. The roach back problem is also a very serious problem, but if it is not too pronounced can be quite easily covered up with a lot of conditioning on a tight lead pulling, and then showing the GSD on a tight lead in the showring. If the roach is too pronounced the result is a front that drops under power of the rear drive and roll-up of the rump, either of which can create pounding or padding in front and impair movement making it less efficient. Germans demand strong backs and now tend to favor roaches as a form of insurance against a GSD "breaking down" in the back. Over time through selective incremental perceptual drift, they have come to actually see serious roach backs as okay and even normal, when they actually are an aberration to the standard and cause the GSD to look grossly distorted.


Source:http://www.pedigreedatabase.com/german_shepherd_dog/bulletins.read?mnr=221753&pagen=19
You must be logged in to reply to posts