German Shepherd Dog > Breeding 'dark sable's' (18 replies)
Breeding 'dark sable's'
by
frankow
on 10 September 2011 - 20:31
How do you breed a 'dark sable' if neither sire or dam are sable?
by
Jenni78
on 10 September 2011 - 20:42
Seriously?


by
AmbiiGSD
on 10 September 2011 - 21:12
You don't!
by
yellowrose of Texas
on 10 September 2011 - 21:26
AMEN

UNless you can further explain what you meant]

YOu might give a pedigree and see if maybe the dam or sire is mistakenly identified.

You would be surprised how many pups get mistakenly written up as bLK /red or blk/tan and they are sable..especially Patterned Sables, which when I first started this venture, I didn't know what Patterned Sable was.


YR
by
Ibrahim
on 10 September 2011 - 21:57
I think he meant to say (how do you produce a dark sable if neither of parents is sable), assuming the English of OP is a Second language, anyway if I'm mistaken then I apologize.

If that is your question then the answer is you can not, at least you need one sable parent to produce some sable puppies. And to produce a dark (black) sable you need one sable parent and the other parent either black or has black as a recessive gene. In some cases you do get a dark sable without having black recessive gene but that is less probable.

Ibrahim
by
GSDguy08
on 10 September 2011 - 23:41
I think they meant what Ibrahim said as well.
by
yellowrose of Texas
on 11 September 2011 - 00:18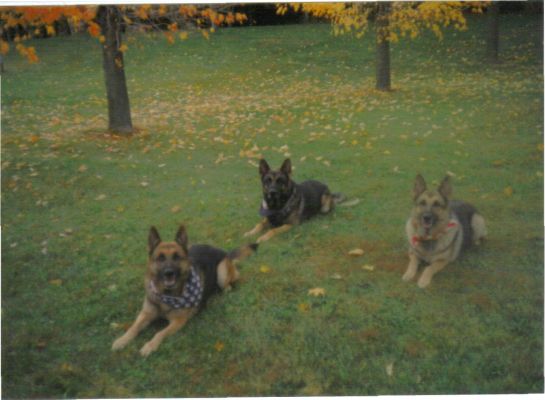 Thor, dark sable, is in the back MIDDLE..HIS dam is ZU on the right Looking at the picture.
BOZO is also son of Zu,BLK/tan, and same Sire as THOR..Moore's Konig, sable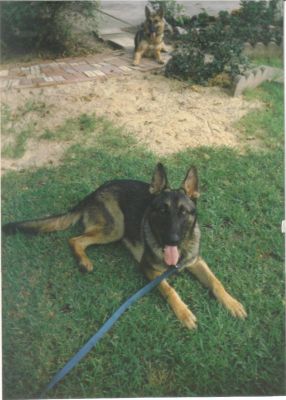 Moore's Konig in front and Zu in back...sire and dam of all the dogs in the pictures on this thread..some sable some Black/tan/rd
Konigs dam was RED SABLE
http://www.pedigreedatabase.com/german_shepherd_dog/dog.html?id=506117



by
Ibrahim
on 11 September 2011 - 00:23
In the first picture they really look one family, how adorable they are looking at the camera and being good kids



Ibrahim
by
pod
on 11 September 2011 - 08:14
Ah no, if this is a serious question, then yes there are ways of producing dark sable offspring from non sable parents.

Firstly dominant black. If this is now in the breed (it has yet to be confirmed by DNA analysis AFAIK) a dom black can carry sable and this bred to a recessive black could produce dark sable.

Also white, recessive ee in the GSD. This can also 'hide' the sable pattern, so a dog carrying sable bred to a recessive black, or a dominant black carrying rec black, could produce dark sable. And agree with Ibraham, modifyers could produce the dark pigment without the need for the presence of rec black.
by
pt1
on 11 September 2011 - 21:08
A white (if masking sable) can produce sable progeny
by
danny killeen
on 11 September 2011 - 23:21
More to the point....

WHY BREED FOR COLOUR ANYWAY??????
by
MVF
on 12 September 2011 - 01:58
pt1 gets points for creativity!

As sable is dominant, there is apparently no way that two "non-sable" parents can create sable progeny, but white can "mask" the sable gene!

I'm impressed.
by
JRANSOM
on 12 September 2011 - 03:09
Sorry,

Just have to put this out there. Some wonder why the OP never posts again. Just look at the feedback the poster gets and there you go. I know so many of you know so much, but so many do not and that''s why they come here! Then, when they do, they get blasted. Okay, welcome aboard, let me tear you apart!

by
Jenni78
on 12 September 2011 - 03:25
That's true, but in this case...that post was so vague, I had no idea what they were talking about. Were they asking seriously? Or were they asking because they were suspicious of a breeder who said they had this? Or some other reason?
by
Pharaoh
on 12 September 2011 - 04:51
I agree with Ibrahim's interpretation. Ibrahim's English is excellent, yet, as a non-native English speaker, he recognizes the difficulties that most people have. English is not an easy language to learn. I studied Spanish in high school and college because it is really easy with consistent rules for pronunciation and spelling and small vocabulary. English is a crazy hodgepodge of several languages, lots of rules and lots of exceptions.

The dark sable puppy was born from parents who are identified as "not" sable.

frankow was merely asking how did that happen, knowing that sable is dominant.

frankow does not specify what the parental coloring is. I assumed he meant both black and tan.

YR speculates that if you had say, a black and tan dog carrying the recessive black gene and a patterned sable misidentified as a black and tan, they could produce a sable puppy carrying the black recessive. That puppy would be a very dark sable.

Michele


by
duke1965
on 12 September 2011 - 17:37
spraypaint
by
frankow
on 12 September 2011 - 18:26
Thank you all, and sorry for my English. In South Africa we have 11 official languages of which English is my 4th.

Maybe I should explain: I visited a breeder who showed me 4 pups and the parents of the pups. The sire is 'Black', dam is 'B/tan', and the pups- 1x black male, 1x black female, 1xb/tan male, 1x dark sable male. The kennel is registered with KUSA ( Kennel Union of Southern Africa).


Once again apologies, if I offended anyone with my English, and thanks to those who posted positive and uplifting comments, but at the end of the day, it is about the German Shepherd dog, and not about us.


by
pod
on 12 September 2011 - 20:52
Frankhow, there is good evidence to suggest that dominant black is now in some of the Russian GSD bloodlines. That's not to say that it can't be in other bloodlines too. If the sire of this litter is a dominant black, then yes, it is possible to produce black, sable and B&T in one litter from those parents.

If you have more details of the sire - names and colour of his parents, grandparents, colour of other litters that he may have sired... this might help in identifying his colour genotype.
You must be logged in to reply to posts