German Shepherd Dog > Was 2011 a good Sieger Show or a Bad Sieger Show? (76 replies)
Was 2011 a good Sieger Show or a Bad Sieger Show?
by
Mackenzie
on 05 September 2011 - 06:52
Was this a good Sieger Show or a Bad Sieger Show? How will the breed benefit from the top selections in each class? Will the males be more influential for the better than the females? Will the selections address problems that we have in the breed?
Mackenzie
by
Mackenzie
on 05 September 2011 - 16:13
After 171 viewings there have been no comments on this thread. Perhaps nobody has noticed that 21% of the females in the Gebrauchshund class scored less than perfect in the schutzdienst. However, full credit must be given to the Siegerin who made the top ten list of best females in this exercise. Are we concerned about strength of character and workability? Perhaps it doesn't matter anymore. Is there concern that there appears to be no search for an alternative breeding family to help get out of the breeding rut that we have at present, or, is it common consensus that everything in the garden is rosy with what we have? Must be because nobody says otherwise.

Mackenzie


by
VonIsengard
on 05 September 2011 - 17:50
Mackenzie, to be fair, many people are still traveling. I expect we will not see detailed commentary for a week or so, to allow people to come back and begin writing their impressions. I think we must be patient for now.
by
Keith Grossman
on 05 September 2011 - 22:02
No one is responding to your thread because you clearly have an agenda. Why not just state what it is and be done with it?
by
dshlerner
on 05 September 2011 - 22:22
Or...maybe people are just tired of the same ol' "debate"
by
Keith Grossman
on 05 September 2011 - 22:47
Pretty much. Get your own lives, people, and quit living vicariously through your dogs. Owning a circus doesn't make you a tiger.
by
Mackenzie
on 06 September 2011 - 05:35
by
Mackenzie
on 06 September 2011 - 05:35
To all of the people that have posted on this thread - thankyou.

I take the point of VonIsengard that people may still be travelling but from the 171 viewings at the time of my last post there were 171 people that could have made comment.

For Keith Grossman's benefit I can say that I do not have an agenda at all.

In response to dshlerner I would say that their comment confirms what I said in my second post

Perhaps now these respondents would like to comment on the subject of the thread if they are able to and perhaps some progress can be made.

Mackenzie




by
dshlerner
on 06 September 2011 - 16:59
Mackenzie,

As I have previously stated,the likely reason that your bait has not gotten many bites up to this point is that in short: we've seen this before! In years past,after every BSZS(or USA show for that matter) someone pops on here to start the old,and very tired exchange about what's wrong with the Show lines,"which is better?". Pepole are sick of it!

Perhaps,if you really want to have a dialogue,you would offer a prescription or 2 of your own on how you feel improvements could be made. That way,it might not appear that you have an "agenda". Please let said prescriptions reflect your knowledge of training,genetics and modes of inheritance,and the level of commitment that it takes for the breeders,owners,trainers,and handlers of these dogs,be they working or show,to get them to the top levels of competition.
Until then, I would not expect many on here to entertain your query.

With that being said, I second your kudos to Alisha vom Eichenplatz on being named a very well deserved VA1,as well as the VA12 male Ballack zur Worringer Rheinaue AMONG OTHERS !
by
dshlerner
on 06 September 2011 - 17:02
pepole(above) should have been people.sorry...my Dyslexia kicks in at the most unlikely times.LOL
by
dshlerner
on 06 September 2011 - 17:20
Oops,brain fart. I meant to say kudos to Jaci vom Eichenplatz on her VA1 placement ! But,for the record,her mother Alisha is awesome too!!! Going to take my medication now,lol.
by
Mackenzie
on 06 September 2011 - 17:55
dslerner I quite agree with you that this tired old post is wheeled out every year and I have seen and debated it many time in my fortyone years in this breed. One reason for bringing this out again and posing the questions that I have is for novices and newcomers who may like to improve their knowledge by following and, if possible, engaging in the debate. They are the future guardians of the breed and they have to learn the best way they can.
Although I started in the English showlines I turned to the German way over thirty years ago. When I came into the breed there were only a handfull of German dogs around in the UK. I have bought dogs from Germany and trained for the Schh, taken females to Germany for mating and shown the offspring. I have also trained dogs for other people and handled at shows. I have also been a member of the SV for many years.
I have also commented on the prescriptions that you mention on this database and other places. I did not expect many people to respond to the post bit I did think that there would be one or two that would have some sensible input which, maybe, someone would get some benefit from.
Instead of coming on here to "have a go at me" why do you not make sensible comment on perhaps just one of the questions that I posed in my original post. I am sure that the readers would be interested on something positive that you can contribute.
By the way I did notice your slip regarding the Siegerin but I knew that you would get there eventually given enough time
Mackenzie
by
Abby Normal
on 06 September 2011 - 17:59
Mackenzie
I am one of the 171 that viewed, but don't feel I can comment as I haven't seen footage of all the dogs yet. I hope the lady that posted all her videos from last year does the same this year, that was brilliant and so useful. On genetics and lines I am not particularly good, I tend to listen to a friend of mine who is amazing on pedigrees and genetics, and is deeply troubled by the 'genetic' bottleneck. I did notice someone on another thread give an opinion that the spread this year was addressing this, but with the names mentioned I was not so sure, but will respect other's more knowledgeable opinions on this.

Yes, it is a debate that in one form or another happens every year, but I think it is one that should happen every year. Otherwise it's too easy tp slip into the groove of believing that indeed everything in the garden is rosy when it obviously is not, by the SV's own admission. It's too easy to keep looking the other way. What I keep hoping to see is the high placings being given to dogs with less angulation, and less curvature in the spine (resulting ultimately in an overall improvement in the rear end and it's function and stability). Two areas the SV has historically pledged to address in the area of conformation. I would also like to see some more imaginitive breeding than just having as many VA's or V's in a pedigree as possible JMPO.

Working ability and confidence should always be in the forefront IMO. I did notice the level of performance of the females in the Gebrauchshund class, which is very disappointing. It's a bit of a bugbear of mine, and I feel less and less importance is being placed on it by many who have influence over what is being bred. There was a thread a while back with a video of some of the dogs that backed off or actually ran away in last year's SS, and it was truly sad to see.
by
dshlerner
on 06 September 2011 - 18:22
Mackenzie,

I did'nt come on here to "have a go at you" although it certainly appeared with your initial post that that is what you were looking for. Maybe it's just the way I perceived it though,given the long history of these posts in the past. Regarding my comments,there was no content that was not sensible. Rather,as the initiator of the thread,if your intention was for newbies to learn(which they could just as easily do by looking up the EXHAUSTIVE multiple threads from the past that say the same thing year after year....)why not simply offer sensible information at the outset?

Thank you also for your "understanding"(wink,wink) regarding my faux pas with respect to the new Siegerin. Nice try!

Oh,and by the way,it's ds H lerner,not dslerner,since we're now splitting hairs:)
See how these threads quickly devolve? Hence the lack of responses after more than 170 views!
I rest my case. Best to you,Mackenzie.
by
Mackenzie
on 07 September 2011 - 06:00
Hello dsHlerner. I can understand why you thought as you did regarding the original post but you began with preconceived ideas and jumped in before you could see how it would develop which can inhibit possible contributors making an early initial response. I also agree that your content was presented in a sensible manner.
Apart from the newbies I had hoped that more experienced readers would contribute something which could lead to a more free exchange of views. The way things have developed over the past years both show and working people have anatomical problems which need to be addressed. Also, with the show dogs their development in Germany could not be achieved to become the modern show dog in so short a time without some very close inbreeding, including incest matings or, fake pedigrees. The most striking change is the colour of the modern dog. Grey dogs are very rarely seen now in the show dogs whereas the colour is prolific in the working dogs section of the breed together with blacks and bi colours.
In order to keep readers interest up it is better to begin asking a few questions to think about rather than ploughing in with the whole caboodle of ideas which really need to be developed slowly to be more productive.
Perhaps now you will feel that you would like to make a more positive contribution to the subject of the thread.

Best regards

Mackenzie




by
opa
on 07 September 2011 - 06:56
Mackenzie,
Every German Sieger Show is a very enjoyable.I thank the L.G.clubs for the hard work for free.

I wonder how many of the dogs from the U.K. who had S.G. placings will return in 2012,
going on the past history not many.
by
Rico
on 07 September 2011 - 08:45

It was a good and sociable Sieger Show. I met many GSD lovers of different countrys and competed with my 2 years old GSD Yoshyi vom Haus Dexel. He got his V at the GHKLR.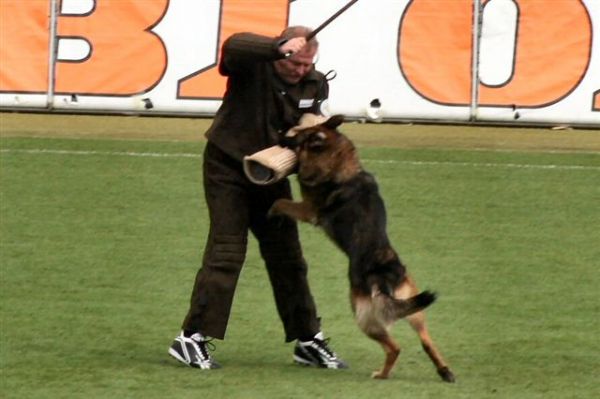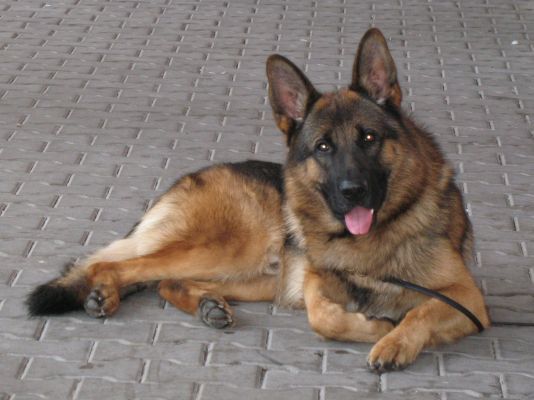 by
Mackenzie
on 07 September 2011 - 08:59
Hello Opa

I have always enjoyed the German Shows more than anywhere else. For many UK exhibitors a higher placing than SG or low V is very hard to achieve. There is still wide gulf between the UK and the rest although one or two have been successful but usually with a dog of all or mainly German bloodlines. We also have to be fair to UK exhibitors whose bloodlines are not the best. The cost of taking dogs to Germany for mating, or, showing is pretty high to do on a regular basis in trying to get better results.

To Rico

Well done. Having been and "had a go" it would be nice for readers to hear your input on what needs to be done to close the gap on the German dogs. For some reason, and this has been so for many years now, when using the same bloodlines as the Germans they come up with differing results. Pwerhaps that is because the gene pool is considerably smaller.


Mackenzie




by
AandA
on 07 September 2011 - 11:50
I did notice on the other thread ( http://pedigreedatabase.com/german_shepherd_dog/forum.read?mnr=139632&pagen=2 ) that Conbhairean Uno got V7. An absolutely splendid achievement and possibly the highest ever placing by a British bred dog (?). It doesn't totally surprise me mind as Heather has been consistently producing excellent dogs with splendid movement & structure along with a good deal of character.

I did notice that Remo the VA1 dog is of a correct size and is line breed on Hill vom Farbenspiel who, I understand, had a pretty good work ethic. He also appears to have a 'different non fashionable' pedigree.

Ustinov vom Romerland is 5-5 line bred on Jeck, both Nino & Peik have 'different' pedigrees also.

So perhaps there is a conscious move (albeit slow) away from both the bloodline bottleneck & lack of character.

Just my thoughts with my limited knowledge and constructive criticism most welcome.

AandA

by
Gustav
on 07 September 2011 - 12:08
Good positive and insightful post AandA, that type of information needs to be pointed out instead of defensiveness....Bravo!
You must be logged in to reply to posts