by
steve1
on 25 August 2011 - 21:06
Yes, I like the Tom lines very much and Javir, My Gina and Pup Hektor are half brother + Sister being from the same Dam daughter of Eros, to breed Hektor she was mated to a Son of Tom.
The year before she was mated to Javir to breed Gina, by the way they are looking both seem to be very good matings but only time will really tell
Steve1
by
Bundishep
on 25 August 2011 - 21:12
So whats the Toms sons name thats in Toronto ? TDC some great dogs that you mentioned, I,m like you kind of hard to wrong with some of those males you had listed if bred with the correct bitch. Wheres the frozen speerm is it too pricy to store long term ?
by
Bundishep
on 25 August 2011 - 21:18
steve thanks for sharing you are lucky to be in Europe and not pay the outragous prices we have to pay for shipping to the states you are truely a lucky dog.
by
judron55
on 25 August 2011 - 21:40
I've got a Jimbeam vom Talka Marda son 2 yrs...a Lena von der Staatsmacht daughter 13 mons...a Bandit vom Wolfsheim daughter 8 mons...a Eich von der Berger Hochburg daughter 3 yrs...and a Queenmary von der Felsenmuhle daughter..5 yrs.


by
Bundishep
on 25 August 2011 - 22:12
Looks like some nice dogs J,do you have a fav or who has best overall temp,looks like you have an Asko grandpup,What do you think of the Bandit pup so far? I would like to breed to Bandit some day.
by
hunger4justice
on 25 August 2011 - 23:05
GSDPACK, that breeding with Melinda is amazing. She breeds wonderful dogs. Even my dog out of Razzy rivals my Leefdaalhof grandson in every way, he is fast, hits hard, very protective and yet very balanced. I am not exaggerating either. She really cares about her dogs and the betterment of the breed and that is why I mention her vom Gildaf Kennels a lot. If I had a bit more room I'd be on that breeding in heartbeat. Whoever gets a pup out of that female is going to be a very lucky person indeed!
by
Bundishep
on 25 August 2011 - 23:06
steve I looked up your gina dog, I really like the bottom ped,her age is not on the site are you breeding her someday,hopefully you can breed some pigment back in if you do breed her some day, she seems rather light colored,but hey temperment always trumps color !
by
Jeff Oehlsen
on 26 August 2011 - 03:02
Quote:

I have a Gismo girl her drives are off the charts and few have the speed to match her.


Where can I find some video of this bitch working ??
by
steve1
on 26 August 2011 - 04:54
Bundishep
I will try and put up the Pedigrees of the Half Brother + Sister when i have taken Gina out for a walk. However i do not seem to get much luck doing them
As for Gina being a light Colour I do not think she she light at all what you are looking at is the sun shining on her and the Photographer which was me i am as useless at taking Pictures as i am with a Computer, She is fairly Dark Female i will take a pic or two today not of any posing just to show her colour.
No she is not being bred from until she gets her titles in the sport and is proven Breed worthy 'Korclassed'
That is very important to me, and that will apply to every dog i own
Thank you for noticing her date of birth was not on here i had not noticed myself. When that Pic was taken she was 13 months old and had not really had a moult, Now she is 17 months old and has grown up a bit, Photos of Gina, and Pedigrees of both Dogs below i hope they come out
Steve1
by
steve1
on 26 August 2011 - 07:42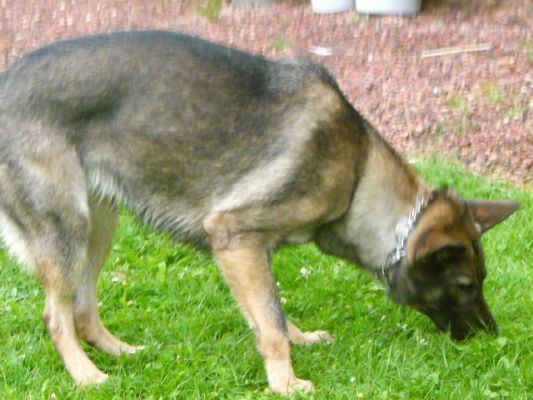 by
steve1
on 26 August 2011 - 07:45
Pic's of Gina taken this morning the focus is not so great or is the sharpness, my bad but you can see how she has changed in 4 months.
Steve1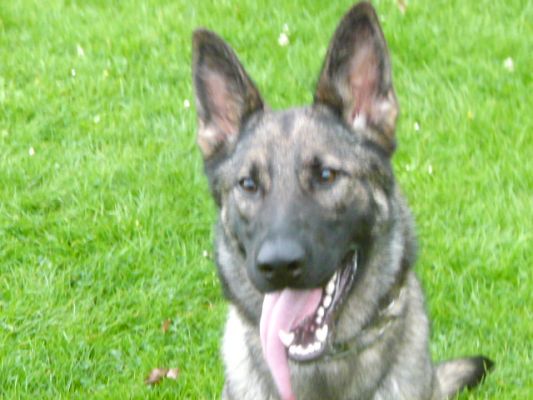 by
steve1
on 26 August 2011 - 07:45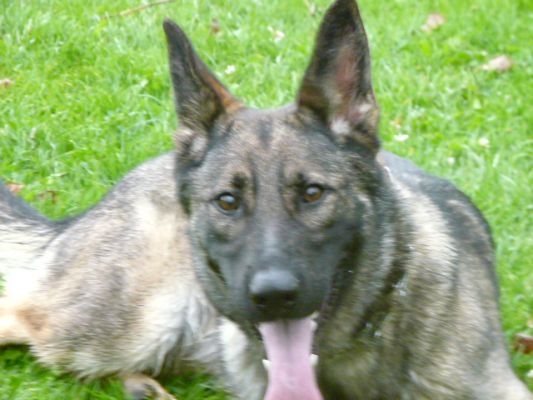 by
steve1
on 26 August 2011 - 07:46


G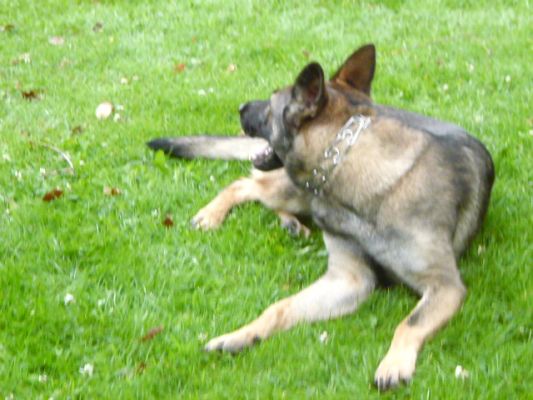 by
Donnerstorm
on 26 August 2011 - 08:43
I'm with Steve Gina does not appear light to me at all, she is a very attractive girl!! Not to mention with it getting darker sooner and lighter later in the day everybody is getting ready to start getting the winter undercoat, which would appear to make one lighter. But she isn't light very pretty girl..
by
Hedi
on 26 August 2011 - 11:58
The dog in my avatar has Tom in the 3rd gen on the top and Vito on the second....she has a little more red undertone. Her ped is linked to my previous post on this thread. Her photo was taken when she was about 7 months old on the ped. I need to update since she has gotten quite a bit darker.
by
judron55
on 26 August 2011 - 12:56
do you have a fav or who has best overall temp

My favorite right now is my Jimbeam son. I am training him for his Sch1 in Nov. He has grips to die for.....Super hunt drive....a tad slow in obedience but, I attribute that to poor foundation on my part. He loves to track:-) Temperament is solid as a rock...very pushy...not a great barker...very responsive to handler...great retrieve from the womb:-)

looks like you have an Asko grandpup

Bo is as athletic as they come...she is an excellent tracking dog...medium prey drive...likes a tug more than a ball...a dog that might need force retrieve...excellent barker..just starting her obedience! She is 2-3 on G Orla von der Schiffslache. Her dam, a Asko von der Lutter daughter is a littermate to Leon/Lary von der Staatsmacht. Check out her youtube video of her table work. Her sire is a nice dog...(now in the US) not too happy with his ZW score...Her sires sire is a repeat breeding of V Nick vom Heiligenbösch. I like her alot.


What do you think of the Bandit pup so far?

Inca...is a very nice bitch...at 8 months Inca is 72 pounds:-( The whole litter of 11 is large...On the bright side...barks like a machine gun...is very agile for her size..loves food...another dog with natural full grips from the womb. She loves to hold the dumb bell...sleeve whatever. She also has a mean streak... Her dam is a serious bitch..I really like my Bandit pup...


I would like to breed to Bandit some day.

I have seen some very nice pups sired by Bandit!
by
steve1
on 26 August 2011 - 13:54
Ron
Gina is lightning fast over the ground and her Bark is as strong as most Males, Solid consistent no screeching right off strong solid barking, nerves are solid nothing bothers her. On the attack she is fearless no checking in like an express train and has doubled up more than one helper, Normally if we do not hear the Helper Grunt we think she did not catch the sleeve right.
However saying all these good things she is still a little wayward in getting herself to slow down on the Obedience bit on the Helper work She needs to get going and she is slowly steadying down But a bit to go yet and that is what will delay her a bit for the ScH1 if we want to get a really high score, Her Obed is very good postitions nice, Sits and Downs well, Her Stan is really top class solid rock steady but of course we do not need it for ScH1 but we are teaching it as part of the course.
Block work she needs to get a bit better but she will get by but it has to improve a little otherwise points will be lost and we are working on that.
Tracking is very good goes down straight on the articles and really snuffs the ground, Overall for 17 months old she is very good, However it is all change with me taking her over from my brother, Two times local i have trained her this week and she is okay not great then one cannot expect her to be as good as she was with my brother who trained her from a Puppy, Tonight will be the big test at the working club when i take her on for Obedience and for Protection for the first time, I hope the Gods are on my side, If she trains and accepts me in the next week or two then she will remain with me as her trainer and handler, and my brother will take over Hektor. His Left Hand is not healing too good and his Doctor this morning said no handling a big dog for at least 2 months so it is down to me now
Steve1
by
judron55
on 26 August 2011 - 14:26
What's up steve...I haven't forgotten about the Ruth comments...lots of paper work to go through...I will get it:-) You know I like both your dogs. No questions asked...
You must be logged in to reply to posts