German Shepherd Dog > It gets harder each passing... and far too soon (15 replies)
It gets harder each passing... and far too soon
by
windwalker18
on 17 August 2011 - 19:48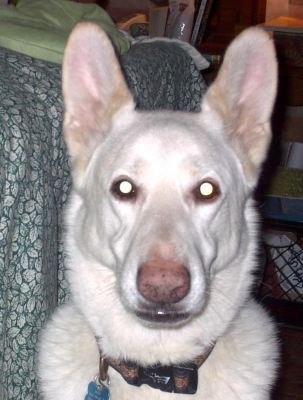 Duke... started life as someone's beloved pet, somehow spent a few years running with a pack of wild dogs, was trapped along with rest of the pack, and one of only 2 deemed not aggressive, adopted by family but was fearful there and unable to bond, was ret

...

urned to shelter. I took him only as a foster for a few weeks training, and found that he could only relax in a pack setting, so he joined my gang. In 2008 we had a roll over accident where he was thrown thru the back window and lost in the dead of winter for almost 2 months. For that time I hobbled around the woods with a cane in hip deep snow searching for him. By luck and with the help of new friends who kept me updated on sightings of him we were reunited. He's lived a great life here and been happy and secure, coming to me for comfort and support when something made him nervous. A few weeks ago I noted a swelling in below his right hip which grew rapidly. My fears were confirmed... Bone cancer... yesterday his hock and lower leg started to swell from compromised circulation... Tomorrow he will travel to the Rainbow Bridge to join his friends who passed before. It's been a very rough couple of months in our dog family, Loosing Jezzabelle our 13 year old Basset, Katie our 13 year old Tibetan spaniel also. Duke was 9 years by our best guess (11 by the shelter's reconing)and will leave a huge hole in our hearts. Run free Dukie... you were loved.
by
Psycht
on 17 August 2011 - 20:03
I am so sorry :-( Duke looks like a very special boy and you both were lucky to find each other. Godspeed Duke.
by
Fenrir
on 17 August 2011 - 20:55
I am, so, so, sorry... :( I find that Heratio said it best "Goodnight sweet prince and flights of angels sing thee to they rest" May his spirit keep you safe and warm til the day you meet him again. My serious condolences to you and your family.
by
Nans gsd
on 17 August 2011 - 21:17
WOW; what a boy. I feel for you all. So sorry, but remember the joy he has brought you and without you he would have been lost in the world. Rest easy corageous boy. Nan
by
beetree
on 17 August 2011 - 21:34
Oh sweet blessings for all of you, especially Duke, he was lucky you found him, more than once. I agree it only gets harder.

So sorry for your loss of so many, so close.
by
Mindhunt
on 17 August 2011 - 21:55
I am so sorry Windwalker, I am still dealing with the loss of my Loki, I can offer you the comfort of my Grandmother's words regarding dogs......

Dogs are guardian angels sent here by God to learn about us. Because they are guardian angels, they are born knowing all the things we take a lifetime to learn so their lives are much shorter. When God feels they have learned what He sent them to learn, He calls them home to begin their job as a guardian angel full of the knowledge gained by living among us. They die with thier eyes open because they are anticipating seeing the glories of heaven again. If you wonder how God sees you, just look into the eyes of your dog.
by
Gemini
on 17 August 2011 - 22:18
Sorry for your loss, but you sure gave him something hemay have never thought possible when with the wild pack. A stable home then you reinforced that by locating him when lost. We all have an end but it is the stuff in between that matters. And sounds like you gave him a great life. Congrats on giving him a good life.
Reggie
by
hunger4justice
on 17 August 2011 - 22:32
Wow...Lost one of my "temporary rescues" that turned forever because after all the beatings and starvation he had in his 5 years of being chained I promised him never again would he be hungry or cold or alone and afraid. Bone cancer took him four years later, but they were four good years full of love and living like a dog should.

God Bless you for giving this boy a place where he felt safe and belonged. It is a gift from God to be trusted to be a friend and guardian of these angels for the very short time they are here with us. So sorry for your loss and so happy that he had you in his life.
by
CMills
on 18 August 2011 - 01:36
Oh so sorry for your loss! I too have had a rough year, first had to put down our 13 yr old Carman cause she could barely see/hear and became too weak to carry her own weight. Then just last Sat we had to put down our 10 yr old Czech boy Sagus, he drastically dropped weight in a 2 wk period, then in the last couple days started staggering/stumbling around when trying to walk. Rushed him to the vet, and x-ray showed huge mass (probably cancer) in his abdomen, vet said he was too weak to even try surgury, so he went over the rainbow bridge Sat too, and now both are young/pain free and running together like they used to, and will be waiting for us on the other side when it's our turn. Know you did the best thing for him! he loves you for it.
by
isachev
on 18 August 2011 - 02:21
So sorry for your loss WW. Think of the great life you gave him. We will all be there soon enough. You will be rewarded for the great deeds you do for the dogs, and yes, each passing seems to hurt a bit more. We love them dearly! I will keep you and Duke in my prayer's. Take Care Pete
by
Ruger1
on 18 August 2011 - 03:22
WW...I am sorry for your loss...
by
windwalker18
on 18 August 2011 - 09:49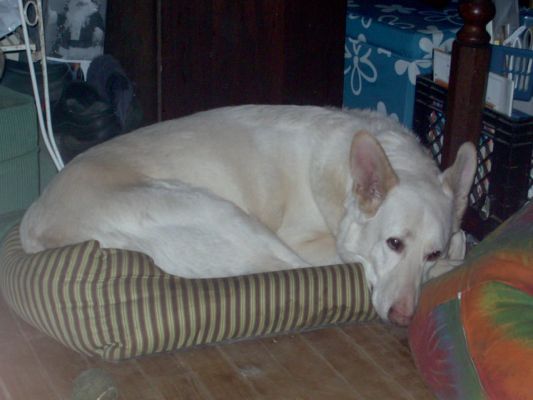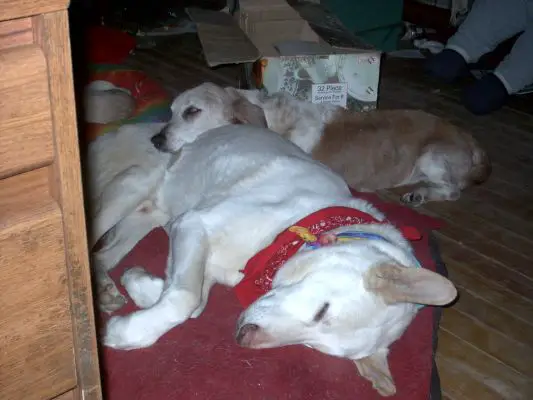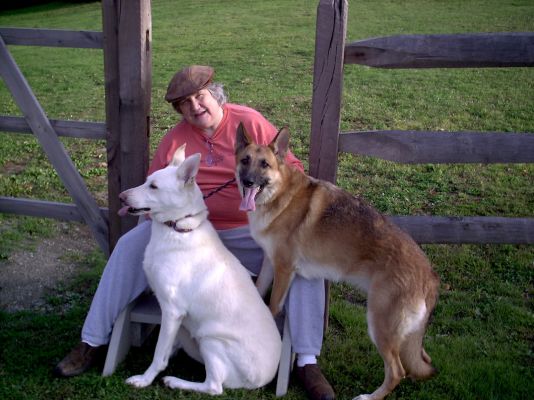 A few pics of Duke. the last being one with Klytie and I... Duke's color was white, but his heart was all Shepherd.
by
starrchar
on 18 August 2011 - 19:20
I am so sorry for your loss. I believe it does get harder each time. It sounds like Duke found his angel when you rescued him. You gave him the best life anyone could've given him. I know you must miss him tremendously & my heart goes out to you. God speed beloved Duke. Hugs, Char
by
Kalibeck
on 19 August 2011 - 00:52
I'm so sorry for your loss. Words do not do justice to acknowledge such pain. I'm sure Duke would not want you to be sad. Celebrate his life, & his love for you. Mist sincere condolences. jackie harris
by
mirasmom
on 19 August 2011 - 16:57
Sorry for your loss, it doesn't ever get any easier..

He looks like my Kane who was also a white shepherd, he was just shy of 13 yrs.

Duke had led quite an interesting life, unbelievable you located a white dog in the snow!

You have lots to reminisce about, thank you for sharing your photos of him, he was very handsome and looks like he had a great life with you,

Paula
by
sable59
on 19 August 2011 - 17:12
sorry for youloss. believe me i know what you are going through,
i lost my old friend SHEBBA , she was 13 and died 3 foot from my bed where she layed at night. she was a gsd also, and dearly loved and nissed.
duke and shebba are running through the meadows in rainbow heaven.
You must be logged in to reply to posts