German Shepherd Dog > Seven all gown up (pictures) (9 replies)
Seven all gown up (pictures)
by
SuziesZoo
on 14 August 2011 - 17:52
At 8 weeks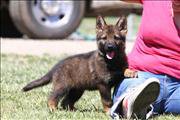 by
SuziesZoo
on 14 August 2011 - 17:53
Last week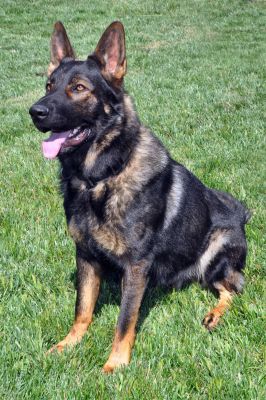 by
Jyl
on 14 August 2011 - 18:52
She is a very nice female... When you posted the other picture of her I looked at her and said to myself.. "she looks like a Charis Leryka daughter!". Then when I looked at her pedigree I realized she was.... I have thought about breeding my female to Charis, as he is only an hour away from me.
She is a very nice female.. I love them Czech dogs. The female in my avitar is a Czech/WGR female..

by
SuziesZoo
on 14 August 2011 - 19:55
These pics are of our boy, Seven.... http://www.pedigreedatabase.com/german_shepherd_dog/dog.html?id=722258



I have always thought that our female looked like her mom, but even Kreative says that you can't miss the Charis in her! Seven has the coloring of his mom, Angel, and the exact "look" and temperment of his dad, Nino. Funny, how breeding tells...

We live about 2 hours north of Kreative, and I was planning on going back there for breeding, if and when... But due to an undetected, unknown split heat, our dogs had different ideas :(

Your dog is also very pretty! I just love the look of the Czech dogs as well :)
by
CMills
on 15 August 2011 - 01:29
Gorgeous dog! Love the rich pigment, intense gaze.
by
Jyl
on 15 August 2011 - 16:51
Suzi
I just realized that I called your male a "she".. I thought I had clicked on the post of your female.. SORRY..lol..

Your female really does remind me of Charis.. he sure does seem to stamp his offspring with his looks. You are very lucky to have such a nice female.

As for Seven, your male, he is a very nice looking dog. He looks awesome for only being a little over a year old. He has a very nice working pedigree. Are you doing Schutzhund with either your female or male?

I am lucky to live only an hour from them. I plan on breeding my female on her next heat (Jan or Feb 2012). I have been looking at some of their males. I really want to breed my female, Xena, to a mostly Czech male.
Here is Xena's pedigree..
http://www.pedigreedatabase.com/german_shepherd_dog/dog.html?id=475396
by
SuziesZoo
on 15 August 2011 - 20:12
Thank you for your compliments :-) I don't train my dogs anymore. I do so very much miss it, but I would need to find a mentor first. I am brand new to Gsd and the sport. My last experience was not pleasant. But at one point I had dreams of taking the world by storm with them! Lol Charis is a great dog, and I couldn't be happier with my female from him :-)
by
Jyl
on 16 August 2011 - 19:26
You are very lucky. You got two very nice dogs from Kreative. They do produce some nice working dogs.
I dont live to far from you and I am active in the sport of SchH. If you would like to PM where you live I will see how close you are to our SchH club. If the drive isnt to far you are more than welcome to come and check out the club. Since you said you live a couple hours north of Kreative kennels I think the drive to our club would be to long for you. Since we train in Dixon, CA.


by
clc29
on 16 August 2011 - 21:14
Beautiful Boy....love his coloring and pedigree..... I also have a son out of a von der Neundorfer Flur female (Farah).......Awesome Girl.
IMHO......I think that kennel produces some really nice females (haven't seen any of the males).
Seems like they prefer to use dogs from von der bosen Nachbarschaft lines, Xato in particular.

Good luck and have fun with your boy......



Cheri
by
Ramage
on 16 August 2011 - 23:31
He is beautifully colored and what a precious pup pic!
You must be logged in to reply to posts