Another ear question
by
missyfly96
on 12 August 2011 - 12:30
Okay I have two 13 week old puppies, one girl one boy.

The girl-her ears went from being tipped to completely up but teepeed at 8 weeks.
They were teepeed for two weeks then went down. They have been completely down for three weeks now.

The boy-his ears went completely up but teeped for two weeks at 10 weeks old.
For the last week he has had one ear completely down and one completely up.

I know their ear go up, down, sideways, teepeed etc.

My last puppy when one of her ears went down it only went down for a couple of days and they right back up!

Is it normal that when they do go down they stay down for that long?


by
Keith Grossman
on 12 August 2011 - 13:03
Yes, quit worrying about it; they'll be fine.
by
von sprengkraft
on 12 August 2011 - 14:15
They will be fine. The puppy is growing, teething, etc.
by
oso
on 12 August 2011 - 14:19
Agreed, no worries at this stage.









by
Kalibeck
on 13 August 2011 - 20:40
Take lots of pictures of goofy ear stages, you'll want to remember them! And they're adorable! One day you'll be working with them & realize that those are & have been up....& no more goofy ears to laugh at, so enjoy them now! jackie harris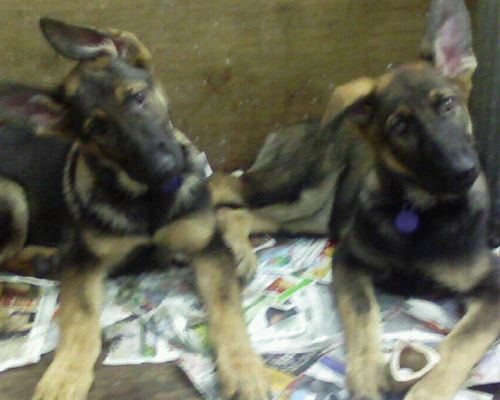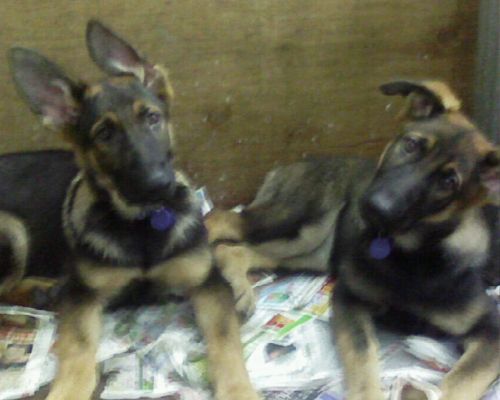 by
missyfly96
on 15 August 2011 - 02:39
Thank you all for your replys. I was just worried because their ears were up but they have been down for three weeks now. I feel like I have A pair of beagle pups instead of German shepherds. I know everyone says not to worry but when they have been down so long you begin to wonder if they will go back up or should I jump on the taping idea!
by
oso
on 15 August 2011 - 13:41
I would not consider taping until they are about 5 months, if still not up by then. If you are worried you could give supplements of gelatin powder and/or Glucosamine & chondroitin, these may help and won`t do any harm.
by
missyfly96
on 15 August 2011 - 14:40
I feel like I've tried all the "tricks". I have given gelatin powder for two weeks starting at 8 weeks.
I have massaged the ear, I have given knuckle bones and other things to chew on, I give a tablespoon of yogurt or cottage cheese twice a day. They go places and meet new people, they are outside most of the day to hear new sounds.
It is not that they went down that concerns me it is how long they have stayed down without even attempting to come back up. Both pups did have both their ears up for about two weeks each.
They are 14 weeks old today and the ears have "both" been down for three weeks now.
They do not have any teeth coming through yet and have not lost any yet.
I have two out of three of the pups in this litter and I just saw pics of the third. His ears were up a 8-9 weeks, they are up beautifully and have not come down. When I see pics of other puppies this age they all seem to have perfectly erect ears. So I am wondering what am I doing wrong or what can I do? Why do my two look like beagles?

I know I'll love them no matter what it just when you have a German Shepherd puppy you expect a certain "look".
by
missyfly96
on 15 August 2011 - 14:41
Just to add the other thing that concerns me with them being down so long is what if it starts to form a fold or crease.
by
melba
on 15 August 2011 - 14:52
Having worms can also cause ears to not come up. Usually the bigger the ears and thicker the ear leather, the longer it will take them to come up.

Melissa
by
missyfly96
on 15 August 2011 - 15:10
They don't have worms the last puppy check the fecal was clear, but thanks for that suggestion.
by
dogshome9
on 16 August 2011 - 01:19
Don't give up, stop worrying they will go up.

I had a litter last year of 8 puppies, I kept in touch with all owners and a couple said that they were worried about the ears as they were large and took a while to go up for good but at last photos aged 7 months they look GREAT.

Rather large but GREAT.
by
Donnerstorm
on 16 August 2011 - 03:41
They will come up. I'm with Jackie the funny ear stage is the best part of a gsd pup! My favorite is the flying nun stage, that's when all of mine really learn the here command, because it is so funny to watch them run, everybody stations themselves far enough away that the pup has to run and we take turns calling them to us, and laughing hysterically. Just enjoy and relax!!
by
oso
on 16 August 2011 - 12:39
I am also sure they will go up, especially as they have already been up and you are doing all the right things. (are they up at the bases at all?). Personally I only ever had one pup with ear problems, I used gelatin since he was small but in the end the glucoasmine/chondroitin tablets (Osteocart) seemed to work, though this could have been just a coincidence and maybe they would have gone up anyway at that time. But I am talking about a pup that was a lot older than yours before both ears were up, he turned out totally fine. In any case I still say its much too early to worry yet, I have seen pups in the 4-6 month category at shows with their ears down and still get good places. Good luck!
by
missyfly96
on 16 August 2011 - 13:08
Well this morning one of boy's ears was up! It is the one that has been the weakest one the whole time. This morning it is straight up and strong like a champ! So as you all have said I'm sure I'm worrying over nothing. You can't help but to worry though you always want to make sure you are doing everything and giving them the best you can. Thank you everyone for you words of encouragement!
by
Siantha
on 17 August 2011 - 00:19
my pup was 4-5 months before his ears where totaly solid up they kept floping and such also i have noticed the longer haired dogs in the litters i have bin around have taken longer for their ears to come up i dont know if its just coincidance or if the extra hair makes a idfferece in the weight

by
Siantha
on 17 August 2011 - 00:19
my pup was 4-5 months before his ears where totaly solid up they kept floping and such also i have noticed the longer haired dogs in the litters i have bin around have taken longer for their ears to come up i dont know if its just coincidance or if the extra hair makes a idfferece in the weight

You must be logged in to reply to posts