German Shepherd Dog > My Schraderhaus Girls...and Carlos! (9 replies)
My Schraderhaus Girls...and Carlos!
by
Gildaf
on 07 August 2011 - 00:14
Thought I'd share some pics of my girls from training today. We did do protection training, but I wanted some nice stacked pictures of them as well. So here are their stack pics with the best handler out there!! Carlos...thanks for putting your pants back on to work Buzz.

This is Edge von Schraderhaus at 10 1/2 months. She's DDR out of Dino v. Schaferliesel x Ittiana von Schraderhaus.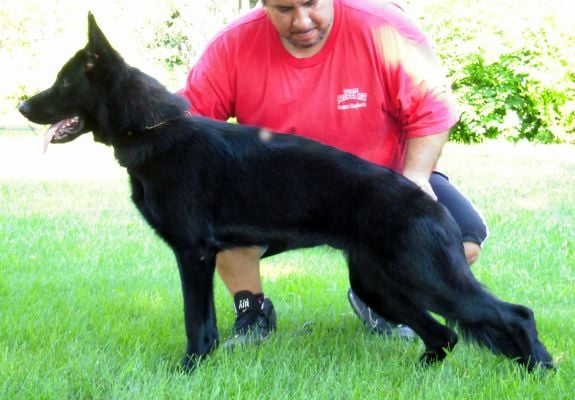 And this is baby Nikki...Nikita von Schrarderhaus. She is DDR out of Lord v.d. Grauen von Monstab x Elfie vom Klodener Riss. She is almost 5 months.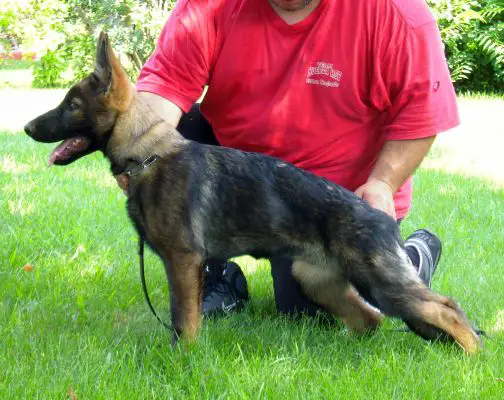 Love my girlies Jean!!

by
Rho
on 07 August 2011 - 02:16
You have two beautiful girls there!

Rho
by
Justk9s
on 07 August 2011 - 02:19
Melinda,

You know I love them both.. But that Edge is just gorgeous.. She can come live at my house ANYTIME..

Glad to hear you finally have decent weather and can start working them again..

KIM


by
Gildaf
on 07 August 2011 - 22:37
Thank you Rho.
Kim, seeing as how you wouldn't part with Rookie when I asked...no can do on sending Edge your way! But I appreciate your comments on her! Edge is a wonderful girl and she'd have to be peeled out of my arms! She is full of drives, sass and personality. She's a fun girl.
by
shepherdpal
on 07 August 2011 - 23:40
Beautiful dogs!
by
crhuerta
on 07 August 2011 - 23:45
Nice pics Melinda!
Beautiful girls!
It is wonderful to be involved with so many wonderful dogs & great, nurturing owners & breeders.
*Edge, Nikki, Aurick, Buzz, Izzy, and Bear.*
Congrats to owners & breeders alike!
Robin
by
Gildaf
on 08 August 2011 - 00:06
Robin you are very right! We have a great group of dogs!! But you left out a few: Cuervo progeny...they shine with so much potential and we know Cuervo would be proud, Ivan (geez, what does one say about such a Stallion??? GORGEOUS and a great working boy...he's hot and he SOOOO knows it!), Rocco...another beautiful working boy. So don't forget to pat yourself on the back for all your wonderful dogs!! I love coming to train not just to work my dogs...but because it's a family. Oh, and Kim pays me BIG money to keep tabs on Izzy!
by
novembergray
on 08 August 2011 - 02:02
Good looking pair.

by
Rik
on 08 August 2011 - 03:47
let's hear from the "can't have it all" crowd.

those are nice pups.

Rik
by
ggturner
on 08 August 2011 - 12:11
Beautiful girls!
You must be logged in to reply to posts