Anaiya's "B" litter
by
DavC
on 22 July 2011 - 11:28
She started last night about 11 and so far she has had 7 healthy puppies. I still think she has 2-3 more to go. Pictures to follow soon.
by
DavC
on 22 July 2011 - 18:28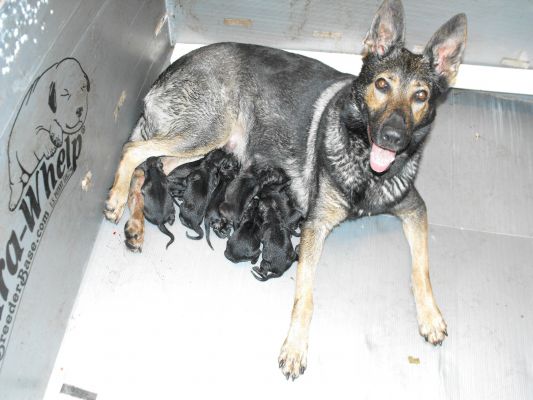 by
DavC
on 22 July 2011 - 18:29
She had a total of ten one stillborn nine living. Mother and babies doing well.
by
Siantha
on 22 July 2011 - 19:13
glad all of them are doing well. sorry about the still born but thats life sadly.
by
DavC
on 22 July 2011 - 19:45
Yes it is and Nature knows best. I am thankful for the nine healthy one that she had and look forward seeing them mature and become little land sharks.
by
Kalibeck
on 23 July 2011 - 06:19
Congratulations! Mom looks happy! jackie harris
by
Nellie
on 23 July 2011 - 08:22
Congratulations, Mum is looking very proud of the job she has just done, looking forward to watching the pups grow
by
isachev
on 23 July 2011 - 14:32
Congradulations as well. Good Luck to you and Mom. Lots of work ahead but worth every second of it. Put your seatbelt on. LOL Take Care Pete


by
TingiesandTails
on 23 July 2011 - 15:36
Wow - mom looks awesome after so many pups! Congratulations!
by
Rik
on 23 July 2011 - 19:35
another congrats. looks like both she and you did a good job. makes for some long nights though.



Rik
by
DavC
on 23 July 2011 - 20:21
It was a longnight with in labor she likes to take her time and gets in no rush between puppies. They have settled down nicely today. Looks like the puppies will be very dark black sables. Hope they can live up to my expectations.

by
Hedi
on 24 July 2011 - 22:42
Can you share the pedigree on that litter?

You must be logged in to reply to posts