German Shepherd Dog > Our boy, Yurik Von Schneiden Fels 16 weeks (6 replies)
Our boy, Yurik Von Schneiden Fels 16 weeks
by
VickOH
on 19 July 2011 - 04:27
Hello everyone! I haven't posted in a while but just wanted to share a picture of our boy, Yurik Von Schneiden Fels. He's an amazing puppy who will be competing in Rally, Obedience, and we think he's going to be a great therapy dog prospect too.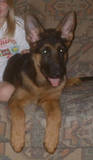 by
Rik
on 19 July 2011 - 12:24
congrats. hope you enjoy him for years to come. from a good breeder also.

Rik
by
VickOH
on 19 July 2011 - 15:20
Thanks Rik!

We searched for a good breeder for almost a year. We just love Pat, Jeff, and their dogs.

by
steve1
on 19 July 2011 - 16:34
Congrats a nice looking Puppy, Hope he does well in what you put him to, Are you going to Show him
Steve1
by
VonIsengard
on 19 July 2011 - 17:15
Congratualtions! They have very nice dogs!
by
VickOH
on 19 July 2011 - 17:43
Thanks everyone!



steve1, would love to do schutzhund but there are no clubs and no where to train within a three hour drive of us.

We do plan to have him titiled in obedience and rally. Maybe something else will open up for us down the road. We will be having him Herding instinct tested in Sept/Oct. It's still a two hour drive but may consider herding training depending on how he tests out.
by
GSDBESTK9
on 19 July 2011 - 17:48
Very cute, good luck with him. :)
You must be logged in to reply to posts