German Shepherd Dog > How to Identify Working GermanShepherd Bloodline (17 replies)
How to Identify Working GermanShepherd Bloodline
by
wuu
on 14 July 2011 - 08:05

A breeder told me her stud dog was a working line German Shepher.
I asked: How you know it's a working line dog and not a show line.
She replied : You know it from the bloodline.

Anyone could explain to me how you figure that out by looking at the bloodline.

Thank you for your attention.

by
vom ost see
on 14 July 2011 - 13:57
fairly simple really,look at "BSP,LGA'S,US NATS,REGIONALS,AWDF,ECT." and follow the bloodlines,you'll see wich dogs constantly preform and produce in these venues.compare those results with dogs show in german conformation events(bszs?),or further comparison to the "AKC" TYPES.you'll see a distinct difference in type,althou some of the working dogs will eventually lead back to "foundation conformation" dogs,there is a big difference....don't depend on coat color or body type as a key element of discription,as many working dogs may exibit the same coloring as a "show dog"(blk/brn) yet you'll rarely(very rarely if ever) see a sable or black dog place highly at the german conformation events....not cut in stone,but rare.there can be sables thru mixed breeding of the american showline,but they tend to display a lighter sable color and in some cases may actually be a "washed out" patern coat color,check resourses on "type"(fred lanting,linda shaw,chris wild,leerburg,ect) in the end....any dog can be a "working dog",but has this dog(or his bloodline) produced his "type and abilities" on a consistant basis....read some of the articles about the concern of the big show dogs with poor showings at major events,then trace their blood.....regardless of which type you prefer,it all comes down to the dog you're looking at in that particular moment.....WORKING LINE,SHOWLINE,WORK/SHOW CROSS...having been around a dogs from various bloodlines,i've formed my own opinions...i like the working line....hopefully some of the more knowledgeable breeders/trainers will add to this thread....vom ost see,home of A-DINO VOM OST SEE,S-NAVARRE VOM KRAFTWERK,C-DEMERLINA VON SUDLICH PLATZ,E-TRIPA VOM OST SEE....good luck in your research.
by
Siantha
on 14 July 2011 - 15:03
i do agree with vom ost see my female who has a permnant residance at my home untill she dies of old age is a wl/sl cross thats how she got her color her father was a light black and tan i would almost call it a black and cream and mother was a bi color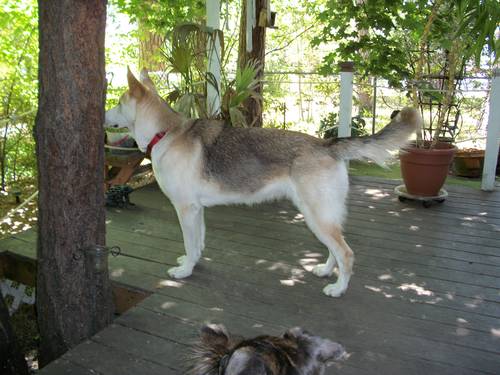 her grandsire was a white and a few back on her fathers side. but if you want to be asked everywhere you go if your dog is a coyote or a shepherd wolf just look at my girl hahah

by
BoCRon
on 14 July 2011 - 16:34
It comes down to knowledge of bloodlines. You read pedigrees for 20+ years and you know which are what. There are kennel names you just know what they are. If you'd like to post the dog's full name, people here can take a look and give you some info based on the pedigree.

Annette

by
Ibrahim
on 14 July 2011 - 20:49
One suggestion if you allow me, post the name of the stud here and experienced people will check his pedigree for you and tell you if he's a work blood or not and whether he descends from well known for performance dogs or not.

Ibrahim
by
TingiesandTails
on 15 July 2011 - 05:26
Another hint for a working line dog is that Dams and Sires in the pedigree have all SchH3, IPO3 or similar high degrees of Schutzhund qualifications (and a breed survey that says either KKL1 or KKL 2).

by

myret

on 15 July 2011 - 07:41

When I

bought my

dog

13 years ago

I

knew

nothing about the

German shepherd

dog

lines

or that there

was any

difference between

them

form

a

show

lines and

working

lines,

but

when I

started

to train

when he

was

about 13

months old

,

in

a

PH

club, where

you train

the dogs

almost

like

the police and

could

identify

specimens

of

dogs

so

0 likes and 0 dislikes
by
skyhorse
on 15 July 2011 - 18:51
I think she meant topline?

How you know it's a working line dog and not a show line.
She replied : You know it from the bloodline.

by
myret
on 15 July 2011 - 20:02
dont understand why most of my post is not showing

od
by
wuu
on 18 July 2011 - 03:16
Greeting all,

I think I had some idea from the replies.

Thanks again.
by
Willsoon
on 16 August 2011 - 13:56
HELLO TO ALL
I'M NEW IN THE DOGS WORLD THIS CATCH MY ATTENTION MY DOG NAME IS SABER VOM PEREZ
THANKS VERY MUCH
by
Red Sable
on 16 August 2011 - 17:14

Hi Willsoon. Since there is no information on the mothers side, but by looking at your dog, I'd say you have a cross of working/showlines.
You have some very nice looking workingline dogs in the sires pedigree. :)


by
Willsoon
on 28 September 2011 - 12:59
THE DAM IS DN 22389902 ( 10-10 ) WISDOM VON DENGFAN DON'T KNOW WHY CAN'T SEE THE PEDIGREE CAN U CHECK THIS AND TELL WHAT THE (10-10) MEANS THANKS
by
cphudson
on 28 September 2011 - 15:03
Are you saying the puppy's dam is Wisdom Von Dengfan? That is the same mother you listed for the stud. If this is the correct breeding then a son was bred back to his mother.
The sire is 1/2 WL & 1/2 SL + the dam is full SL = litter that is 1/4 WL & 3/4 SL

by
Jenni78
on 28 September 2011 - 16:25
Some show lines will all be titled and have KKL ratings, also; that's not a clear way to tell.

Real easy- if you can see pictures, in a GSL pedigree, and all of them are deep red and black, then it's a show line. If there are different colors, it's likely a working line or a cross. Yes, there are black and tans from working lines, of course, but the likelihood of finding only b&t's in a WL ped is pretty slim, so if you see sables of different hues, blacks, bicolors, etc. in a ped, it's a safe bet it's working line or a cross at least.
by
YogieBear
on 28 September 2011 - 19:37
Willsoon:

SABER VOM PEREZ - is a combination of working and show - the top half of the pedigree is working - the bottom half goes back to show line......

names to identify that jump out:

Working 5-6 generations back are : Troll/Fero/Arek/Gildo/

Show 5-6 back- Wienerau/ WildsteigerLand/ Trienzbachtel/



WISDOM VON DENGFAN - I would say show lines.........

Show dogs get titles too - so you cant say they are workinglines just cause they got a SchH title behind their name........

YogieBear
by
TingiesandTails
on 28 September 2011 - 19:46
Titled, yes, but not all of the SL-line ancestors will have SchH III or IPO III....most SL females only receive SchH I with the odd exception...
by
Willsoon
on 30 September 2011 - 02:24

THANKS TO EVERYONE THAT HELP ME WITH MY QUESTION I APPRECIATE IT !!!!!!

You must be logged in to reply to posts