Doggie Backpacks
by
julierenee1999
on 10 July 2011 - 21:14
Now that my heathens are outgrowing a stroller....I have been considering getting a bag for my Shepherd to wear on our outings. I figure it will give her a pleasant job and keep my hands free (especially without a stroller handy) to chase and play with the kids while we're at the park or taking a walk. She's about 75 pounds and of course naturally strong.

What bags do you all recommend? I'm looking to keep a change of clothes for 2 tots, water, small bowl, and snacks (treats) for all. I do NOT want to spend a fortune though lol. Lets keep it under $80 if possible!

Thanks!
by
clee27
on 10 July 2011 - 21:59
I have an outward hound backpack but mine only wear them in the cooler weather when we go hiking or long walks, I put water, collapsing bowls, baggies, etc. They carry a good amount and mine cost around $20 a few years ago.
by
laura271
on 11 July 2011 - 12:51
This is a really timely thread since I've been looking to buy a backpack for Senta. My husband and I are avid hikers and we'll be taking her for her first hiking trip in Algonquin Park in August. (My husband said: "Just like you, Senta can carry her own d*mn water!".)

I apologize for veering slightly off the OP's topic ($80 price limit), but has anyone tried the Ruff Wear Palisades Pack? What size did you buy?
http://www.backcountryk9.com/95/0/Products.aspx
by
Aureal
on 11 July 2011 - 14:20
I have 2 packs from Ruff Wear and love them both. I routinely take one of my GSD on hikes or for a walk around the town to the pet store where she carries her treats/toys/etc back in her pack. One of my favorite features of the Ruff Wear packs is the Y shape breast collar as it does not impede her movement which some of my previous packs have done.

For reference my female below is 70lbs and about 30 inch girth measurement so she wears a medium size pack.

This one is the Approach pack. I use this if we are going on a longer hike or around town to the store. I also like to use this one for the charity walks I do occasionally too as it can holds quite a few water bottles for me to hand out.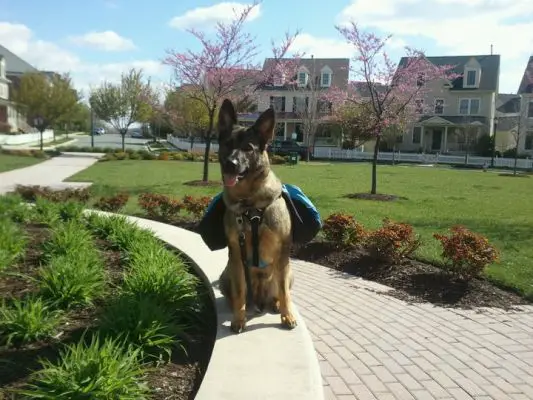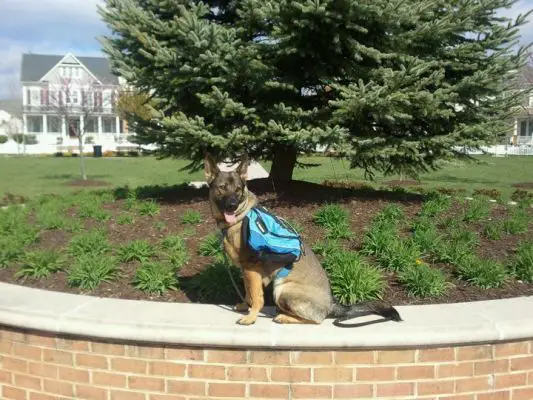 This is the SingleTrak pack. I love trail hiking and this one is a very low profile pack that has 2 soft bottles that carry .5 liters each. When the bottles are filled/inserted there is just enough room for a soft bowl & bag roll. Without the bottles this pack has plenty of room for misc items. I also like the color contrast of the pack against her sable coat for hiking in the woods as she is much easier to see.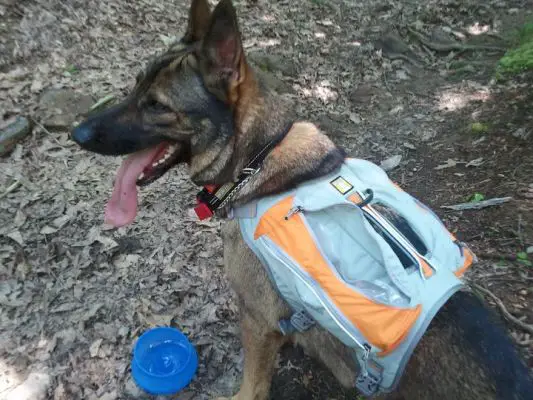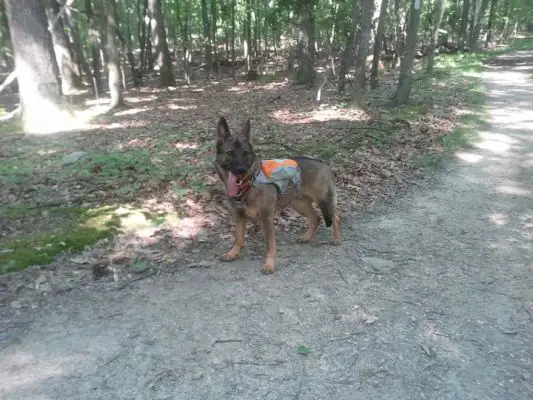 Overall, I am very happy with the quality of these 2 packs. I purchased both of them separately on 2 different sales. The Approach pack came from BackcountryK9.com and the SingleTrak came from an REI store.

Just a couple of side notes ... a loaded pack should be limited to no more than 1/3 of the dog's weight (total) and I have noticed that more people are likely to approach your dog without asking if they are wearing a pack.


********

Also, backcountryk9.com supports SAR along with providing a 5% discount to the buyer.

http://blog.backcountryk9.com/2009/11/save-5-and-help-great-basin-k-9-search.html


Save 5% and help Great Basin K-9 Search and Rescue
Great Basin K-9 Search and Rescue (GB K-9 SAR) is a non-profit (501 (c) 3), volunteer organization based in Ogden Utah. Their mission is to train and certify K-9 SAR teams and provide them at no cost to requesting public safety organizations.
You can now help support them while saving 5% on a Backcountry K-9 order. Just use coupon code 5GBK9SAR when checking out. You'll save 5% and an additional 5% will be donated to GB K-9 SAR at no cost to you!
by
laura271
on 11 July 2011 - 14:27
@Aureal -
Your girl is gorgeous! Many thanks for taking the time to comment and provide photos. Very helpful for me.

Did it take a long time for your girl to adjust to wearing a pack?
by
Aureal
on 11 July 2011 - 14:58
It took her only a couple of minutes of walking around the house to get used to wearing a pack. She was over 2.5 years old when I started putting a pack on her and had completed her off-leash obedience training well before that. She will pretty much let me do anything to her so she adapted really quick.

Thank you for the compliment. :) I simply adore her.




by
momosgarage
on 11 July 2011 - 16:00
I second the ruff wear packs (both models). The wieght is distributed on their shoulders and less on thier back. The packs straps also do not rub thier underbelly or armpits raw. The only other packs I have seen with similar qualities are the Ollydog and REI brand pack. All three brands and models seem very durable and I have yet to destroy one with regular use. In my opinion any brands other than the above three will cause your dog some discomfort and possible minor injury.

Also the Ruff wear packs don't have good ventilation, but the ollydog packs do.
by
laura271
on 11 July 2011 - 23:38
I appreciate everyone's comments- it's nice to know how gear actually performs in use. I made an appointment at my local outdoor store to bring Senta in tomorrow to try the RuffWear backpacks on. I think she'll need a medium since her girth is 30 inches (like Aureal's beautiful girl).

The RuffWear website has a handy comparison chart for their three packs:
http://www.ruffwear.com/Palisades-Pack?sc=2&category=13 (scroll down and click on the Product Comparison icon).
You must be logged in to reply to posts