German Shepherd Dog > Breeder vom jockhof, Goran Cosic, Josip (18 replies)
Breeder vom jockhof, Goran Cosic, Josip
by
Ibrahim
on 10 July 2011 - 11:22
I bought Ilbo vom jockhof from Mr. Gosic and transferred him the price and then unfortunately he couldn't ship the puppy to me even after several trials. In the last few days I lost my trust in Gosic and got real angry and thought that's it I was tricked and scammed, well I was wrong, he transferred the money back to me in full and I really feel ashamed of myself for what I said to him in one of my e mails and for loosing trust.
Josip please forgive me and be my friend, I have the HONOR to have a friend like yourself if you accept. Thanks for being honest and for having a big heart.

Ibrahim

Here's Ilbo, the puppy I wish I was fortunate enough to own and care for, such a beauty...

http://www.pedigreedatabase.com/german_shepherd_dog/classifieds/129376.html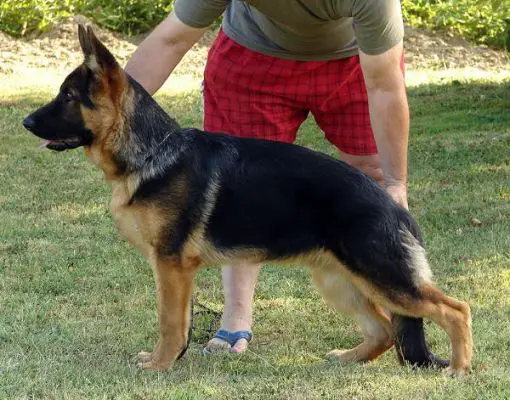 by
Abhi
on 10 July 2011 - 12:01
Great work Ibrahim, it takes a lot of courage and character for a man to admit his mistake, ask for forgiveness in public. It should indeed move Mr Goran's heart enough to forget the bitter words which transpired between the two of you and make friends with you again.
Abhi
by
Ibrahim
on 10 July 2011 - 12:09
Thank you Abhi I will always be in debt to Goran, I think I read about too many scams that at a moment I didn't think clearly and thought I was being scammed and fooled, he didn't deserve me telling him he wasn't honest nor telling the truth, I regret telling him that from the bottom of my heart.

Ibrahim
by
josip
on 10 July 2011 - 14:38
Thank you
Ibrahim
!
I am glad that
I got
a friend
like you.
I believe
that we will
cooperate in the
future
.
It
was just a small
misunderstanding.
Josip
(
Vom
Jockhof
)
by
Siantha
on 10 July 2011 - 15:01
good luck guys and hope things work out for the better. thank you josip for being a respectable person and not a scam
by
DebiSue
on 10 July 2011 - 18:11
Ibrahim,

I am so glad you and josip were able to work it out and you have maintained your friendship.

I too will apologize to josip as I was one of those Ibrahim corresponded with during the time they were having difficulties and I stated I feared a scam. I am always leary of dealing with others especially in far away places. It only takes being burnt once to have little faith and when things don't go smoothly I quickly have doubts. I am sorry josip that I jumped to conclusions before I had all the facts.

Ibrahim is a good man and I was worried for him, especially because I had encouraged him to buy this pup. josip obviously produces some excellent dogs.
DebiSue

by
hexe
on 10 July 2011 - 22:06
It certainly seems that both parties are men of good and honest character, a refreshing discovery to make these days. The pup, Ilbo, is a beautiful fellow, with excellent structure, and it is disappointing that fate (in the form of shipping restrictions) has prevented Ibrahim from calling this puppy his own.
by
joyride
on 11 July 2011 - 01:19
Greetings to all, feel very happy for both. This shows honest and decent people still exist in the dog world/business. I hope you don't mind if I will ask the reason why the transaction or the transport of the dog did not push through?

thanks,
JoFay
by
joyride
on 11 July 2011 - 02:58
The main reason why I ask the question is, I am planning to import a male GSD also. Just want to know the issues/problems I might encounter too.

thanks,
JoFay
by
hexe
on 11 July 2011 - 04:39
joyride, I presumed it was because of temperature restrictions...it is difficult to ship animals as cargo during the summer months because of the (quite valid) concerns regarding heat stroke.
by
joyride
on 11 July 2011 - 05:38
Hexe. Noted and thanks for your quick response.
by
adefilippo
on 11 July 2011 - 22:19
I am planning to byu a dog from germany too, should I wait than for the winter? Please let me know because I will buy it tomooorw, I don't want to waist my tiem if it is too hot for the dog to be shipped. Thanks
by
Ibrahim
on 12 July 2011 - 11:22
As a matter of fact there were several obstacles which we managed to come over, but the last one which caused the cancellation of the transaction was this one: the puppy is located in Croatia and was to be transported by vehicle to Hungary then by plane to Jordan, at the border of Hungary Goran had to obtain a form called T1 required by the shipping company but at the border they refused to provide this paper.

Ibrahim

by
adefilippo
on 13 July 2011 - 19:47
Why they refuse to provide this paper? Will you try again later on or they make difficult things overe there?
by
Ibrahim
on 13 July 2011 - 20:05
As per a recent e mail from Mr. Gosic one has to present an invoice plus contract to get this T1 form and there is a crossing point in the west that issues this form. I am not sure I would try again but that does not mean all Croatian breeders would face this specific problem. There is also the possibility to ship a Croatian dog from Germany but it would cost the breeder a bit more. My own previous experience of importing a dog from German breeders was swift, professional without a headache.

Ibrahim
by
josip
on 14 July 2011 - 08:06
In this case,

sending

the dog in

Jordan

,

were

administrative problems

at the Hungarian

border.

It

has now

been resolved

.

These

T1 docs

did not have

before

.


I've

sent

my

dogs from

Budapest

in the

USA

, Canada

, Thailand

, Cyprus

,

Philippines

and Egypt

.




It is true that

a dog

is

easier

to send

from Frankfurt

.




But

Frankfurt

away

from me

1250 km

.

Budapest

is only 250

km.




But

all is

resolved in

cultured

way.




My wish is

that Mr.

Ibrahim

buys

good quality

and healthy

dog

.



Josip
by
Miro
on 16 July 2011 - 11:25
Hi
I know Josip ,he is a true lover from German sheperd and onest breeder.
Best REgards to all from Croatia
by
Ibrahim
on 16 July 2011 - 14:34
Miro,

I also see good dogs from your own kennel if I'm not confusing you with someone else. You have nice sportsmanship which I admire.

Ibrahim
by
Miro
on 16 July 2011 - 20:44
Thanks Ibrahim,you are not confusing me with some else,my kennel and all my dogs have name ersten platz
You must be logged in to reply to posts