Meet HEKTOR
by
steve1
on 27 June 2011 - 20:39
Here is a couple of Pic's of my Pup to be HEKTOR, 6 weeks old in these Pics. I am looking forwards to having him home this next month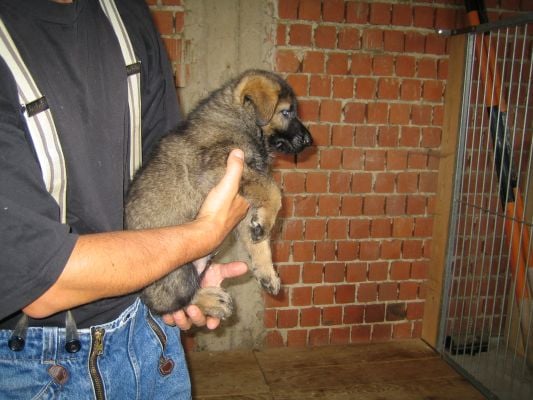 Steve1
by
steve1
on 27 June 2011 - 20:41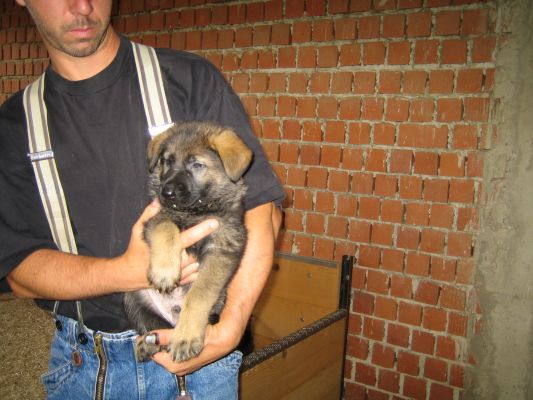 by
Ibrahim
on 27 June 2011 - 21:01
Hello Steve, Good luck with Hector, he looks cute at this age, he has yet to grow up to his name, very nice name indeed sounds musical.

Ibrahim
by
Jyl
on 27 June 2011 - 21:15
Cute pup Steve.. I love his head and expression..
The right thumb on the guy holding him look smashed... "OUCH".
by
Renofan2
on 27 June 2011 - 21:21
Very cute pup. All the best with him.

C
by
ggturner
on 27 June 2011 - 21:45
Such a handsome puppy!
by
vonissk
on 27 June 2011 - 22:41
Aw Steve, he's boootiful--I know he will be so handsome later on. Can't wait to watch another DB pup grow up....................
by
Ruger1
on 27 June 2011 - 23:07
Beautiful Bundle of Joy...: )



Very happy for you Steve!!!!........: )


Deanna...: )
by
Hedi
on 28 June 2011 - 01:26
Sweet grey fur....good luck with the pup
by
Bob McKown
on 28 June 2011 - 13:07

Good looking pup Steve, I know he will be good.
by
judron55
on 28 June 2011 - 13:25
Congrats Steve....super pedigree and looks:-)
by
Geeheim
on 28 June 2011 - 18:37
Aww he is so cute! I love his name. :)
Congrats!
by
Dawulf
on 28 June 2011 - 18:40
Adorable! I can tell he will be a noble dog when he grows up, and here is hoping he lives up to that name! Congrats on him!
by
steve1
on 29 June 2011 - 05:10
Thanks Guys, Yes he is a bright little fellow just over 6 weeks old in the Pic's, i will be going to pick him up on the 12th July, a week later than i wanted to but this big Barcelona pigeon race gets in the way, race basket is on the 3rd July and let go on the 8th July plus the Brother and his wife are coming over on the 7th July and they go home on the Monday morning 11th July i drive to Germany over night the same day,
I have to take the two other dogs with me as i will not get home until Tuesday evening.
I was hoping to pick him up on the 2nd July but he will not be chipped until sometime that day and i have to be home on that evening to see to the Barcelona Pigeons which are race marked next day so i have to wait another week for him seems like forever waiting to get my hands on the little fellow
Steve1
by
Bob McKown
on 29 June 2011 - 11:15

Good luck in the race Steve.
by
Tihannah
on 29 June 2011 - 11:46
Gorgeous pup, Steve! I have an Achilles! :-)
by
steve1
on 29 June 2011 - 17:14
Thanks Bob
It is a really tough Race not so much the distance of 700 miles which is enough, But they have the Pyrenees to get around as they cannot get through them they have to get to of 3000 feet in height at least to come round at 40 degs off line of flight if they are not good enough it is all over then
Once round they then face the High Central Massive, They get through that and the Valley of the Rhone faces them, which is normally a North wind right on the nose and at times a Mistral goes through, Once through there they come into the more Flat area of France for a short time about 100 miles then our pigeons over our side of Belgium then have to cross the Ardennes which again is high with a great number of Hawks for the Tiring Pigeons,
So about 27.000 of the best in Europe will take to the Sky at Barcelona, to the Winner, Well no more financial problems, But to me the Honour of Winning the Greatest Race on Earth would do me fine, and i can say then Yes, you stand among the greats of the Sport, that is worth more to me than all the money they can give me
Some will be going back for there 5th Race from Barcelona they are a real gutsy lot of pigeons and they like there owner do not give in without giving there all, so to get them home safe will be great if they do well even better but those who make it for the 5th time will be retired from racing and put in the Breeding loft they will have earned it
Steve1
by
steve1
on 29 June 2011 - 18:21
No that is nothing to do with the Barcelona International in this race there are up to 11 countries in Europe taking part, The biggest and most prestigious race in the world
Steve1

I tried to load a video of the release 2010 race but no luck however you can imagine 26 to 28.000 pigeons going into the sky at once to sort themselves out
by
ggturner
on 29 June 2011 - 22:38
That's a lot of pigeons! Look out below! Pigeon "bombs".
You must be logged in to reply to posts