Rex is back HOME
by
yellowrose of Texas
on 23 June 2011 - 19:08
I left for Longview early this morning

THey met me with NO you may not have him back. We love him and he is fine. We will never let you have him..

He is ours.

Well, after several hours of talking and counseling, Yellowrose left. I went home.

Walked in to a MESSAGE ALERT.

THEY WERE ON THEIR WAY TO BRING REX HOME back to me. THEY watched him throw a wall eyed fit when I left and they decided, REX loves JAN.
HE may never settle in as they want him to..THERE was no misunderstanding of age, she knew I corrected it, and told them when I got there..no problem there..I told them I didnt have his papers in front of me..I do not even know how Old I am , unless I really stop and think hard.

Age is a number..I subtacted from 2010

Anyway, they love him and are sad . THEY are not experienced enough for even REX..HE IS a SOFT showline dog..HE hangs his head and plays this ,,,I am not listening thing when you want him to go to kennel or do something YOU want him to do..HE is very well behaved.

I am sure Peggy will log in and say a parting word.

THEY brought a ton of RAW BONES> I met there son who is a MEAT MARKET mgr. and he came while I visited them..

Thanks for all the support and Special thanks to VIXEN...SHE messaged me all night while I was so upset .
She reminded me You are a Christian and you know who provides your strength. NOW use your time to let GOD carry this and he will lead me correctly and properly to these people and help them kindly and not get my body in danger by being distraught...

THANKS again.

REX IS HOME>>>NEVER TO GO ANYWHERE>>

THEY kept saying..IT is obvious who REX loves.

SOMEONE PLEASE TELL ME HOW TO PUT A PICTURE ON..THIS IS ALL NEW TO ME..I HAVE NEVER SEEN THESE HEADERS AND DO NOT HAVE A CLUE.

WILL PUT UP PICTURES OF REX I JUST TOOK..SO YOU CAN SEE WHAT HE LOOKS LIKE. THEY BRUSHED HIM ,BATHED HIM AND HE IS SHINEY AND CLEAN AND SMELLS GOOD..HE IS STILL NEEDING WEIGHT BUT HE WILL EAT FOR ME..NO PROBLEM THERE..

HOW DO I PUT UP PHOTOS NOW/????

help please

yr
by
beetree
on 23 June 2011 - 19:14
Glad to hear it then, YR. Click on the mountain and sun*, and choose your file, it downloads automatically to your own private folder. Rest easy, there is a tutorial on here, somewhere, too, if you still can't get it to work, but you should...

corrected from moon, lol



by
Red Sable
on 23 June 2011 - 19:18
Aww, well, sounds like a happy ending, especially for Rex! Congrats!
The picture box is with the sun, between the flag and red ball. :)
by
yellowrose of Texas
on 23 June 2011 - 19:56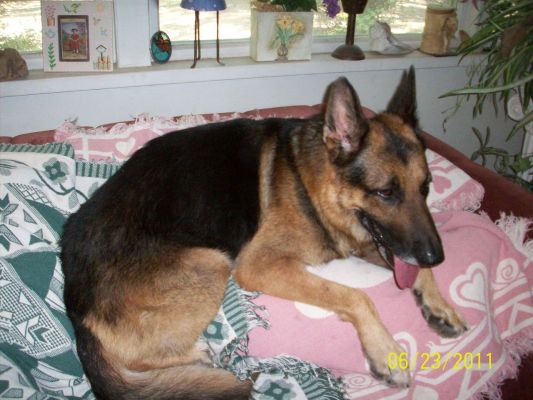 Rex back home on the couch in the sunroom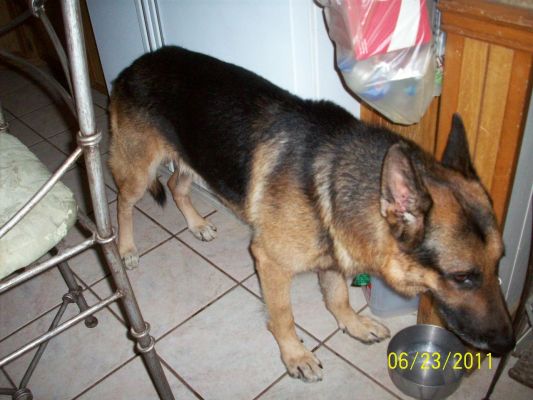 In my kitchen at 1:00 pm today
by
Red Sable
on 23 June 2011 - 20:02
Wow, Rex is a handsome (and happy looking) dog!
Some dogs just do not like being rehomed, dogs like Rex, he knows where he belongs. :)
by
yellowrose of Texas
on 23 June 2011 - 20:24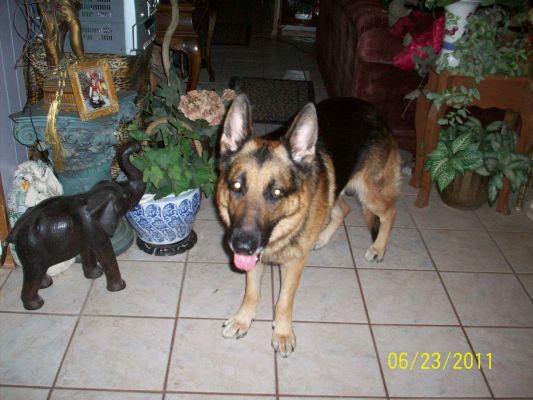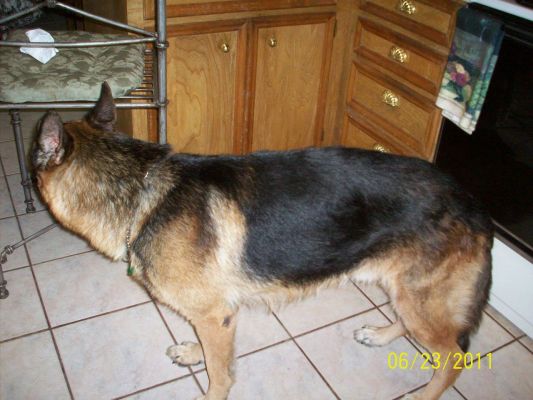 sife view in kitchen today.

Rex loses weight when a female is in heat..HE paces the kennel and will not eat.. He pulled a dump his water thing, back in 2007 and it was 90* outdoors and he had no water unbeknown to me until I found him I gave him b12 , hydrated him properly and went to vet and he spent the night..WOULD not eat..He could only think of his GIRL at home..SUCH is the life of a male .

I do not worry about his weight but he will gain 10lbs now . He will eat his raw meat. and Evolve
THANKS to Peggy and Glenn. HE looks better, and smells better..He got a good bathe. and it was doggy smell not alergy smell..HE got only a half bath before they got him.. JE has a lot of raw bones they bought him..
I am going to bed. Rex is in his kennel. in the sunroom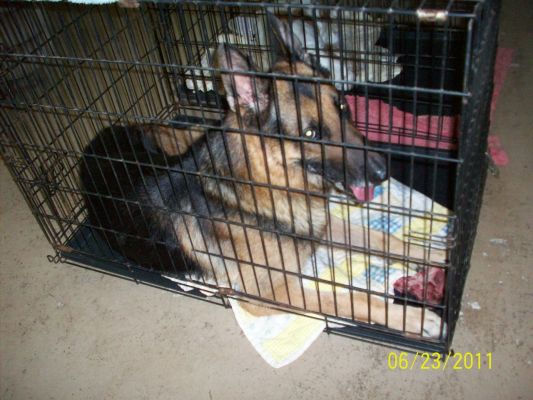 For now until I bring in his giant kennel . His bone and a blankey..nite nite REX HE is at peace now.

by
Ramage
on 23 June 2011 - 21:33
I am so glad. Nothing against Peggy. I just think Rex is where he needed to be.
by
gouda
on 23 June 2011 - 21:52
Hi YR

My spirit jumped with joy,when I seen you back on the forum.
Rex is back home with his mommy,praise God.

gouda
by
isachev
on 24 June 2011 - 00:20
WOW- I was just PM ing with Peggy about raw meat diet details. She told me she just got this GSD. I started reading post today and was floored by the events of the past few days. Was this really all caused by a couple of accidents. Sounds like she really didn't know what she was getting into with a GSD. Anyway YR looks like you got your boy back, where he belongs. You sound like a real great lady going through alot of lifes tough moments. Hang in there and stay close to GOD. He got you through this and will continue to take care of you. My prayers will be with your son. Take Care
by
Pharaoh
on 24 June 2011 - 04:36
All is well. I am glad he is home.

Pharaoh says if there are too many bones, he will come down there and help out his new best friend Rex.

Michele
by
lovejags
on 24 June 2011 - 04:59
YR I AM SO HAPPY FOR YOU AND REX!! HE IS A BEAUTIFUL BOY! I LOVE HAPPY ENDINGS AND I LOVE HAPPY GSD'S. GOD BLESS YOU AND REX.
by
yellowrose of Texas
on 24 June 2011 - 05:28
Thanks guys and gals.


Pharaoh is more than welcome / Get in your pic em up and come on...

He loves his bones..

And he is glued to my shadow..tonight.. I had a horrible headache so I crashed for a few hours..I am listening to MUSIC

Heuy Lews and THE NEWS

and
THE HOLLY RIDGE STRINGS
and

Maksim

Thanks Lovejags


by
Vixen
on 24 June 2011 - 10:39
I am sure we are all relieved that this unfortunate situation as been resolved appropriately and successfully. Your dedication to the welfare of Rex, to do all possible for the benefit and future of this dog is admirable. Equally good that you did not march in demanding and aggressive, but spent time with Peggy and her husband discussing the whole situation with them. (Remembering that they love this boy, and want to be good dog owners, but appeared sadly out of their depth).

Your message gives the impression that you hopefully all finally parted on good respectful terms, and no animosity.

Rex is most handsome. Great to see these photos. He knows and trusts you. You were determined to do right by him. Respect and love on both sides.

Bless you and your family (and your dogs).

With Kindest Regards,
Vixen
by
Keith Grossman
on 24 June 2011 - 12:31
I'm not getting why everyone keeps talking about how skinny this dog is; he looks fine to me.
by
Nellie
on 24 June 2011 - 13:29
Rex looks realy well even weight wise, glad all has ended well for Rex and Respect Peggy for putting Rex first and not her feelings. YR it's such a shame many breeders don't follow in your footsteps, you are a very special person, i wish you all the best
by
yellowrose of Texas
on 24 June 2011 - 17:25

Keith:

Yes, the scheme of things is because the vets do not like a slimmer dog..THE backbone of REX was slightly showing not his ribs...so he is in need of some weight.

THE vet immediately stated saying THIS dog is underweight and PROBABLY has HD, heatworms or worms etc, and possible a DIGESTION problem
Upon talking with my vet on the incident in 2007, which vet didnt tell this vet...he was in a breeding situation, which REX doesnt eat when a female is in heat.
He paced in his kennel , until he knocked the water bowl empty and I found him exhausted and in heat of the day,,,dehydrated.. I administerd hydration properly in tiny amounts, and vit b 12 and to the vet...Weight in at 60 lbs and in a few weeks 62* .

Not talking with me, vet assumed the dog in his office has big problems...THE words used naturally scared any customer

Not the first vet that has scared a customer of a german shepherd..TELLING any new dog owner, pup or older, that their dog looks like he has HD, heartworms without saying it properly, puts a permanent scar on that dog or pup.
THIS IS WHAT HAPPENED to this situation....NOT knowing me, but did talk to another of my customers who said they would not take 10 million dollars for their girl, which was a REX daughter, GRETA., they knew I had nothing to be afraid of ..
THEN came the ALLERGY SHOT saga.. BECAUSE OF dry skin, loss of hair , (Shedding) which it is 103* every day here, and not knowing dog....put REX in a situation because I was not there to defend his HONOR>>>>LOL I relayed the no good food as the cause and the nervous condition of REX due to moving and losing his family....as number two..HE is not an outside dog and he is a people person dog..Call it anxiety and it might fit..

I do not believe in ALERGY SHOTS for MY germans...YOU may for yours. I know what I breed and what solves all these things on MY dogs..NOT YOURS>>> so take note : to those who are reading who are quick to tell this board...her clinical diagnosis is dangerous....lol

I keep slim dogs, I feed raw, I do not use pills,,I user FOOD< OILS > and holistic means on my dogs.
VETS , some, do not like it...I do not use those vets.
REX will gain some weight and I will post a pic in a couple of months to show you . I do not know his weight...as far as I know they didnt weigh HIM>??? FUNNY?

Slim in most public eyes is SKINNY

I am not slim so no one calls me SKINNY.. It is cottage cheese time for REX and me both..I put peaches in mine..he just slurps his down plain..



YR






by
BoCRon
on 25 June 2011 - 02:44
Glad all has worked out in the end.
Just my (useless .02 ;)), his weight looks fine to me as well. We have a showline male (actually 2 from the same litter) and the one smaller guy usually weighs around 65lbs when he goes in for a check up and looks about like your Rex.
The other showline male we have is probably similar to Rex in that I think he would absolutely implode if I tried to rehome him. I have considered selling him since he is a great dog and would be a great first dog for someone to get into Schutzhund or obedience, but I have come to the conclusion that he would be heartbroken and always be looking for me.

Peggy will find the right dog for her situation.

Regards,
Annette


by
Siantha
on 25 June 2011 - 03:32
i do agree YR but some times vet medication can be a benefit to a dogs health. i know some are bad and i dont use all. my dogs people have called animal control on me saying im starving them and so i got to walk them through my house and show them my 2 31 gallon trash cans full of food that the dogs get and she agreed with me that the k9 units at the police station where the same weight and left my home.

but like antibiotics i use and i used prednesone when my male had cancer.
by
yellowrose of Texas
on 25 June 2011 - 04:51
Siantha:

I use Cephflexion , Amoxcillian, and Flagyl , and several other antibiotics but I buy them elsewhere and keep them on hand 24/7/ Having been breeding since the early 70's my vets know if it is a serious condition I would be at their door asap..BUT i have been blessed with healthy dogs so my vet visits are very sparse.

I use Ivemec, under my vets guidance as to dosage, and my vets all keep me in tune with proper dosages and they know I am good with what I know and do.

Ear meda and other things are dispensed to me as a breeder with a kennel, so I do keep meds on hand. I just use alternatives all the time. I use many things that I share with my pup owners and other friends in dogs..

We have a lot of things in our kitchen and home that we can use for proper healthier dogs in our life..

YR
You must be logged in to reply to posts