German Shepherd Dog > Looking for a female working line pup preferably bicolor (11 replies)
Looking for a female working line pup preferably bicolor
by
jcmeyer
on 18 June 2011 - 15:43
My wife recently lost her 14.5 year old female and is heart broken. I know she loves bicolors and was wondering if there were any litters preferably in the northeast that might be recommended. Sincered thanks...James C Meyer DVM
by
Ibrahim
on 18 June 2011 - 15:51
Good luck in your search, this is the right place to get info and to meet some of the best breeders. Bi is a beautiful color, all the best.

Ibrahim
by
Vixen
on 18 June 2011 - 16:08
Hello James, I am so sorry to hear about the terrible loss of a dearly loved dog, and I am sure most of us here understand that heart-break that your wife is experiencing. (What a wonderful age 14½ - she thankfully had a full life).

I also just wanted to mention (although most probably not necessary), but feel a need to share nonetheless - Some folk find that adding a new addition to their family quite soon, helps ease the heartache. However, sometimes sub-conconciously we want them back! And we may expect the puppy to become the one we loved and lost. Obviously this is not possible, and is a dis-service to the new addition. The new puppy brings his/her own individuality into your lives and hearts. Therefore, does your wife need time to grieve? Then as a compliment to the enjoyment of having your last dog, feel ready to welcome a new one?

Apologies, if I am stating the obvious - but needed to share this.


Kindest Regards,
Vixen
by
Ibrahim
on 18 June 2011 - 16:48
Vixen,

That is a clever notice, I never thought of it this way but good to take it into consideration.

Ibrahim
by
MH23
on 18 June 2011 - 17:52
Just thougth I'd mention... vom Gildaf has a litter of 4 puppies that was born June 15th. They are working line puppies. Dam: U-CH G Brazen vom Haus Behm CGC BH AD FMCH, Sire: V Boy von Zorra SchH3 AD Kkl1.

The only girl in the litter is a bicolor and it says on the site that she's still available. Here's the link:
http://www.gildafk9.com/available-puppies.html
. You can go there and check them out, as well as the parents, etc.

You can email/call Melinda if you are interested. She's such a nice lady. I bought two dogs from her (one she bred and one she imported from Germany) and I have ZERO complaints and ZERO bad things to say about her. She's such a nice person, always there to answer my questions, give me advice, etc.

Good luck in your search.
by
BoCRon
on 19 June 2011 - 14:47
We have bought a few dogs from Hillview(some for us, some for clients and SchH club members). I believe there is a repeat breeding of this litter due about now? http://www.hillview-kennels.com/german-shepherd-puppies/l-litter/


I have a female from this breeding who is a bicolor. Great personality, temperament and a pretty girl to boot!

Good luck in your search.


Annette

by
vonderhendryhaus
on 20 June 2011 - 07:57
Hi today is June 20th. I am not sure if you have reached any type of decision...on adding another gsd puppy to your family. But I will tell you this I rasie both AKC - W. German Imports show/work....and I raise the working line...AKC w/ Dam - w/German Import championship / European bloodlines...and the Dam seems to have the bi colors...sire is a beautiful Sabble saddleback.European ..Take a look at my website listed and after you have reached your decision....If you should have questions for me ...call me. Okay. Their puppies are due in July. So you will still have time to adjust to the new addition joining your home. You would be looking at Sept....before taking her home...
by
isachev
on 21 June 2011 - 01:36
Don't know if she has any on the ground right now, but I can highly recommend this breeder, as I have 2 GSD's from her, one solid black and one goreous bi-color. Both exceeded my expectations.
Sorry for your loss. I lost my 13 year old Gunnar in December. It really sucks these dogs lives are so short. But check out this website or contact her. Take Care http://www.vomeisenherz.com/
by
alkster2002
on 21 June 2011 - 02:04
I sent you a P.M. about a litter out of my male .....
by
Siresmom
on 21 June 2011 - 12:36

Here's one from my shortlist that just had a litter on 6/14 w/three bi-colors: http://blackthornkennel.com/

. Gorgeous dogs!!!!!
by
Bundishep
on 21 June 2011 - 13:50
I have a great female 7 month old very dark black and tan almost looks like a Bi-color very strong working lines on both sides,her temperment is top notch and fair priced at 700 but late in the season if airlines say too hot to ship, PM me for details on her
by
GranvilleGSD
on 21 June 2011 - 16:48
James, I am very sorry for your family's loss. How lucky you were to have your girl for 14.5 years!!


I had a litter born this past weekend, there is 1 bi-color female. http://www.granvillegsd.com
Dam: UKC CH, SG She Izabella Granville CGC, TDI, HIC, AD, BH, CD, RA, OA, OAJ, NF, OAC, TG-N, TN-N (OFA:Hips,Elbows,Patellas,Cardiac,Thyroid,DM,MDR1,CERF)
Sire: UKC CH, SG Berlin an Granville vom Gildaf STAR, CGC, HIC, AD, TC, TF-III, FDCH
(OFA:Hips,Elbows,Patellas,Cardiac,Thyroid,DM,MDR1,CERF)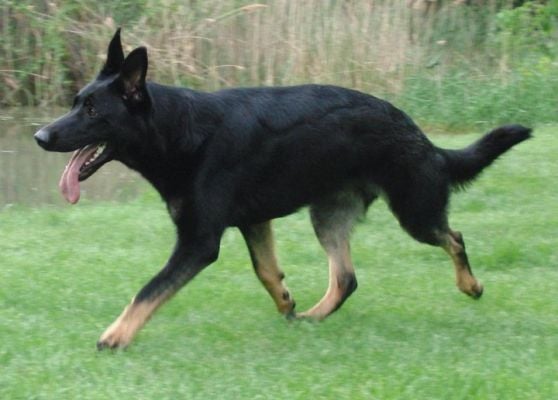 Aja from our last litter.


You must be logged in to reply to posts