Dogs ARE NOT STUPID
by
beetree
on 06 June 2011 - 15:59
"....dogs ARE NOT STUPID ... especially the GSD .. they are pensive problem solving canines [ and one of the best at that !!]...."
quote by ALPHAPUP from the Training Board
I really agree with the quote above. As an example, I am now faced with the dilemma of my dog who just figured out how to open the pool gate (with the fancy magnetic, child saftey latch) from the INSIDE and the OUTSIDE.

There is no way around it, I'm forced to go low-tech and use bungi cords.

I hope others will share their "brilliant" GSD dog stories, too.
by
LadyFrost
on 06 June 2011 - 16:23
Misty my 8+ year old does not like to be in the kennel

if

someone is home......she will stay in it if we are gone but if i came home and god forbid decide to change before going into back yard, she opens the latch on the kennel and goes out...so thinking that she may do that when we are not home i put a combination lock on it...well...few times before i pull in i would look and see her in her kennel..i come inside, change and low and behold she is at the sliding glass door....kennel still locked....well, apparently she pushes two stainless steel dividers that are separating 40 x 40 foot kennel in 2 parts, dividers are being held up by bungee cords, gets into Dozers kennel and uses his door to let herself out....so since she does what ever she wants anyways, we took away divider and stopped locking her gate...it saves me time from going out there and letting them out, they stay in it till i get home anyways......plus it is fenced in yard...I would feel sorry for anyone who would decide to get in, thinking dogs are confined...
by
Kalibeck
on 06 June 2011 - 16:48
Well, may I clarify that statement by saying GSDs are not stupid? I've had a couple of mutts that were dumber than a bucket of rocks (an ex-husband like that, too!)! And check out Hyperbole & 1/2's 'Simple Dog' blog for a laughable dumb dog story.

However, my GSDs are scary smart. Especially Kali & Lil' Bit, then Beckett, last Ansgar, who used to be quite bright, but maybe had a little O2 deprivation during her surgery or something, she's not the sharpest tool in the shed these days....willing, lovable, biddable....but save the deducing for her mom or sis!

Kali can open any door here, & the dead bolt, too. We replaced all the door handles once, & now she's figured out how to put each of her front paws on either side of the old fashioned round door knob, & push up with one paw, & down with the other, & voila! the door is unlatched! She grabs the knob in her mouth & pulls, & the door is open. Takes her about 12 seconds. So much for needing thumbs! Also the fridge is no challenge. Thank goodness she respects our "NO!" She can turn on the kitchen faucet for a drink, & can open the kibble bin, too. I aught to teach her to cook dinner! She comes & barks at us if the phone rings, like we can't hear it, LOL! She can let the other dogs out, if they're crated! Again, she won't if we say no! (thankfully; 'cause no-one is crated with out a good reason!) And Lil' Bit watches & learns all Moms tricks!

And all are very intuitive, sometimes I'm very sure they can read my thoughts. I'll be in my bedroom with the door closed, the dogs out in the kitchen with Carl; & if I think about taking one of them out with me, they will appear at the bedroom door, whining & bouncy, ready to go! How do you explain stuff like that? jackie harris
by
LadyFrost
on 07 June 2011 - 12:37
Kalibeck....100% spot on! ..when i think of specific dog to take with me, that specific dog is going crazy through the roof...sometimes that kind of behavior makes me change my mind, but they always know which one is going with me...and they always know when it's a vet visit because i can't find them or they are on their beds trying to lay as flat as possible pretenting to disappear..LOL.
by
Kalibeck
on 07 June 2011 - 14:25
Yepper! Mine always know when it's a vet trip, too. They'll still be right there ready to go, but they don't bounce first. But how do they know which dog I'm thinking of? I've tested it, going behind closed doors & thinking about a certain dog & another activity.. & it doesn't work. But I can be separate from them & decide, "Okay, Beckett needs to go out," & there he is! How do they do that ??????jackie harris
by
LadyFrost
on 07 June 2011 - 15:32
i agree.....same thing here..i think of Bailey and vet and no one will even get up...i think of park and Dozer and its like a bounce house effect.
by
Kalibeck
on 07 June 2011 - 16:03
How's Baily doing anyway? jackie harris
by
LadyFrost
on 07 June 2011 - 16:15
good, thank you for asking..stitches coming out tomorrow...she CAN SIT now..but will not step on her leg when moving..she uses toes to keep her balance..i will take pictures after stitches come out and post update....she is going off her meds tomorrow, and cone is coming off tomorrow....
yesterday in the evening, she went inside her kennel where grass was knee high and laid next to her dog house...she looked so pathetic..as weird as it sounds....i think she actually misses her kennel....

here pict from last night.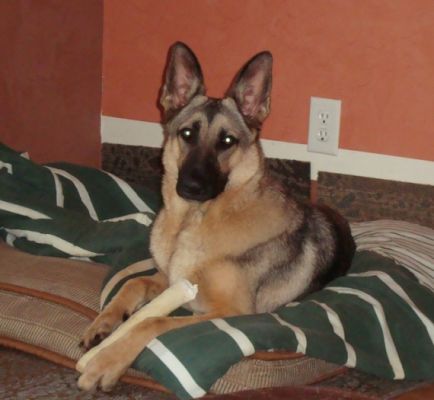 by
Kalibeck
on 07 June 2011 - 16:18
Aw, she's so pretty! She probably does miss her kennel! She'll be OK, she looks so good in that picture! Continued good luck to you & Baily. jackie harris
by
LadyFrost
on 07 June 2011 - 16:41
thank you, she is well taken care of....
here is a photo from this morning after her breakfast right before i left for work....i know she hates that cone..she will not bark with it on..LOL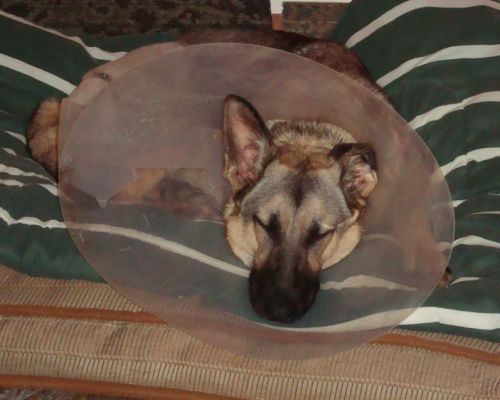 by
Niesia
on 07 June 2011 - 20:15

They are not stupid at all, sometimes they are scary smart...


The other night I let my girl out to go potty before bed. She went into the forest so I assumed she needs to do the #2. I decided to let her do her business on her own and I went into the house to make myself a cup of tea. While water was boiling I got a phone call from the friend at the Airport: "Hi, I'm calling to say that I just saw your Suzie here". Really? - airport is about half a mile away... Still on the phone, I opened the front door and I see Suzie sitting on a doormat with her tongue hanging down, breathing hard and smiling "Whatever they said – it's not true, I was here all that time, Mom". But she knew she got busted… The question is - how did she know that somebody called her in? To be back home in time she had to realize that she was spotted at the airport and made decision that it is better to get home now and run full speed…

by
ALPHAPUP
on 07 June 2011 - 21:46
bee .. glad you agree .. years ago ? about 20 .. someone wrote a bokk " the Intelligence of dogs'. the poodle was rated most intelligent .. i thkn GSADs were rated 3rd on the list. we know canine4s learn by Association .. But they have the ability to deductively reason , NOT Inductively. maening they can 'think' : if this then ...that canines . e.g. if i sit , i get a treat .. if i out ... i get another bite ... if i bring back .. i get *** . canine [ and wolves /foxes ] are cunning .. so i pose a question for members to discuss : what is or contstiutes intelligence ? what is intelligence . how do you define it ... and how can we makwe ourselves and our dogs better . how do you know if your dog is intelligent , not so intelligent or lazy .. BTW living with a multitude of canines for years .. i can see amoung them the recognition that one in the pack has bewtter mental ability than the others .. a type of 'Intelligence' in people is their social ability . YES ?? .. ok if you agree ..now let's talk about: ALPHA .. we think alpha is the biggest /strongest , right ? ...WRONG .. the 'alpha' in a pack is primarily determined or constituted by the "Social Relations" . yes ... dogs like people form bonds , allies.. the DOG with the most support of the others takes alpha postion .. NOW the alpha position that gains respect/loyatly/ support that gains is formed in a multitued of ways. maybe it is the dog that shares with the others / this enables survival , maybe it is the dog that can best problem solve for the kill , maybe it has to do woith some dog being genetically reralted as opposed to not being genetically related . Again .. intelligence .. to start- i claim that intelligence has a 'social' component , for one element ..a social interlligence exists amoung canines for one. BAs a way that we make oursleves and our dogs better : this is why i stressed in my classes. if you don't think you know what you are doing .. at least act like it and give the dog the impression that you do !![ BTW good leaders , mom s , dads , bosses , politicians have this quality too ]
by
ggturner
on 07 June 2011 - 21:52
They are definitely very smart! Two of mine (the girls) can open doors in the house. They also ring a bell hanging on the back door to let us know when they want to go outside. My oldest girl can open gate latches like Ladyfrost's dog so we had to put locks on our gates. If I ask her where one of the other dogs is, she will go look for them, grab them by the collar, and pull them towards me.
by
Kalibeck
on 07 June 2011 - 22:14
Sorry, this from the phone, so not the neatest! Dogs, like our GSDs , have been interacting with humans so long that a truly symbiotic relationship now exists. Research has shown that dogs can follow a humans gaze to locate an object, but cannot follow another canines look to find something. Wolves can't do that. Dogs can imitate human expressions to manipulate an imteraction with a human, wolves cannot. Dogs were able go locate an object in a 'shell game' exercise, but could not locate a hidden object until the human looked at it, according to this Nat Geo article, which I dispute, I know quite a few GSDs that can do that. That test was supposed to prove that dogs could not reason. So what does that mean for our SAR dogs & other GSDs that will readily find a hidden object? They obviously can infer that the object still exists, even tho' it is hidden! So I believe that our dogs do posses intelligence, possibly even rudimentary reasoning skills. I think we dumb humans are just slow to grasp all that our companions are capable of! jackie harris
by
Ninja181
on 07 June 2011 - 23:35
Years ago I had an extremely friendly GSD. I let him out to go to the bathroom one morning and when I went back to get him he was nowhere to be found. I left for work and my daughter left for school. When she came home he was laying on the front steps.

A few weeks later and I receive a notice of a fine for having a dog off leash. I called animal control and asked what this was all about. He told me he got a call about the dog being loose. He said boy is your dog smart. I said how do you know that. He said the dog was laying on the front steps and everytime I approached he ran into the woods and stayed until I left. He said I was there 4 times and he hid every time.

This dog was totaly friendly with everyone including strangers, he would bark to be let out to greet the mailman who loved him. How he knew to hide from animal control is beyond me.

by
Niesia
on 08 June 2011 - 00:20
Alphapup,

Intelligence in dog for me it is the level of his ability to observe, understand, communicate, learn, reason, plan and solve problems.

Here is an example:
Field trials for police dogs.
There is a water channel – handler throws the article over the channel and orders the dog to retrieve it.
There are 10 dogs in a trial.

9 dogs, given order, jump into water, swim, retrieve the article, swim back and present the article to the handler

1 dog, given order, looks both ways, runs full sped to the right where there is a fallen log, goes over it, retrieves the article, goes back over the log and presents the article to the handler.

At the end you have 9 wet dogs that performed that task in +/- 16 sec. and 1 dry dog – that performed this task in 11 sec.
(P.S. in this test the time was of an essence and nobody trained those dogs to go over the fallen log.)

For you to decide, if this dog was more intelligent or just 'lazy'…

From my perspective the 9 dogs were very well trained to perform the exercise, while only one showed true intelligence and problem solving. He understood the 'objective' of the excercise - retrieve the article as fast as you can. He made an observation that swimming may be not the most efficient way in this situation.. (most dogs lost seconds shaking the water off both ways). At the end he was the one that performed the task in the shortest time.

For me truly intelligent dog grasps everything fast and learns quickly, but is more difficult to train to perform repetitive tasks/commands. Intelligent dogs are focused on completing the task while well trained dogs are focused on performing taught routine.

I am NOT trying to say that well trained dogs are not intelligent, nor that intelligent dogs cannot be trained well.
by
Chaz Reinhold
on 08 June 2011 - 02:32
Mine wipes his own ass. Don't know where he gets the paper or what he does with it. Never actually seen him do it, but he's always dingle-free.
by
alboe2009
on 08 June 2011 - 03:31
I defiantly like and understand/agree with APUP'S post. I think we notice these things daily (even those who don't have GSDs). I think we just take it for granted or the norm till either someone points it out to us or a non-dog person is amazed by what was performed. Here are a few examples of mine.

When Anastacia was a pup, (She's the Czech) her kennel latch is like, you have to "lift up" a tad in order for the mechanism to flip up or down. Without this "lifting" the latch will not go up or down , it's like "locked". One day coming home I thought I saw one of the farm's foxes in the front yard,( big ears). I said to myself, "that's a brave fox to come around all these GSDs" but when I pulled in the driveway ole Ana, was beaming like she did the greatest thing..................... I put her back in the kennel and ran in the house to look out the kitchen window. And watched her work that latch like a pro!

Another time, my boy, Reiker (always hangs out at the woodworking shop with me), once in a while he'll throw up, (think it's due to certain types of sawdust, sometimes?) but one day I

m talking to my friend and his wife and Reiker is at our feet starting to hack. As he is getting ready to throw up I say "Reiker, go throw up over there on the grass and lay down". So, Reiker walks over to where there is grass, throws up and lays down. When he feels better he's back at are feet like nothing happened. He does stuff like that all the time, so I never thought twice about it. But my friends always boast saying he's part human. Other things; a simple nod: follow me or come here. I could have 5/6 toys, things on the ground. Tell Reiker to bring me the "KONG", will do it. Bring me the "FOOTBALL", will do it, bring me the ...., will do it. Every time.

Each one has their "specialty" even at a young age. Arabella, even at like 5 mos. knew that say, if by chance she was on the bed and Ana wanted to get upon the bed that if she, (Bella) stayed right on the edge that Ana couldn't jump up. So, if Ana went to the other side, Bella would go to that side and "block" Ana from being able to jump up. There's a million more but those were a few to share.
by
Kalibeck
on 08 June 2011 - 08:34
Ok, I take back what I said about Ansgar not being the sharpest tool in the shed! I just scolded her for barking at 4:15am as I was going for a glass of water, thinking she was barking at me. No, she was barking at the mouse that ran across the kitchen floor a minute later, putting herself between me & the little monster...which I might add, scared the crap out of me! She was trying to protect me, knowing before I did that I was about to be freaked out! My Hubby wouldn't get out of bed, but my dog was right there! God bless you, Ansgar! Jackie harris
You must be logged in to reply to posts