Help identifying mix?
by
omfgitsalisha
on 29 May 2011 - 23:30
Our little girl is just turning 6 months, she's only about 40lbs, and the only thing we know about her is that her mom was a german shepherd mix. Everyone says she seems really small for a german shepherd, and that she wont get much bigger than she is now.. But we have no idea what else she is mixed with to get a true idea.

this was her as a puppy. She was 8lbs when we got her at 8 weeks, underweight and malnourished, but got healthy within the first couple weeks we had her. (these were between 2-3 months old.)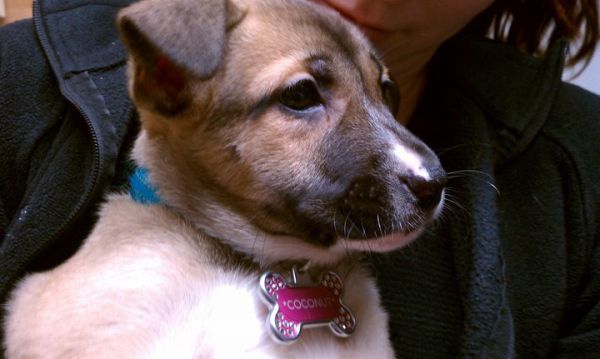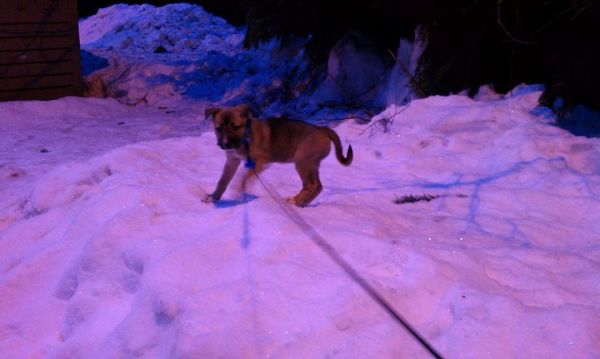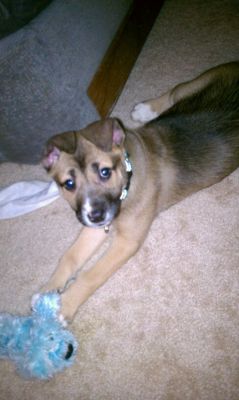 These are her more recently. Her ears stick up 99% of the time (there is one that still flops at times) and she does have that weird curl in her tail, which is usually a full curl up, and not sticking straight out with a curl in the tip like that.)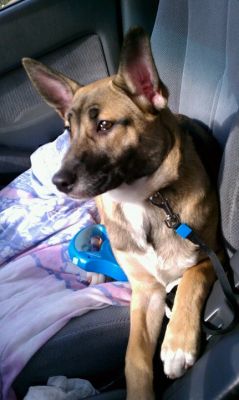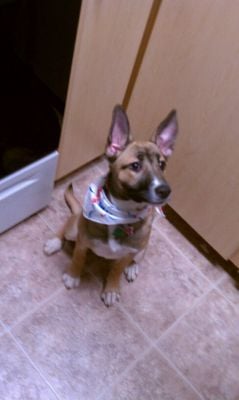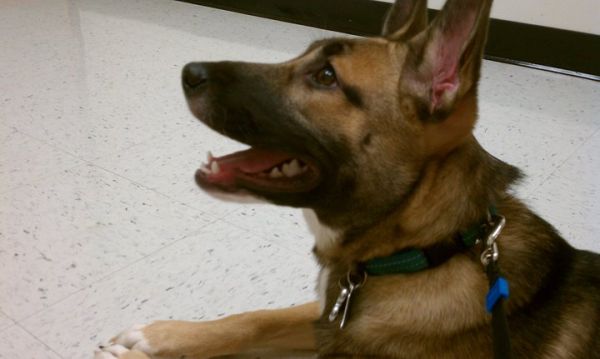 I don't know how well those dna tests work, but i'm just curious as to what she could be and if she's really going to stay this small.
by
VomMarischal
on 30 May 2011 - 00:11
Border collie mix?
by
vonissk
on 30 May 2011 - 01:32
I have no clue but I think she is a beautiful dog and kudos to you for giving her a loving home. Also I have never done the dna tests myself but I hear a lot of mixed things about them. A couple of people I know who got them and knew at least one parent of their mixed breed said they felt like they'd been sold a bill of goods. So if I were you I'd check around before I jumped into that. JMO
by
crhuerta
on 30 May 2011 - 02:00
She is really adorable! LOVE those ears!
OMG...she looks like a Pharaoh hound mix! * A little Egyptian look to her!*LOL!
Whatever she is.....she sure is a cutie!
Best wishes!

by
omfgitsalisha
on 30 May 2011 - 02:41
Thank you guys, She is just a complete doll :). I am definitely going to research the dna tests before we decide if we want to go that route because I've heard mixed things about them as well. The curled tail is what throws me off the most and really makes me wonder. But she seems to have the typical german shepherd type personality. Ah the possibilities.
by
jc.carroll
on 30 May 2011 - 02:55
I see a bit of terrier in the 1st, 4th, and 5th pictures.

As for those DNA tests, I find them mostly for novelty purposes. I tested one of my GSDs once, she came back a random mix of things. GSD was one of them. I can't remember the other three.
by
cphudson
on 30 May 2011 - 02:57
She is very cute. She doen't look like a direct cross between a GSD but a mixture of a few breeds. Definately looks like GSD & pitbull are in the mix though.
Once a dog has more than 3-4 breeds mixed into them they can develop a curlyer tail, but doesn't mean they had any nordic breeds in their back ground.

I hope you find out her back ground through the DNA test, if you do make sure to post the results.
by
EWagner
on 30 May 2011 - 03:01
What a doll, looks like could be a little welsh corgi in there?? Maybe?? In the older pics.
by
gagsd4
on 30 May 2011 - 03:07
I thought shepherd/beagle/pit in the baby pictures. Whatever, she is gorgeous!!!
by
omfgitsalisha
on 30 May 2011 - 03:08
She has quite the possibility of having many things in her. They knew her mom was atleast half german shepherd i do believe, but didn't know what else, and the dad is unknown.. so it could definitely be anything. And thank you for that information about the curly tail, I didn't know that and could definitely explain it. Its definitely a topic that comes up when we are out with her and people ask what she is and where the tail comes from.

And if she does have corgi in her, she definitely didn't get her legs from that. No stubby little legs for her :)
by
dunringill
on 30 May 2011 - 03:29
I see Basenji and GSD......especially in the last 3 pics. Plus you said her tail is curled?

by
omfgitsalisha
on 30 May 2011 - 04:12
yeah her tail curls, not quite as tightly as the basenji's, but that could easily be just because she is only mixed with it. It actually seems to have a mind of its own, a complete circle sometimes, and others it sticks straight out with a curl in the end. I can see her having some basenji in her possibly.
You must be logged in to reply to posts