German Shepherd Dog > Strut vom Eichenluft SchH3 --- still 2 years old :-) (18 replies)
Strut vom Eichenluft SchH3 --- still 2 years old :-)
by
adlerbach
on 22 May 2011 - 00:46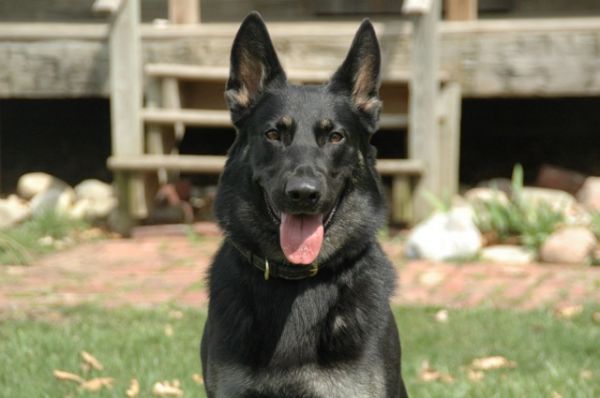 by
Vikram
on 22 May 2011 - 01:00
just one word. WOW!!!! You are best doctor and the best dog person :)



by
Vikram
on 22 May 2011 - 02:20
just his lip structure speaks tonms about his mental state and breeding lines
by
adlerbach
on 22 May 2011 - 02:38
HE is a SHE!
by
hexe
on 22 May 2011 - 05:40
"just his lip structure speaks tonms about his mental state and breeding lines"

"Lip structure?!?" Huh? Sorry, Vikram, but what the hell are you talking about?

She's a beautiful dog, adlerbach, and you've obviously put the time and effort into not only the training, but the development of a true partnership with her, in order to take her to SchH3 at just two years of age. Congratulations to you both!
by
Gustav
on 22 May 2011 - 10:52
Congrats Barb, Very nice job done and great perserverance over the past year.
by
martinusta1980
on 22 May 2011 - 19:12
Beautiful looking female. She looks a lot like my male, I wonder if they share any common ancestry... congrats.
by
sonora
on 22 May 2011 - 23:52

Hi Adler,

I am just learning about working bloodlines ,the virtues and shortcomings.
I'm here to learn.

To train a dog below 2 years to Sch.3 is fantastic, congradulations to the team.

I often read about other produces (sires )of good working dogs,
but very seldom of Henrico v. d. Jungen Hanson and Sid v.h. Gremm.

I know of a couple of young dogs,sons of Henrico and they are very hard dogs.
How much has Henrico's influence contributed to the trainablity of STRUT v Eichenluft?

What are the qualities, passed on by Henrico and Sid?


by
Bob McKown
on 22 May 2011 - 23:55

Congrats, Barb and Strut
by
sueincc
on 23 May 2011 - 03:28
Wow, well done Barb & Strut, congratulations!
by
lovejags
on 23 May 2011 - 03:38
STRUT'S VERY PRETTY , JUST LUVELY!!!!
by
Justk9s
on 23 May 2011 - 05:19
Barb..
Congrats on a job well done. You've got a good one there.. She is GORGEOUS...

KIM
by
adlerbach
on 23 May 2011 - 09:37
Hi Sonora, sorry I cannot give you information on Henrico or Sid as I am not Strut's breeder, Molly Graf is, and those lines are not ones I have owned before. Likely Molly can comment on your questions or Gustav who is very widely read on pedigrees and has been around ALMOST as long as I have. One day Molly sent me a video of Strut and her litter sister, Sabre, and highly recommended them for the work and she was right. I can tell you Strut is a very social girl who can be trusted with people and children (and I do not have any or grand kids for her to be around) and she is good with dogs also. No one will break into her car or her home though. She is highly intelligent----a quick study and is the first female I have trained in the sport having preferred males. So far I have trialed her along with her buddy Polo z Danaru, SchH3, who got his first 3 a couple of years ago. She is going to just have fun through the summer! Barb
by
Nellie
on 23 May 2011 - 10:57
Congratulations, Very nice girl, Good luck with what ever you have planed for the future Barb
by
Gustav
on 23 May 2011 - 11:32
You wish Barb!!!...lol....have fun this summer.
Cliff
by
robin5495
on 23 May 2011 - 18:20
Barb

I couldn't resist saying Congratulations again on the awesome work with Strut and Polo. I remember those baby pics of Strut. You knew then she had the right stuff.

Robin
by
sonora
on 23 May 2011 - 23:25

Hi Adlerbach,

Thank you and congratulations,once again.
by
Onyxgirl
on 24 May 2011 - 00:30
Congrats to you Barb and Strut! A journey worth it, for sure!
by
troublelinx
on 25 May 2011 - 03:46
Does anyone know what exactly is "lip structure"?

Possible the person meant "hip structure", that would make sense.
You must be logged in to reply to posts