PANDA SHEPHERDS
by
cecifranco
on 28 April 2011 - 22:49
CAN SOME GSD EXPERT TELL ME WERE DOES THIS COMES FROM..I HAVE ASKED IN GERMANY IN VARIOUS BREEDERS AND ON THE OLD TIMERS BREEDERS AND THEY DENY THESE!!
I do not want to start an issue, I just want more information regarding these supposed sutdies???
http://www.dogbreedinfo.com/p/pandashepherd.htm



The Panda Shepherd Dog is a piebald German Shepherd which has occured in a single GSD bloodline. It is 35% white, the remainder of color is black and tan. It is a spontaneous mutation and has no White German Shepherds in its ancestry. The parents who produced the black/tan/white female puppy were a purebred black German Shepherd dam and a purebred black and tan German Shepherd sire. The rest of the litter were standard looking black and tan German Shepherd pups. The sole black/tan/white puppy also had two blue eyes. In order to protect the image of her breeding program the founding breeder, Ms. Cindy took the piebald puppy to Ohio State University Veterinary Hospital for genetic DNA testing to find out the exact cause of the anomaly. The parents of the pups were confirmed as purebred GSD's with no White GSD's or other breeds in their lines. This was a purebred GSD who was born with piebald coloring. The same sire and dam who produced the piebald puppy were bred three more times and all the pups were born with the traditional black and tan coloring. A lot of canine genetic coat color testing was done on the piebald puppy who was named Frankie. When Frankie matured she was bred to a traditional colored black and tan GSD. Out of the four puppies born three turned out to have black/tan/white coats but lacked the blue eyes, while the fourth puppy was the traditional black and tan coloring. The black/tan/white German Shepherd dogs were given the name Panda Shepherds.
by
JWALKER
on 28 April 2011 - 23:45
interesting
by
Siantha
on 28 April 2011 - 23:51
i have heard of them never seen one. but my female came out of a Bi-color bitch and a black n tan sire and she is a maskless cream sable as i was told but shes turning red where her black was. the rest of the litter was all bi-colors.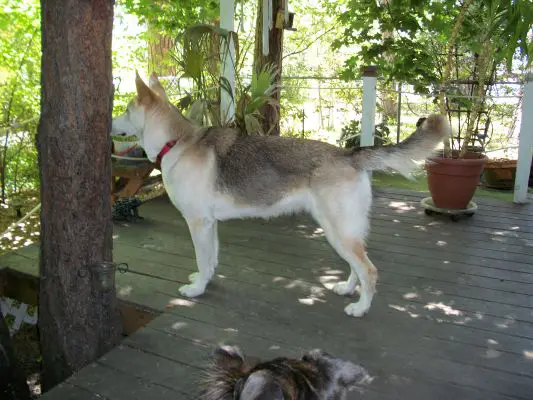 her tan points are turning a deep red and its creeping up her legs her pants are turning red along with her saddle. aswell as around her muzzle
by
novarobin
on 29 April 2011 - 00:49
I am certainly no expert in GSD genetics. I have done a bit of reading on the panda GSD but I will let those with real knowledge answer.

I would like to add I would take anything that website says with a grain of salt. This same site lists designer dogs and adverstises poodle mixes as hypoallergenic despite the fact that not all offspring inherit the low dander coat of the Poodle.

Check out the hypoallergenic shepadoodle
http://www.dogbreedinfo.com/shepadoodle.htm
by
beetree
on 29 April 2011 - 14:33
Panda Shepherd(what do you think?)

by

pod

on 08 April 2010 - 21:04

pod Posts:

42

Joined:

Thu Aug 31, 2006 11:26 pm

Have there been any panda color to panda color breedings? If so, what do they produce?

I've had some correspondence with the researchers working on this. There have been numerous panda x panda breedings, but so far, DNA analysis has revealed no panda mutation homozygotes (double panda). This breeding would normally produce ~25%, so the assumption is that the panda mutation is lethal in double dose. I believe the ratio of colours in the litters is normal for the remaining colours ie. 67% panda markings (heterozygotes) 33% normal GSD colour.

The up shot of this is that panda can never breed true as all panda coloured dogs carry the recessive wild-type non mutation.

Just a mention of the odd occurrence of white markings in the breed that are not directly descended from original pandas. It's quite normal for white markings to crop up sporadically in any breed and the chances of these being another mutation identical to panda is remote. More likely due to rare recessives carried in the gene pool or just a blip in pigment cell migration. The difference with panda is that it segregates as a dominant and has now been DNA identified.
(See below)
by
Donnerstorm
on 30 June 2011 - 10:02
What in the world are ppl doing to this breed?! genetic fault!
by
Sunsilver
on 30 June 2011 - 18:52
Genectic faults crop up all the time, even in the most carefully bred dogs. It's the way DNA works, and no fault of the breeder unless he/she deliberately breeds animals known to carry undesirable genes.

What I would take issue with is deliberately breeding these dogs as a seperate 'type' of GSD, especially when the homozygous form of the gene is lethal.

Since Frankie was born, I have heard of many other instances of panda shepherds that are not related to Frankie. Some of these reports come from decades back. The only difference is these animals were either sold as pets, or culled.

Go here to read about the owner of a panda pup who lives in Australia: http://www.pedigreedatabase.com/german_shepherd_dog/bulletins.read?mnr=16092&pagen=3
by
rikersmom
on 30 June 2011 - 20:57
Siantha your dog looks very similar to a friends dog born out of two black and tan GSD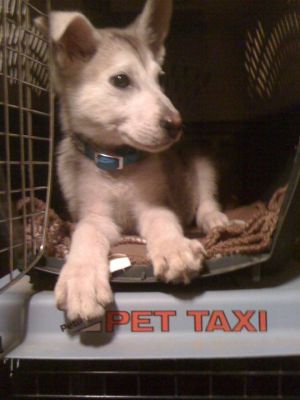 I would have sworn up and down he was a husky/gsd mix when I first saw him!
by
Rik
on 02 July 2011 - 01:43
good thoughts sunny.

if enough of you bridge buyers really want a panda and are willing to put up the deposit, I can whip a perfect one up in 2 generations, a good one in one breeding. AKC papers, DNA and all.

send the checks to:

Rik (Panda Haus) Atchley
by
FlashBang
on 06 July 2011 - 18:08
How to find out more about Panda Shepherds....

Move your mouse to the top of the page, and click "Search Messageboard."

Type "Panda Shepherds" as a search.

Click "Search."

Browse results.

(It's better than starting another ad nauseum Panda Shepherd thread.)
by
Sunsilver
on 06 July 2011 - 19:56
LOL! Yeah, it's kind of gotten to the point where I groan inwardly every time I seen one!

Sorta like those shiloh shepherd threads....




Rik, REALLLY? I thought you were too busy breeding blues and livers!

by
Incavale
on 07 July 2011 - 00:31
Back in 2009 we had one of these pups born in a normal litter. The one thing I regret is that we didn't keep her, we sold her & she is desexed. The only common ancestry for the stud dog & dam were Kevin von Murrtal & Iwan vom Lechtal. The bitch has since had a second litter using a different stud dog with black/ gold pups.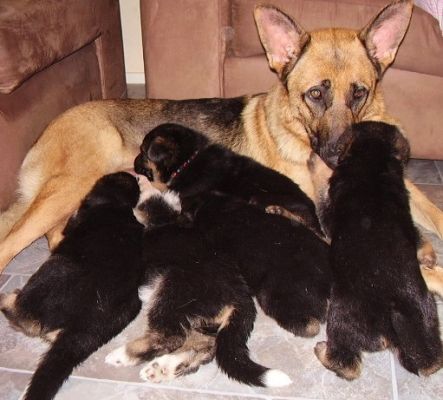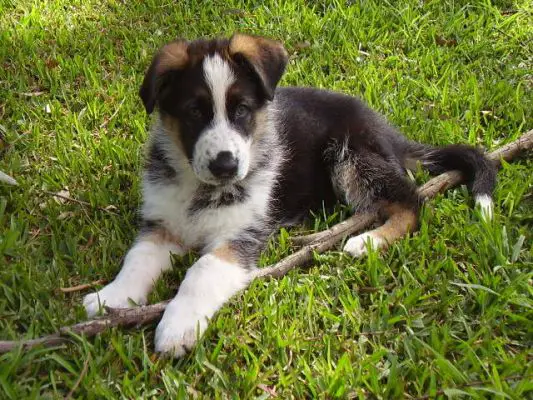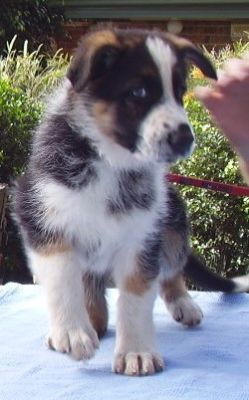 by
Sunsilver
on 07 July 2011 - 02:51
Incavale's pup was the one I gave the link for above. The pup was born in Australia, and was unrelated to Frankie.

Are you still in touch with the owners, Incavale?
by
Incavale
on 07 July 2011 - 03:03
I saw the pup at training before Xmas but not since. I've got some photos of her taken last year & I'll post them a bit later.
by
Tihannah
on 07 July 2011 - 04:05
@ rikersmom, that pup looks very familiar. Is your friend from Alabama?
by
Incavale
on 07 July 2011 - 21:27
Pandamodium a little older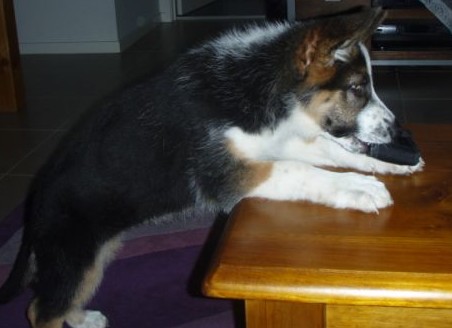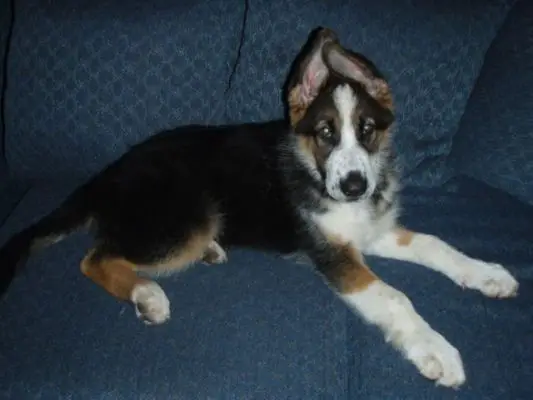 by
Sunsilver
on 08 July 2011 - 00:49
She's SO cute, Incavale. Love the name, too! Did she live up to it?

by
Kimmelot
on 08 July 2011 - 06:13
That is an adorable puppy ! I am wondering about it also, is it something that comes from the normal Spotting Gene ? Is it like a double dosage of the spotting gene from both parents causing this ? I recently seen white markings like small splashes on puppies here and there for sale out of AKC parents.

by
Incavale
on 08 July 2011 - 20:49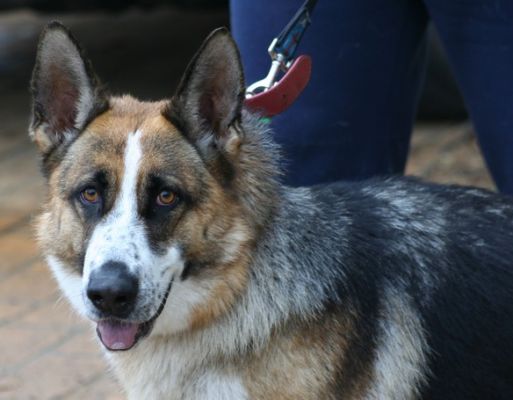 You must be logged in to reply to posts