German Shepherd Dog > UScA Siger Show - This Weekend - Who're your picks? (79 replies)
by
Championl
on 02 May 2011 - 03:20
Does anyone know the rest of the working male results, or at least what other males got VA? Still not posted on the website.
by
SitasMom
on 02 May 2011 - 04:29
the wait is killing all of us.....
by
crhuerta
on 02 May 2011 - 07:53
maybe it's a secret......sshhh
by
Mystere
on 02 May 2011 - 12:32
Connie, I am really shocked at you. Traci is hardly what one would call a "puppy mill." Does she produce a lot of puppies? Undisputedly. But, hardly engaging in the other factors one associates with actual puppy mills. Congratulations to Bullinger.
by
brynjulf
on 02 May 2011 - 13:40
Yah for Tracey!!!! After she was injured so badly practising for the ring, really didnt know if she would make it or not!!!! Utah is one of the best movers I have seen in my time and he has an amazing temperment. Congratsw and well done!


by
djc
on 02 May 2011 - 14:55
Congrats Tracy!
Will they also post the long coats and the bite work awards??!!
Debby
by
skyhorse
on 02 May 2011 - 16:13
I went by the show Fri pm because it's not far from where I work. out of curiousity. was a beautiful, sunny, windy, day. People obviously enjoying themselves in the their lawn chairs and shade tents. Quiet atmosphere. 3 or so small vendors. Show seemed to be running well. Professional looking judges and decoys. Not alot of dogs.

Wasn't sure what I was watching (dogs running out to do bite work with one blind), so asked someone next to me. it was the female dogs doing their "bite test". Which they have to do in order to show in the ring.

One dog did pretty well. The others, only marginally so so - I thought. One was given insufficient (it shied away from decoy). Have no comparisons except real working dog lines. my first time to see show lines do bite-work in person in the US. I was a bit disappointed to say the least. Probably would have enjoyed the conformation classes more.

Most I saw were quite red in color. Didn't see any long coats.

that's all
Donna in Texas
by
Dog1
on 02 May 2011 - 16:25
I heard Larus VA3, Bobo VA5.
by
gsdshow
on 02 May 2011 - 16:53
Does anyone know where Endrefalva Hassan placed?
by
JudyK
on 03 May 2011 - 01:09
The young dog results are now posted. Hopefully the working classes won't be far behind.
by
wlpool
on 03 May 2011 - 01:54
This is probably not what you were all looking for, but they are the results I am sure of :-)
Orlanda Von Nimbus V8 with Performance trophy. I was REALLY happy with her performance test!
Uno Vom Klausener Grund V12
Xcellerate Von Zauber Wiesen VP6 I probably could have done better with her had I not sold her. Judge said she just was not conditioned properly for show. Next time I will keep them until AFTER the show. She started out in second position after stacking and moved back as they ran :-( BUT, I am still VERY PROUD OF ALL of my dogs! And I am sorry that you couldn't make it Sitasmom.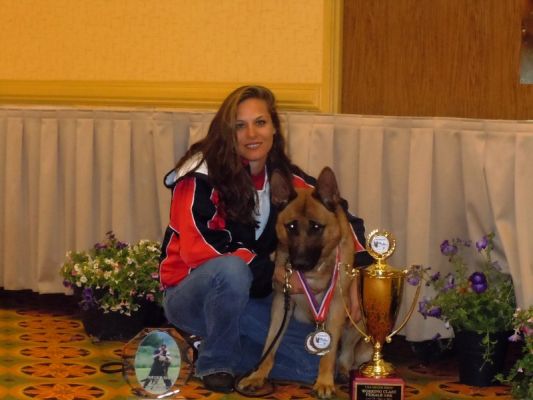 by
Rik
on 03 May 2011 - 12:39
Windy, you and Orlanda did good. The performance trophy is something anyone would be proud of.
by
Championl
on 03 May 2011 - 14:50
Results are posted! I don't know/haven't met most of the dogs, but would love to hear opinions on the placings from those who DO know these dogs, or especially those who were at the show!!
by
JudyK
on 03 May 2011 - 15:33
Results are incorrect. Still waiting for the final numbers.
by
TeMar
on 03 May 2011 - 17:07
I just finished posting all of the 2011 Sieger Show results.

See you all next year in Indianapolis, Indiana. May 19-21 2012


Mary D
USA Sieger Show Secretary
by
JudyK
on 03 May 2011 - 17:37
Mary, it shows that there are two VA1 males. Is that correct?
by
SitasMom
on 03 May 2011 - 17:47

wlpool - thanks.


I had my hands full - 9 happy healthy puppies and a content mama dog - so missing the show was OK..... LOL

Sounds like you did well, congradulations!


by
brynjulf
on 03 May 2011 - 17:57
I knew Griff would get a performance award. He is impressive to watch hit, and he LOVES it!!!
You must be logged in to reply to posts