Liver and Dogs vs. Me
by
LadyFrost
on 25 April 2011 - 15:00
So, on Friday I stopped by a butcher and bought 10 pounds of LIVER..beautiful looking liver: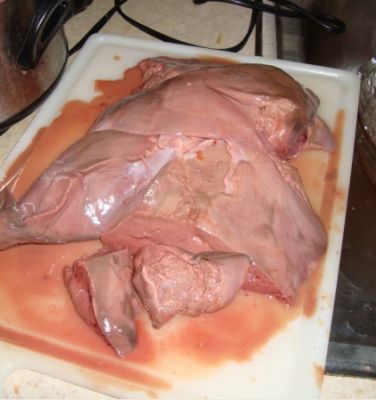 I cut it into chunks and rinsed one bowl at a time till it was clean looking....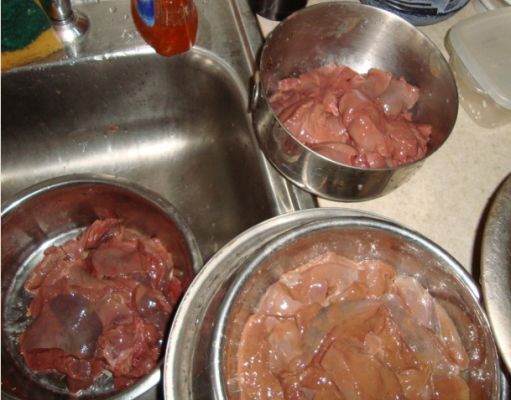 Each dog got about 2 pounds ......took me forever to get it cut, rinsed, and be ready to be served.....

NONE of my dogs would eat it!!!!! Bailey licked it...Misty picked it up and spit it out...Dozer would not even touch it and Frankie looked at me like...are you freaking kidding me?



So....i brought bowls back in rinsed them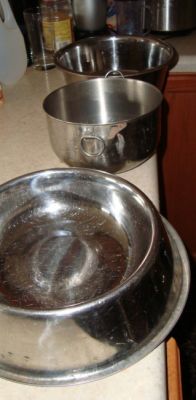 ....and cooked each bowl separately...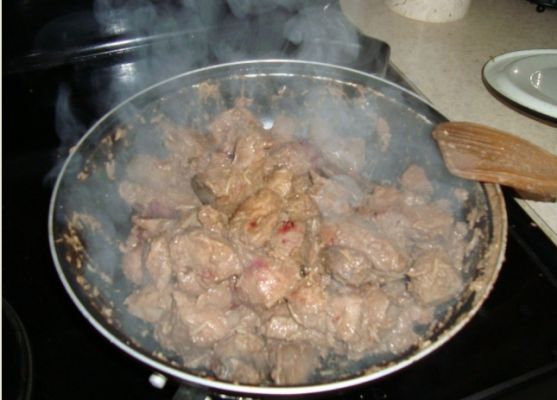 they ate it.......Dinner of Friday night...


Saturday morning.....vomit everywhere.....


by
LadyFrost
on 25 April 2011 - 15:04
So I pulled my knuckle bones out of the freezer...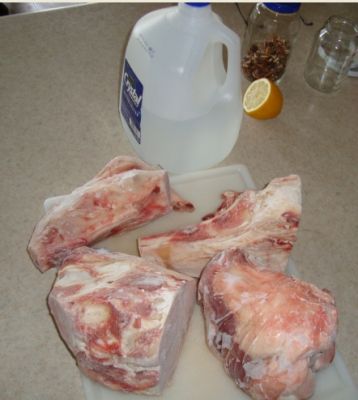 defrosted them...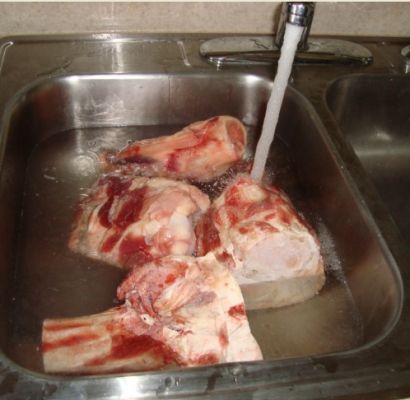 and served....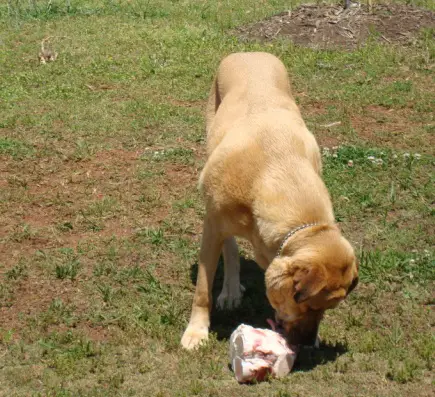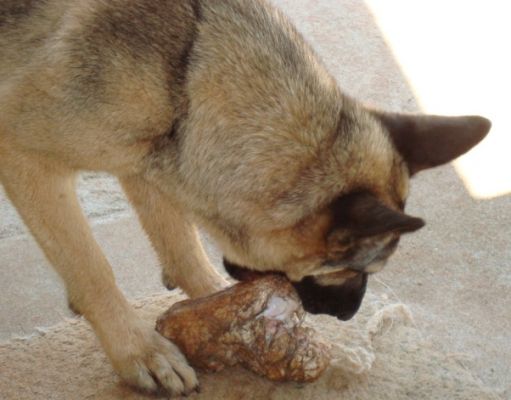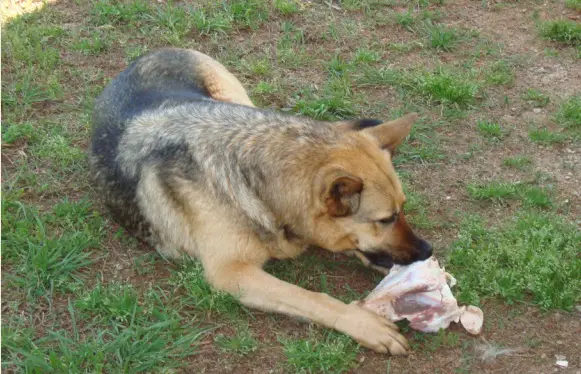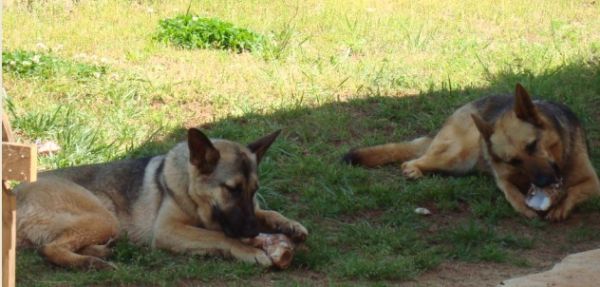 and I cleaned/rinsed vomit off the patio and picked it up all over back yard while they enjoyed their bones.....

I am never doing liver again.......

How was your Saturday?
by
gsm44
on 25 April 2011 - 15:08
My dog loves lamb's liver(cooked),unfortunately it gives her diarrhoea.
Looking at the size of your liver assume it's cow/ox ?
by
Myracle
on 25 April 2011 - 15:09
You realize... that much of any organ meat is liable to have that effect on a dog's gut, right?
It's not the liver, it was the amount they were fed.
by
LadyFrost
on 25 April 2011 - 15:13
mudwick. :) welcome back...(in case you did not see other post) missed you!..

i gave them regular amount that i feed them, i should have probably gave them a little of it mixed with something else...but i had nothing else defrosted at that time...live and learn....live and learn.... :)

gsm...I have no idea..i had 4 of them in 10 pound bag....I assumed it was cow.
by
ziegenfarm
on 25 April 2011 - 15:15
you fed them enough for 20 dogs.
pjp
by
Myracle
on 25 April 2011 - 15:16
[It's good to be back.
]

That's a shitton of liver. Those dogs must have some cast-iron guts!

Anything over a couple of tablespoons, and it's the green apple trots around here.

Maybe next time stirred in with some THK?


by
LadyFrost
on 25 April 2011 - 15:20
ziegerfarm... you are probably (ok, ok you ARE) right....

by
gsm44
on 25 April 2011 - 17:06
"Anything over a couple of tablespoons, and it's the green apple trots around here".

I Learnt that the hard way.(bucket of sand and shovel working overtime)
by
uvw
on 25 April 2011 - 19:18
looks like veal liver. beef (older) livers are approx. 10 lbs each...pretty big. (if for some reason that is beef liver rather than veal liver, it has the wrong coloring...and since liver is a filtering organ i would stay away from it.)

2 lbs per dog was asking for trouble, live and learn. i probably wouldn't feed more than a handful of liver per dog (i guess that would be 4-6 ounces somewhere). that amount of liver at one time can cause an irritated bowel, which can cause a few days worth of really nasty poo. you're lucky it came up rather than gone through the other way, lol!

they look like they're loving those bones though!
by
realmccoy
on 25 April 2011 - 20:27
The chiken livers raw get swallowed whole in my house. Mine wouldnt eat the beef livers raw either, but they love those freeze dried liver treats so i found a dog recipe online u can boil the livers for 15 minutes rince them off under water and get the yucky stuff off, than throw it in the oven at 150 degrees for another 15 minutes. Break it apart like treats or give it to them whole.
by
HighDesertGSD
on 25 April 2011 - 21:42
My GSDs absolutely crave cooked beef liver.

I am afraid of feeding them too much for excessive this and that in liver.
by
Kalibeck
on 26 April 2011 - 04:17
ROTFLMAO!!! I just went through the same thing with my 4 dogs....thought I was making them a wonderful treat, baked it so there was no oils introduced, cut it into little strips so it was like liver jerky......& I fed it judiciously! WRONG! I got a call from my vexed husband the next day when I was at work......"Jackie...every one of these dang dogs just done sh***ed everywhere!" I didn't get home from my 3 to 11 shift until 1am that night, & he had cleaned up the whole mess, God bless him! The house still stunk for days, no matter what we tried! Yuck to liver! jackie harris
by
sable59
on 26 April 2011 - 14:13
i feed beef liver all the time. i feed a pice of raw liver about 3" long amd a inch or so wide and the thickness of the liver.
organ meet is richer than shoulder meat or other parts of a beef. therefore a person has to use a little common sense on feeding it. it is great for the dogs if fed properly.
as with anything,moderation........!
by
AandA
on 26 April 2011 - 14:51
Good lord! as another poster mentioned that is the strangest coloured liver I've ever seen. Looks like it was either weeks old or had been frozen for years and I'm not surprised the hounds turned their noses up at it.

Liver should be a deep dark blood red.

AandA
by
LadyFrost
on 26 April 2011 - 15:06
liver was darkest red when i bought it hours earlier, i soaked/rinsed for over an hour till water stopped looking bloody...on a photo it is a lot lighter that what it was... color to what it really looked like is similar to 2nd photo in a bowl thats inside the sink...and that one has also been rinsed for about 30 min after it been chunked into pieces till water ran clear...

well, as of today i have not seen any issues post liver event...for this week they will be back on dog food with salmon oil and vitamins till next weekend, when i will try something else that is new...i am just kidding.. although i did see cow tongues...wonder if they would like that..
by
Kalibeck
on 26 April 2011 - 16:40
LOL, we used to eat cow's tongue when I was a kid. My grandpa would cook it, boil it with celery & onions & parsley, peel off the layer with the taste buds---ewww!-- & slice it up for sandwhiches with mustard, tasted like lunch meat....prob'bly better than the lunch meat sold today....!
Hope your doggies like it! jackie harris BTW--I haven't tried it since then either, I was maybe....6 or 7 years old? So......
by
sable59
on 26 April 2011 - 17:38
we butchered 2 cows yesterday that had went numb in the hindquartes trying to give birth to a large calf.
also i have butchered severl in the past years. all liver i have seen is more a redish brown. that is fresh not doctored by your local butcher.
i feed raw beef 50% and iams. we feed probably 5 cows a year or more. i have 3 large freezers and at present they are full.
the more meat you can feed the healther the dog. ( my opinion only).

kalibeck, i fed the two tongues to my puppies yesterday. never ate one myself but the pups loved it.
by
ziegenfarm
on 26 April 2011 - 17:59
liver, heart, tongue, kidney......any of that stuff - very rich and needs to be used sparingly. the same goes for humans. we butcher goats from time to time, but eat the goat livers ourselves. it is the best tasting liver of all. better than beef. better than pork. i have to be careful with it for myself because i can have ill effects if i eat too much of it. as far as the dogs go, a chunk of liver about the size of a chicken liver is plenty. mine eat it raw or rather inhale it raw. they don't bother to chew. gulp. gone!
pjp
by
Pridhams
on 26 April 2011 - 23:08
About four ounces of raw liver once or twice a week is enough, no need to soak it. It is very laxative, but your feeding of a good bony meal after should have them back on track.

Additionally, I think it's worth bearing in mind that liver is very high in vitamin A, in particular. Dogs have a better tolerance to hypervitaminosis A than humans, but even so, too much vitamin A can be toxic. But I guess from the sound of your post you've already found that out. But liver is a really good food, so don't give up on it - just stick to a few ounces once or twice a week!
You must be logged in to reply to posts