Puppies day two
by
wanderer
on 20 April 2011 - 20:46
Puppies arrived yesterday morning by C-section. 8 large healthy, hungry, greedy, noisy puppies. Everyone fine including mum Nadja. Vet said exactly the right call at exactly the right time. Primary uterine intertia was the cause. Caught it in time.
6 females, 2 males. Looks like 6 sables and 2 bi's, the bi's (or maybe B&T's) are females.
Within an hour of arriving home and still groggy from the section, mum was on the job! She's a super mum.
I
have to say that my vet, as I've known for 20 years, was there for me 24-7. And when the time came for action, he was in there in a heartbeat--literally.
Dr. Bruce Burton, in Mount Lehman BC. Super guy.
Pedigree:
http://www.pedigreedatabase.com/german_shepherd_dog/para.utkoma?fadir=664749&modir=544018
I'm a very lucky lady!!!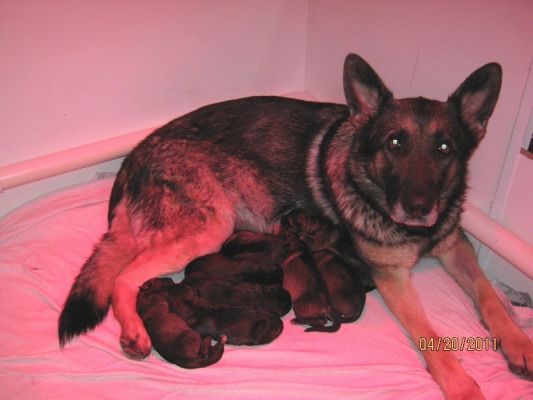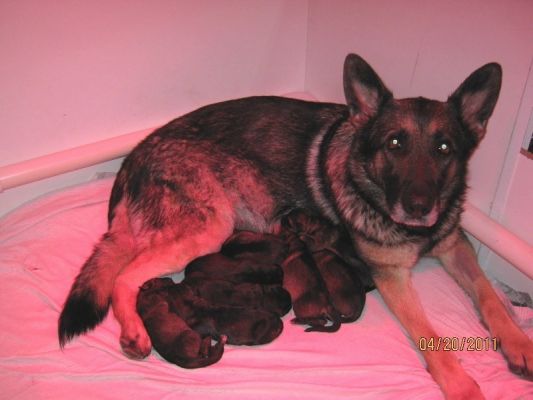 by
sueincc
on 20 April 2011 - 20:50
Wow, you are lucky and have a very good vet. By the way a VERY nice breeding, congrats on the pups. Are you keeping any?
by
SitasMom
on 20 April 2011 - 21:26
very nice litter, they seem very uniform (and big too).
by
wanderer
on 20 April 2011 - 22:05

Thanks Sue

"Are you keeping any?"


"


Don't know yet. Wanted a male, but I might have promised them away.
You must be logged in to reply to posts