German Shepherd Dog > Some pics of today.....a teaser for Ruger! (42 replies)
by
Ruger1
on 09 April 2011 - 18:46
Jenni..

Believe it or not my hubby is a keeper...I am going to try to keep him around another 20 years if I can...lol....: ) He is a real sport and has always given me everything I ever wanted ...Bless his heart
...: )

Elkoorr.... I will have to be content with little Ava on my screen saver not in my arms
...(in my most sad voice)......On the bright side my house is SUPER clean and I actually made something for dinner too...lol...: )


Chaz...I showed my husband your post...He laughed and got a devilish little smile on his face...lol......
Must be a guy thing...
I have two hands full with my Princey boy...: ) ...And a lot of goals to accomplish yet..: )

Oli really needs to crack down on folks posting beautiful puppy pictures...

Too much temptation....: )



Deanna...: )
by
HorseAholic
on 09 April 2011 - 19:29
My boy Arko looks just like his Grandma Capri!
by
Ruger1
on 09 April 2011 - 22:14
Teufel Hunde...

That is a beautiful pup...:)

Is this a sibling to Ava.???

Here I go again...;)
by
Teufel Hunde
on 09 April 2011 - 22:49
Yup, he sure is. If I may say so myself.... I think he's beautiful too! Couldn't let this thread go by without showing him off!
by
Jenni78
on 10 April 2011 - 01:34
Horseaholic! You got Arko? I said from the minute Sina posted those pics when they were tiny that he looked JUST like one of her pups. EXACTLY. That black will most likely "grow" up his legs. If you're interested, I have loads of pics of what her bicolors look like. Post updated pics of him, please. I hear he's a hellion, too...definitely takin' after Granny;-) She passed that on quite well to Apache. ;-)
by
Elkoorr
on 10 April 2011 - 14:03
Uuuiiii....thats like a family reunion!

Cat, I am happy to see that Auricks ears are coming up! Looks like he is settling in nicely, and sounds like you need to keep a pack of new underwear handy.....ROFL

Kelly, Arko is a wonderful pup. We hated to see him go! He will be capri in boy format....LOL I think you hit the jackpot there :) Btw, nice property you got too; do you have horses?

Deanna, good choice of yours. Not that I wouldnt entrust Ava to you, but yes you got your hands full with your boy. It would not be good for him either. He needs your full you ;) Maybe at a later time.
by
Jenni78
on 10 April 2011 - 16:38
Ears are up!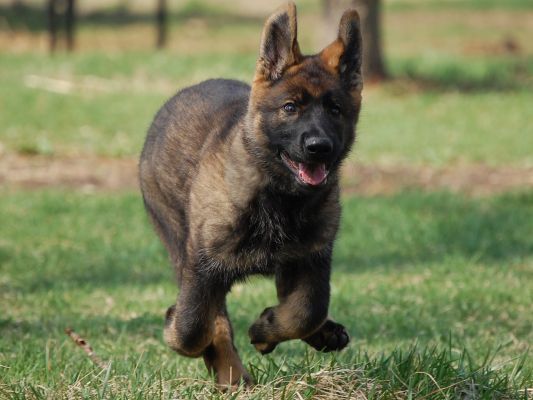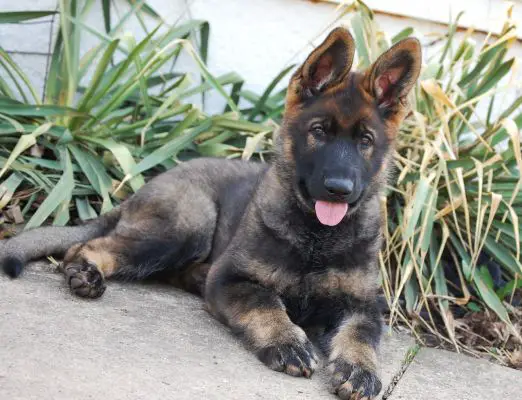 by
HorseAholic
on 11 April 2011 - 01:18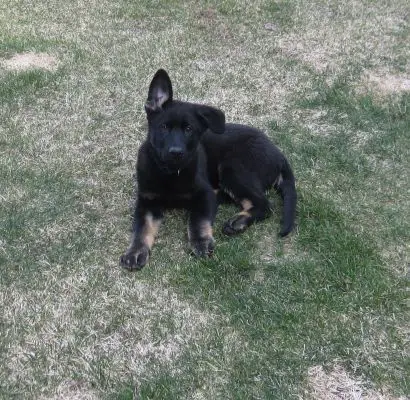 Here is Arko last week.. Wishing that ear would stand.

Sina, yes I do have horses. Arko goes out with me everyday to feed and he isnt bothered by them.


by
Jenni78
on 11 April 2011 - 01:34
Anya is fine with the horses, too. She does all my chores with me.
by
HorseAholic
on 11 April 2011 - 01:40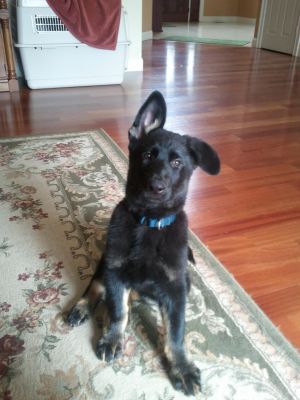 Arko has been with me for a little over 2 weeks and I must say Arko is very smart (a genius, lol). He learned sit, down, speak, high 5 in just 2 days. He goes to his "house" (crate) on command. Is almost completely housetrained. He goes to the door and either barks or hits it with his foot to let me know he has to go outside. Leave it and out are coming along. His drive and grip is awesome, always looking to chase or tug on something.. I am a very proud mom :)
by
alboe2009
on 11 April 2011 - 05:23
Man! Everyone has puppies!!! Some good looking pups. Striking markings on Jennis' and I think it was ? Apache? Red /red undercoat!
by
Siantha
on 11 April 2011 - 05:35
lol i love that little girl if i had room ide snatch her up :pp that color is soo striking very nice dogs.
by
Ruger1
on 11 April 2011 - 14:22
Jenni...your little girl looks amazing...: ) Could be one of the prettiest pups I have ever seen...She is almost as pretty as Ava...;)


horseAholic....Arko has a very boyish/handsome face...Enjoy..: )


Elkoorr...Yes, maybe at another time...

: )

It's been fun dreaming about it...Would you post the pedigree for this litter again I can not seem to find it.....Thanks for the fun..: )
Deanna....: )
by
Jenni78
on 11 April 2011 - 14:24
Alboe, Apache is the sire...do you mean Aurick? He's pretty red. Ava is quite red, too. Anya even has a good bit of red on her head/ears. That's all coming through the dam side via V Arko vom Zwickauer Marksteig, their grandsire. And I think it's pretty clear who Little Arko takes after, LOL.

Horseaholic, here is a bicolor Capri son at 5mos. I believe his markings will be similar to this boy's.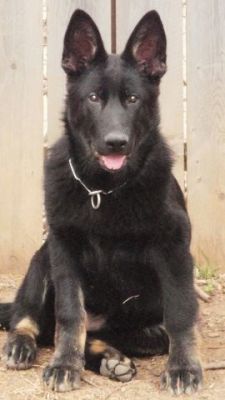 by
HorseAholic
on 11 April 2011 - 21:46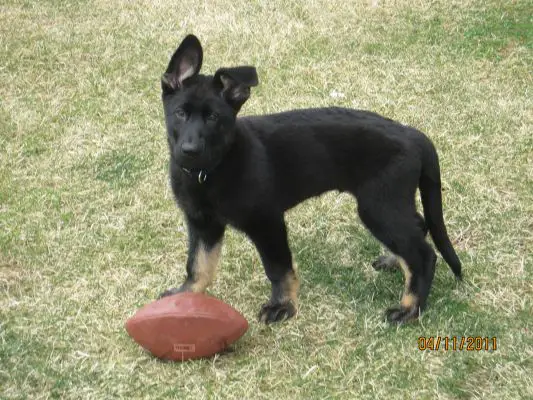 Wow magic! Overnight his ear has started to go up! Hooray
by
HorseAholic
on 11 April 2011 - 21:49
Wow Jenni, Arko is his twin!
by
Jenni78
on 11 April 2011 - 22:42
I don't think anyone should worry about ears from this breeding. Both parents have very nice ears and there are nice ears behind all of them.

Horseaholic, I'm glad you joined the forum. I'd like to see this guy mature (I want to see all of them, but of course I'm curious about the bicolor;-) )
by
Dawn G. Bonome
on 29 May 2011 - 14:37
I think that I went to HEAVEN!!!! Beautiful pics of beautiful pups. I have owned German Showlines for many years, but my NEXT DOG will definately Working lines!!

Dawn B.



You must be logged in to reply to posts