German Shepherd Dog > My male dog might have DM (36 replies)
My male dog might have DM
by
frisko
on 06 April 2011 - 22:47
Our GS has been having problems with arthritis for the last 2 years (but this winter we noticed a big change; difficulty getting up and dragging his right paw but the nails are still okay. Our vet recommended injections of Cartrophen. We did and didn't see any improvement. So that's why we brought him back last week to the vet. She did the regular test, bring his paw upside down and the left was okay but the right took 2 seconds. She immediately diagnosed him with DM. I have to admit that we were really upset about this. Our dog is healthy as a horse and is very lean; it's all muscles. He is 10 years old and weighs 112 pounds. We're looking to get a second opinion and see what tests we can do. My husband contacted Dr. Clemmons and he suggested a few things but before trying anything, we need to know if it's really DM. Is an X-ray the best test to do in order to eliminate DM?

Thank you....
by
Mindhunt
on 07 April 2011 - 00:17
I am sorry to hear that your dog may have DM. I lost my boy last year to this disease 2 days before his 10th birthday. It seems to hit one side before the other. Does he trip sometimes (more than would seem normal)? Is he a bit wobbly in his back end? I would rule out other things first such as spinal tumors and such. I had my male swim every other day for about 40 minutes (build your dog up to this if he isn't doing it now) and I swear by acupuncture. I couldn't believe the difference in my boy after a session. You can email me at Mindhunterk9@gmail.com and I will send you all that I did with my boy. I was lucky, my vet studied under Dr Clemmons as USF so she was up on all the lastest data. Good luck
by
Trouble97
on 07 April 2011 - 00:53
I thought my male did too, he was standing on the top of both back feet and wouldn't flip them over and couldn't wag his tail. Went to the vet didn't see anything on x-ray was given prednisone and sent out the door. We did the pred which helped him feel better but didn't help symptoms at all. Their only other suggestion was to go to the neurologist and have expensive MRI and Myelogram done well I couldn't afford those so we ended up having him treated by the chiropractor that I work for and within a week he was more stable in the back legs and was wagging his tail!!! He has continued care since then and comes in once a month now and is doing amazing! This all happened just before his 10th birthday and he is just about to turn 12 in June! It was amazing how fast and great it worked for Arco and might be worth checking into! I have also done acupuncture and massage on my other GSDs and had great results!! You can still here him drag the tips of his middle back toes but otherwise he can jump on the furniture, play and go for walks which we do lots of! Good luck with your boy!!
by
frisko
on 07 April 2011 - 01:52
Thank you for your support and suggestions! We really appreciate that. We love our dog, he's my little boy and we want to do what's best for him. I have a funny question...when you mention chiro, did you bring him to a chiro for people or for animals?
by
mirasmom
on 07 April 2011 - 02:19
Hi frisco,
Sorry to hear that, I hope he doesn't.
I am testing my dogs throught the OFA with their DNA test they have for it.
Your dog can be Normal, carrier or affected.
The test is $65 and is a swab of the cheek.
Probably would be worth doing in your case, then take it from there,
http://www.caninegeneticdiseases.net/DM/basicDM.htm



Good Luck,
Paula

by
starrchar
on 07 April 2011 - 03:03
I'm so sorry to hear about your boy. My girl was recently diagnosed with DM through a blood test. According to my vet, the blood test for DM is more accurate than the cheek swab. It took three weeks to get the results. I would definitely have your dog tested, whether it's the cheek swab or the blood test. Our vet originally took x-rays of the hips and spine to see if there was something going on, but all was fine. FYI One thing I've heard about myelograms, is that the procedure can make the DM worse.

Our girl is on Dr. Clemmons' meds and supplements. She is also getting acupuncture and laser therapy, as well as "at home" physical therapy and massage therapy. I think she is in a holding stage right now. If your dog does have DM the most important thing is to keep him reasonably active. That means a minimum of 10-15 minute walks three-four times a day along with some physical therapy. If he can comfortably and willingly do more,that is great. It all depends on what he is used to and what he can tolerate. As mindhunt mentioned, swimming is excellent if your dog enjoys it. Do not let your dog lie in a crate or kennel for any period of time. If you have a rehab vet in your area it would be well worth the money to go at least one time so they could show you PT exercises for your dog and give you other information. Another thing is some dogs need to be on pain meds. The DM itself doesn't directly cause pain but due to the dog trying to compensate with the rest of his body to move, muscle soreness can occur. My girl tends to get sore in the shoulder area. I hope this info helps, but hopefully your boy doesn't have DM. Please keep us posted.
by
Kalibeck
on 07 April 2011 - 04:39
We thought our Wolfie had DM, but it turned out to be an old spinal injury that had developed arthritis. He could wag his tail, even though he was toeing over on his hind leg. Excersize helped, with some pain meds. Good luck, hope it's not DM. jackie harris
by
Trouble97
on 07 April 2011 - 17:00
I took him to a human chiropractor(luckily I work for him) that does a motion palpation technique which is really great. We have Arco lay down on the floor and Dr. Keilman runs his hands along the spine and pelvis checking for joints that aren't moving properly and when he finds them those are the areas that are adjusted. For Arco it is usually his pelvis and his lumbar regions! Arco doesn't appreciate the actual adjustment but he feels so great after that he jumps up off the floor and runs up and down the hallway and is just so relieved from any discomfort he was having. I learned about chiropractic and dogs many years ago from a breeder I got my first shepherd from about 15yrs ago and she always took her GSD to the chiropractor before and after shows and he performed so much better. We have recently started working on a toy poodle and he is also doing fantastic with the treatments! Since the poodle is so small Dr. Keilman uses an activator to do the adjustments, on Arco's last visit we did use the activator on him and he actually did better with that than when Dr. Keilman uses his hands.

Other than the adjustments I have not changed anything with Arco's diet or exercise amounts. He gets daily exercise usually at least a mile once or twice a day whenever we take the baby for a walk he goes with us. The chiropractic care has helped so much on its own I chose to not persue finding out if he had DM or not. He is happy and not getting worse so I am happy with where he is for an almost 12yr old. He is not on any pain medication or anti inflamatories as I don't care for those types of medications. I worked in a veterinary clinic for about 12yrs and they do help but don't care for the side effects they can cause, so if I can treat him naturally that is what I will do first. I do keep some Deramaxx at home just in case but haven't had to use it for over a year and a half. I really prefer the meloxicam that comes in a liquid or you can get it from a human pharmacy in tablets which is so much cheaper and it seems that my shepherds have always tolerated it best!

Hope that information helps if your interested I could ask Dr. Keilman if he knows any chiropractors in your area for you to call and talk to.
by
frisko
on 13 April 2011 - 00:33
We have decided to consult a chiro. My husband's chiro might take our dog for treatment. He has taken all the documentation to read and he's going to search on the internet for this disease. He will give us an answer probably this week. We really hope that he will treat him. Our only concern is that we don't want our dog to be in pain. We will do whatever we can to relieve the pain and give him a good quality of life.
by
hunger4justice
on 13 April 2011 - 01:25
Wanted to say DM is not painful to the dog.

I am very sorry to hear about your dog. Commander, the best dog I ever
had died at 13 of cancer, but at 12 1/2 he could no longer walk due to DM
I learned then that DM does not cause pain.

I kept him alive as long as he was happy, even after he could not walk or control his bowels, but I had to keep him very clean, (use rubber backed table cloths) under him and move him around. Most folks won't do this, but he was happy for a time, not in pain. I found massage really helped in addition to Clemmons protocall. Sad when a magnificent healthy strong protector who never would back down from anything or anyone is felled by DM. Still NOT painful to the dog.

You can get a doggie wheelchair for the time he cannot walk but still is vital otherwise. There is a website that even tells you how to make one yourself for large
breeds, as the manufactured ones are quite costly.

PLEASE, folks, now that there is a test, don't breed without testing and don't buy unless the breeder tests for DM. Breeders like von Gildaf test all of their dogs now.

Again, so very sorry, but try to focus on the many good years you had and give your dog the patience you might need yourself someday.
by
frisko
on 13 April 2011 - 22:53
So sorry to hear about your dog! My deepest sympathy...

We'll continue to give our dog our full attention and love (just like we did when we got him at the age of 8 weeks). He's still our baby boy. I surely hope that the chiro will treat him. I think it's gonna help him and relieve any discomfort. He's still not that bad but we can see that he's having more difficulty to get up and his right paw is dragging more. He's still wagging his tail so this is a good sign but the sooner the chiro treats him the better it is.

Thank you for your support!
by
Trouble97
on 13 April 2011 - 23:29
I hope that your chiropractor will treat him!!! I know it helps Arco so much when he starts having trouble with his back legs or difficulty climbing on the furniture! He gets adjusted and then within minutes you can see how much better he is able to move!! Hope you have as much sucess as we have!!

by
frisko
on 14 April 2011 - 23:00
I'll keep you posted! My husband will stop by the office tomorrow and see if the chiro has made his decision. I'll say a little prayer tonight. Have a great evening...
by
NIKKI04
on 16 April 2011 - 02:47
Hi Frisko,

In 2004 I lost my GSD Missy to DM .... horrible disease .... but please know .. it is not painful for him, just very painful for you and your family to see. If it is DM, read everything you can on the disease there are plenty of things you can do to slow down the progression of the disease but unfortunately no cure. Clemmons research is your best bet. When he is standing up does his back end sway a little? I did see that you said his tail is still okay... I still exercised my Missy it made a huge difference, the combination of the meds and exercise is the reason she lasted ... the more they lay around the worse it is for them, so don't let him do that and don't feel bad about the exercise. It's almost like you have to trick the disease, I used to carry around a thick towel to hold her back end up when walking her and to assist in getting up the few stairs to we have to get into the house.

Your Baby Boy will be in my prayers, please keep us posted !

Lisa
by
starrchar
on 16 April 2011 - 17:38
Lisa, I'm so sorry to hear about your Missy. How long did Missy live after being diagnosed? At what point did you have to let her go- how bad did she get? Did you put her in a cart? I am just curious...dreading the future for my girl, Shelby, with DM. Shelby is just dragging her hind foot some at this point. To watch her move you'd think nothing was wrong with her. It's not until you walk next to her on the pavement that you hear the nails of her left hind foot lightly scrape, on and off. She still trots (beautifully I might add) with no dragging at all. I'm doing everything I can for her, but I know that there is no cure :(
The best,
char
by
frisko
on 16 April 2011 - 23:04
We've got fantastic news! My husband's chiro will treat our Frisko boy. The first appointment is Monday at 11:30. Can't wait to see the results. To answer Lisa's question: no his back doesn't sway for now. So I think we're at the beginning of the disease so let's hope the chiro can slow down the disease. And yes we read Dr. Clemmons suggestions, my husband even wrote to him and Dr. Clemmons replied to us very quickly.

So sorry to hear about your Missy girl. May she rest in peace!

Take care
by
crazee4gsds
on 17 April 2011 - 01:12
Our 9 year old female was diagnosed with early onset DM. We started out going to a neurologist when we noticed she was "off" and the vet couldn't pin point it. We opted to not have the mylegram and MRI done since that could cause more issues that what she already have like another post stated. She does receive accupuncture and is on Acetylcystein and Amincaproic Acid. We are fortunate in that we have a rehab facility 30 minutes from us. Unfortunately, it's out of our price range given the prognosis of the disease. It was about $500+ for 5 weeks of hydrotherapy 2x per week. If you do the math - that could get very expensive...very quickly. The therapist did give us exercises to do so that is more ecomically feasible. Everyone who sees her move instantly think it's her hips. I wish that were the case...at least I could have surgery to remedy that issue. She has had her hips and elbows x-rayed and they came back OFA good. It's just a hearbreaking disease to watch the slow progression and deterioration. I wish you the best.
by
Mindhunt
on 17 April 2011 - 05:09
My Loki's back hunched, not swayed and he was always a straight backed dog. He lost muscle tone in his abdomen shortly before the end (the abdomen gets a characteristic look and feel, you'll know it when you see it). I have friends who had dogs with DM and they all lived long good quality lives. Loki was just unfortunate to get the aggressive form and from first signs to the end was about 10 months even with the acupuncture, swimming, and supplements. As for DM being without pain, I was told by my vet (one of Dr Clemmon's proteges) that no one is sure there is no pain since the myelin sheath around the spinal cord is being destryed and dogs don't say whether they are in pain. You need to monitor your dogs heart rate and respirations because that will tell you if they are in pain (faster heart rate, panting). We had Loki on pain meds toward the end just in case. This is a picture of him the day before we took him to be euthanized, he had become unable to support his back end a few days before. That night he began to use accessory muscles to breathe. I am only sharing this pic with you to give you an idea of where bad is. If your dog is not anywhere near this point, you have a long time yet to spend with them. Remember they can tell if you are upset so be upbeat for your dog's sake. I am so sorry this is happening to your dog. Starrchar, how is your girl doing?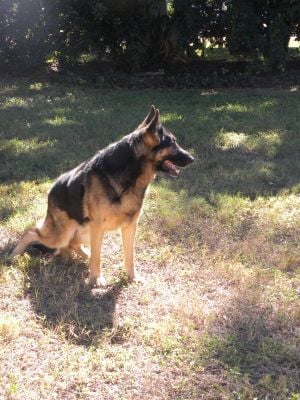 by
starrchar
on 17 April 2011 - 14:01
Mindhunt,
When I saw the picture of your beautiful boy it broke my heart. I can only imagine how difficult it must've been to let him go. Thank you for asking Shelby. She is doing pretty well and in a holding pattern, I think, although some days I'm not sure. I do wholeheartedly agree with you about the pain issue. Shelby's rehab vet told me that due to the extra effort that dogs with DM have put forth to move around, they definitely get sore, typically in the muscles in the front end (shoulder area/neck), and they experience pain or discomfort on some level. I have found the daily massages to be very helpful in relieving the discomfort. There are days when I massage her that it is obvious she is sore- the rehab vet has shown me what to look for and what to do. I also use pain meds- tramadol and/or meloxicam. My goal is to keep her as comfortable as possible and to do everything I can to slow down the progression (diet, clemmons protocol, acupuncture, laser therapy, chiropractics, PT, a lot of walking and massage therapy) . Someone mentioned magnetic therapy recently and I am looking into that. Thank you again for asking about my girl. The best to you.
Char
by
NIKKI04
on 18 April 2011 - 00:28
Oh Mindhunt ... your picture just brought back so many memories ..
so sorry ..

Char ...
My beautiful girl was on steroids and pain meds for some time, I know they did damage to other organs but it helped the DM tremendously in the beginning along with the exercise , she lasted 1 yr. as for knowing when it is time ... you will know .. when she was having bowel movements while laying down and not even feeling it was just awful .. I'm not talking about the mess it made ..I didn't care .. I'm talking about the fact that she wanted to get up when I was cleaning her up but she just couldn't do it, her breathing became labored , I would laydown with her at night and just stare at her face to face ..She broke my heart.. I did not use a cart for her I used a towel to walk her .. I put booties on her back paws stop the scraping but it just gets to a point where there is really nothing you can do.. don't worry you will know when it is time to let them go . My vet came to my house, that was in August of 2004 , it took me some time to get another GSD I waited almost 2 yrs because I was soooo afraid .. but I had GSD's all my life and couldn't imagine not having another one around, I got Nikki in March of 2006 from Jagermeister Shepherds in NJ ( Carlos Rojas ) My house was just so empty I could not take it anymore... she is a wonderful dog .. she goes everywhere with me and she is loved by all..
Please keep me posted with Shelby .. is that her in your avatar ? she is a therapy dog?? she is beautiful and will be in my prayers !
Are you going to try a chiro like Frisko? what about acupunture?


Lisa
You must be logged in to reply to posts