German Shepherd Dog > Meet baby Cisco........Future wilderness SAR partner (21 replies)
Meet baby Cisco........Future wilderness SAR partner
by
clc29
on 06 April 2011 - 20:29
Finally..... after a year of looking and waiting I brought my new baby boy home on Sunday. He's eight weeks old and weighed 19lbs.
He's going to be my wilderness SAR partner and best buddy.
Everybody..... meet.....


Cisco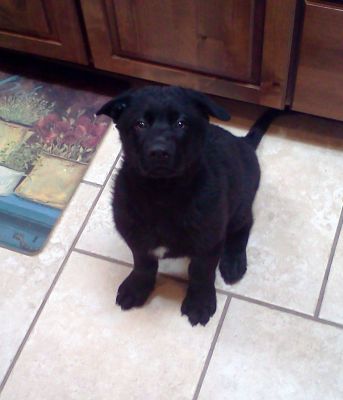 (first focused awake picture.....waiting for treats from momma)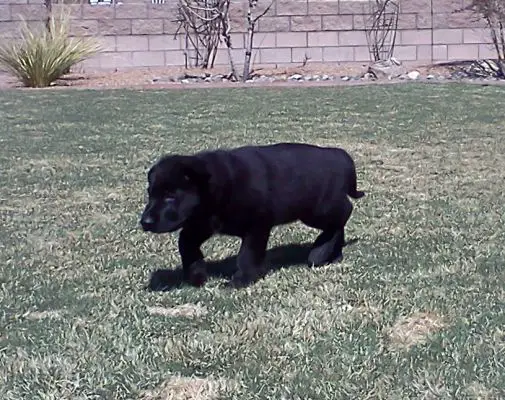 I want to thank Carol and George Norris of NorrisNK9 for entrusting him into my care. Carol is a super neat lady and it was a pleasure getting to know her and do business with her. I would highly recommend them and their dogs to anyone who is looking for a first class working German Shepherd puppy.

Here is Cisco's pedigree: http://www.pedigreedatabase.com/german_shepherd_dog/dog.html?id=709417


by
Red Sable
on 06 April 2011 - 20:33
Congratulations! What a solid looking little felllow!
by
Ibrahim
on 06 April 2011 - 22:23
Congratulations! What a beautiful looking little pup! Very good choice, I bet he will grow into a lovely yet true GSD. By the way isn't Cisco a name of a fanous company in the States? anyway (Cisco) sounds nice on one's ear.


Ibrahim
by
clc29
on 06 April 2011 - 23:28
Hi RS and Ibrahim,
Thank you for the compliments.
He is a stout solid boy.... Hard for me to believe he is only eight weeks old.
Ibrahim.........Yes, Cisco Systems is a computer networking company......But, I chose his name because I liked the way it sounded on one's ear as well.

Both of you Take Care..........Cheri
by
gsdlvr4life
on 06 April 2011 - 23:48
Oh my goodness he is so sweet:)

He is just adorable and i am sure he will be every thing you want him to be.
And his name is awesome!
by
dAWgESOME
on 07 April 2011 - 00:09
Nice looking pupper - on paper & in photos!! Good luck with him
by
alboe2009
on 07 April 2011 - 02:31
Good looking pup, enjoy and enjoy training! Good luck!
by
Ruger1
on 07 April 2011 - 03:18
Clc29.......
WONDERFUL NEWS.....: )



I am feeling your excitement....: )

He is a

beautiful pup...:

) Looking forward to more pictures....: )
by
jamesfountain98
on 07 April 2011 - 03:26
Congratulations. Please keep us posted on his progress.
by
GSDNewbie
on 07 April 2011 - 03:37
Grats and wishing you all the best with your k9.

Yvonne
by
Kalibeck
on 07 April 2011 - 03:59
Nice looking pup, awesome pedigree! Congratulations! Best of luck with him! jackie harris
by
clc29
on 07 April 2011 - 04:21
Hi Everyone,
Thanks so much for your kind replies and good wishes.
I will be posting more pictures (assuming he stands still long enough for me to take them.....he, he) and training updates later on.

Funny thing happened today.... after taking him out to potty for the bazillionth time... I had to get ready to go to a meeting and thought if I left the glass door to the shower open I could kind of keep an eye on him....right?...... Well he had other ideas,.... before I know it he is in the shower with me,.... gets completely soaked.... then races around the bathroom like a maniac,.... then runs back into the shower with me.....he's definately going to be a water dog :)
by
lovejags
on 07 April 2011 - 08:00
HOPE CISCO IS EVERYTHING YOU WANT HIM TO BE!!! HE IS LOVELY AND LOOKS LIKE HE IS GOING TO BE A BIG BOY!!
by
Gustav
on 07 April 2011 - 12:51
Good looking puppy and very very nice pedigree!!...Good Luck!!
by
poseidon
on 07 April 2011 - 13:45
Congratulations ck29. "Cisco" definately ring my bell too :)
May I ask how you went about in choosing your future SAR partner. I am not an expert in bloodlines but I recognise afew dogs in his pedigree who were notoriously strong in bitework. Does that inot mpinge on their offsprings for this instance, SAR?

I am only learning before anyone shoots me down.
by
beetree
on 07 April 2011 - 14:36
How wonderful! Congrats to you and welcome to Cisco!

Adorable!
by
clc29
on 07 April 2011 - 21:03
Lovejags & Beetree, Thanks for the good wishes and compliments. :)

Hi Gustav,
Thank you for the compliments. I also want to thank you for all of the advice and knowledgeable information you have posted on the forum. It helped me tremendously in my search.

Hi Poseidon,
I am also not an expert on pedigrees but after asking a lot of questions, reading and talking to the breeder and some of the more experienced forum members it gave me a place to start. Also, since I was not able to travel all over the country and Europe to look at dogs, my only available method of evaluating potential trainability and degree of drive, was to look at pedigrees of dogs, who had a number of higher level tracking and SchH titles (both male and female) throughout their pedigrees.

On the contrary. I believe that (as long as there aren't any serious hereditary negative temperament issues) having dogs, with strong bite work, in a SAR dogs pedigree is just another indication of the degree of drive. I also put more emphasis on the parents temperaments than dogs who are three and four generations back.
I was fortunate to be able to meet both of Cisco's parents and they have really nice temperaments.

After all of the research on health items, drives and temperament on the dogs in his pedigree, the puppy temperament test is administered to the litter determine which one of the puppies is best suited for SAR work.

Hope that Helps.

C
by
poseidon
on 07 April 2011 - 22:34
Thanks ck29 for taking the trouble to explain. Lucky Cisco is going to enjoy the wilderness :)
One last question, is there a distinct trait or behaviour in selecting Cisco among his litter mates or were they all very similar due to the immediate parent's temperament.

Thanks.
by
clc29
on 07 April 2011 - 23:02
Poseidon,
There were a couple in Cisco's litter with personalities that would not be ideally suited for SAR. The first was a little boy who was a sweet as could be, but he only wanted to be right beside me and showed little interest in the toy. He went to a pet home. The second was a little girl, a ball of fire who was the exact opposite, only wanted to be out exploring on her own, took the toy and never came back. Not sure what type of home she went to, but she is going to be a very independent handful. I wanted a boy so I did not test the other little girl and the other boy tested very similar to Cisco but was quite a bit bigger. I chose Cisco over the bigger boy because there was just something about his personality and look in his eyes that said pick me :)

Are you thinking about getting into SAR work?
by
poseidon
on 07 April 2011 - 23:27
ck29, its all interesting stuff to learn about what temperament and behaviours expected for different purpose whether it be schutzhund, SAR, PPD etc. I wonder if a shutzhund prospective puppy can be just as good as a prospective SAR puppy. I wonder if it is all to do with training.

I just noticed another thread on SAR evaluation on a new puppy. So hopefully will get to read more contributions training wise for SAR with your prospective puppies :)
You must be logged in to reply to posts