by
Ruger1
on 01 April 2011 - 18:28
dawgESOME...hmm

I had to think about that a minute...: )
by
Ruger1
on 01 April 2011 - 18:31
I am off for a short shift at work...Stay on task folks...

I want to see more posts this evening...: )

And above all...BE NICE...: )
by
mollyandjack
on 01 April 2011 - 18:32
1 working line
by
heiko1
on 01 April 2011 - 18:51
1 workingline here, and one on the way.
by
SportySchGuy
on 01 April 2011 - 19:35
You call it working lines, I call it sport lines. I don't have show lines and I don't have working lines and I don't have American show or pet lines. I have sport lines and they are what most call working lines. 99.9 percent of you that have "working"lines actually have sport lines. If you are in the tiny percentile that actually work your dogs on a real honest to goodness job where the dog actually does have to work for extended periods of time ...then what you have is a sport or show line dog that works. Don't come back at me saying that sport is hard work....I didn't say it wasn't but it is SPORT it is RECREATION. The truest form of working GSD was the herding dogs that worked all day every day. A working line example would be a dog whose bloodline is comprised of entirely or mostly herding dogs that worked all day every day. That is the true working lines. All today's "working" line dogs are from a very long lineage of dogs that competed in or were titled in sport and as far as I know the majority of them didn't do a whole lot else as far as work is concerned. There were a few of course that did do SAR or police work but by and large the dogs were selected for and bred for sport. Thus I don't know why anyone would call them "working" lines unless is was strictly for posterity's sake.
by
ggturner
on 01 April 2011 - 19:37
One pure working lines; two with mostly working lines but a couple show lines in pedigree.

Shonnag: I love the maskless, red-headed gsd in your avatar. I have one as well (she isn't pure working lines):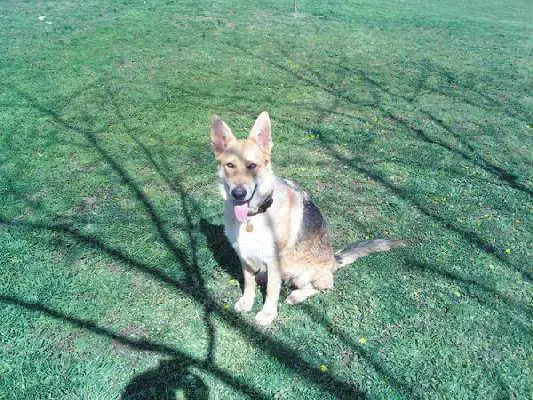 by
Lexa
on 01 April 2011 - 19:52
Working lines :)
by
ggturner
on 01 April 2011 - 19:52
Sporty,

I understand what you are saying. I do have a male gsd that was bred by a breeder/trainer who is a retired military vet and he breeds/trains gsds for the police and military. My male was over a year old when I bought him and he was already trained. There are many PH, HGH, FH, and KNPV dogs in his pedigree--most from West German working lines. Here's his picture: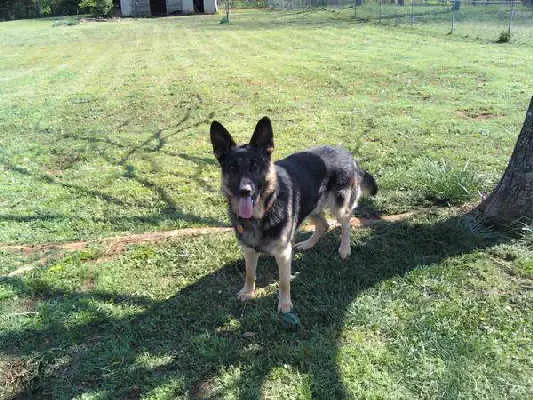 by
Siantha
on 01 April 2011 - 20:03
i love your maskless i have one aswell she is my fav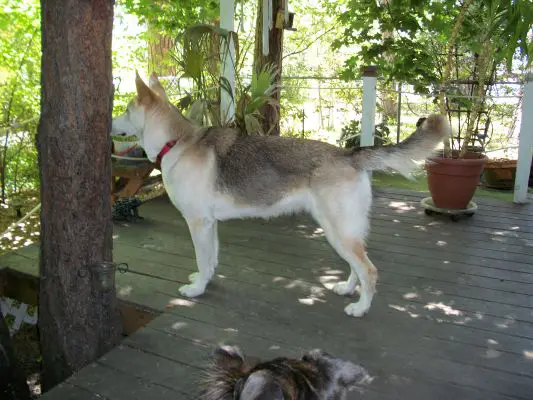 She is Working lines
by
ggturner
on 01 April 2011 - 20:10
Siantha---she's beautiful! Mine is about half working lines, but also has AKC champions in her lineage. Your dog looks almost identical to mine--pretty girls!
Mine is the smartest of all my gsd's and she is so in tune with me that I can ask her to do things without really teaching her. For example, I was cutting grass the other day and I asked her to get one of the other dogs out of the path of the lawnmower, so she grabbed the other dog's collar and pulled her out of the way!
by
mirasmom
on 01 April 2011 - 20:32

I think I have working line dogs, but they have been very lazy this winter,
couldn't have anything to do with me being a couch potato,.... could it?


Nahhh.....didn't think so!
by
JWALKER
on 01 April 2011 - 21:49
1 working line. Hessel son! RIP HESSEL
by
goodwink
on 01 April 2011 - 22:15
Workingline/Sportline!!!! :)
by
Niesia
on 01 April 2011 - 22:30
I assume I will be a Minority GSD Owner with my 100% pure American Showline girl.

by
Sunsilver
on 01 April 2011 - 22:38
One German/American showline cross.

One rescue of unknown ancestry, who looks and acts like a working line, but is lower drive than the showline.
by
isachev
on 01 April 2011 - 22:59
2 Working Line!!! and there working me.
by
troublelinx
on 01 April 2011 - 23:17
WL

GRRRRRR
by
richram
on 02 April 2011 - 00:44


Four working line and they all work.
by
Kalibeck
on 02 April 2011 - 00:56
1 German/American Showlines
1 West German Workinglines
2 Workinglines/Showlines crosses
1 DDR/Czech working lines(co-owned) lives elsewhere
1 Workinglines/Showlines cross (co-owned) lives elsewhere
LOVE them all. Each different, each worthy, all have jobs! jackie harris
by
sable59
on 02 April 2011 - 00:57
working line!!
You must be logged in to reply to posts