German Shepherd Dog > RAW FED PUPS VS. KIBBLE FED PUPS- PICTURES (216 replies)
by
mollyandjack
on 03 April 2011 - 15:44
Ramage, that corgi puppy looks amazing. Saying anything less about her is BS.
by
Jenni78
on 03 April 2011 - 15:56
People will see what they WANT to see, especially when they are trying to rationalize their behavior.


by
eichenluft
on 03 April 2011 - 16:00
More pictures of kibble-fed mommies and their puppies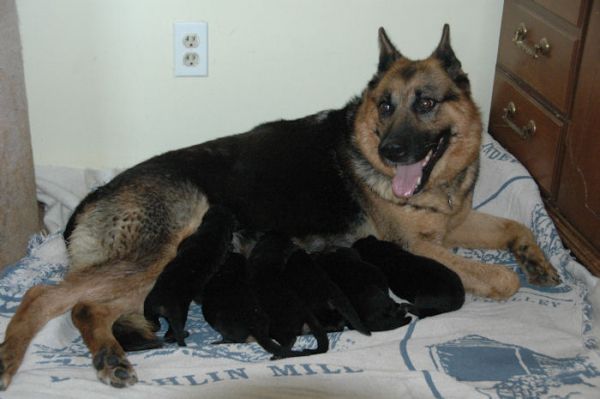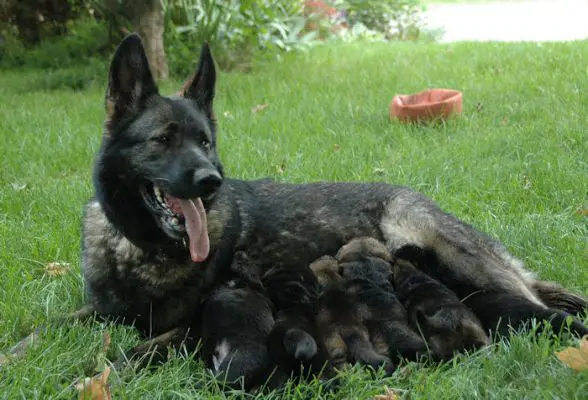 by
Ramage
on 03 April 2011 - 16:11
Thank you Mollyandjack. I agree! Molly's (eichenluft's) low opinion, luckily, means nothing to me. The pictures speak for themselves.

I also don't disagree with anyone who feeds kibble. A lot of my friends do. Where I disagree is feeding Ol' Roy or something equally as cheap and nasty. However, I usually find that it's through lack of knowledge that people feed Ol' Roy, not because they don't care. JMHO
by
eichenluft
on 03 April 2011 - 16:11
More pictures of boarders in excellent coat/condition fed crap food (Old Roy, Kibbles and Bits, Beneful, Science Diet, Purina ONE, Big Red, Pedigree, Dog Chow are the most common foods I see)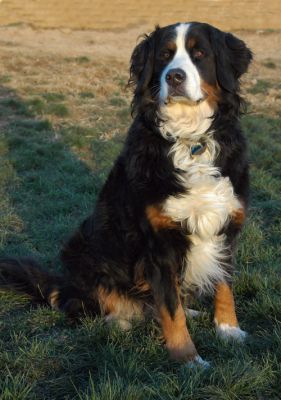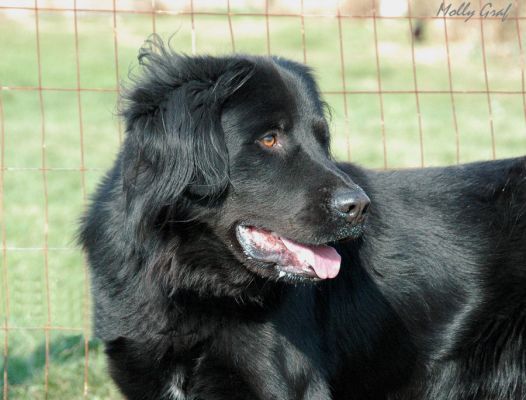 This dog is mostly outdoors, not groomed and usually dirty when he comes here - still his coat is healthy - he eats Dog Chow.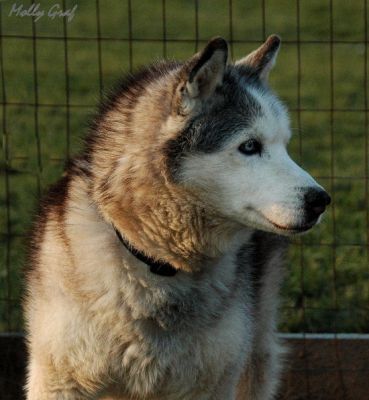 This Husky recently passed away at 17 years old. Picture taken at 15 years old. Fed Pedigree.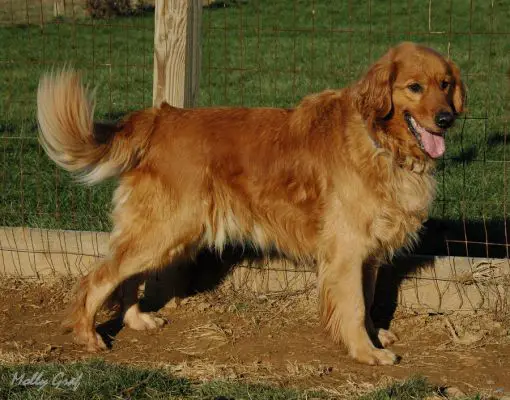 by
eichenluft
on 03 April 2011 - 16:17
I agree Ramage - first your corgi puppy has a very nice coat in the older pictures - and if it's smaller can't tell as it's not near another pup to compare. The very first picture though it was a lot smaller, and coat appeared rougher. I thought you had posted that picture to compare the healthier (bigger, fatter, better coat as it appeared in that picture) puppies fed kibble. If you prefered your pup to be smaller (growing slower) fine and dandy - I was commenting on what I saw in that picture as this thread is about comparing puppies fed kibble and raw. Obviously your puppy grew up to be healthy, and I assume it caught up in size too.

I also agree - most "pet" people don't have a clue about what is best to feed their dogs. They listen to the vet, or they see the advertisements (Beneful is very popular now because of the excellent ads for it) and they think they are feeding the right thing because that's what they hear, or it hasn't crossed their minds to do research on nutrition for their dogs.

And, most dogs seem to do just fine on the crappy food, the majority living long lives with few health problems and no problems with allergies, skin or coat condition.

molly
by
Jenni78
on 03 April 2011 - 16:26
Molly, our psycho who is messing with peds is emailing me. Please remove the pics of your house.

Now back to our regularly scheduled argument;-) LOL
by
mfh27
on 03 April 2011 - 16:30
Jenni why the insults? You say:
"We have those who think they are some kind of genius who cannot read the words on the page, those who think bigger is better (and healthier), those who think because they cannot wrap their heads around how to feed a dog raw food without causing explosive diarrhea, and flat out liars."

Insulting someone's reading comprehension may hurt a person working on their GED, not an MD. And if I thought I was a genius, I sure as hell wouldn't be in med school. Jenni, you've still failed to mention what I was twisting and poorly comprehending in the previous posts.
by
mfh27
on 03 April 2011 - 16:42
UVW, I've put your statements in orange highlight



"Unfortunately you can't quantify benefit from scientific studies because:





a) there are too many variables,"



This is where randomization, large sample size, and case matching, for exampe remove the bias of confounding variables.




"You don't need science. Nature doesn't operate according to scientific studies. You need common sense."



So then what is the study of natural science? Those in the field would disagree with you.


by
Siantha
on 03 April 2011 - 16:45
IMO all i see is that possably Raw fed dogs grow alittle bit slower which is good because they dont have alot of chances at growth plate,tendon,ligamant damage. but my family has had large breed dogs for years including mastiffs and danes our mastiff was fed olroy and he was a happy healthy boy till 12 years old. the danes are 3 years old atm but they are on high quality food because they have alergies.

all of my germans are on solid gold dog food and they both have nice shiny coats. all of my litter of puppies has shiny coats. as the pups get older i will continue to post pictures of them. and their weights.

the difference is a matter of opinion now that i have more knowledge i will never feed cheap kibble but good quality kibble is perfictly fine aswell as raw its personal pref just like useing a harness or a collar in SchH...


Opinions are like Assholes everyone has one and noone wants someone elses.
by
Ramage
on 03 April 2011 - 17:02
Yes, Molly. She did catch up in size. I want to say around 6 months she was the same size as her sister. Either 5 or 6 months, I cannot remember which. Up until then, she was always MUCH smaller. The raw food really slowed her growth rate down. This was the first time I had ever seen a pup fed raw only AND had the comparison of litter mates on kibble. It was very interesting, to say the least.

My only observations were the coat, which was nicer on the raw fed pup. It always had more fluff and shine to it. She also grew slower. However, by the time they were 5 or 6 months, they were the same size and same coat length. I still noticed a bit more shine on the raw fed pup, but to be honest I have no idea what brand of dog food was being fed to the litter mate at that point in time.

For me, I plan to continue any future pups on raw aftr seeing the difference in the corgis. With the HD rate on GSDs, I can only imagine the slower growth rate will help. But again, I have easy access to raw food. If I didn't, I would most certainly feed a good quality kibble.

I have also seen dogs look good on crap food. My question is, how much BETTER could they look on a higher quality kibble or raw? We won't ever know, because most of the time the owners will never switch kibble.
by
Jenni78
on 03 April 2011 - 17:03
Michele, narcissism, anyone? You think that was all about you?


I'm feeling philanthropic today, so I'll give you a hint. Your argument and your "burden of proof" rant is misdirected, and ridiculous, as you're basing it on me saying "kibble is crap" and that kibble is detrimental. Find where I said that (as opposed to the many many posts where I have discussed various kibbles with many many posters) and then we can go from there.


by
VomMarischal
on 03 April 2011 - 17:12
To me, the main obvious difference, with 100% accuracy, is in condition of teeth. I have never had any kind of cleaning done on my dogs' teeth and they are spakling even into old age, with no loss or gingivitis. Every kibble fed dig I have ever seen had horrifying teeth and breath into old age...not to say they all do, just the ones I have seen, which I will clarify for those with reading comprehension problems.

In my old training group, my TD had a 2 year old Dobie who had such gingivitis that his teeth were barely even visible, and the ones I could see looked like they were made out of milk chocolate. After two weeks of raw feeding, which included good therapeutic use of pork neck bones, that dog had the mouth of a healthy two year old again.

None of my dogs have nasty breath, which is a huge indicator of health or lack thereof. I have NEVER met a kibble fed old dog that had fresh breath, EVER.

EDIT TO ADD: I forgot to mention that the dobie above also had weight problems...couldn't keep any on. On raw food, he reached a more normal weight. Never did get very bulky, though.
by
Jenni78
on 03 April 2011 - 17:20
Jackie, that's just what I was going to say. Take the best-looking kibble (exclusively) dog and then your raw dog and look at back molars. No comparison after a few years. Spare me the pictures of the one year olds as evidence that kibble is good for teeth;-)

I have never had my dogs' teeth cleaned, and the day I brush their teeth....................
by
mfh27
on 03 April 2011 - 17:27
Jenni, now I'm narcissistic? (Now Carly Simon's song is playing in my head) The first statement of the quote, genious without reading comprehension, was refering to me, the rest of it was for other posters.

If you want others to believe that raw is better, for the sake of the dogs being fed kibble, you have the burden of proof when it comes to showing raw is better than kibble.

Jenni says:
"What I fail to see is how someone can doubt that fresh food is better than chemically processed, extruded, nearly incinerated, dog food."

You portray kibble in a pretty negative light which hints at what you truely feel about kibble.
by
eichenluft
on 03 April 2011 - 17:47
My dogs' teeth have never been cleaned - not one of my dogs, not one time. I don't brush my dogs' teeth, and I've never once taken one to the vet for a teeth cleaning. I've never had a dog with nasty teeth or mouth - fed kibble, and an occasional chew bone (not a real bone). All of my older dogs have excellent teeth, white and clean. I've seen "genetically" nasty teeth, mainly in small dogs - my Tigger (chihuahua) gets a daily dental chew to hopefully avoid vet dental cleaning, so far so good she's 3 years old and her teeth are so far so good. But the GSDs - nope, nothing needed. How about you other kibble-feeders, do you have dogs with dental problems?

Next point?

molly
by
VomMarischal
on 03 April 2011 - 18:00
You don't want to hear my next point, Milly.
by
eichenluft
on 03 April 2011 - 18:00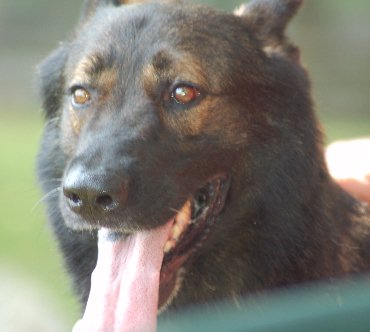 Hard to find a picture that actually shows molars - but here's one - 11 years old.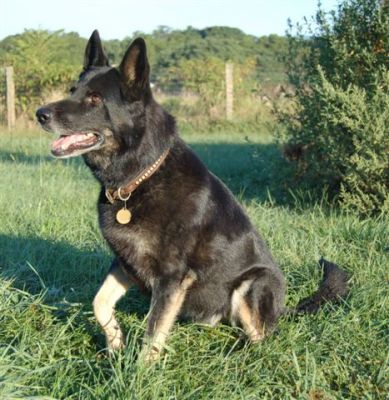 Also 11 years old, white teeth never cleaned, always fed kibble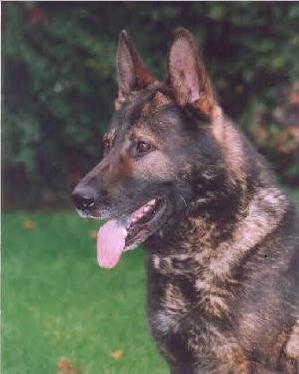 Bodo v Tiekerhook, picture taken at 10 years old
by
Donald Deluxe
on 03 April 2011 - 18:02
My understanding was always that canned food led to the worst dental problems, not kibble. My late Am lines fella had his teeth cleaned once, I think at age 10. None of the other dogs, though.

For the past year and a half I've been giving the dogs beef bones to gnaw in the evening, which really seems to be doing a good job of keeping their teeth clean. I originally did this to help get my female's ears up, as she has HUGE ears with somewhat thin ear leather that needed all the help they could get to stand. They get new bones at least five nights each week, and after about six months my ears finally became to become impervious to the endless racket they made.
by
eichenluft
on 03 April 2011 - 18:03
I'm sure there will be a next point Jickie, because that's what you raw-feeding extremest people do - try to make claims that are not factual, and are not held up by proof. Keep 'em coming though, interesting to see you try.

molly
You must be logged in to reply to posts