German Shepherd Dog > RAW FED PUPS VS. KIBBLE FED PUPS- PICTURES (216 replies)
by
Siantha
on 01 April 2011 - 02:01
yea pregnant about a week before puppies she was 110 lbs and then we had a emergancy vet visit because she started pukeing alot and she was down to 68 lol thats when we started free feeding her to get her back up to weight but neither of my guys over eat. i can just put food down all day and they will only eat rely in the morning and at night and will walk away when they are full. but i did totaly forget that when she was pregnant we where giving her some raw to supplament.

my female never went down on her pasterns the first time i saw it i felt bad but i was like does that dog have dysplasia ? XD it just looked soo wrong.

the only major shedding my female did was her belly hair and now shes blowing her winter coat.
by
Siantha
on 01 April 2011 - 02:04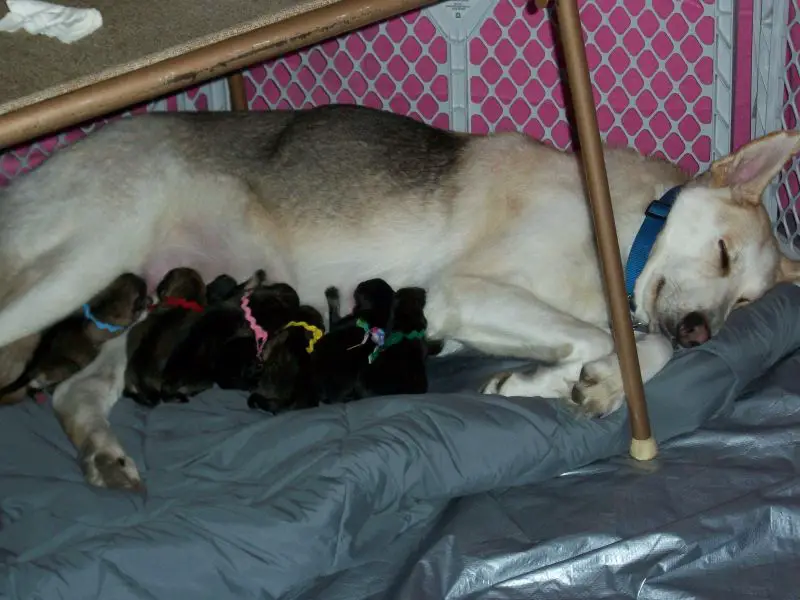 by
Siantha
on 01 April 2011 - 02:12
i think i scard the fourm with that picture that is momma and her babies we had thought she was done x-rays showed 6 puppies in this pic there is 7 3 more to go XD the last three where a big supprise to us.

BTW the first picture i posted is the blue collared sable puppie in thiese photos
This next photo is a young male but he has the strangest mark it looks like we shaved the guard hairs off of his head.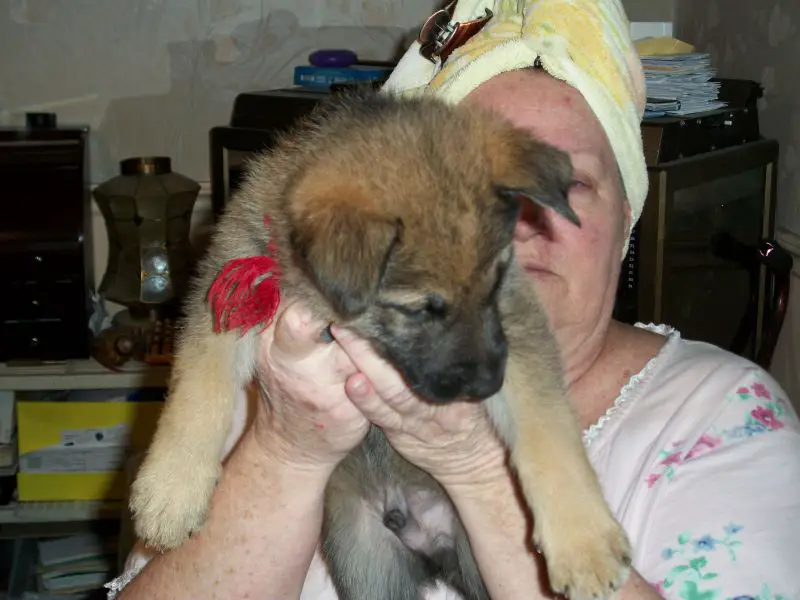 In this litter we have 10 puppies 3 Bi-Colors 1 Black n Tan and 6 Sables Where the black and tan came from no idea XD
by
Ruger1
on 01 April 2011 - 02:40
Elkoorr...
That is one of the cutest pictures I have ever seen....
...: )

How old are those pups??...Is the one with the floppy ears male or female??



Deanna..: )




by
Jenni78
on 01 April 2011 - 02:51
Female. And for sale;-)

I had a hell of a time deciding. She was almost mine. Cool coloring, huh? Very red.
by
Siantha
on 01 April 2011 - 03:03
yea that patterned dark sable is rellllly cool looking. if i wasent looking for a male right now lol SHE would be MINE muwhahahah :p but very nice pups . the male im looking at currently is a black sable like my boy and i posted his parents pedigrees on the forms asking what people thought of the breeding for schh but noone has responded XD

by
Elkoorr
on 01 April 2011 - 03:13
Thank you, Deanna! They will be 10 weeks old on Sunday. Yupp, this is Ava. It will be interesting to see how she looks as adult. She is sable and the dark guard hairs a showing up now.

The boy on the other side is Ajay, he is up for sale again but needs a sport or working home for sure. I think he will be very dark with a more yellish under coat.

Ava from the side.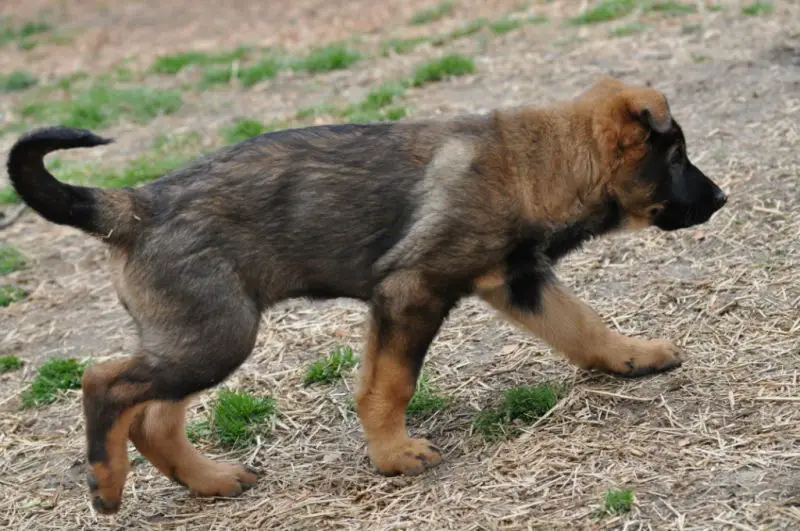 by
Ruger1
on 01 April 2011 - 03:16
I must be having a weak moment....

I am in love...


Beautiful bone and color...and a face to die for...: )
by
Elkoorr
on 01 April 2011 - 03:22
Hahahaha....Deanna....we all have those..... especially when it comes to puppies
by
KellyJ
on 01 April 2011 - 03:24

Sooo Deanna...Are you gonna get that puppy?

hahaha...I know you want her!
by
BlackthornGSD
on 01 April 2011 - 03:50
For those that feed raw, where do you source the bulk of your meat? I have gone back and forth between raw and kibble over the past 10 years, and while I prefer raw feeding, I have trouble obtaining meat at non-bank-breaking prices. For example, the place I know that I can buy a large amount of chicken backs at a good price is 1.5 hours away--so it ends up costing me another $40+ in gas just to go get the food.
by
Ramage
on 01 April 2011 - 03:55
I was given a Corgi pup out of a friend's litter. I had my pup started on raw at 6 weeks. The rest were continued on kibble.

My raw fed pup matured at a much slower rate and maintained her puppy coat for 4 extra weeks. I was amazed at the difference between the raw fed pup and the rest of the litter. The growth rate of the other pups was about 3x faster.
by
Jeff Oehlsen
on 01 April 2011 - 04:02
Is it just me ? I mean for the most part they are cute dogs, but I don't see anything that stands out really. Well, as far as super shiny or super healthy. They look like normal pups, except for the black one that looks like a collie mix with the fur. I saw a GSD/Collie that looked just like that years ago, then I saw it's littermate and except for a little longer fur, same as that one as well.

I also didn't see any control group puppies. I will take some pics of the dirtballs. That will make your clean pups look real good. I will get them a little damp and make them sugar cookie puppies. LOL
by
Jenni78
on 01 April 2011 - 04:05
Part of me STILL wants her, though I am loving her sister;-)

Mean old Sina picked for me since I couldn't decide. HAHA.

I even love her name- AVA. I wanted to name mine Ava, but I thought it would get too confusing since I have two Ava's already from my first breeding. I named this girl Anya.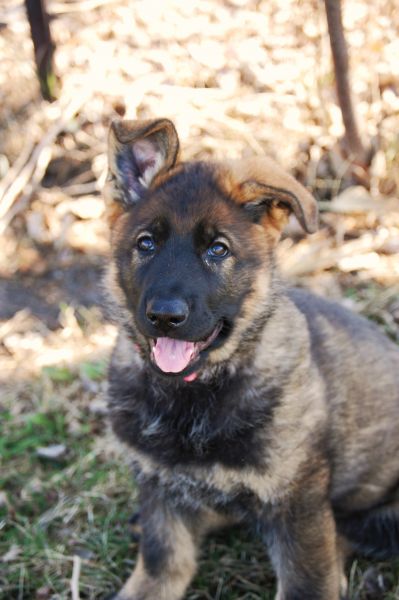 OOPS- this is supposed to be about raw vs. kibble fed puppies.

So, this puppy is fed both;-) She will be eating more raw from now forward, probably 2-1 raw/kibble.
by
Jenni78
on 01 April 2011 - 04:09
Jiffy Jeff...I haven't seen many totally raw fed dogs posted yet;-) There were some in links, but the rest are either kibble fed or kibble w/some raw added. I haven't seen any posted that are eating anything but top of the line kibbles either.

I haven't posted my pics yet. Too lazy.
by
KellyJ
on 01 April 2011 - 04:17

Jenni,

I was wondering where you got a new pup from!

What were the differences in temperaments of the 2?
by
Jenni78
on 01 April 2011 - 04:21
Dunno. I wasn't there.
by
Ruger1
on 01 April 2011 - 04:34
Kelly...

If I remember right my husband said something like "over his dead body"...lol...

or was it my dead body ..if I even mentioned another dog ...??lol....

Jenni...Anya is a good looking pup too...expressive eyes and real pretty...: )
by
Jeff Oehlsen
on 01 April 2011 - 04:42
Seriously, that pup better work, as it is just butt ugly jen.
You must be logged in to reply to posts