German Shepherd Dog > RAW FED PUPS VS. KIBBLE FED PUPS- PICTURES (216 replies)
RAW FED PUPS VS. KIBBLE FED PUPS- PICTURES
by
Jenni78
on 31 March 2011 - 21:36
Ok, rather than ruin Paula's thread, let's start here.

NO LYING! State how much kibble and how much raw the pups eat, and how many generations they are raw fed, what the bitch was fed during pregnancy, etc. Post all relevant information.


by
Siantha
on 31 March 2011 - 21:57
My female was fed Bark at the Moon Solid Gold kibble 12 cups a day maintance before pregnancy her parents where fed a lower grade kibble. during pregnancy we increased to 24 cups a day and then to free feeding. no she is not fat the puppies are now 6 1/2 weeks and are 11-13 lbs from smallest to largest the litter is 10 puppies they are being fed 8 cups of wolf cub solid gold for all of them the puppies arnt rolypolys but are lean this is as much food as they eat in 15 mins. if you would like to know more let me know my next litter i want to try on raw to see if there is a difference.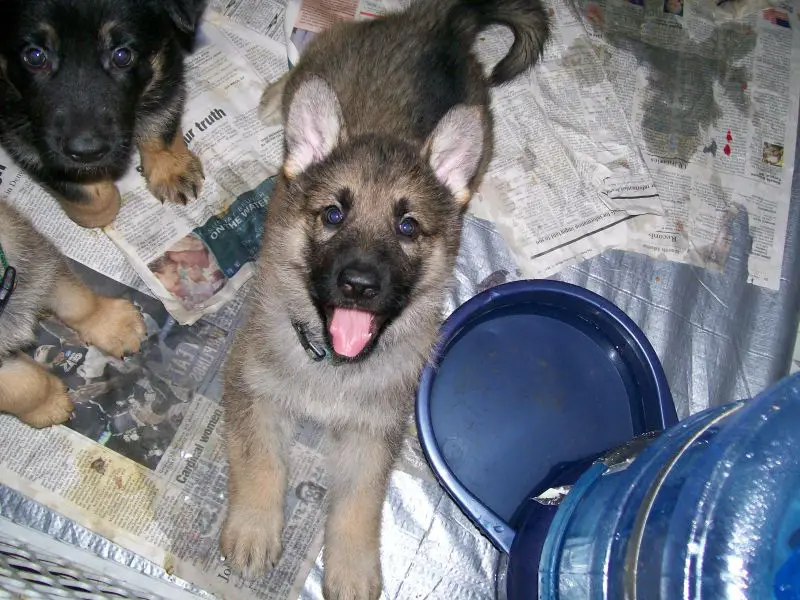 This is a male puppy from that litter at 6 weeks of age his ears are up this seems early to me but hay.

when i get on my other computer ill upload pictures of the puppies as they have aged.
by
Red Sable
on 31 March 2011 - 21:59
12 cups -24 cups? Seriously???
by
Jenni78
on 31 March 2011 - 22:19
I took it as 1-2, then 2-4.

I need to scrounge up some pics, but the main things I've noticed are: ears come up sooner and stay up through teething, pasterns are stronger, more muscle tone younger, coats are shinier all along, not as much of that dull puppy coat look, and eyes and ears stay cleaner- less goop in eyes (usually from outdoor irritants) and less dirt in ears. They weigh more than pups the same size.
by
Jenni78
on 31 March 2011 - 22:21
I think pics of the bitch post-delivery and through weaning would help, too. There's only so much to be shown w/little pups; how unhealthy can they possibly be???
by
Siantha
on 31 March 2011 - 22:25
and yes my female eats tons shes 87 lbs and 25 in at the shoulder shes a big girl and nomatter what we cant get her fat. but also that food is fed 3 times a day to her and he nibbles on it through out the day basicly if shes relly hungry she will eat it all at once but normaly she leaves just alittle in the bottom.

yea my guys where born very shiny this silver boy he looks alittle dull because he is covered in newspaper print :D they enjoy splashing in their water dish then rolling in the paper. i havent noticed any eye goop but i will def keep you updated on their progress so far they are healthy little monsters who enjoy undressing oyu in the pen.
by
Jenni78
on 31 March 2011 - 22:44
So, you're not feeding her 24 cups a day....right?
by
ShelleyR
on 31 March 2011 - 23:04
Every one of Bullinger Shepherds' pups, and their mothers, are fed 100% raw diets, have been for at least 12 yrs. and several generations. She has conducted extensive scientific studies on the issue whilst formulating and improving her Common Sense brand raw dog food. I would put her dogs' health, condition, reproductive records and structural soundness stats up against any on the planet.

http://www.commonsensedogfood.com/
by
Red Sable
on 31 March 2011 - 23:18
Yes, she is Jenni.

I cannot fathom a dog consuming that much. My dads Danes don't even eat that much, and he feeds a lower quality dog food than Solid Gold...at least I always thought Solid Gold was a better quality kibble? I'll have to check that out.

Something wrong there.


by
Nadeem6
on 31 March 2011 - 23:26
Ok maybe i am throwing a wrench into the gears of this thread since i do a bit of both, but i hope Jenni doesnt mind.

I fed about 1-2 cups kibble with about a 1/4 lb of raw beef and 1/2cup dry milk as a pup using Wellness. I switched to Natures Domain Turkey grain free
around when he was 6 months or so. He at almost one year of age gets 1 3/4 cup Natures Domain kibble with 1/4 lb ground beef and maybe a rib, or chicken
parts (backs, necks, etc.). The pics are at various ages, the oldest ones are at 10 months old and youngest around 8-10wks. I think he looks pretty good :)


by
mirasmom
on 31 March 2011 - 23:31
Here's a before picture of the girls, they are now roommates!
Their pups are 2 days apart...

They were eating allot of roast beef trimmings, and a mixture of blueberries, white potato, or sweet potatoes
carrots, broccoli or green beans, milled flax seed or egg shells, Solid Gold sea meal 3 or 4 teaspoons, raw goats milk about a cup,
tablespoon of minced garlic, vitamins E & C all made with LOVE!!!

OH and also, some days raw chicken legs, thighs, or breast, maybe a can of sardines!
The thing about feeding food from the fridge is that you can give them a better variety.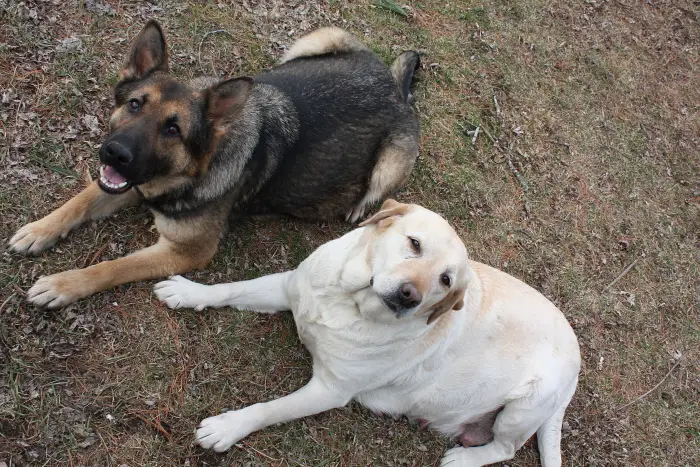 by
Siantha
on 31 March 2011 - 23:41
yes i know it seems like alot of food we are feeding her her food ammounts are going down right now because the puppies are weaned shes back on 12 a day but also my female is 2 1/2 this may go down because she is starting to bulk up i had people telling me i was underfeeding her but my vet said she was fine. no worms perfectly healthy shiny coat. this is her at 1 1/2 years old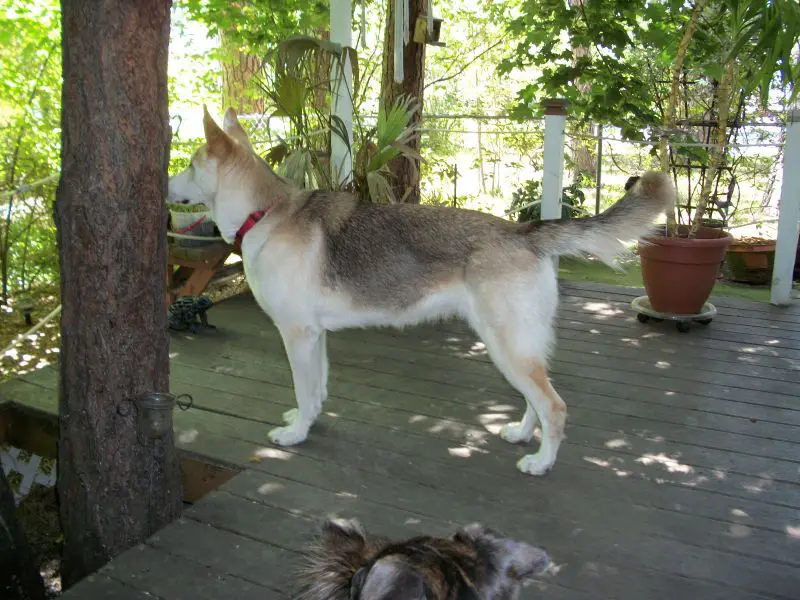 by
Red Sable
on 31 March 2011 - 23:52
She looks great Siantha, and I checked and it is a grain free good quality food, expensive too! :D

That just seems like an awful lot for maintenance. My dogs on a similar grain free kibble eat less than half that, and they are active.
Anyway, sorry to derail this thread, I was just shocked tis all. Thought maybe she had a digestive disorder.
Raw would be cheaper. ;)
by
Jacko
on 01 April 2011 - 00:06
Yep Tracy is a great source on this matter...... If you all want to have fun, take your stud out and do a sperm count, then feed raw and do another.
by
isachev
on 01 April 2011 - 00:15
If I could figure out how to upload pics I would show you what RAW FED ONLY GSD's look like.
But I think you get the idea. LOL
by
troublelinx
on 01 April 2011 - 00:22
what r pasteners, jenni?
by
ShelleyR
on 01 April 2011 - 01:06
I know someone whose dogs are so stressed from being awake day and night in the kennels, forever watching other dogs running up and down in front of their runs, and getting diahrea from constant recontamination with coccidia and giardia, that they have to eat 6-8 cups a day of TOTW to keep weight on.

A dozen freezers wouldn't hold enough raw food to keep them alive for a week.
Only makes sense to feed kibble when you think about it.
by
Jenni78
on 01 April 2011 - 01:55
Troublelinx, pasterns. Lower leg/upper paw area. Best way I can describe it. You often see pups "down on the pasterns," especially during teething. Exercise can improve it also. Some pups are just like that when young and outgrow it; other times, it's a conformation fault or a nutritional deficiency.

Nadeem, he looks great, and no, I don't mind at all. I am not saying feeding kibble is bad; you feed a pretty good amount of raw, so he's getting lots of benefits from that, and you're not feeding crap kibble, either. I see no problem feeding half and half; it's better than feeding an improperly balanced raw, that's for sure. CUTEST PUPPY EVER!!! If I do say so myself, lol................

Shelley, that's horribly sad. I have sometimes felt sorry for some of mine having to listen to the occasional one who barks all night. I cannot imagine keeping a bunch of dogs like that 24/7.

RS- wow, that's a ton of food. That's a big dog. I have fed Caleb 8 cups at some points (always grain-free) to put weight on when he was young. His ribs showed almost no matter what. I never liked feeding him that much kibble-made me nervous about bloat, so I started feeding him a whole chicken a day- not cheap, but I felt better and he looked better. He's 100lbs lean, 95lbs damn skinny. And no, he never rests.
by
Elkoorr
on 01 April 2011 - 01:56
Here are 3 pups I still have of my litter. All fed on Wellness Large Breed Puppy mixed with raw ground turkey and the occational egg. My adults get Wellness Core (grain free) and all meaty scrabs from the kittchen as well as some raw (but not every day).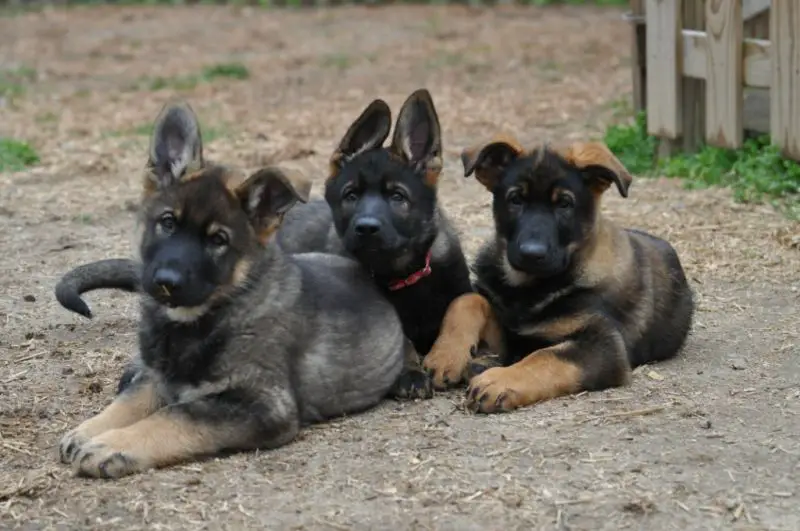 You must be logged in to reply to posts